Easy Ways to Solve Facebook Messenger Not Responding Problem
Have you ever receive a message saying "Messenger isn't responding" while using your Facebook Messenger? If you have, don't be restless cause you are not the only one. This is a common issue actually and you would meet it on both mobile phone and browsers. And no matter you meet the problem on mobile phone or computer, you must want to know how to solve Facebook Messenger not responding problem, right? This tutorial can help you! It will show you different means to settle the problem in two situations:
Facebook Messenger Not Responding on Android/iPhone
The Facebook Messenger not responding problem would occur on Android phone or iPhone more frequently. When you launch, use or update the Facebook Messenger on your phone, the App would suddenly crash and keep freezing. This might be caused by the Facebook Messenger error, phone problem or other setting issues on the device. And when you encounter such an issue, you can try the means below to fix the problem.
1. Restart your mobile phone
Normally, for achieving different goals, we would run several applications on our phones one time. But if you launch too much software on one device for a long time, it would become overloaded and the running programs would be conflicting sometimes. And this might be the reason that leads to the Facebook Messenger not responding here. So to solve the problem, you can attempt to restart your phone, which not only can stop the background software but also able to refresh the device. Now just hold down the Power button on your phone to switch off and then power it on again to fix the unresponsive Facebook Messenger.
2. Force stop Facebook Messenger and clear caches
As we all know, caches would cause some App or phone problems sometimes. So deleting caches of Facebook Messenger is also a method that you can try to settle the issue. Here, if you are an iPhone user, you do not need to wipe the cached data since the system will clear them automatically. But if you are using an Android phone, you have to perform the clearing process manually.
- Enter the Settings App on your Android phone and then tap on the option Application Manager.
- Then a list of applications will be displayed on the screen. You need to scroll down the page to find out and click the option Facebook Messenger.
- Now you will be in the App info page. On this page, you can tap on Force Stop button and select Clear Cache to start the wiping process.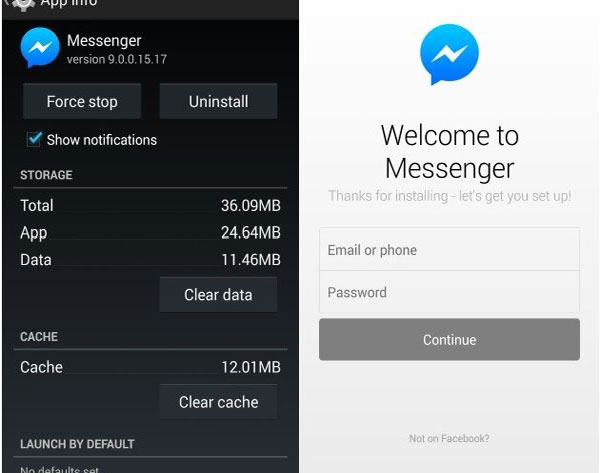 3. Reinstall Facebook Messenger
It is possible that your Facebook Messenger is installed improperly or the version is outdated and there are some bugs in it. And in this case, this problem can only be resolved by reinstalling the application. To accomplish that, you need to uninstall the existing App at first:
- Go to your Home screen and find out the Facebook Messenger icon.
- Next, you can long press the icon until a "X" icon appears. Then you can tap on the icon to remove it from your device.
- After deleting the App, you can go to Google Play Store or App Store to download the latest Facebook Messenger and then follow the instructions to properly install it.
4. Use the Messenger on browser
If all the methods above fail, you can also try to login to your Facebook Messenger on the browser. You can download and install a high-rated browser like Chrome, Safari, Firefox, etc. on your mobile phone and then sign in your Facebook Messenger on the webpage. If it works, that means your phone may be incompatible with the Facebook Messenger App.
See also:
YouTube Keeps Freezing and Not Responding, How to Fix It? [Solved]
What to Do If Facebook Keeps Freezing and Not Responding?
Facebook Messenger Keeps Freezing on Browser (Firefox, Chrome, Safari, etc.)
Instead of installing an application, some users tend to use Facebook Messenger on a browser. But even so, they are also likely to meet the some problem. Then what can you do when Facebook Messenger keeps freezing in Windows 10/8/7/XP? Here are some suggestions for you.
1. Delete the browser caches
Also, the first means you can try is to clear the caches of browser. However, the methods to delete caches on disparate browsers are different so you need to search for the details by yourself. Here, we will take Chrome for PC as an example.
- Type in "chrome://settings/clearBrowserData" in the address bar of the browser.
- Then a window with several options will pop up and you need to select the options Browsing history, Download history, Cookies and other siter and plug-in data, Cached images and files one by one.
- Finally, you can tap on clear browsing data to begin the clearing process.
When the removing process ends, you can close all the browser windows on your computer and re-open the browser to login to your Facebook Messenger.
2. Remove incompatible add-ons
Sometimes the problem would be caused by the incompatible add-ons so you can also attempt to remove them to fix the Facebook Messenger keeps freezing problem. Also, we will take Chrome as an example here.
- Enter the Chrome on your computer and then tap on the Customize and control Google Chrome icon, namely the three vertically placed dots at the top right corner.
- On the drop-down menu, you can tap on New Incognito Window to see whether Facebook Messenger works normally in the Incognito Mode. If it works well, then you need to remove the incompatible add-ons.
You can also select to enter the New Incognito Window directly by using the keyboard shortcut "Ctrl+ Shift+ N" instead of Step 1 and 2.

- To delete the incompatible add-ons, you can go to Customize and control Google Chrome> More tools> Extensions to locate the incompatible add-on and remove it.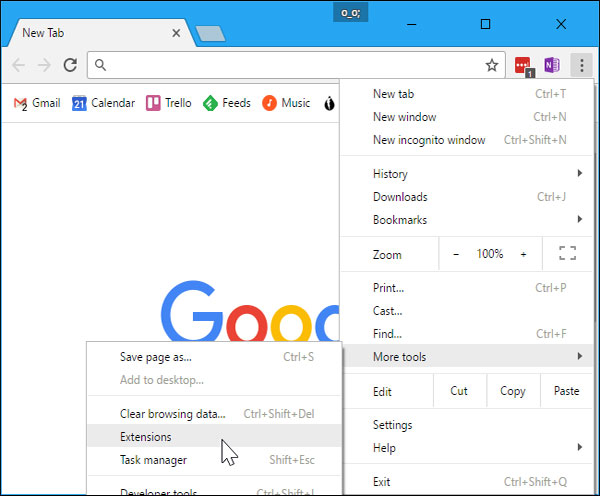 3. Use other browser
Another possible reason is that the browser you used is incompatible with Facebook Messenger and you can try to use other browsers, such as Internet Explorer, Firefox, Chrome, Safari and so on. Just sign in your Facebook Messenger on one of them to see whether it works normally.
Related Articles:
[Solved] How to See Deleted WhatsApp Messages without Any App [Android/iPhone]
[Solved] Facebook Notifications Not Working, How to Fix It?
Why Facebook Messenger Video Calling Not Working?
Top 10 Best iPhone Data Recovery Software Reviews
4 Easy Ways to Recover Deleted Messages on Facebook Messenger on iPhone