How to Transfer Data from iPhone to vivo V9/V11/V15 Pro/V20/iQOO 7, etc.?
Because iPhone and vivo are equipped with two completely different operating systems, you need to be very careful when transferring data between the two. Some cheap and insecure online solutions may not only fail to help you complete the iPhone to vivo data transfer, but put your personal data at risk of leakage and loss. Therefore, don't be fooled by the words "free" and "fast", sacrificing the security of your personal data.
In this article, we have included all free, paid, online and offline methods to help you transfer data from iPhone to vivo. Believe me that these methods are safe and reliable. Now, let's learn more about the step-by-step guide on how to transfer data from iPhone to vivo V9/V11/V15 Pro/V20/iQOO 7, etc., safely and effectively.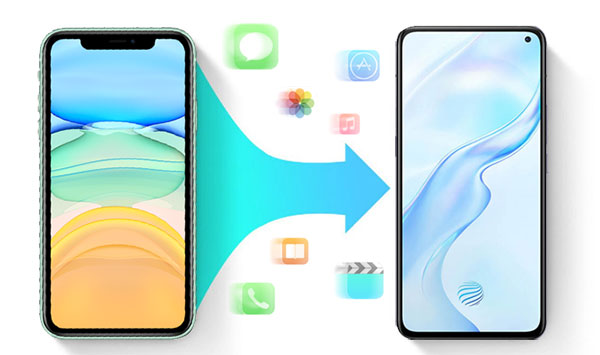 Option 1: How to Transfer Data from iPhone to vivo with Transfer for Mobile
If you are looking for a perfect phone transfer solution to complete iPhone to vivo data transfer, then MobiKin's Transfer for Mobile (Win and Mac) is your ideal choice. The reason why it can stand out in the rapidly changing technology industry is entirely because of its simple operation, smooth performance and mature functions. Here are some of the core functions of Transfer for Mobile to let you know about this product.
Core Functions of Transfer for Mobile:
Transfer various types of data, including contacts, text messages, call logs, music, videos, photos, documents, apps, etc., from one phone to another.
It supports cross-platform transfer, including transferring data from iPhone to Android and vice versa.
The offline operation, no network connection is required, stable operation, and fast work.
Compatible with 6000+ mobile phones, including iPhone 12/12 Pro (Max)/12 mini, iPhone 11/11 Pro/11 Pro Max, iPhone X/XR/Xs/Xs Max, iPhone 8/8 Plus, iPhone 7/7 Plus, iPhone 6/6S/6 Plus, vivo V20/V15 Pro/V11/V9, X and Y series, iQOO 7/Neo5/U3/Z1x, etc.
It is 100% secure, never interferes with any of your privacy.
Steps to transfer files from iPhone to vivo with Transfer for Mobile
Step 1. Install and Launch the program
Download and install the program over a Windows PC or a Mac. After the installation, open it, and you'll be asked to connect your iPhone and vivo devices to the computer via USB cables.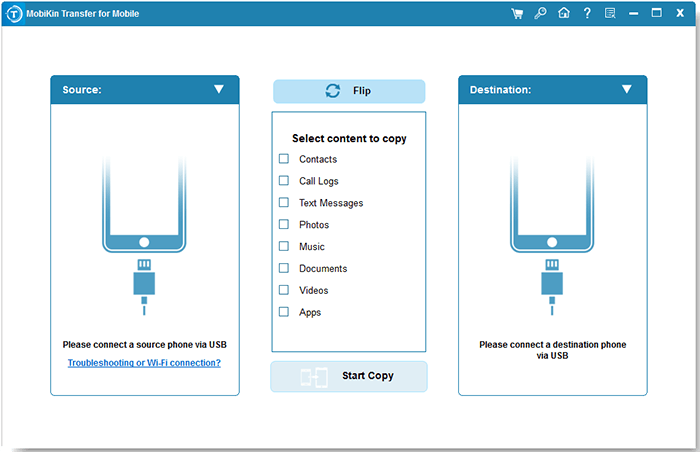 Step 2. Connect both the phones
You need to connect both the iPhone and vivo device to the computer you have installed the Transfer for Mobile. After the connection, the iPhone placement must be over the Source and vivo on the Destination. If not, tap "Flip" to make them the correct way.
By the way, you may need to enable USB debugging on your vivo phone.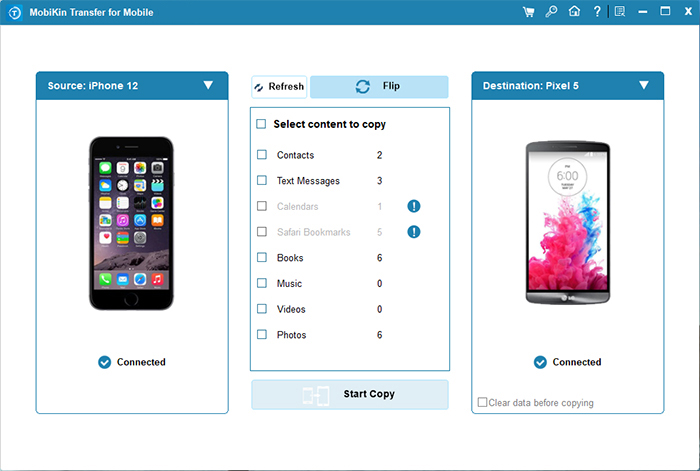 Step 3. Transfer data from iPhone to vivo
Select the data you wish to transfer from the middle interface, and click "Start Copy" to begin to switch from iPhone to vivo. Wait a few seconds for the process to complete.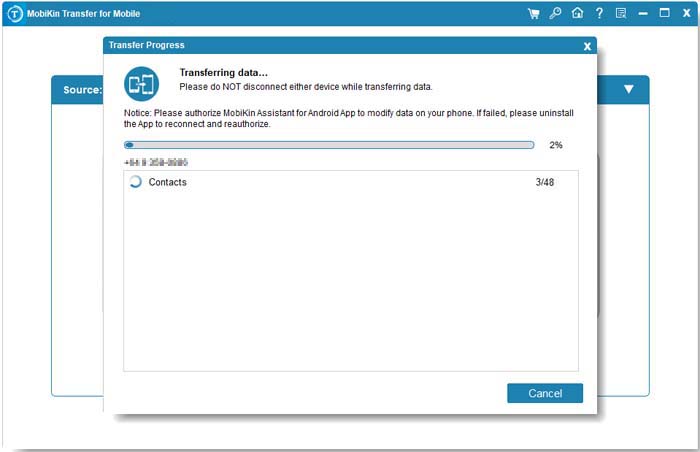 Related Posts:
Option 2: How to Move Data from iPhone to vivo with vivo EasyShare
vivo EasyShare is an excellent iPhone to vivo data transfer app developed by vivo specifically for vivo users. It can help users transfer data from old Android phones or iPhones to vivo devices. Files that can be transferred include SMS, contacts, apps, photos, videos, music, etc. Note that this app needs to be used on Android 9.0 or above.
How to migrate iPhone to vivo v11 pro/v15 pro/v20 via vivo EasyShare?
Download EasyShare from Google Play Store and install it on iPhone.
Launch it and tap the 2-arrow icon on the screen. Then, you will get the Phone Clone screen.
Select "Old Phone" and choose "vivo Phone" as the receiving device.
Follow the directions and enable "Allow modifying system settings".
Allow the permissions prompted from the app, and a QR code will appear on the iPhone.
Turn to your vivo phone, open EasyShare, and click on "New phone".
Use your vivo phone to scan the QR code on your iPhone, and the two phones will be connected.

All the data types available for transfer will be displayed on the next screen.
Select the data types you want to transfer and press "START DEVICE SWITCH" to start the transferring process.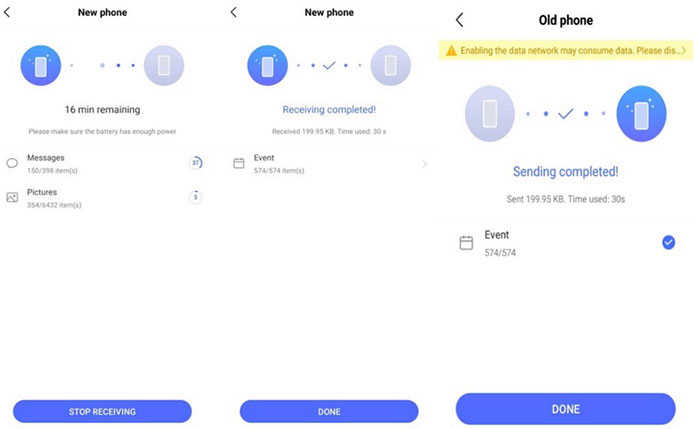 You May Also Need:
Option 3: How to Transfer Data from iPhone to vivo via Google Account
If you have a Google account, you can also achieve iPhone to vivo data transfer using Google's backup and restore function. Of course, even if you don't have a Google account, you can register for one for free. Google provides 15GB of free storage space for each account. Below, we simplify the process of how to transfer data from iPhone to vivo via a Google account. However, it can still be seen that it is much more complicated than using Transfer for Mobile.
How to copy data from iPhone to vivo with Google account:
On your iPhone, go to the "Settings" app and scroll down the screen to choose "Mail, Contacts, Calendars".
Tap "Add account" > "Google" and log in to your Google account.
On the Description screen, input a description of the contacts/calendars/mail/notes.
Tap the "NEXT" button.

Turn on the data options displayed on the screen.
Tap Save to begin syncing iPhone XXX with Google.
Turn to your vivo phone, tap "Settings" and choose "Account & sync".
Choose your Google account and tap on "Sync XXX" > "Sync Now".
Summary
The above is the entire content of how to transfer data from iPhone to vivo V9/V11/V15 Pro/V20/iQOO 7, etc. We mainly discussed three methods, including using Transfer for Mobile, Google account, and vivo EasyShare. You can read them one by one, compare the three methods according to the difficulty of the steps, and then choose the one that you think is the most effective and the simplest.
We would think that from the comparison of these three methods, EasyShare is complicated to use, and Google accounts may damage user confidential data. Transfer for Mobile provides the highest security and efficiency, and the entire transfer process can be completed in only three simple steps.
Related Articles:
6 Ways to Transfer Photos from Computer to iPhone Effectively
[Top 4 Ways] How to Transfer Contacts from iPhone to Computer/PC?
Detailed Guide to Transfer WhatsApp from Android to iPhone
[5 Ways] How Do I Back Up Contacts on vivo V9/V9 Youth/Pro?
How to Transfer Contacts from iPhone to iPhone [7 Easy Ways]
Samsung to iPhone Transfer: Switching from Samsung to iPhone in Different Ways