[2023 Updated] How to Transfer Data from OPPO to iPhone 14?
OPPO is a trendy smartphone brand. If you use OPPO Android phones for a long time, then it is good to make a change and try the advanced operating system platform of Apple iOS. However, Android and iOS are two completely different operating systems, which means that if you want to transfer data from OPPO to iPhone 14, it will be more complicated than file transfer between the same systems, such as transferring data from OPPO to OPPO, or transferring from iPhone to iPhone.
Fortunately, with the help of professional software, APP and cloud services, we can make data transmission between devices with different operating systems effortless. Now, let's get started.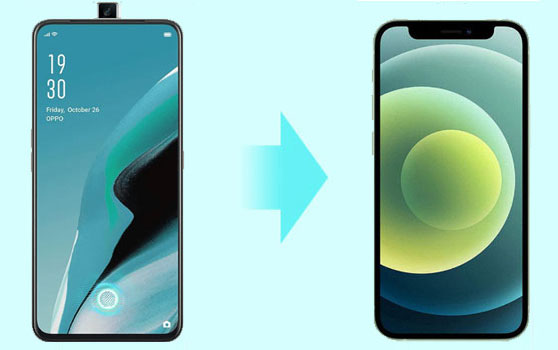 Way 1: How to Transfer Data from OPPO to iPhone via Move to iOS
Move to iOS is an APP specially designed by Apple Inc. that can switch data from Android to iOS devices. It can transfer contacts, photos, videos, message history, mail accounts, web bookmarks, etc., from Android devices to iPhone. With Move to iOS, you don't need to install third-party tools on your device. However, you can only transfer data from OPPO to iPhone, not vice versa.
Now, let's discuss the steps to do so.
Attention: It is suitable for those who want to transfer data to a brand-new iPhone since the task will wipe away the data on the target mobile.
Please pick up your iPhone and set it up until you see the Apps & Data screen. Then, hit the Move Data from Android tab.
Download the Move to iOS app from Google Play Store and install it on your OPPO. Open it and hit the "Continue" option on the two devices.
Tap on Agree and Next on the OPPO phone.
There will be a 12-digit code appear on your iPhone. Input the code on your OPPO device and the two devices will be connected via WiFi. Then, you'll access the Transfer Data screen.
On your OPPO phone, select the file you need to transfer to your iPhone.
Finally, tap Continue Setting Up iPhone on iPhone, and after that, you will need to log in to the accounts you transferred from the OPPO device.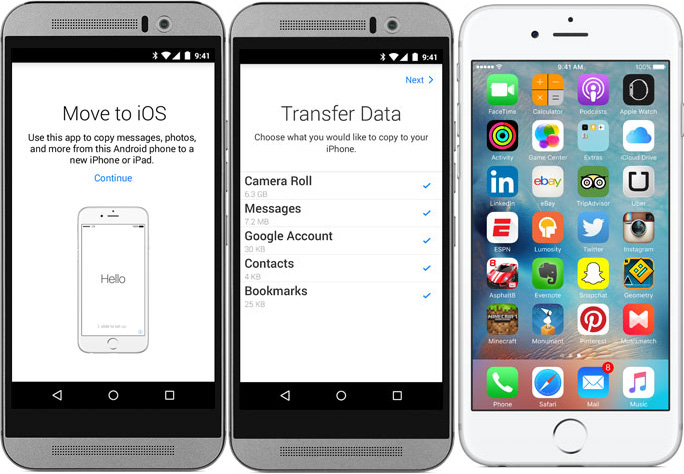 Cons:
It does not support transfers from iPhone to Android.
The iPhone needs to be reset, which means you will lose all your data.
It can not support the transfer of text messages.
It is not smooth to use on Android devices lower than 6.0.
Check if You Need:
How to Transfer Files from OPPO to iPhone with Transfer for Mobile
Move to iOS is suitable for a newly bought iPhone, after all, it will erase all data on the iPhone. If you have a lot of precious data on your iPhone and you don't want to lose them, then you can try the best alternative to Move to iOS - MobiKin Transfer for Mobile (Win and Mac). It is a popular phone transferring tool that allows you to transfer all the content from one device to another. Whether you want to convert OPPO to iPhone, or from iPhone to OPPO, it is always there.
What Can You Benefit from Transfer for Mobile?
Transfer content from OPPO to iPhone, with zero data loss.
Supports cross-platform data transfer, such as transferring from iPhone to Android, or transferring from Android to iPhone.
It is able to transfer contacts, text messages, call logs, photos, music, documents, videos, apps, and more.
Almost no three steps are required, and all transmission processes can be completed with one click.
Safe and reliable software, rated 5 stars by millions of users worldwide.
Compatible with almost all the Android and iOS devices, including OPPO Find X6/Find N2/A78/A56s/A58x/Reno9 Pro/9; iPhone 14/13/12/11/11 Pro/11 Pro Max, iPhone X/XR/Xs/Xs Max, iPhone 8/8 Plus, iPhone 7/7 Plus, iPhone 6/6S/6 Plus, etc.
How to Transfer Data from OPPO to iPhone 12/11/Xs Max/8 via Transfer for Mobile:
Step 1: Connect OPPO and iPhone to computer
After installing and launching Transfer for Mobile software on your computer, you are required to connect both your OPPO phone and iPhone to this computer via USB cables. After connected successfully, you can see the main interface of the program like below.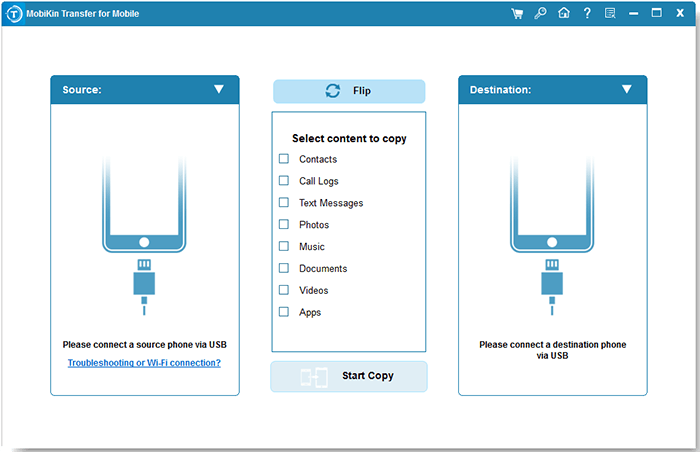 Step 2: Confirm the positions of the two devices
The two successfully connected devices will be randomly placed on the left and right. Now, you need to make sure that the source phone on the left is your OPPO phone because data will be transferred from source device to destination phone. You can click "Flip" to correct its position.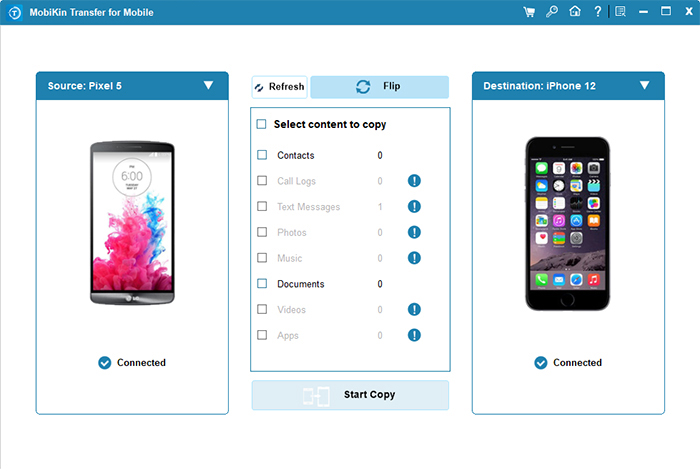 Step 3: Start data transfer from OPPO to iPhone
Select the tick-box or the content that you want to transfer, and hit on the "Start Copy" button to start moving files from OPPO to iPhone.
As you can see, Transfer for Mobile has transferred all the data you need from OPPO to iPhone without any loss.
You May Also Like:
Way 3: How to Copy Data from OPPO to iPhone with Google Drive
You can also use the backup and restore functions of a cloud service to synchronize the data on the OPPO phone to the iPhone. Compared with other cloud storage services, Google Drive provides a larger storage space, 15GB, to allow users to store photos, videos, recordings, Microsoft Office, etc. on their phones. After backing up the phone data, you can log in to the same Google account on the target phone to access and download the data.
Let's see how to transfer files from OPPO to iPhone using Google Drive:
On your OPPO phone, download and install Google Drive if your phone hasn't installed it yet. Then launch the app, and log in with your Google account.
From the main screen of the Drive, tap + > Upload , and select your desired content to move to iPhone. Then upload them to the Drive cloud.

Turn to your iPhone, install the Google Drive app, and sign in to the same account you've used on the OPPO phone. Then, you're allowed to view and download the files to this iPhone from the Drive.
Cons:
Cloud storage space is limited, and you need to pay a certain fee to upgrade the storage space.
It only supports the transmission of a few file types.
It depends on the network, so the transmission speed is slow and it takes a long time.
The Bottom Line
Above, we have shown you three methods about how to transfer data from OPPO to iPhone 12/11/Xs Max. Considering the completeness of functions and high-tech reliability, we always strongly recommend MobiKin Transfer for Mobile. However, if you need to transfer data to a new iPhone without any data, then the Move to iOS app is also a good choice. I hope you can choose a satisfactory method to complete the OPPO to iPhone transfer.
Finally, please drop us a line in the comment section if you have any questions.
Related Articles:
Detailed Guide to Transfer WhatsApp from Android to iPhone
How to Transfer Contacts from Android to Android in 2023
Top 5 Ways on How to Transfer Contacts from iPhone to Android
3 Easy Ways to Recover Deleted Files from Android in 2023
6 Ways to Transfer Photos from Computer to iPhone Effectively