How to Fix "Move to iOS Transfer Interrupted"? 7 Common Methods for You
"Trying to transfer from Android to iOS via Move to iOS; every attempt is stopped and says transfer interrupted." -- from Apple Support Communities
If you replace your Android phone with an iPhone 13/12/11/X, you may know something about Move to iOS. Alright, this tool is indeed a good choice for many of us. However, it is slammed by many users because of its inefficiency. More importantly, sometimes its transmission progress is suspended or stuck. You have to restart it and might get the same experience as last time.
Well, how can we fix "Move to iOS transfer interrupted" in an efficient manner? Check out this page to learn the workable solutions and a great alternative to the tool.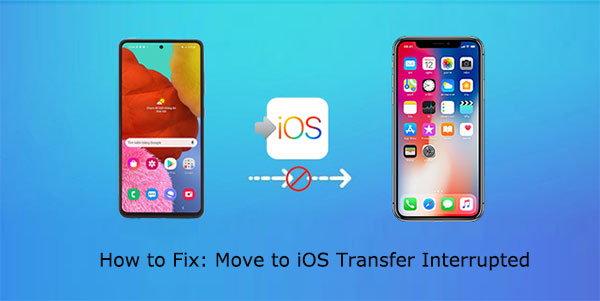 Part 1: Why Is Move to iOS Interrupted?
Before delving into the methods for fixing Move to iOS transfer interrupted, let's first know some possible causes of this phenomenon. The Move to iOS transfer error is difficult to overcome, probably because of the following factors:
Your Wi-Fi connection may be weak or is not that stable for transfer.
An older version of an Android or iPhone device cannot get along well with Move to iOS.
You may have a device running with an earlier version of operating systems.
See More:
Part 2: Fix Move to iOS Transfer Interrupted in 6 Optional Ways
Fix 1. Leave Your Devices Aside When Transferring Data
When the transfer is interrupted using Move to iOS, it's best to ensure no activity on your devices. That is, you don't use the phones and turn on the screens. To keep the transfer from being interrupted by the incoming calls, you're advised to temporarily take out the SIM card before the copy.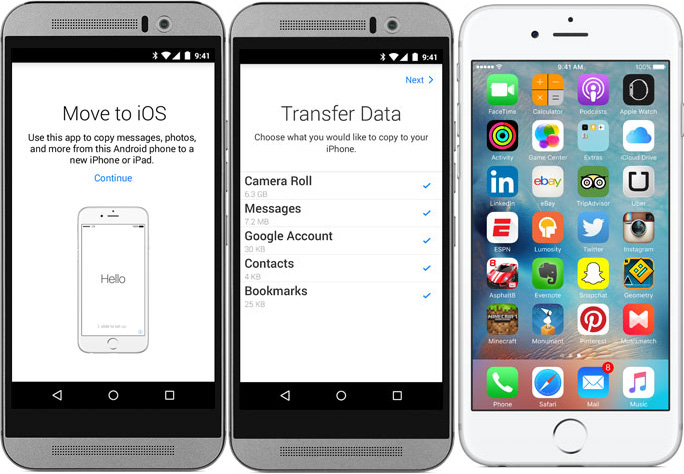 Fix 2. Check the Internet Connection
In case the network isn't as stable or strong as expected to support the app, you can switch to another one by going to your phone's Settings and clicking WLAN. Then just connect to a dependable Wi-Fi. After that, check to see if the Move to iOS transfer error remains outstanding. (What if my iPhone cannot connect to Wi-Fi?)
Fix 3. Disable Smart Network Switch on Android
While using Move to iOS, the transfer was interrupted because of the Smart Network Switch, which was reported by many mobile users. The speed of the network may stay unstable when it is enabled. To disable it, you can:
Go to your device's Settings > WLAN > Advanced.
Disable "Smart Network Switch". (Here, you may need to check "Select best networks automatically" in some phone models)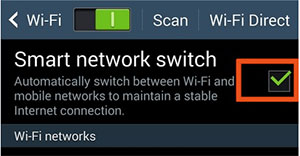 Fix 4. Close Apps Running in the Background
Move to iOS will be interrupted or crash when a transfer error has occurred. How to fix it by making a few changes to the application processes? Well, some apps running in the background may occupy your data traffic and thus slow down your phone's performance. So, you can now close some of them or delete temp files on Android to optimize the phone before trying Move to iOS again.
Fix 5. Turn on Airplane Mode
Many users tend to get their devices into the "Do Not Disturb" mode to avoid any unnecessary calls, prompts, or other bugs. You can do it by turning on the Airplane mode from Android "Settings" or the notification tray. It indeed fixes "Move to iOS transfer interrupted" in many cases, according to the feedback from the Move to iOS users in Apple Forum.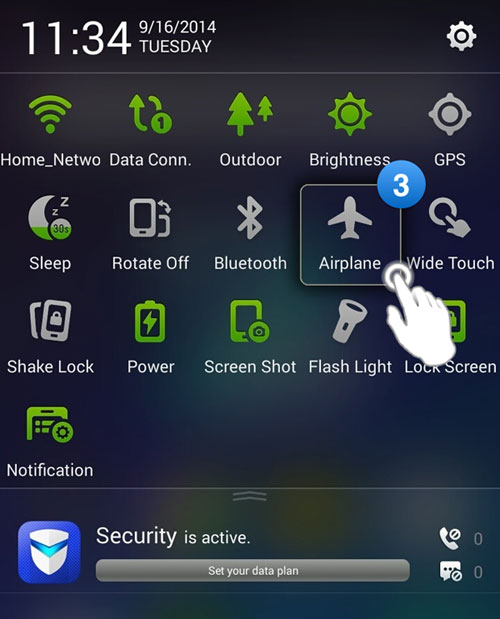 Check If You Need:
Fix 6. Restart Your Android Device
Well, how do I fix Move to iOS transfer interrupted in the easiest way? Just try to restart your Android phone as follows:
Hit the "Power" button on your phone from the top, right, or left for several seconds.
You will see buttons like "Power off" and "Restart".
Press the "Restart" and wait until it reboots automatically.
Part 3: Use the Best Move to iOS Alternative: MobiKin Transfer for Mobile
Performing a transfer that pauses now and then is quite irritating. Instead of finding its solution, it's better to get a tool that can always conduct the transmission smoothly. This article recommends a great replacement for MobiKin Transfer for Mobile (Win and Mac). This ingenious program assists in steadily moving data across devices, irrespective of the operating systems they are on.
Core features of Transfer for Mobile:
Transfer content from Android to iPhone, iPhone to iPhone, iPhone to Android, and Android to Android.
The supported data types: contacts, text messages, call logs, photos, music, videos, apps, documents, and a lot more.
No technology required, smooth transfer, and no data loss.
Play functions on overall Android and iOS devices, covering Samsung, Sony, LG, Xiaomi, Vivo, Google, OnePlus, OPPO, iPhone 13/13 Pro (Max)/13 mini/12/12 Pro (Max)/12 mini, iPhone 11/11 Pro/11 Pro Max, iPhone X/XR/Xs/Xs Max, iPhone 8/8 Plus, iPhone 7/7 Plus, iPhone 6/6S/6 Plus, iPod touch, iPad, etc.
It won't disclose your privacy.
Easy steps for how to transfer files from Android to iPhone with Transfer for Mobile:
Step 1. Install and start the utility on a computer after the download. Next, connect your Android and iOS device to the computer via USB. Then follow the hints on the screen to let the tool recognize both devices.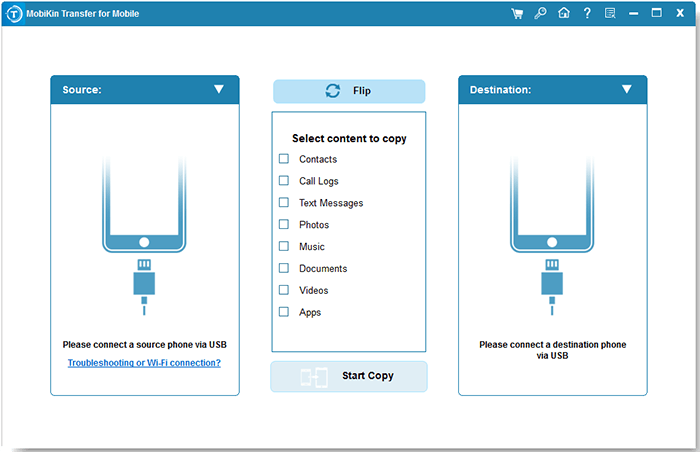 Step 2. You'll get the main interface after the recognition. Now, please make sure that the source phone on the left is Android (The other one is on the right). Otherwise, you need to tap "Flip" to correct the positions.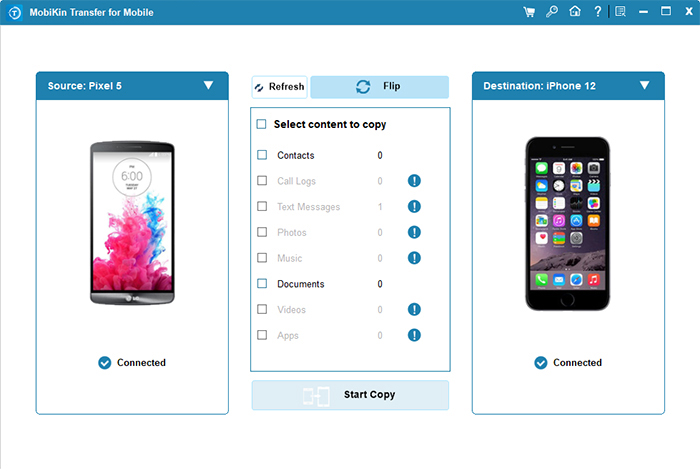 Step 3. After that, choose any data types you would like to transfer and tap on "Start Copy" to kick-start the Android to iPhone data transfer at once.
Please do not operate your smartphones during the task and do not disconnect the cables until the transfer is complete.
The Bottom Line
The above is how to deal with the transfer interrupted issue when using Move to iOS., including a replacement for it. To be honest, if you encounter such a problem when utilizing it for the first time, you can fix it with any of the methods we just described one by one. But for some users who are "tortured" by it frequently, looking for a substitute like MobiKin Transfer for Mobile may get twice the result with half the effort.
At last, any queries? Please let us know in the comments below.
Related Articles:
Move to iOS Not Working? Here's the Full Solution!
Why Files Get Deleted/Corrupted After Moving to SD Card?
5 Simple Ways to Fix Android Phone Screen is Black
2 Efficient Methods to Backup and Restore iPhone without iTunes
How to Fix Samsung Smart Switch Stuck Issues: Causes, Ways & Alternative
What if AirDrop Not Working on iPhone? Here're Full Tips and Tricks