6 Simple Ways to Unlock Android Phone without Google Account
In an effort to keep the data on Android phones confidential, many people have developed the habit of setting passwords or patterns for their handsets. But it could be a frustrating time when you forget the info about the lock. That means your Android data will thus be beyond your reach. Well, you may know most of the available unlocking methods require a Google account. If push comes to shove, you might be forced to bypass Android lock screen without Google Account credentials. Uh, how to achieve this?
Now, in today's review, we'd like to let you know 6 incredible solutions to get you out of trouble. You can pick your favorite one to get the task done without any coding experience.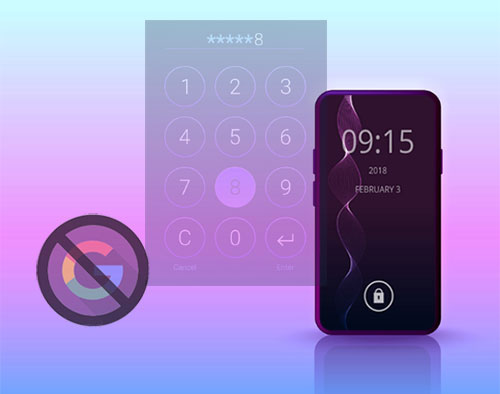 Way 1: How to Unlock Android Phone without Gmail Using Factory Reset
You can only reset the locked phone to factory defaults, if it does not have the Google account associated with it. And usually, you may do this in the following situations: for instance, downloaded apps cannot be uninstalled, your Android phone runs inefficiently due to too much content, and the password or pattern is forgotten, etc.
This will leave your phone in its factory state, and therefore erase most of the data on it. So to avoid erasing the SD card on Android phone, remember to remove the card from the device, if any, before performing this operation.
How to unlock Alcatel One Touch/DELL/Sony/Samsung, etc. without Google Account:
Power off your locked phone, and boot it into Recovery Mode. To do this, you should hold down the "Volume Up + Home + Power" key simultaneously until you see the boot animation. For some Android devices with no Home keys (some Vivo and HTC devices, etc.), just hold down "Volume Up + Volume Down + Power" keys altogether.
After entering this Mode, you'll see some options now. Simply choose "wipe data/factory reset" option by using the volume buttons. Then touch the "Power" button to confirm the selection.
Choose "ERASE EVERYTHING" from the next option. And hold down "Power" button again. After the reboot, your locked Android phone should be a "fresh" phone.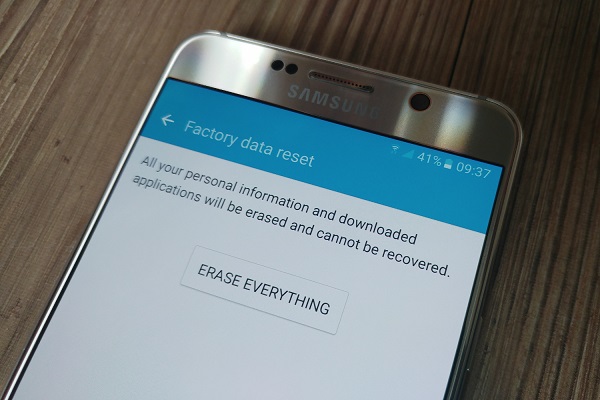 Check if You Need:
Way 2: How to Bypass Android Lock Screen without Google Account via Android Unlock
To put yourself at ease, and easily access the Android data within, you'd better opt for a reliable and powerful 3rd-party software. Android Unlock is such a program, allowing you to bypass Android lock screen without forced factory reset. It requires no technical skills, and can remove the lock within minutes.
It is worth mentioning that this tool is for personal use only, and is strictly prohibited for phones from illegal sources.
Key Features of Android Unlock:
Clear 4 types of screen locks, including password, pattern, PIN, as well as fingerprints.
Unlock your Android device breezily, and there is no need to worry about data loss.
Easy to use, pleasing interface and risk-free, keeping all your operations confidential.
Work for various Android phone brands, including Samsung, Motorola, LG, Sony, Huawei, OPPO, Google, Vivo, OnePlus, Xiaomi, HTC, etc.

To learn how to unlock Android phone without Gmail using Android Unlock:
Step 1. Click the button above to download Android Unlock program on computer. Then install and launch it. You'll see the initial interface of the tool, and just choose "Unlock" to move ahead.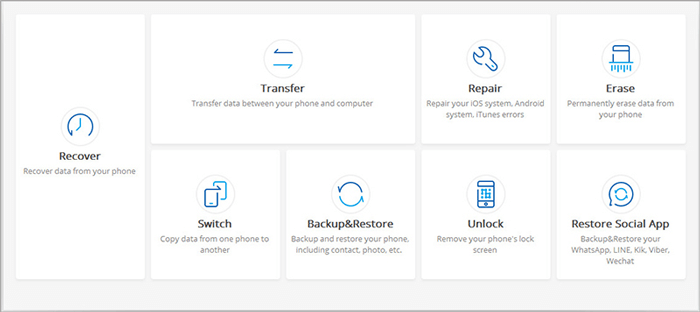 Step 2. Connect locked phone to computer through a USB cable to let the software detect the mobile. After the recognition, click the "Start" option, and follow the on-screen prompts to put your phone into Download mode.
To get into the Download mode, simply turn off the phone; then press and hold Volume Down + Home button + Power button altogether. After a while, release those keys, and press "Volume Up" to complete this task.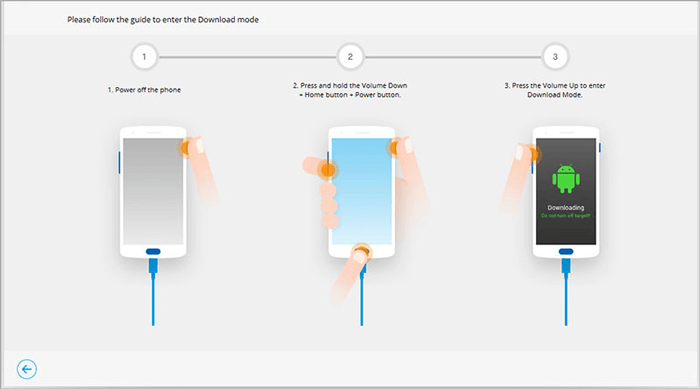 Step 3. After entering into this mode, the tool will download a recovery package on the locked phone automatically. Just wait for the process to end.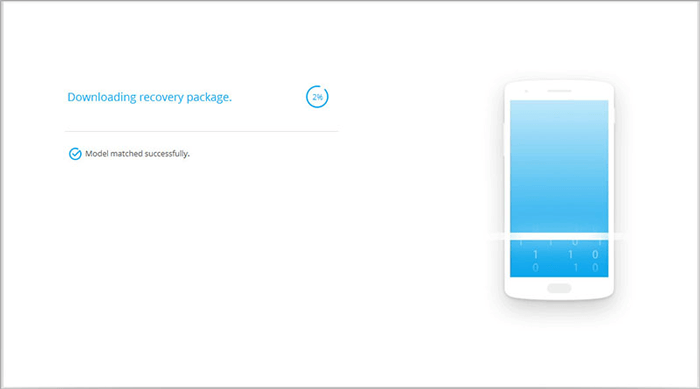 Step 4. Soon, the sight of "Remove Password Completed" marks the successful unlock. You can manipulate your Android phone as you wish now.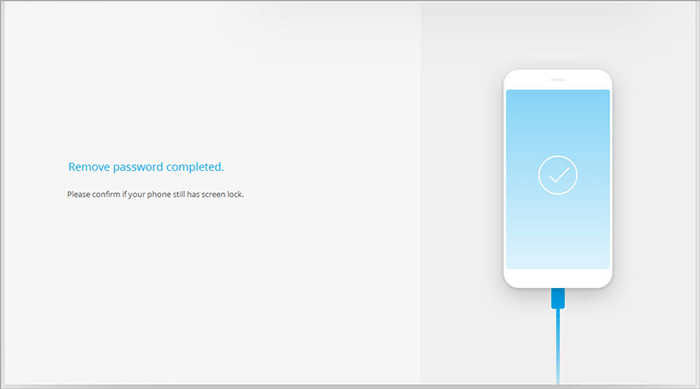 Way 3: How to Unlock Android Phone without Google Account Using Safe Mode
Safe mode is, generally, not helpful to unlock Android phone without Google account. But if the phone lock is a 3rd-party lock screen app, rather than a system lock, this can be an easy yet effective means.
How do I unlock my phone without a Google account using safe mode?
1. To start with, head to "Power" menu from the locked phone's screen. Hold down the "Power Off" button to boot the phone into safe mode.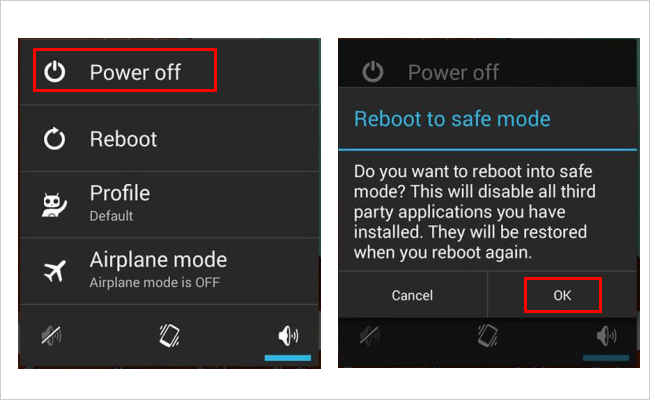 2. This will help make 3rd-party lock screen app inoperative. Now you can uninstall your screen lock app or simply reset your Android device.
3. After that, you should reboot this phone, and turn off Android safe mode. At last, you can get access to your Android phone without the need of entering the password on the phone's screen.
Way 4: How to Unlock Android Phone without Gmail Account via "Crash the Lock Screen UI"
For phones with old Android OSes, there might be some specific solutions. For example, if your phone is working with Android 5.0-5.1.1, then Crash the Lock Screen UI can be an alright option.
How to unlock android phone without Gmail via "Crash the Lock Screen UI"
1. Tap "Emergency" option on your locked Android, and type in "10" asterisks via the dialer. Touch the entire asterisks twice to highlight it and choose "copy".
2. Click the field to paste the copied string. Repeat the action until your highlight option is inaccessible to you.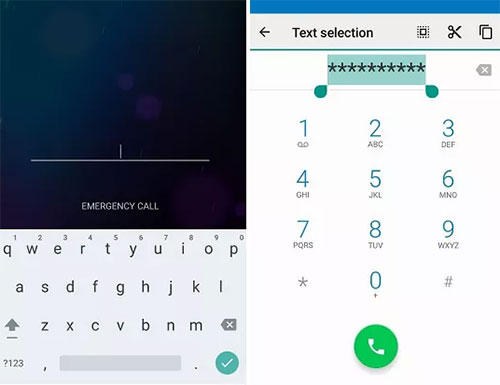 3. Go to the lock screen, open the camera shortcut, and pull down the notification bar in succession.
4. Click "Settings" to get the password prompt on the phone's screen. Now, just repeat the operations of step 2.
Note: Make sure the cursor is at the end of the string each time during this procedure.
5. To unlock Android phone, you should disable the UI by doing step 4 repeatedly. Finally, you can get into your device and give full control over it.
Can't Miss:
Way 5: How to Reset Pattern Lock on Android without Google Account through ADB
This method is time-saving and easy to operate, yet you need to open USB debugging on your Android phone before your phone is locked. Because in this way, the computer should have the right to identify your mobile first, so that it can be unlocked through the ADB (Android Debug Bridge) command.
Here's how to unlock Android phone pattern lock without Gmail through ADB:
Get your device attached to computer via an original USB cable.
Hold down "Windows + R" keys, and you'll find a pop-up box from the computer's screen.
Enter "cmd", tap "OK", and the cmd.exe screen will then appear. Just type in "adb shell rm /data/system/gesture.key".
Your Android phone will now start to reboot. Subsequently, you are free to set a new password for your Android device.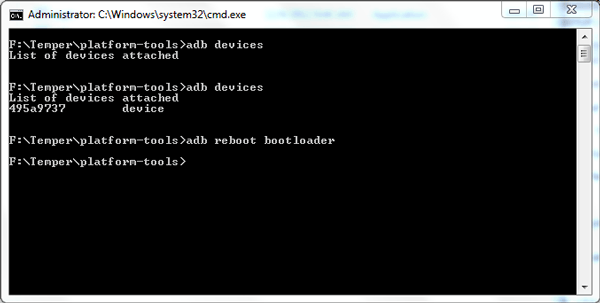 Way 6: How to Unlock Samsung Galaxy without Google Account via Find My Mobile (Samsung Only)
If you have set up Samsung account on your locked Samsung, and switched on Remote Control option in it, then it's a simple task to choose Find My Mobile to unlock Samsung Galaxy without Google account. Again, it is unable to work with Samsung phone like Galaxy A6s.
How to unlock Samsung Galaxy without Google account using Find My Mobile:
Go to Find My Mobile website from any devices, and log in your Samsung account.
Select your locked Samsung phone, and click "Unlock My Screen" on the right column of the interface.
Click "Unlock" option. Then, you'll need to type your Samsung account info again, and tap "Next". Soon, Your Samsung data is within your reach.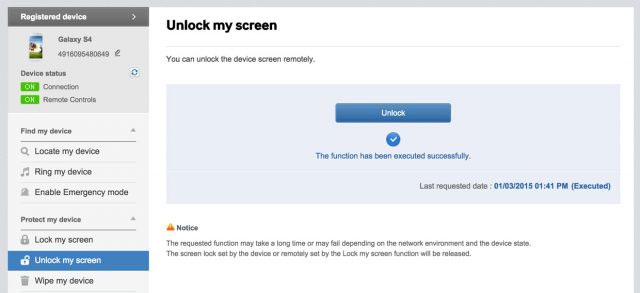 Note: There are some security risks about this tool. It has been exposed to invaded by Site Request Forgery Attack (CSRF), so the safety and success rates cannot be guaranteed.
Extra Tip: How to Reset Your Google Account
You won't receive any verification code without a Google account available. To address this issue, you can, by and large, recover the account before or after unlocking Android phone with any of the above ways. But note that if you use an account through your work, school, or other group, this way might not work.
Here is a complete guide about Gmail password recovery, you can read it for more details.
The Bottom Line
It won't be a real pain to bypass Android lock screen without Google Account now. Because you can go for the method you like best, in the light of the specific scenarios of your phone. Yet most of the above approaches come with harsh application conditions, so you can just think about Android Unlock directly. It's almost a universal tool, with which, you don't have to worry about losing any of your Android data all through.
Hopefully, you folks find our efforts helpful, and consider sharing this post with your friends. Chances are that they'll obtain convenient solutions to get out of their dilemma.
Related Articles:
4 Reliable Methods to Unlock Apple ID without Phone Number
7 Useful Methods to Unlock Android Phone without Password
Tips & Tricks to Remove Swipe Screen to Unlock Android Phone
How to Remove Gmail Account from Android?
Retrieve Deleted Photos/Videos from Locked Samsung