How Do I Bypass the Lock Screen on My LG without Reset [Must-Read]
It is very common to set a lock screen with password/pattern/pin/fingerprint for an LG phone. It keeps LG content from unauthorized access. Occasionally, you might change the lock screen authentication, while others know the info, being prone to ending up forgetting it. Or perhaps you are using an LG mobile that someone else has used, and thus locked out of it. Hence, in either case, you are likely to think of how to bypass LG lock screen without reset, avoiding erasing any stuff on the phone.
OK, to free you from any inconvenience brought by such emergency, we'll gather 5 scientific methods for your reference now.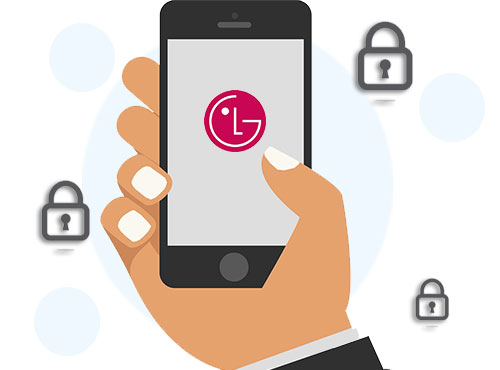 Way 1: How to Bypass LG Lock Screen without Reset Using Android Unlock
The lock screen on LG phone, different from physical locks, cannot be opened by smashing the gadget against heavy objects. In order to get rid of the dim verification, and get access to the device, you need an effective unlocking program to make your life easier. Well, it is Android Unlock, which can easily remove overall existing lock screens of Android phones, and the procedure won't have any impact on Android data.
Android Unlock - the Best LG Lock Screen Bypass Tool:
Remove various types of screen locks on Android, containing password, PIN, pattern, and fingerprints.
Unlock Android device in minutes, keeping phone files intact.
Easy to use, simple interface and ads-free.
It guarantees your privacy from anyone.
Compatible with various LG devices, such as LG W41/W31/W11, LG G9/G8/G7/G6/G5/G4/G3/G2, LG Stylo 4/5/6, LG V60/V50/V40/V30/V20, LG C550, E400, E720, GT540, GW620, LG K92/K62/K50/K40/K30/K20, VS740, VS910 4G, ZP500, etc.

To bypass LG lock screen without reset using Android Unlock:
Step 1. Download this Android Unlock tool before installing and starting it. Then you'll get the primary interface of the program. Just select "Unlock" module to continue.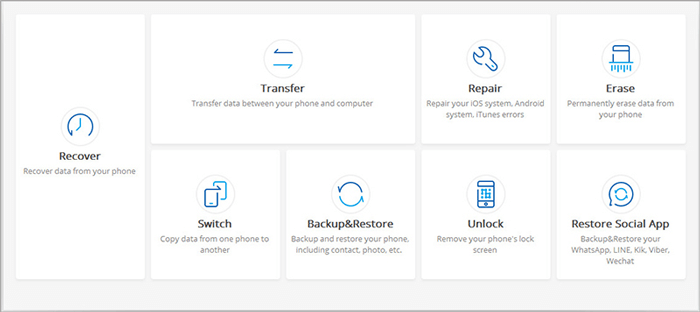 Step 2. Link LG phone to computer via a USB cord, and enable USB debugging on LG. Soon, the phone will be recognized by the software. Now tap the "Start" option. And let the device get into Download mode.
Tips: To reboot into Download mode, just turn off LG, press and hold Volume Down + Home button + Power key. Then release these keys, and press "Volume Up".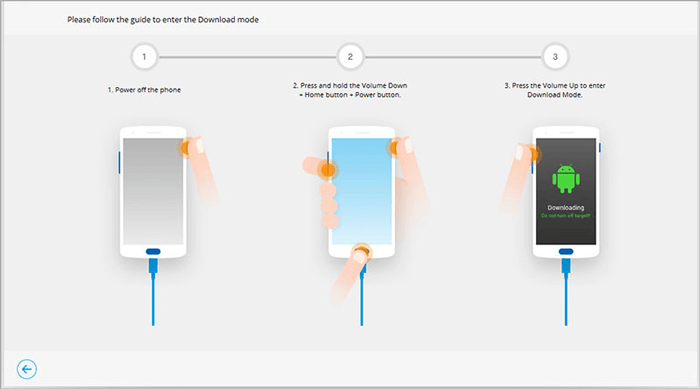 Step 3. While LG phone is in this mode, the program will download a recovery package on LG automatically. Ensure that you are doing the task with a stable WiFi network.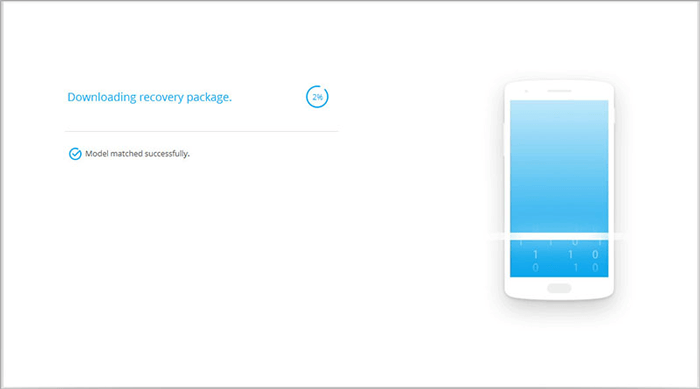 Step 4. You'll then find the messages "Remove Password Completed" from the screen. Now, you can access your LG phone, and do whatever you want.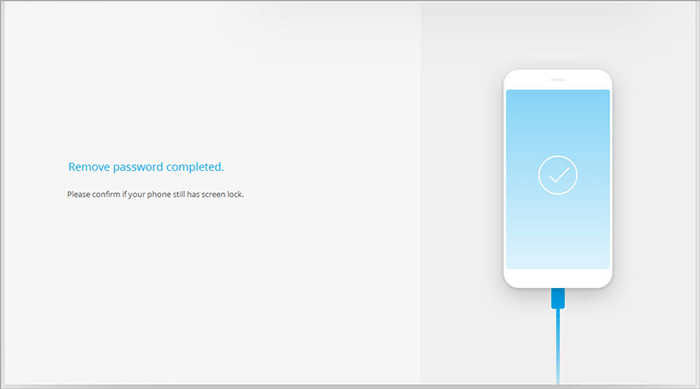 You May Also Like:
Way 2: How to Bypass Pattern Lock on LG Phone via Google Account
Before removing pattern lock via Google account, you should have a Google account linked to your locked device first. During the use, you need to input Google account credential several times.
If you have a secondhand LG without knowing its Google account, you can jump right to Part 1 for strategies.
Attention: This means only works for LG phone running on Android 4.4 or below.
Step 1. Type in a random password/pattern on your LG phone. Repeat this action 5 times until you see the pop-up messages "Try Again in 30 Seconds".
Step 2. Click on "Forgot Pattern" at the bottom of the screen. Then press "Next" to move on.
Step 3. Tap "Enter Google account details", and click "Next" to proceed.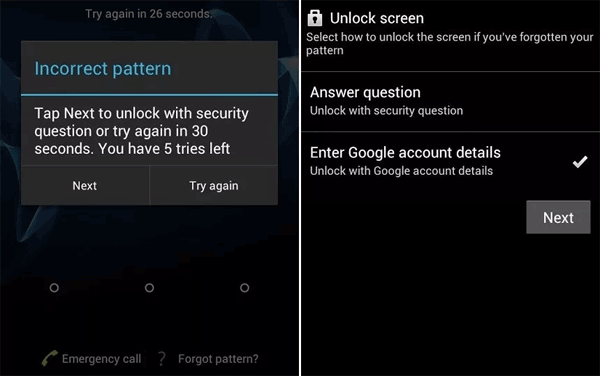 Step 4. To bypass pattern lock on LG phone, just log in the right email and password to the account.
Step 5. Follow the guide to add a new unlock pattern on the screen. Then touch "Continue" to make it work.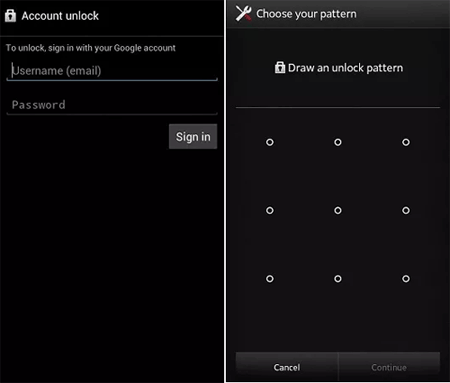 Way 3: How to Bypass Lock Screen on LG Phone without Reset using ADB
At first, make sure you have enabled USB debugging on your LG phone. Then you can try to bypass lock code on LG phone with ADB (Android Debug Bridge). This approach is not commonly used, and you're required to have a rough understanding of command prompt.
To bypass LG Stylo 4/5/6 lock screen without reset using ADB:
Step 1. Link your locked LG phone to computer through a USB cable.
Step 2. Open the command prompt window by entering "Win (icon) + R" on the keyboard of your computer.
Step 3. Input the command as: adb shell rm /data/system.gesture.key, and press the "Enter" key.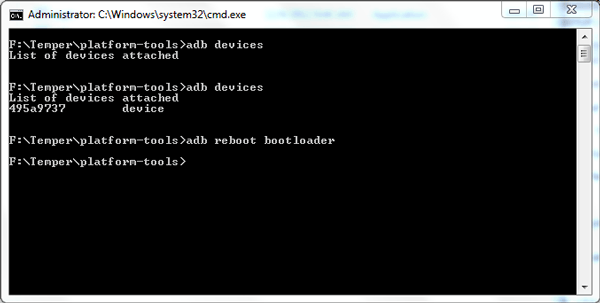 Step 4. Restart your LG phone, and you should see the old lock screen is cleared. Now, you can set a new screen authentication for the device.
Further Reading:
Way 4: How Do I Bypass the Lock Screen on My LG without Reset via Android Device Manager
You should first check or recall whether you've toggled on Android Device Manager, and logged in with a Google account before your LG phone is locked. If the requirements have been met, simply try this easy means to remove the lock screen from your handset.
How to bypass LG lock screen without reset using Android Device Manager:
Step 1. Visit the website of Android Device Manager on any device. Then sign in with your Google account.
Step 2. Go to find the LG whose lock screen you plan to remove. Next, switch on "Lock & Erase" function.
Step 3. Go with the directions that turns up on the screen to lock your LG phone.
Step 4. Set a new password you want on the Android Device Manager page.
Step 5. Type in the new password on your LG device to bypass its lock screen without reset.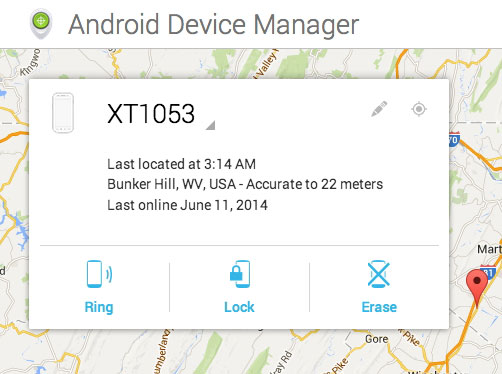 Way 5: How to Bypass Lock Code on LG Phone without Reset via Custom Recovery
Suppose you have an external SD card that can be used to insert into your phone's card slot, you can take Custom Recovery into account. Yet the process is relatively complex. You should flash both TWRP and Pattern Password Disable ZIP file into your device via SD card. Then reboot your Android phone, and get into Custom Recovery mode.
Directions on how to remove screen lock on LG via Custom Recovery:
Step 1. Input the keyword: Pattern Password Disable ZIP on any SE of your computer. Choose the latest ZIP version and download it. Then download TWRP to the computer.
Step 2. Plug an SD card into this computer via a card reader, and transfer both TWRP and the ZIP file to this card. After that, carefully remove the card.
Step 3. Insert the card to LG, and reboot the phone into recovery mode. After that, activate TWRP by pressing & holding the Power, Home, and Volume Up key altogether, until the phone goes into Custom Recovery mode.
Step 4. Tap on "Install" and browse for the Pattern Password Disable ZIP file. Then just install it.
Step 5. After the installation, reboot your LG phone. Now, there should be no lock screen on your device. But what if the lock screen is the same as before? Simply remove it by entering a random digit.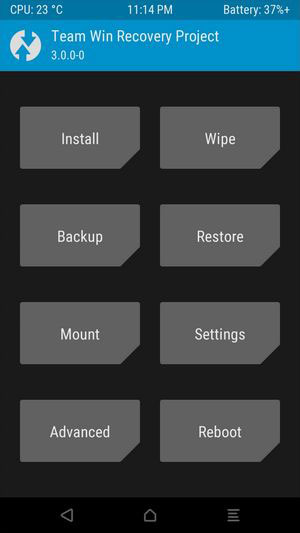 Roundup
Well, are you familiar with one or more of the following scenarios?
You get a second-hand LG phone, and don't know the Google account set or logged in it.
The USB debugging was disabled on the locked LG phone.
You forgot the pattern set on the LG mobile with Android 4.4 or above.
You didn't enable Android Device Manager when LG was locked.
You're not used to receive and process files using an SD card.
You have no confidence in the relatively difficult operation.
If so, don't hesitate to go for Android Unlock to bypass LG lock screen without reset in an easy manner.

Are there any further questions? Please feel free to let us know on the message board below.
Related Articles:
How to Transfer Photos from LG Phone to Computer? [Solved]
LG Contacts Recovery - 3 Clicks to Recover Deleted Contacts from LG
4 Amazing Ways to Transfer Contacts from LG to iPhone 11/Xs Max
[Solved!] How to Unlock iPhone X without Passcode or Face ID?
Bypass Android Password without Factory Reset