Forgot Pattern Lock? Here's How to Unlock Android Pattern Lock if Forgotten
A pattern lock could natively secure Android data and give you exclusive use of a phone. Yet frequent pattern changes potentially increase the odds of pattern lock forgotten. Well, if you forgot pattern lock on your smartphone, you'll be locked out of it and might be eager to find a solution to the awkward scenario.
Honestly, it's easy to unlock the forgotten pattern lock on Android if you associate the gadget with Google credentials. In cases where you are completely overwhelmed, this problem can be solved as well. OK, let's take a look at some of the most recommended approaches now.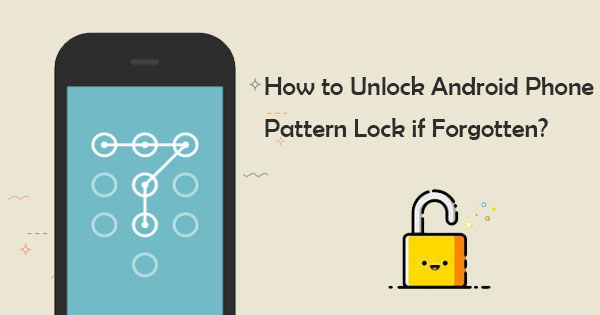 Way 1: Unlock Forgotten Pattern Lock on Android with A Professional Tool
If you are trapped by the forgotten pattern, password, PIN, or even Samsung FPR, Android Unlock may be the best fit for your priorities. Compatible with almost all the leading Android phones/tablets, this program delivers an easy click-through process, allowing you to bypass the pattern lock without following a proper protocol. Yet, please note that it may result in data loss on most non-Samsung/LG phones.
What can Android Unlock do for you?
Unlock forgotten pattern lock on Android without Google credentials in seconds.
Remove various screen locks, including patterns, PIN codes, passwords, fingerprints, and Face IDs.
Bypass Samsung FRP without PIN or Google credentials.
Eradicate screen locks on some Samsung or LG phones with no data loss.
Work for mainstream Android phones/tablets, containing Samsung, Google, Xiaomi, Motorola, Huawei, OnePlus, ZTE, LG, OPPO, etc.
It won't let out your privacy.
Android Unlock free download:

Easy steps for how to unlock pattern lock on Android with Android Unlock:
Step 1. Install and launch this utility on your computer. Then select the "Screen Unlock" option from the toolkit.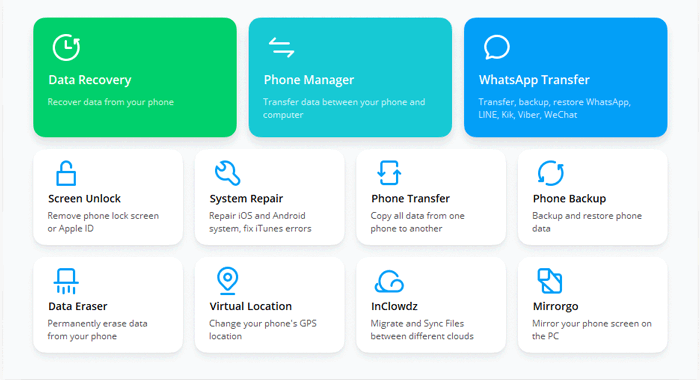 Step 2. Connect your locked Android phone to the computer via a USB cord. Next, click "Unlock Android Screen".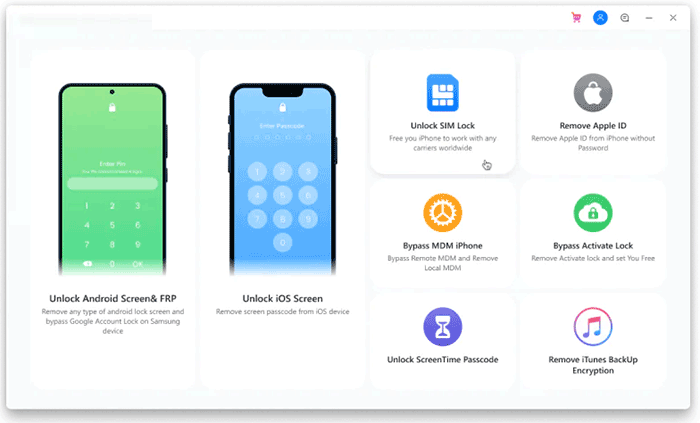 Step 3. Make sure to choose the correct phone model from the incoming screen and tap "Next".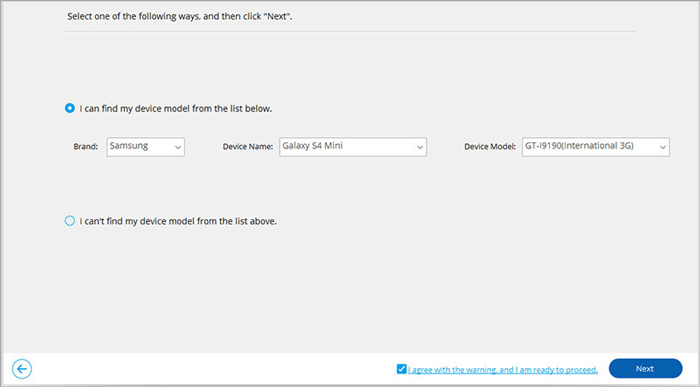 Step 4. Subsequently, fill the box with "confirm" to let the utility know that you'd like to continue.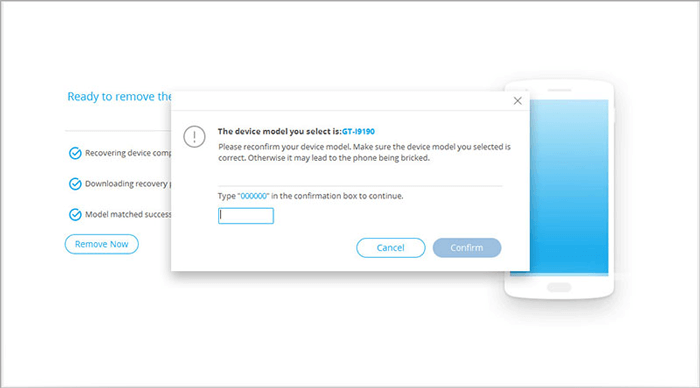 Step 5. After that, please follow the easy and clear on-screen instructions to set your phone to Download Mode.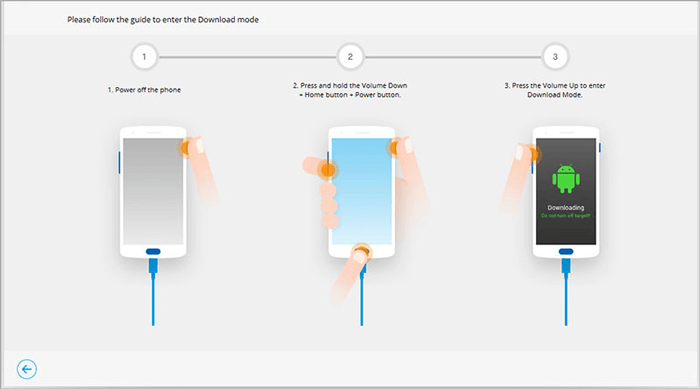 Step 6. When the software detects your phone is in that mode, it'll soon download a recovery package for the device automatically.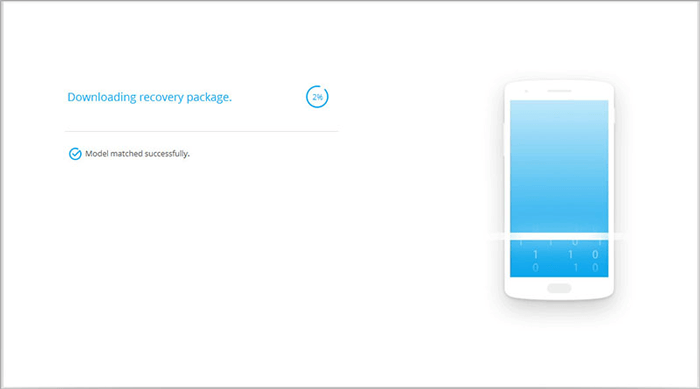 Step 7. Once downloaded, the program will successfully unlock your phone's pattern lock in minutes.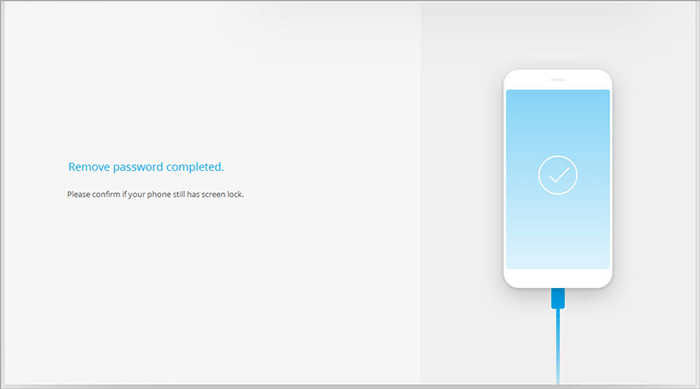 You May Want to Know:
Way 2: Unlock Forgotten Android Pattern with Find My Device
Google Find My Device lets you locate/manage your Android device and wipe Android data remotely, through which you can unlock forgotten pattern locks without struggling. Initially, ensure you added the Google account to the locked phone before you forgot to unlock the pattern, and the device is powered on with connecting to Wi-Fi.
How to unlock a phone with a pattern lock using Find My Device?
Visit the Find My Device page and log in to your Google credentials.
You'll find the devices linked to your account and their location on the page.
Tap "ERASE DEVICE" on the left menu.
Press "ERASE" among the given options to remove the Android forgot pattern lock.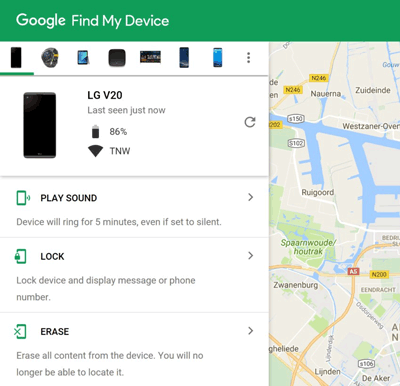 Way 3: Unlock Forgotten Pattern Lock on Android with Backup PIN
Some Android phones provide you with a backup PIN, through which you can eliminate the locked screen without resetting it. Typically, the backup PIN is a security code users create as a replacement for the screen password. However, this feature only works for a few phone brands like Samsung. Next, let's see how to unlock the pattern on Android using a backup PIN:
Enter your Android pattern lock six times.
You'll be prompted that you can try the pattern again after 30 seconds.
Tap on the "Backup PIN" option.
Input your backup PIN and tap "OK".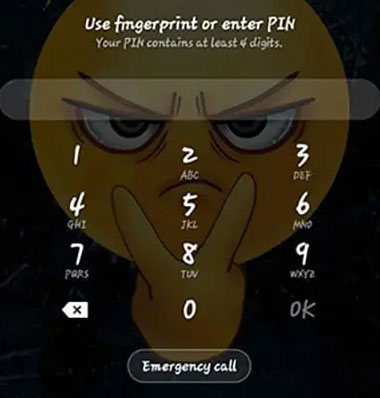 Extended Reading:
Way 4: Unlock Android Phone Pattern Lock If Forgotten by Factory Reset
"I forgot my pattern lock, and I don't care about what's on the phone". Given that, just take the assistance of factory data reset since it may delete your Android content afterward. Here's how to unlock Android pattern lock in this way:
Press and hold down the "Home", "Volume up", and "Power" buttons together. (The combination button may vary from one Android phone to another)
You'll soon get into Android recovery mode.
Choose the "wipe data/factory reset" option to reset the pattern lock.
Select the option using either the "Volume down" or "Volume up" key.

After that, confirm the action and wait for your device to reboot.
Once done, you should get access to your device without a pattern lock.
Way 5: Unlock a Phone with a Pattern Lock in Safe Mode
If your Android phone is locked by some 3rd-party lock screen apps, getting your device into safe mode may help overcome Android pattern unlocking. Besides, while using safe mode in Android, you can easily make and receive calls, send messages, go online, and even use the system apps.
How to unlock pattern lock in Android by booting the device in safe mode?
Power off your Android device.
Press and hold the "Power" button and the "Volume down" key simultaneously.
Tap "OK" to confirm, and the safe mode screen should appear in the bottom left corner.

Navigate around the device to quit or disable the lock screen replacement app.
The pattern lock should be removed automatically.
To exit that mode, please hold "Volume down" and "Power" for over 5 seconds.
Way 6: Unlock Pattern Lock in Android via Forgot Pattern Feature
Users initially could only rely on the Google credentials of the linked device to bypass the Android pattern lock. Over time, the technique was discontinued on Android 5.0 and up. So, it's still a good idea to try the inbuilt "Forgot Pattern" feature if your phone is running an older Android version, like 4.4 or older.
How do you break a pattern lock with forgot pattern feature?
Enter the wrong passcode 5 times until the "forgot pattern" option appears on the screen.
Click on that option, and you'll be asked to choose if you want to unlock the device using the security question or Google account.
Pick the latter and enter the Google details. (Can't sign in to your Google account on Android?)
You will then be able to reset the pattern.
Just do that to access your device with the new pattern.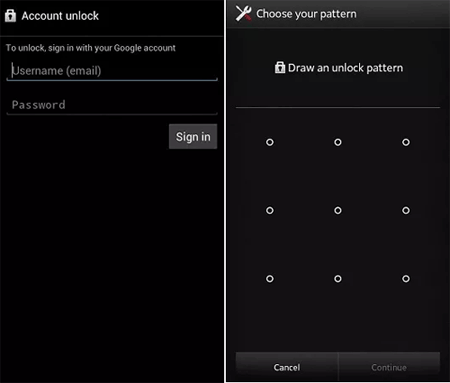 Concluding Remarks
Well, that's all about Android pattern unlocking. On the whole, the six methods above are not tough to put into practice. But some restrictions are imposed on most of them, such as the need for a Google account, limits on mobile phone brands, or requirements on the type of lock. Luckily, the only holdout is Android Unlock. Namely, you can count on this program to bypass forgotten pattern locks or other screen locks without preconditions.

Related Articles:
Forgot Password on ZTE Phone? 5 Tips to Unlock ZTE Phone Pattern without Losing Data
All You Want to Know about Intelligent Lock Screen on Samsung [2022]
[Fixes in 2022] How to Unlock iPhone with Unresponsive Screen?
How to Unlock Samsung Galaxy S4 PIN Code in 5 Easy Methods? [Fixed]
5 Simple Ways to Fix Android Phone Screen is Black
[Up to Date] How to Wipe Android Phone Completely before Selling?