Free Unlock Codes - How to Get Free Unlock Codes for iPhone/Android
When buying a phone, it's essential to ensure the device you purchase is unlocked. You can easily keep your phone number and switch between carriers or networks. An unlocked phone means you don't have to stick to a single carrier or plan for your contract. But what about buying a locked phone and needing to unlock it? (How to unlock an iPhone?) That's where the unlock codes come in. This guide will help you understand an unlock code, how to use them, and where to obtain free unlock codes for phones.
Part 1. Are Free Cell Phone Unlock Codes Totally Legit?
Unlocking cell phones is subject to varying laws across different countries. In the United States, unlocking your cell phone is perfectly legal, thanks to the Unlocking Consumer Choice and Wireless Competition Act. This 2014 law allows consumers to unlock their phones, enabling them to switch carriers while keeping the same device.
However, unlocking a phone can be complex, and free cell phone unlock codes found online may lead to complications, potentially rendering your device inoperative. Thus, while it may be legal, free cell phone unlock codes can still come with a certain degree of risk. The requirements you need to meet:
You clear all the service contracts, complete the installment plan for the device and outstanding payments on the device.
The device is not reported stolen, lost, or otherwise blocked.
The device is your own, and you are not unlocking it for someone else.
The device is not tied to active service contracts and violates laws or policies.
People Also Read:
Part 2. Where to Get Free Unlock Codes for iPhone?
1. UnlockMe
UnlockMe is a free smart software designed to help you unlock your iPhone and switch carriers. It generates free unlock codes for iPhones. This file is compact, requiring minimal storage on your device. Additionally, it boasts a user-friendly interface, ensuring security, swift processing, and simple instructions.
Using UnlockMe to find unlock codes is straightforward. Here is how:
Start by downloading the software onto your device.
Once downloaded, open the application and enter your iPhone's IMEI number, a unique code identifying your specific device.
You can dial *#06# to get it.
The software will then generate the code to unlock phone and send it through email.
Enter this code into your iPhone to unlock it, allowing you to switch carriers freely.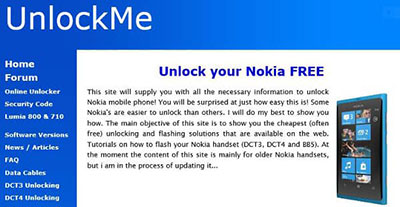 Pros:
Free to use
Safe, easy, and quick unlock
Swift unlocking process
Support all the iDevices and Android phones
Real-time calculations and SL3 Brute Force
Cons:
Only available for Windows
Recommendations: UnlockMe is perfect for those looking to unlock their iPhones and switch carriers. With its wide use and positive reviews, UnlockMe is a reliable and secure unlock software.
2. FreeUnlocks
FreeUnlocks is a trusted online platform offering free unlock codes for a variety of mobile devices, including iPhones. The service has a simple process: enter your phone's details, complete a TrialPay offer, and receive your free unlock code. It's a hassle-free solution for those wanting to switch carriers.
A step-by-step guide to use the free unlock phone code:
Go to https://www.freeunlocks.com/.
Choose your iPhone model and model from the dropdown list. Select "Unlock Now!". Make your payment.
You will get the email with all the instructions and unlock code.
Enter the unlock code, and your phone will be unlocked.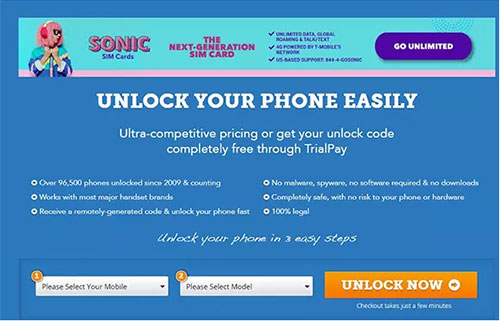 Pros:
Easy to use
Safe and secure
The quick and simple unlocking process
Supports iPhone models up to 11
Cons:
The cost of unlocking is relatively high.
3. iPhone IMEI
iPhoneI.net offers a secure and official method to unlock iPhones by whitelisting the device's IMEI in Apple's database. This simple process eliminates the need to send your iPhone to the network provider. Unlocking is conveniently done Over-The-Air, requiring only a Wi-Fi connection. For devices using iOS 7 and above, this feature is readily available; however, for those on iOS 6 or lower, unlocking can be accomplished through iTunes. It permanently unlocks your iPhone, not affected by future OS upgrades or iTunes syncs. Experience the freedom of an unlocked iPhone with iPhoneIMEI.net.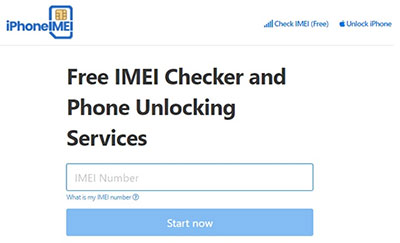 Check if You Need:
Part 3: Where to Get Free Unlock Codes for Android?
1. WorldUnlock Codes Calculator
WorldUnlock Codes Calculator is a widely used platform for obtaining unlock codes. It supports a broad range of devices, notably several models from major manufacturers like Nokia, LG, Samsung, Maxel, Motorola, AEG, Siemens, and Panasonic. With its user-friendly interface, you can easily generate the necessary android unlock code to unlock your Android device by simply entering your handset's brand and model.
Get your IMEI by dialing *#06# from your phone.
Enter the IMEI on WorldUnlock Codes Calculator, and you will get an unlock phone code that you can use to unlock your device.
Once you have successfully unlocked it, you can then use it with a new SIM card from any carrier.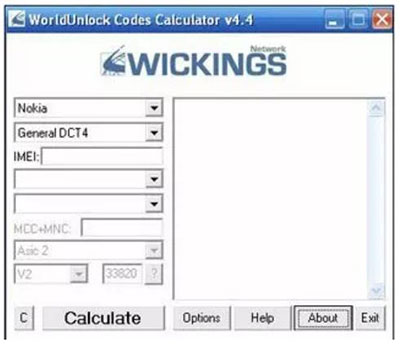 Pros:
Safe and free to download
Money back guarantee
Supports all carrier provider
Works will all Windows versions
Cons:
2. Unlock it Free
It is a free service that allows anyone to unlock their Android device in minutes. The site works mostly for Nokia phones. It does not require any technical knowledge.
You require to navigate to the homepage and fill in the details of your device.
This should be your model number or the device code. Then click "Find".
The next page will require entering the IMEI, country, phone model, and provider.
Dialpad *#06# to get your IMEI.
Click the "Generate" button once you confirm your details.
The site will provide you with 7 codes. Try them one by one but prioritize the first one.
Try the last code if the first one fails. These two are believed to be the most successful ones.
Note: Don't exceed 4 code attempts, as this will disable your phone.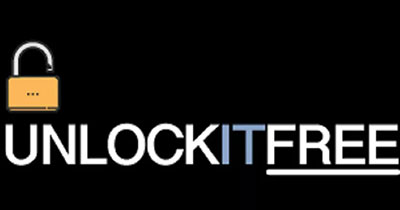 3. NokiaFREE Unlock Codes Calculator
NokiaFree Unlock Codes Calculator is a free online carrier unlock code generator for Android phones. You can unlock any mobile device and use any SIM Card you wish. With its user-friendly interface, you can easily unlock your phone in minutes. Supports a wide range of models. They include Nokia, LG, Samsung, Maxon, Sony, Telitak, Alcatel, AEG, Vitel, NEC, Siemens, and more.
Get your IMEI by dialing *#06#.
Connect your phone to the internet connection.
Enter your IMEI into unlock codes calculator, then mode and country.
Click on the Unlock button, and it will generate an unlock code for you.
The code will be displayed on the screen.
Enter this code into your phone keypad to unlock your device.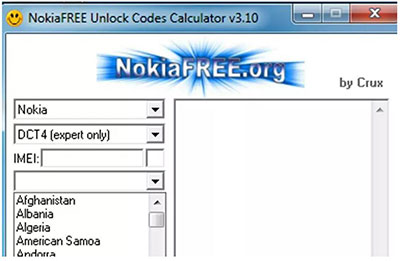 Pros:
It is legal, free, and safe
Works with most mobile brands
No malware or viruses
Receive your remotely generated Unlock Code instantly
Cons:
Part 4: How to Unlock Phone Screen Precisely with iOS Unlock?
iPhone SIM Unlock is an innovative, secure, and user-friendly software solution designed to unlock your iPhone's SIM effortlessly, enabling a seamless switch between carriers. It provides an easy and quick unlocking process, ensuring your device remains safe.
Key features of iPhone SIM Unlock:
Take a few minutes to unlock your iPhone SIM card.
Efficient for removing face ID, passcodes, Touch ID, and restriction passcodes.
Bypass iCloud activations/upgrade locks.
No coding knowledge is required to use this program.
Supports all iPhone models. They include iPhone 14/14 Plus/14 Pro (Max), iPhone 13/13 Pro (Max)/13 mini/12/12 Pro (Max)/12 mini, iPhone 11/11 Pro/11 Pro Max, iPhone X/XR/Xs/Xs Max, iPhone 8/8 Plus, iPhone 7/7 Plus, iPhone 6/6S/6 Plus, iPod touch, iPad, etc.
Works on both Mac and PC.
How to use iPhone SIM unlock to unlock SIM on iPhone:
Step 1. Download and install iPhone SIM Unlock on your computer. Launch it.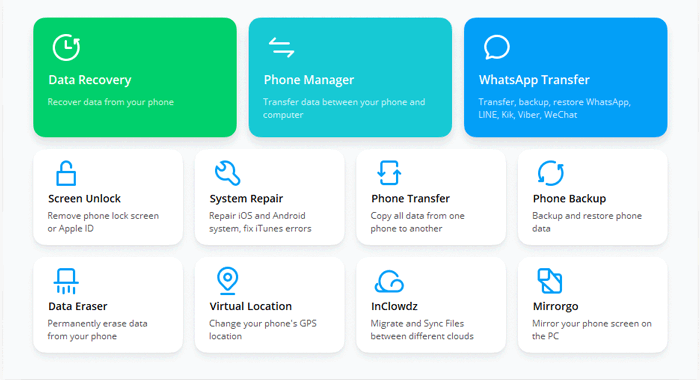 Step 2. Connect your iPhone to the system using a USB cable. Click on "Remove SIM Lock" from the dashboard.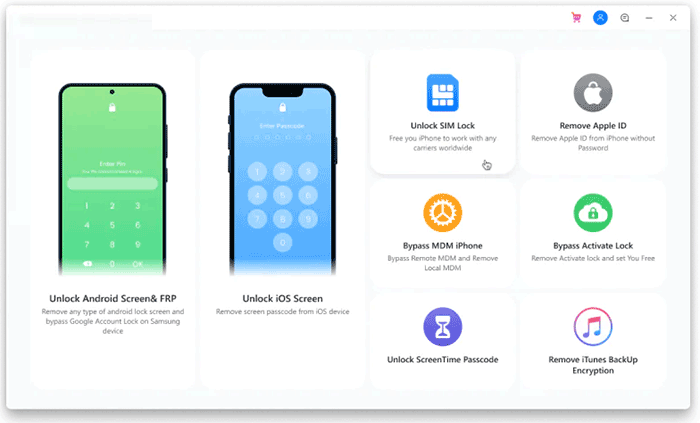 Step 3. You need to finalize the verification process by clicking on "Start". To continue with the process, select "Confirmed".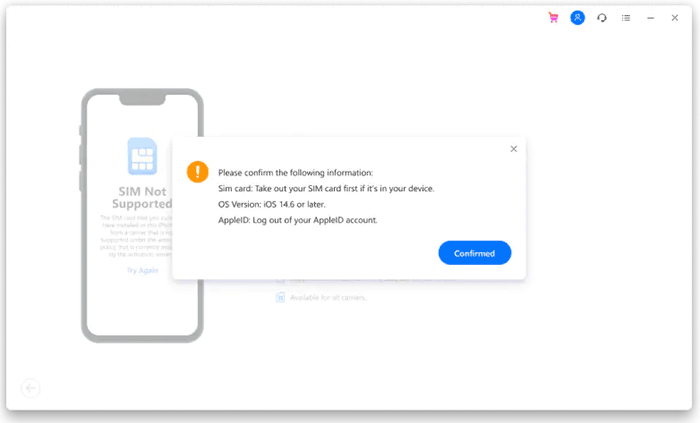 Step 4. Select "Next" from the screen that will appear after you complete the above guide.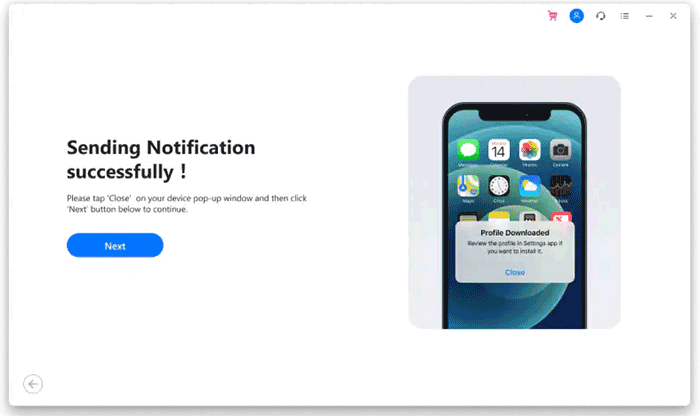 Step 5. Close the pop-up page that will appear. Go to "Settings" > "Profile Download" > "Install" > then unlock the screen.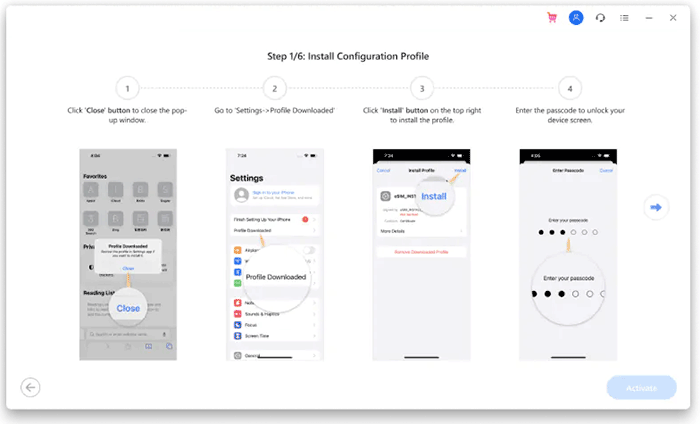 Step 6. Navigate to "Settings" > "General" after the installations. Follow the simple steps required to unlock the iPhone screen. Your iPhone will be unlocked within a few minutes. This will allow you to use the SIM Card you wish.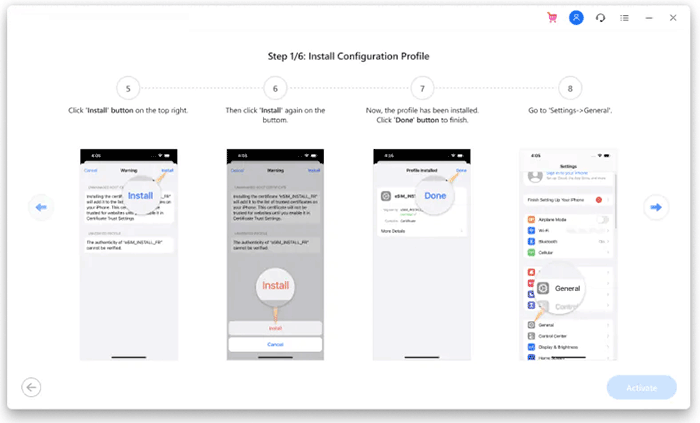 Extra Tip: How to Avoid the SIM Lock Issue?
In order to completely avoid the issue of SIM Lock, you can opt for an unlocked phone. Unlocked phones allow you to use different carriers and switch SIM cards whenever you want. On the other hand, locked phones are expensive and a hassle due to their requirements.
If you're considering a dual-SIM phone, you can pin one SIM to a quality carrier and use the other for temporary purposes. This is ideal if you're traveling, as it allows you to change carriers for your temporary SIM no matter where you are.
Additionally, when buying an unlocked phone, ensure it has global compatibility with different carriers. This way, you won't be limited to specific carriers and can enjoy the benefit of using any carrier from around the world.
The Bottom Line
In conclusion, unlock codes are instrumental in allowing phone users to switch between carriers, plans, and even geographic locations with relative ease. Several reliable resources can provide these codes whether your device is an iPhone or an Android. Furthermore, specific software can help you unlock your phone screen precisely, such as the highly recommended iPhone SIM Unlock. This service provider unlock code is best for all iPhone users.
Related Articles:
[Free Download] 9 Best iPhone Unlock Software to Unlock iPhone with Ease
[100% Success] How to Stop Sharing Location Without Them Knowing
Do These 8 Things First When You Get a New iPhone 14/13/12/11
4 Ways on How to Remove Apple ID from iPhone without Password?
What You Should Know about iCloud Password