[2023 Updated] Practical Tips to Change Location on Facebook Dating
Facebook provides us with the opportunity to keep in contact with our friends and family in real time. Its expanding services cover Instagram, Messenger, Marketplace, Dating, and more. (How to change location on the Facebook marketplace?) As one of its popular affiliated parts, FB Dating lets you search dates within a 100-mile radius according to your individual characteristics.
So, how to change location on Facebook Dating is a challenge for folks who want to alter addresses on it to meet diverse demands. Meanwhile, this would give rise to another query, "can I change my location on the Facebook Dating app"? The answer is yes, and we'll sort out the possible methods below.
Part 1: Why Change Dating Location on Facebook?
It is obvious that changing its position can help you reach further in some respects. So, what factors contribute to this behavior?
You're not interested in all the profiles in your area.
You want to explore random matches in new places.
Facebook doesn't offer more people to date.
It's necessary to hide your real location for Facebook Dating.
You'd like to make people think you are someone else.
Show yourself to those who live close to you.
Breakthrough limited geo-specific content.
Enhance excitement from switch locations.
Click to See:
Part 2: How to Change Primary Location on Facebook Dating Manually
If you want to change your current location to another big city and find more suitable people, the easiest way is to manually set it on Facebook Dating. Although it only takes a few simple steps to change the address, you need to do the action repeatedly until you meet someone you really like.
How to change dating locations on Facebook manually?
Run the Facebook Dating app.
Go to its "Profile" > "Edit".
Touch "Dating Location".
Proceed to "Update Dating Location" > "Save".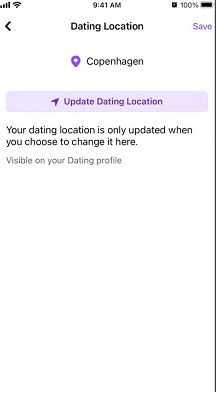 Part 3: How to Change Location on Facebook Dating with a Dedicated Tool
As you might know, Facebook Dating enables you to add two additional locations via "Match Anywhere" manually and lets you only change each location once per week. Further, some fear that location changing on it might be identifiable. So, most iPhone or Android users would like to pick a specialized 3rd-party program like Virtual Location Tool to get around possible drawbacks. Well, what kind of program is it?
Main highlights of Virtual Location Tool:
Simple clicks to change location on Facebook Dating for Android/iOS.
Spoof location on Skout, Pokemon GO, Hulu, Netflix, and other geo-based apps.
Select or remove the location history on it.
Customize routes, simulate routes, and even generate routes.
Quick set any virtual location that can't be easily detected.
Highly compatible, error-free, and affordable.
Work for the entire range of iOS and Android devices, such as iPhone 14/14 Plus/14 Pro (Max), iPhone 13/13 Pro (Max)/13 mini/12/12 Pro (Max)/12 mini, iPhone 11/11 Pro/11 Pro Max, iPhone X/XR/Xs/Xs Max, iPhone 8/8 Plus, iPhone 7/7 Plus, iPhone 6/6S/6 Plus, iPod touch, iPad, Samsung, HTC, Motorola, Sony, LG, Google, Huawei, etc.
It won't disclose your privacy.
How to change the Dating location on Facebook with the Virtual Location Tool?
Step 1. Run the software and get started
Install and run the Virtual Location Tool on a computer after the free download. Go for "Get Started" from its primary interface.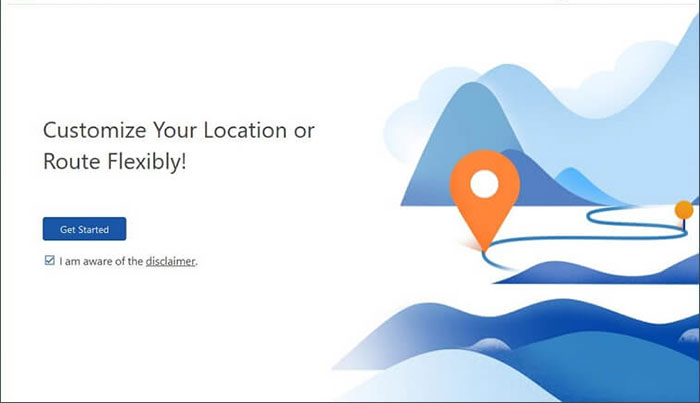 Step 2. Link your device to the computer
Attach your Android/iPhone device to the computer through a USB cable. Then wait a few seconds until this tool recognizes your phone.
Step 3. Enter the location you want
Click "Teleport Mode" from the upper-right corner of the interface. Then enter your desired location in the search box. (Here, you're also allowed to input GPS coordinates to locate a specific place.)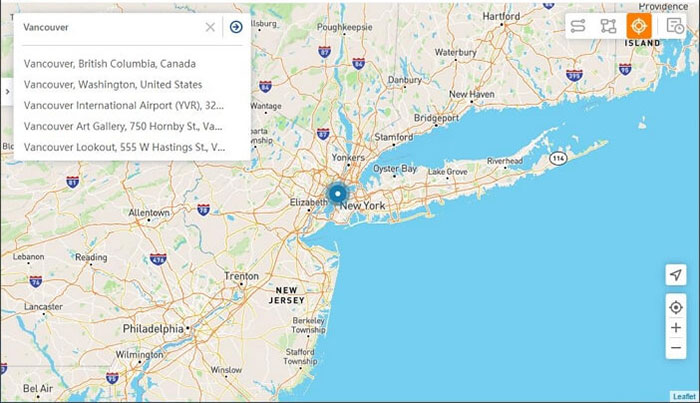 Step 4. Change location on Facebook Dating
As the pointer moves to the specific location on the Map according to the address you set, tap "Move" to change the location for Facebook Dating lightly.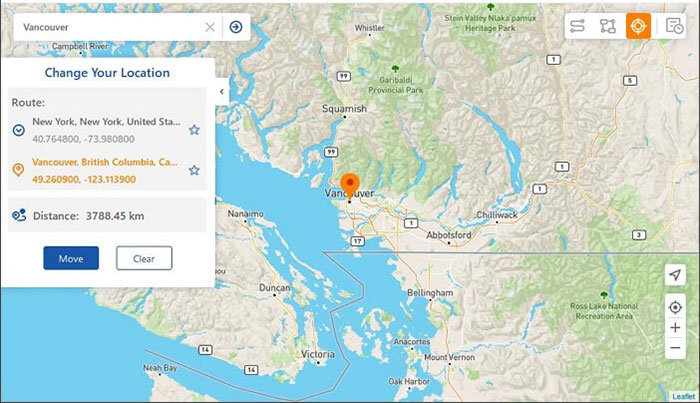 Know More:
Part 4: How to Change Dating Location on Facebook Dating via Surfshark VPN (Android)
VPNs like Surfshark let you connect unlimited Android devices and optimize servers for torrenting on its graphical UI. It comes shipped with strong security protocols, though it has no dedicated IP options as a standalone solution. And it's a bit complicated to go through FB location changing.
How to change dating location on Facebook Dating for Android with Surshark VPN?
Download Surfshark VPN and install it on your Android phone.
Get the subscription, open the app, and log in to your account.
Touch "Settings" > "VPN settings".
Go for "Advanced settings" > enable "Override GPS location".
Tap "LET'S GO" when a popup appears, asking you to modify settings successfully.
Click "Settings" > "About phone" > "Build number" > "Developer options", which is a series of actions to enable USB debugging on Android.
Enter your password to confirm.

Return to the VPN and tap on the arrow sign.
Open the "Developer options" from settings.
Scroll down and tap "Select mock locations app".
Select "Surfshark", and you're prompted that the setup accomplishes.
When the "Override GPS Location" feature is enabled.
Finally, you can change location on Google Maps or any other location-based service.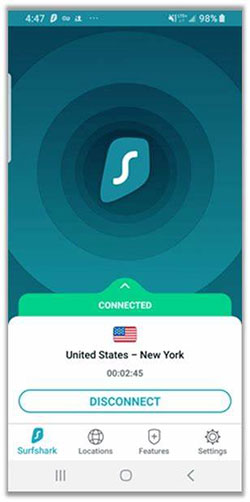 Part 5: How to Enable/Disable Location on Facebook Dating
As soon as you start out your date or have done with it, you're inclined to enable or disable the location on the FB Dating app to suit your purpose better. Next, we shall let you know the easy steps to toggle on or off your location.
Turn on location on Facebook Dating (Android):
Open "Settings" on your phone's home screen.
Proceed to "Apps" > "Facebook".
Tap "Permissions" > "Locations".
Mark "Allow all the time" or "Don't allow" as you want.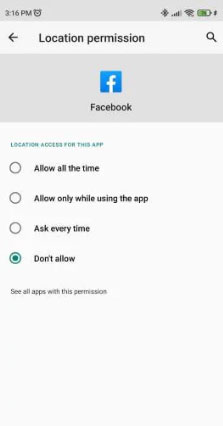 Turn on Facebook Dating location (iPhone):
Go to your device's home screen and get into "Settings".
Click "Privacy".
When you find the "Location Services" option, switch it on or off.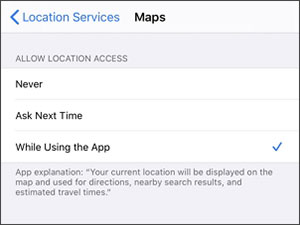 Can I remove location on Facebook Dating? Quick Navigation: Open Facebook and log into your account; tap the menu icon with three lines; run "Facebook Dating"; click "Profile" > "Edit" > "Dating Location"; finally, touch the "trash" icon nearby the location you're to delete.
People Also Asked about Facebook Dating Location Changing
Q1: Is It Legal to Change Location on Facebook?
Changing the location of Facebook Dating on Android won't break any laws, even in countries or regions where VPN is restricted. And the same is true for iPhones if you utilize a fake GPS app with or without jailbreaking.
Q2: Why Does Facebook Location Keep Changing?
You may keep changing locations on your phone or often update it manually from your profile.
Q3: Can Your Friends See If You Use Facebook Dating?
No! Facebook Dating protects your behavior by hiding your profile automatically.
Q4: Can a VPN Mask Location on Facebook Dating?
Of course! When you hide your real location, you can update it on the Facebook Dating app and trick it into thinking that you have moved to the set destination.
Q5: How to Correct Location on Facebook?
Go to the home screen and access "Settings".
Opt for "Apps" > "Facebook" > "Permissions".
Locate and enable "Locations".
Q6: How to Change Dating Profile on FB?
Click on three horizontal lines on the top of the Facebook screen.
Go for "Dating" > "Profile" > "Edit".
Make any changes you desire and tap "Save".
Roundup
Bingo! We just walked you through several methods to change location on Facebook Dating. And here's a brief summary of what's going on:
It's easy to change your location on FB Dating manually, but it merely lets you alter each location once per week and might be detectable.
Virtual Location Tool can securely and clandestinely prioritize the location changes anytime you want on an iPhone or Android device.
Surfshark VPN just hammers at changing Facebook Dating location on Android and gets you going through quite a complicated procedure.
Related Articles:
Top 10 Pokemon GO Coordinates & How to Spoof Them without Being Banned
[5 Awesome Tips] How Do I Recover Deleted Facebook Messenger Messages on Android?
4 Effortless Ways to Recover Deleted Photos on Facebook Account
Cannot Send Messages on Facebook? 4 Methods to Fix It!
What to Do If Facebook Keeps Freezing and Not Responding?
9 Best GoPro Editing Software to Edit GoPro Videos Effortlessly