4 Effortless Ways to Recover Deleted Photos on Facebook Account
Facebook, an efficient interactive platform, is gaining an international reputation among many users. Most of us use it very frequently, and there might be times when we end up losing Facebook photos for unexpected reasons. It's known to all that FB Messenger doesn't have any sort of Trash Bin. So, it's essential to figure out how to recover deleted photos from Facebook if we wish to reminisce the memories or just want them back.
Well, is there a way to retrieve deleted photos on Facebook? Any tips on how to manage FB data on an iPhone or Android phone? Please read on to get what you desire.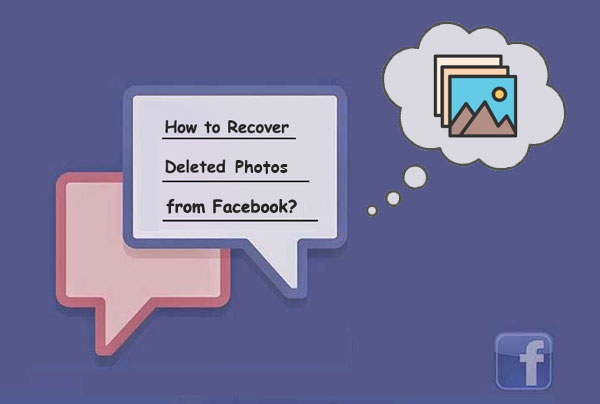 Part 1: Can You Recover Deleted Facebook Photos/Videos?
Before covering this topic further, first, here's a question - can you restore deleted Facebook photos and videos?
To simply put, archiving feature in the Facebook app enable its users to keep a copy of all your messages, pictures, videos, and other attachments to your computer for preservation. And in some cases, you can even retrieve lost photos from the Facebook app itself. Again, some others would prefer to use some 3rd-party tools or services for this purpose.
Now that it's possible to recover lost photos/pictures from Facebook Messenger let's talk about how to find/recover old Facebook pictures that have been deleted in a step-by-step manner.
Learn More:
Part 2: Recover Deleted Facebook Photos from Recently Deleted folder or Recycle Bin
Accidentally deleted some Facebook pictures from your Android/iPhone or a computer? This solution may be of help. Before you take any measure to recover deleted Facebook photos, ensure that you've checked the Recently Deleted folder/album or the Trash on your device.
- Access deleted Facebook photos from phone's Recently Deleted folder:
Most smartphones come packed with Recently Deleted folders/albums in the Gallery, which act as a sort of Recycle Bin for computers. The deleted photos will stay in the folders for about 30 days. You can go to your cellphone's Gallery and check the folder there. Next, select the photos you have deleted mistakenly and tap the Recover/Restore option to get them back.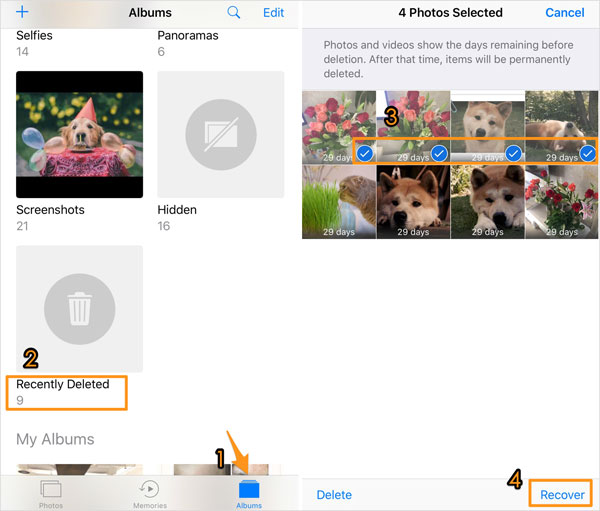 - Retrieve Facebook photos from the computer's Recycle Bin (where's the recycle bin on Android?):
For Windows users, it's easy to check the Recycle Bin. After finding your pictures, select them, and right-click to get the context menu, from which you can restore the photos to their original location. If you use a Mac, you can do the same by going to the Trash.
Part 3: Recover Deleted Pictures on Facebook from the Facebook Archive
Facebook on both iPhone and Android lets you maintain a copy of your media data by archiving it. Namely, you may have the option to regain the deleted items from the archived files.
How to archive Facebook photos?
Quick look: on your Facebook app, tap photos or videos you want; you'll see the posts by Date. then select posts one after another by ticking the box or selecting All; after the selection, choose "Archive". (Facebook Messenger not responding?)
How to get deleted Facebook photos from the FB archive?
Log in to your Facebook account and go to its Settings from the hamburger at the top-right corner.
Browse to your general account settings and click the "Download a copy" link.

Facebook will load a dedicated page, prompting you for the archive info and how to use it.
Just click on the "Download Archive" icon and maintain a stable Internet connection to store the archived file.
Finally, access the file, right-click, and extract it to a location.
Afterward, you can browse your archived content, including the photos, and then find the deleted.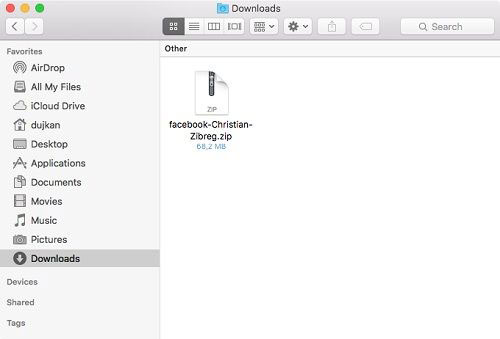 Further Reading:
Part 4: Recover Deleted Photos from Facebook via iPhone Data Recovery
Some folks may not find the deleted photos from the recently deleted folder or the archived files. What's worse, they might be too late to achieve the media. Now, is it possible to restore Facebook photos from the iPhone without backup? No worries, just try iPhone Data Recovery out. This utility comes with distinct features and is pretty easy to use.
Key highlights of iPhone Data Recovery:
Recover deleted photos and messages from Facebook without backup.
Restore iPhone from iCloud/iTunes backups, retaining existing ones on your iDevice.
Retrieve other data like contacts, text messages, call logs, photos, videos, WhatsApp/Kik/Viber/LINE chat history, notes, etc.
Get on well with all iOS devices, covering iPhone 14/14 Pro/14 Pro Max/14 Plus, iPhone 13/13 Pro (Max)/13 mini, iPhone 12/12 Pro (Max)/12 mini, iPhone 11/11 Pro/11 Pro Max, iPhone X/XR/Xs/Xs Max, iPhone 8/8 Plus, iPhone 7/7 Plus, iPhone 6/6S/6 Plus, iPod touch, iPad, etc.
It never gives away your privacy.
Note: To enhance the success rate of recovery, please don't save or edit any new file with FB Messenger after the deletion.
How to recover deleted photos from Facebook account using iPhone Data Recovery?
Step 1. Connect your iPhone to a computer
Install and launch the software on a computer after the download. Select "Recover from iOS Device". Next, attach your iPhone to the computer through a USB cable. After your phone is identified by the tool, click "Start Scan" to let it scan your device.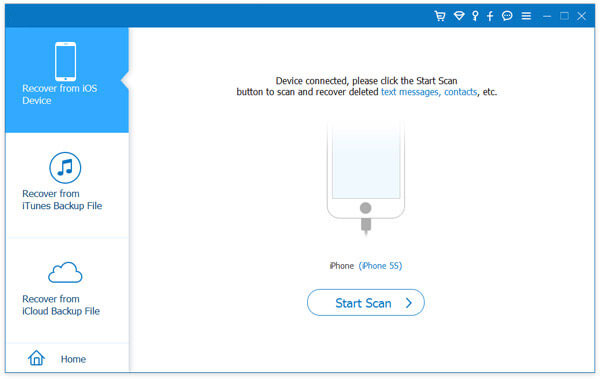 Step 2. Preview the deleted FB pictures
Soon, all the iPhone data will be categorized on the screen. Now, go for "Messenger Attachments" from the left menu and preview the detailed content.
Step 3. Recover deleted photos from Facebook Messenger
Select your desired photos deleted from Facebook Messenger and click on "Recover" to retrieve Facebook photos onto your computer.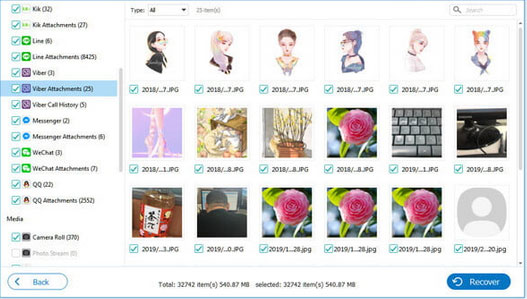 Part 5: Find Deleted Facebook Photos from Facebook App
If you deleted the FB photos from your iPhone a short time ago, you could try to find them from the Facebook Messenger app directly. Please note that there is no guarantee of success in doing so.
How to see deleted Facebook photos from the Facebook app?
Open the Facebook app and sign in before going to Settings and Privacy.
Select Privacy Shortcuts.
Scroll down and look for "Your Facebook Information".
Touch View or clear off-Facebook activity.
Select More and go for Download Your Information.

Click Deselect All.
Tap Photos and Videos to request a copy.
Scroll down and select the date range you want to request.
Click Create File.

Wait until the requested file is completed.
Once the file is ready, click Download Again.
You will be routed to the login page, where you can enter your Facebook credentials before bringing the deleted photos back.
Bonus: FAQs for Facebook Photos Recovery
Q1: Is There a Way to Download All Photos/Videos from FB Messenger?
Yep! You can download all pictures on Messenger by going to your profile in Messenger, tapping Photos & Media, and switching on the Save Photos option.
Q2: What Happens to FB Photos of a Deleted Account?
Your FB data is still available for download within 30 days after you permanently deleted your Facebook account. Assuming you disabled it, please log in again, and your files will remain as it was.
Q3: How Long Will Facebook Keep My Deleted Data?
For the most part, your data will be kept for the next 90 days since you delete them off from Facebook Messenger. And after that, they will be permanently deleted.
Q4: How to Protect My Facebook Security & Privacy?
Follow the suggestions below to secure your FB Security & Privacy:
Keep changing your Facebook password every few months.
Ensure that you keep a strong Facebook password that is tough to crack.
Check the presently active sessions from your Facebook Settings.
Disable the auto-saving feature of the Facebook credentials on your browser.
Log out of Facebook from the devices you no longer use.
Enable the two-factor authentication on your Facebook.
The End
Are you still struggling with this topic and looking for possible solutions? We believe you've learned something after going over this article. On the one hand, since Facebook is unable to keep track of all the media content on your iPhone in some situations, iPhone Data Recovery may come more in handy. On the other hand, you can pick some other workarounds as required if you are an Android user.
Related Articles:
iOS 17 Update Not Showing on Your iPhone/iPad? Here're 10 Efficient Solutions
4 Easy Ways to Recover Deleted Messages on Facebook Messenger on iPhone
Android Picture Recovery - Recover Deleted Photos on Android
[4 Ways] How to Fix Cannot Upload Videos/Photos to Facebook Issue?
What to Do When Facebook Messenger Video/Voice Fails to Play?