7 Creative Ways to Change Location/Country/Region on Netflix [Must-read]
Netflix is one of the most fashionable streaming platforms throughout the globe, available in 190 different countries with over one hundred libraries. Does Netflix change based on location? Yes, the challenge is that it displays different content and works in diverse regions on account of copyright laws and royalties. Taking the first half of 2020 as an example, the number of Netflix films in Canada is 4035, while the figure in Georgia is only 1388.
Then the question of how to change location on Netflix may come to your mind if you are a Netflix enthusiast. Well, this page will show you how to make it in several proven methods. Next, we shall talk about why we do it in the first place.
Part 1: Why Change Your Location on Netflix?
Generally, the Netflix library is quite limited in some counties. Specifically, different networks have licensing deals with diverse shows. So, if you want to get the license to broadcast a certain show as per your requirements, you have to change location, country, or region on Netflix. And a VPN can be the simplest way to make it by changing your real IP address. Well, we shall talk about how to fake the Netflix location with a VPN.
Click to Know:
Part 2: How to Change Location on Netflix with VPN (3 Methods)
Method 1. Change Country on Netflix with NordVPN
NordVPN is considered the most practical VPN to change Netflix's country/region. Folks can use it to spoof location on iPhone/Android. It is efficient and secure, delivering a fully-featured risk-free trial (30 days).
How to change country on Netflix via NordVPN?
Sign in to your Netflix account.
Download and install the NordVPN program.
Sign up for your service on the device with Netflix.
Connect VPN to its server in the exact country with the Netflix shows you'd like to watch.

Run Netflix to enjoy the content on this region.
Method 2. Change Netflix Country with Surfshark
Offering 1,700 servers across 63 countries, Surfshark is versatile and comes with standalone Smart DNS with unlimited device connection. Yet, it may be laggy at times, and it works with a small network of servers.
How to change your location on Netflix using Surfshark?
Visit the Surfshark website.
Click "Get" to obtain and install the program.
Choose a plan and pick a payment method.
Select the device or browser to which you wish the VPN to connect with.
Opt for the server and connect.

Sign in to your Netflix account.
Method 3. Change Your Location on Netflix via ExpressVPN
ExpressVPN, one of the iTools virtual location alternatives, supports multiple server locations and offers fast connection speed, featuring high-end encryption. However, it may lose connectivity occasionally.
How to change the country on Netflix accounts using ExpressVPN?
Download and install ExpressVPN on your iPhone. (Android users can do something similar as prompted)
Set up an account before logging in to it.
Tap "Continue" to set up a new connection.
Hit "Smart Location" to pick an exact location.
Choose a country where you want to base your address.
Click "ALL LOCATIONS" and tap the magnifying glass to search for locations.
Tap the "Power" sign to connect the VPN and launch Netflix at last.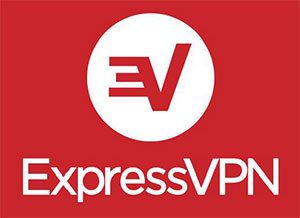 Know More:
Part 3: How to Change Netflix Location without VPN (4 Methods)
Method 1. Change Location on Netflix with Virtual Location Tool in Seconds
Well, would you like to alter your Netflix location on your device without delay? Do you want to stay away from the possible restraints posed by VPNs in your region? OK, just try Virtual Location Tool, no matter what mobile phone you are using. This smart product can take you anywhere globally with a couple of mouse movements.
Virtual Location Tool can help you:
Stress-free to change locations on Netflix without making any changes to your device.
Spoof GPS locations on Android/iOS devices smartly with the help of a PC or Mac.
Select or delete the old places saved on this utility.
Customize routes, simulate routes, and create diverse routes.
Quickly set any virtual location without being banned.
Work well with various Android and iOS phones/tablets, including Samsung, Xiaomi, Huawei, LG, Motorola, Google, HTC, ZTE, OPPO, iPhone 14/14 Plus/14 Pro (Max), iPhone 13/13 Pro (Max)/13 mini/12/12 Pro (Max)/12 mini, iPhone 11/11 Pro/11 Pro Max, iPhone X/XR/Xs/Xs Max, iPhone 8/8 Plus, iPhone 7/7 Plus, iPhone 6/6S/6 Plus, iPod touch, iPad, etc.
It values your privacy.
How to change where you live on Netflix using the Virtual Location Tool?
Step 1. Download and install this Virtual Location Tool on a computer. Then run it and go for "Get Started" from the initial interface.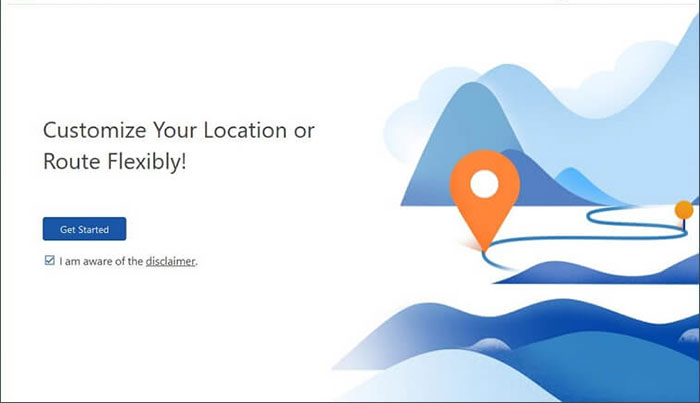 Step 2. link your phone/tablet/iPad to the computer via USB. Wait a few seconds until this tool recognizes your device. After that, click "Teleport Mode" from the upper-right corner of the screen. And enter the location you desire in the search bar. (Optionally, enter GPS coordinates to locate a specific location)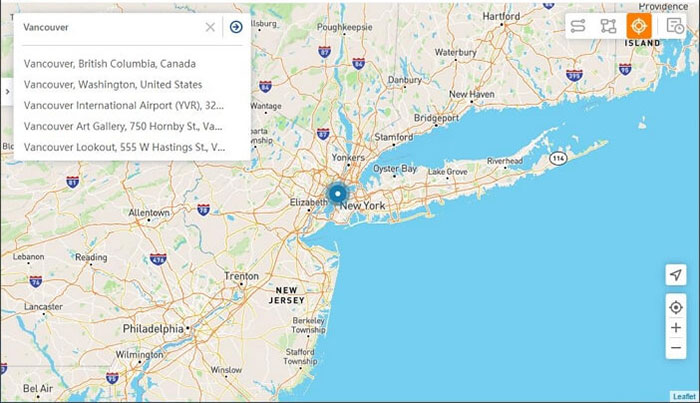 Step 3. The pointer on the screen will be taken to the exact location according to the place you set. Lastly, click "Move" to change the location for Netflix.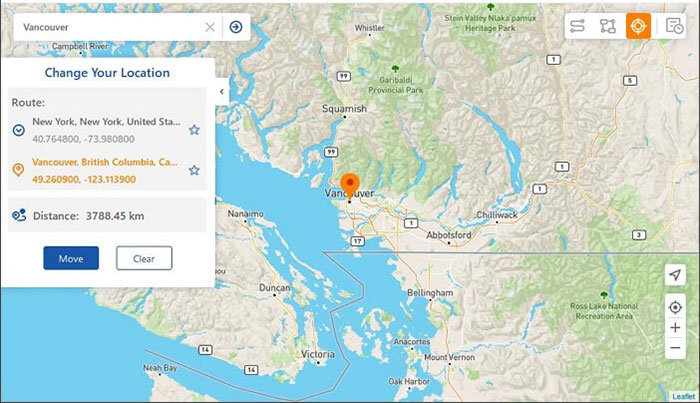 Method 2. Change Country on Netflix Account with Smart DNS
By re-routing the connection via a DNS server in a different country or region, you can change Netflix's location without trouble. However, it won't hide your IP address or encrypt your traffic.
How to get other countries Netflix via Smart DNS?
Visit the Smart DNS Proxy website.
Click "Try It Now" and "Sign up".
Go to the associated email account and hit the activation link.
Press "Region" to set up your Netflix region and log in to Netflix.
If you cannot access the Netflix library you want, tap "Setup" in the "DNS Setup" tab.

Select the "Setup" option and click on "Setup" again.
A new screen will appear, directing you to the set-by-step setup.
When the setup is finished, restart your system and run Netflix.
Method 3. Change Region in Netflix with Proxy Browser Extension
Wachee for Chrome is a browser extension allowing you to change Netflix for free. Yet, you have to subscribe to HD videos. After that, you can access Netflix and Hulu anywhere.
How to change region in Netflix with Proxy Browser Extension?
Tap "Chrome" and go to its "More tools" > "Extension".
Hit the three horizontal lines and open "Chrome Web Store".
Enter "Wachee" in the search bar. (How to clear Google search history on iPhone?)
Click the top result and then "Add to Chrome".
Pick "Add Extension" and press the "Extensions" icon.
Click the pin icon and select the "Wachee" sign.

Press on the "try for free" option and go to the "region" tab.
Select your desired location and sign in to Netflix.
Method 4. Get Other Countries on Netflix with TeamViewer
If you'd like to change Netflix location on a PC, TeamViewer can be a decent option that can make it by controlling other Netflix accounts remotely. (Can I use TeamViewer to control Android from a PC?) We have done the steps below and let TeamViewer access our friend's computer for the Netflix location change.
How to change Netflix to Canada, USA, UK, and more using TeamViewer?
Download and install the TeamViewer desktop program.
Run the app before taking down the ID and password for the remote control.
Log in to your Teamviewer account after registering for one.
Input the ID of the individual whose Netflix account you wish to get into.

When accessing their system, you can use others' Netflix accounts freely.
FAQs on Netflix Location
Q1: Is it illegal to change the Netflix region?
Yes, a VPN is not banned from changing a Netflix region in most countries except the ones like China, Russia, Belarus, North Korea, etc.
Q2: Can a free VPN be used to change Netflix regions?
Of course. But there are certain limitations on a free VPN in all aspects.
Q3: What if a VPN doesn't change Netflix's location?
Update the malfunctioning VPN.
Connect to a different server.
Try the Incognito mode.
Clear cookies and cache on your browser.
Reach out to your VPN's customer support.
Q4: How many versions of Netflix are available?
U.S.:5,932
UK: 5,702
Canada: 5,692
India: 5,522
Greece: 5,640
...
Q5: What's the best Netflix country/region?
Japan is the best; the Czech Republic is second to it, followed by South Korea.
Q6: How to get subtitles in my own language on Android?
Go to your "Account" in the Android app.
Choose your profile under "Profile & parental controls".
Pick "Language" or "Display Language".
Be sure to choose the appropriate language.
Tick all preferred languages for subtitles under "Programmes & Films Languages".
Log out and log in again.
Q7: How to change the billing country on your Netflix account?
Visit netflix.com in your browser.
Click the menu from the top right and choose an account.
Tap Cancel Membership under "Membership" and "Billing".
Click "Finish Cancellation" and give feedback on why you do it.
Change your Netflix region and create a new Netflix account.
Q8: Can I watch Netflix abroad?
Yes, mostly, you can make it by streaming Netflix from anywhere globally. Nevertheless, Netflix says your "My List" may not be available occasionally.
Summary
As can be concluded from the above, changing Netflix's location is tricky, but we can still accomplish it in different ways. Objectively now, we would recommend Virtual Location Tool to alter locations on the app easily without any preconditions since VPNs may not ensure your online security and privacy. So, just download this software and try it out at your convenience.
Related Articles:
5 Secure Ways to Change Zenly Location on Android/iPhone in 2022
7 Practical Tips to Change Weather Widget Location on iPad Air/Pro/mini/4/3/2
Top 10 Pokemon GO Coordinates & How to Spoof Them without Being Banned
How to Convert iPhone Video to MP4? 7 Best Ways You Must Know
How to Share YouTube Videos on WhatsApp? [2 Ways]
Android Video Recovery: How to Recover Deleted Videos from Android Devices