How to Fake Google Map Location on Android/iPhone in 3 Ways?
Google Maps, a virtual tool for mobile and PC, lets you check routes and street maps globally. It also facilitates you to prank your friends with an address to protect your privacy, stops parents from tracking your phone, tricks apps into thinking you are in another location, and fake Google Maps location. Generally, there are several ways to fake location on Google Maps mentioned in this post. Beyond that, we shall cover some useful tips to give you a deeper understanding of this topic.
Part 1: Can You Fake Your Location on Google Maps?
In short, it is possible to fake your location on Google Maps, but it requires some technical knowledge and the use of third-party apps. One way to do it is by using a VPN to change your device's IP address, which can trick Google Maps into thinking you are in a different location. Another way is to use a fake GPS app, which can alter the GPS coordinates that your device sends to Google Maps.
However, it's worth noting that faking your location on Google Maps is against Google's terms of service, and the company has taken steps to detect and prevent location spoofing. In addition, it can be illegal to use fake location info for fraudulent purposes. Therefore, it's important to use caution and avoid potential legal issues when considering fake locations on the maps.
You May Also Like:
Part 2: How to Fake Location on Google Maps via Fake GPS Location App (Android)
Android devices have a built-in support system for faking Google Maps location, which allows users to deceive people into thinking they're in a different location. To do this, users need to install the free Fake GPS Location app from the Google Play Store and enable mock location on their devices.
Check out the following to know more about Google Maps location changes using a Fake GPS Location app:
Download a reliable fake GPS app and activate the developer options on your Android device.
Then, navigate to the "Developer options" and tick the "Allow mock locations" checkbox.

Next, select the "Mock location app" option and choose the previously downloaded app.
Accept the pop-up dialog box and launch the spoofing app to set your desired location.
Finally, confirm the new location by opening Google Maps.
Part 3: How to Fake Google Map Location via Location Changer (iPhone)
As a GPS location spoofer for iOS, Location Changer allows you to fake your live location on your iPhone's Google Maps and set a virtual address for running dating apps, playing region-based games, and streaming online content. What's more, this intelligent tool offers three customized options for faking location and calculating a natural moving route on the map in real time.
Some Main Features of Location Changer:
Make use of the Multi-stop Mode option to cleverly fake Google Map location.
Utilize the Joystick Mode feature to spoof your iPhone's GPS location without any limitations imposed by routes.
With the Joystick Mode at your disposal, you can easily change your device location in a matter of seconds.
Effortlessly stop sharing your location and play AR video games with ease. (Need to play Android games on a PC?)
Create your preferred location by importing or exporting GPX files.
Adjust your iPhone's speed properly.
Work well with almost all iOS devices, including iPhone 14/14 Plus/14 Pro (Max), iPhone 13/13 Pro (Max)/13 mini/12/12 Pro (Max)/12 mini, iPhone 11/11 Pro/11 Pro Max, iPhone X/XR/Xs/Xs Max, iPhone 8/8 Plus, iPhone 7/7 Plus, iPhone 6/6S/6 Plus, iPod touch, iPad, etc.
It won't let out your privacy.
How to fake locations on Google Maps with Location Changer?
Step 1. Connect your iPhone to your computer via USB after downloading and installing the application. Then, launch the software and click the "Start" button.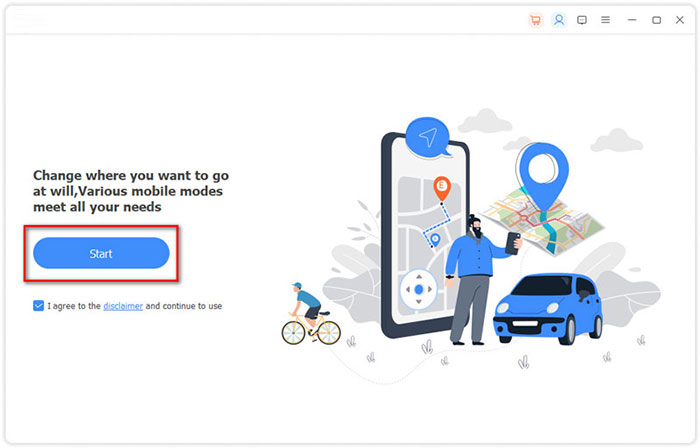 Step 2. Head to the "Modify Location" module to view a map of your current location. Next, use the zoom and drag features to view other locations.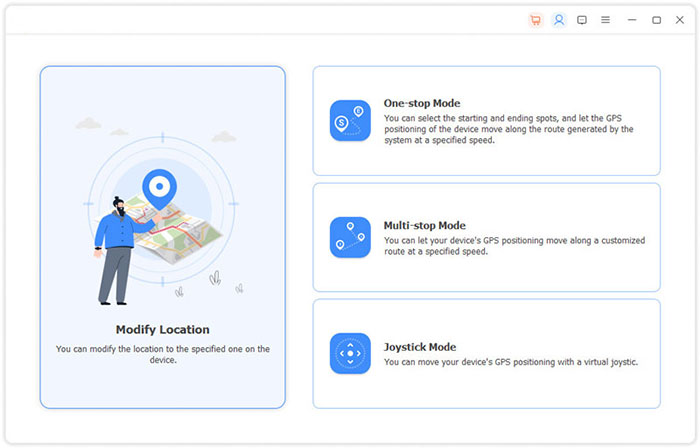 Step 3. You'll see a bar where you can enter or search for your desired location at the top left corner of the interface. Once you've selected your preferred location, click "Confirm Modify" to finish.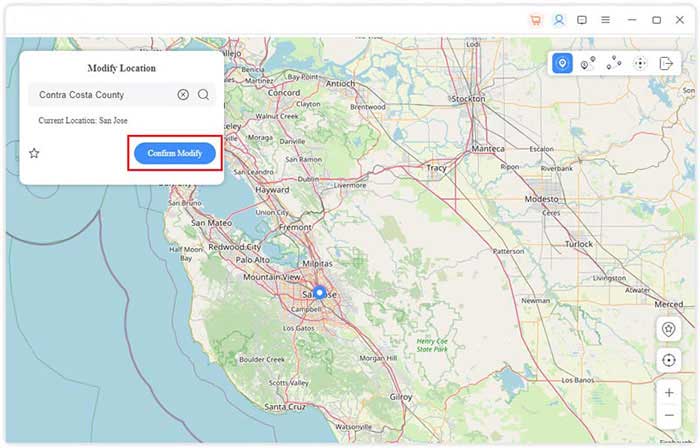 Step 4. You can also choose a location by clicking it directly on the map and tapping "Move to". This allows you to fake your Google Map location on your iPhone without trouble. Finally, to manage your iPhone's location history, just pick "Manage History".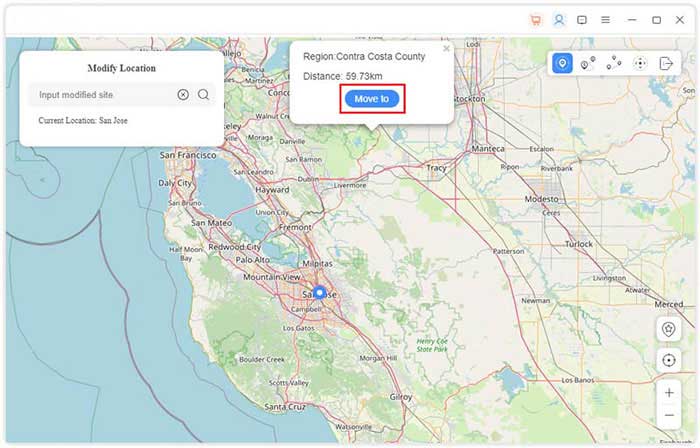 You May Also Like:
Part 4: How to Fake Location on Google Maps with ExpressVPN (iPhone/Android)
ExpressVPN is a VPN service that encrypts Internet traffic and hides IP addresses for faking locations on Google Maps. It has servers in over 90 countries, enabling users to bypass geo-restrictions. It features a killing switch, splitting tunneling, and DNS leak protection. However, it's important to use VPNs legally and to be aware of potential risks & consequences.
How to fake your location on Google Maps Android/iPhone via ExpressVPN:
Download and install the ExpressVPN app on your Android or iOS device.

Open the app and sign in with your ExpressVPN account.
Select a server location you want to appear in by tapping on the "Selected Location" button.
Scroll through the list of available servers or use the search bar to find a specific location.
Tap on the server location you want to connect to and tap the "Connect" button to fake GPS with no root or jailbreaking.
Once connected, you can open Google Maps, which will display your fake location as the location of the server you connected to.
Note: While ExpressVPN can change your virtual location, it may not work with all apps or services. Some of that might have additional measures to detect your location, such as GPS or IP address tracking.
Part 5: Tips on Sharing and Stop Sharing Location in Google Maps
Tip 1: How to Share Location in Google Maps?
Open the Google Maps app on your Android or iOS device.
Touch the blue dot that represents your current location.
A menu will appear at the bottom of the screen with information about your location.
Tap on the "Share" button.
Choose how you want to share your location by selecting one of the options, such as email, social media, etc.

If prompted, select the recipient of your location-sharing messages and add any additional details you want to include.
Once you've chosen the appropriate sharing method and recipients, tap the "Send" button to complete the Google Maps location sharing tricks.
Tip 2: How to Stop Sharing Your Location with Another Google Maps User?
Run the Google Maps app on your Android or iOS device.
Tap on your profile icon in the top right corner of the screen.
Select "Location sharing" from the drop-down menu.
Find the people with whom you have been sharing your location and tap their names.
Touch "Stop" next to the "Location sharing" option.
You will be asked to confirm that you want to stop sharing your location with that person.
Press "Stop sharing" to confirm.
The Closing
Well, It's time to put an end to this passage. Today we discussed how to fake and share Google Map locations using different methods. From a usability perspective, all of the approaches are advisable. But when it comes to privacy, security, stability, and ease of use, Location Changer is surely your best bet if you want to fake the location on Google Maps for your iPhone. Finally, feel free to leave us a message below, if any.
Related Articles:
Detailed Tutorial on How to Back Up iPhone to Google Drive
7 Practical Tips to Change Weather Widget Location on iPad Air/Pro/mini/4/3/2
How to Bypass FRP Google Account Lock? [General & Detailed Guide]
5 Popular Ways to Change GPS Location on Android [Ultimate Guide]
4 Free Methods to Transfer Google Photos to iCloud Seamlessly [2023]
6 Methods to Remotely Control iPhone 14/13/12/11/X/8/7 from Computer