Fake GPS Tinder: How to Fake GPS for Tinder to Expand Your Horizons
Since its launch in 2012, Tinder has been the go-to matchmaking app for millions of adults across the country. Every day, men and women engage on it due to its simplicity. If you like someone's photo, you swipe right. If you dislike someone's photo, you swipe left. In order for this app to run, you have to allow it to track your location (How to stop someone from spying on my cell phone). By doing so, you will only see the photos of people in your area. You might become curious about the possibility of perhaps establishing a connection with someone who lives in another town or city in your state. Unfortunately, Tinder does not provide this option. Fortunately, you can fake GPS on Tinder!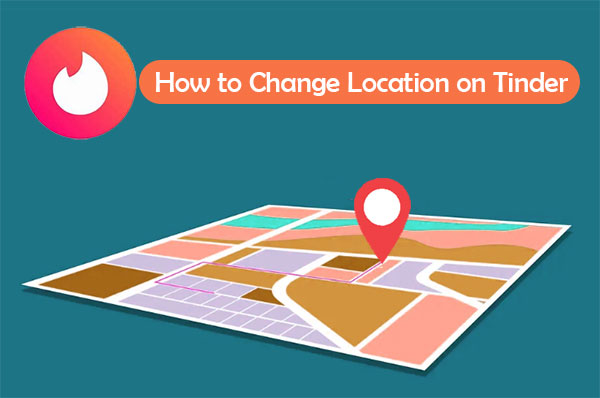 Part 1: How Does GPS Work on Tinder?
Tinder has become well-known for being a location-based social-networking app, which is one of the main elements that set it apart from the competition. While other matchmaking apps show you photos of people who live 2,000 miles away, per se, the Tinder app shows you people who live five miles away. It is the perfect app for people who want to make a connection with someone to meet that same day or the following days at a public place. There have been numerous instances in which people have met their true love in their area using Tinder, but there are also people who have had no luck.
The Tinder app uses your device's GPS and location to filter potential matches who live a few miles away. If you do not allow Tinder to track your location, it will not work for you. Faking GPS on Tinder is a solution that many men and women are taking advantage of to better their chances on meeting someone special.
Read Also:
Part 2: Why Do Users Want to Fake GPS Tinder?
Besides wanting to meet new people in other areas due to not connecting with anyone nearby, there could be other reasons why some individuals would want to fake GPS on Tinder.
One reason is to avoid being recognized. Police officers, firefighters, educators, doctors, lawyers, and etc. have to be very careful when meeting people. For example, a doctor cannot establish a personal relationship with a patient and a lawyer cannot establish a personal connection with a client. It would be unethical. These professionals would risk their integrity. Therefore, seeking to make a connection with someone in another town or city would be more prudent for them.
Another reason why someone would want Tinder fake location is due to already being in a relationship. Someone nearby could easily recognize the individual and make him or her the talk of the town for a while. This could put the person's life in jeopardy in various aspects. It is better to prevent than lament. This is not to express that cheating is right, but at the end of the day, everybody has free will to do as they please.
One more reason to fake GPS on Tinder is if a person is from a small town, one that has a population of about 800 people. It would be very rare to find someone special in such a small town. This is when someone has to spoof Tinder location.
You May Also Need:
Part 3: How to Spoof Tinder Location on Android & iPhone?
Way 1. Using Virtual Location Tool
The Virtual Location Tool is considered to be the best location spoofer for Tinder. Numerous individuals are using it on a daily basis with great success, hence the pour of positive reviews. With the help of it, you can change your address. All that is needed to take advantage of it is any Android or iOS phone and a USB cable. Then, you will select your virtual location of choice using your PC or Mac.
Noteworthy Functions of the Virtual Location Tool:
Change location on the Tinder app by spoofing your location, without any loss of data.
Customize routes, create diverse routes, and simulate routes.
Delete or select previous chosen addresses.
Set desired location in seconds.
100% privacy guaranteed at all times.
Compatible with all iOS devices and most Android devices.
How to spoof Tinder location with the Virtual Location Tool:
Step 1. Download and install it on your computer. Once downloaded, run it and click on "Get Started." Using your USB cord, connect your phone to your computer. Wait a few seconds so that the software can recognize your phone.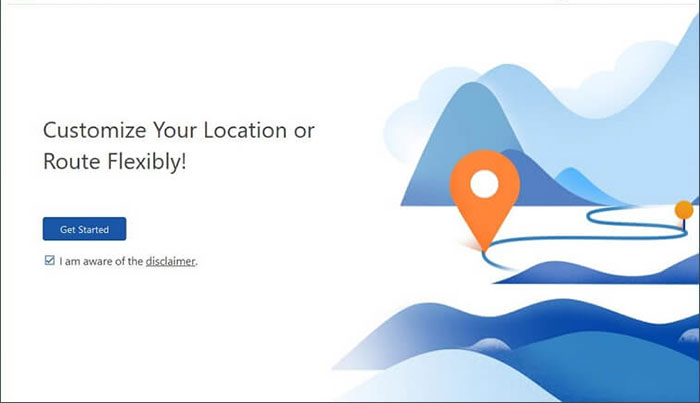 Step 2. Click on "Teleport Mode," which you will locate on the screen's upper-right corner. Enter the desired location in the search bar.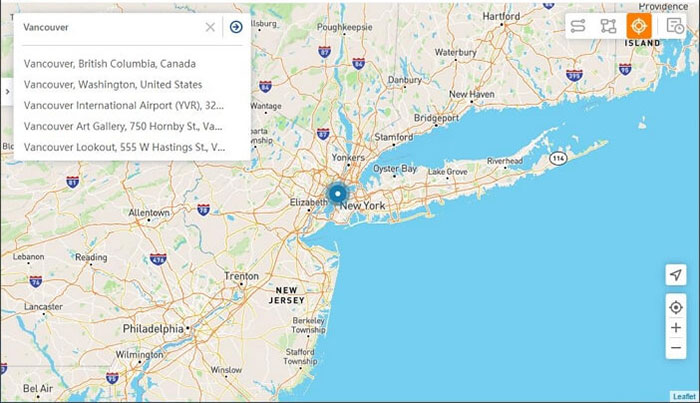 Step 3. When you note that the pointer moved to the desired place on the map, click on "Move" for the location on Tinder to be changed. It is quite easy, huh?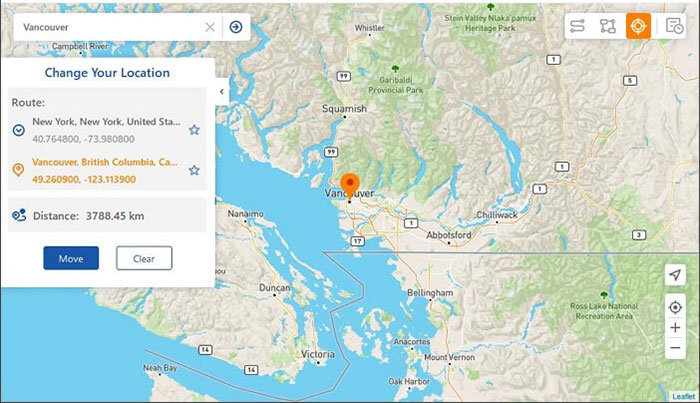 Way 2. by Tinder Passport
This solution has been acquiring a lot of headlines. It lets you change your location on Tinder easily. With just a few clicks, you can switch between various regions or countries. Even though it works as envisioned, not a lot of people consider it a top pick, because it is very expensive.
How to Use Tinder Passport to spoof Tinder location:
On the Tinder app, go to settings and click on "My Current Location."
Scroll down and click on "Add a New Location."
Select preferred location.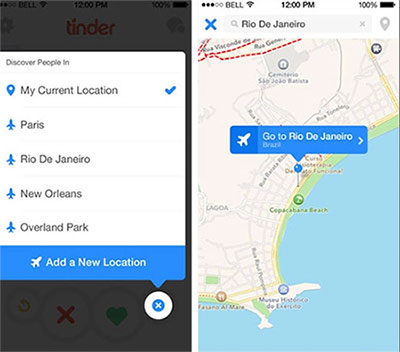 Way 3. Using Tinder Location Changer App
There are many fake GPS location apps that you can down download from Google Play, but a lot of them are not worth it. Many are underdeveloped and have numerous intrusive ads, which can make your experience challenging. Frustration can easily arise when opting for one of these underdeveloped apps.
How to Use Tinder Location Changer App to fake GPS for Tinder:
Install Fake GPS Location on device.
Enable developer options by clicking on "Settings" and then "Systems." Follow by clicking on "About Phone" and then click on the build number to unlock developer options. Click back and click on the "Develop" options.
On the Developer Options menu, toggle the option on top to ensure that it is enable. Follow by selecting the "Fake GPS Location" app.
Choose desired location.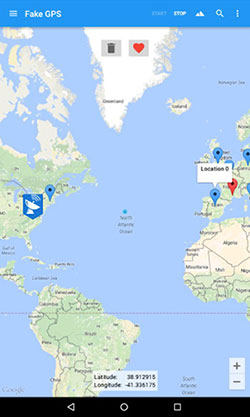 Way 4. by Cydia Apps
One of the most popular Cydia apps in the "Anywhere!" app. It is in Chinese, but there are some people who say that it is easy to follow with a little bit of patience and attention to detail. With this app, you can spoof Tinder location in a short amount of time.
How to Use the Cydia App to fake GPS on Tinder
Download and launch the Anywhere! app.
On the app's main screen, navigate to desired location.
Click on the desired location.
Click on the blue tab located on the following screen.
Select Tinder and any other app that need a fake location.
Click on the upper-right corner and then open Tinder to note the updated location.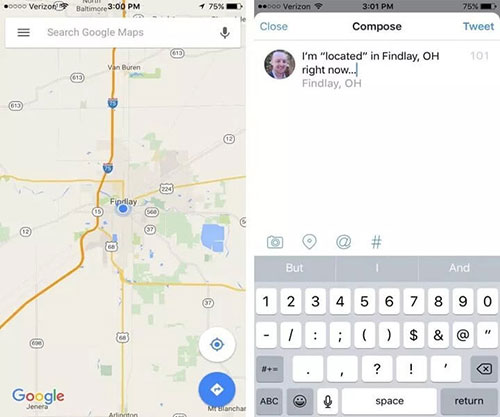 Part 4: FAQs About Tinder Location
Q1. Can Tinder Track Fake Location?
It all depends on the app that you opt to use. Tinder is constantly updating to track fake GPS spoofing. So, several fake GPS spoofing apps update as well to protect you from getting caught. The Virtual Location Tool is one that always has your back in this aspect.
Q2. How Can Hide My Location on Tinder?
You can hide your location on it with Tinder's premium features. Your profile will not be disguised, but your current location will be hidden.
Q3. Can My Identity Be Tracked on Tinder?
The only way someone can know more about you is if you provide a lot of personal details. Then, those personal details would be used outside of Tinder on other websites to find out more about your persona. Therefore, you have to be very careful and not provide personal details, until you meet someone in person.
Spoof Tinder Location Today
If you were trying to find out the best way on how to trick Tinder location, then you are all set! There are several solutions that you can implement to fake GPS on Tinder, but of course, there are some that are better than others. Go ahead and spoof Tinder location today by using one of the solutions previously mentioned. If you want to play it safe, try the Virtual Location Tool. This solution gets straight-to-the-point and changes your location in seconds so that you can use Tinder as envisioned. Let us not forget to mention that it goes the extra mile to protect you from getting caught!
Related Articles:
2 Fast & Easy Ways to Recover Snapchat Messages on Android
How to Fix Snapchat Not Working Issue?
Effective Ways to Recover Snapchat Photos from iPhone
How to Spoof Pokemon GO on Android? Full Guide in 2023
Where Are Texts Stored on Android? SMS Location, Backup, Recovery, etc.
Where Does iTunes Store Backups & How to Change iTunes Backup Location?