Is My Cell Phone Being Spied by Someone? 5 Ways To Tell & Stop Them
"Is someone spying on my cell phone?"
I believe that no one wants their mobile phone to be spied by others, right? It's a scary thing that your phone is being tracked by people you may or may not know. Don't take it for granted. In fact, smartphone tracking has become a trend these days. With the right tools, almost anyone can hack your phone. So we're here to guide you on how to stop someone from spying on your cell phone to help you protect yourself and your privacy from being compromised.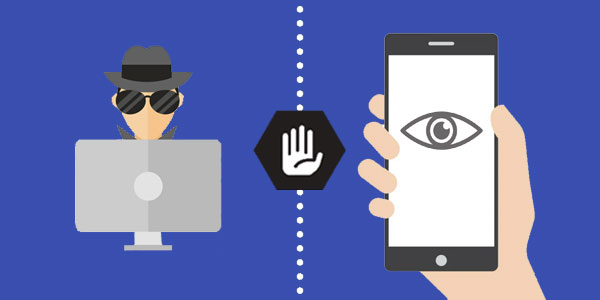 Part 1: How Can I Tell If My Phone Is Being Spied?
Before we get into the solution, let's find out what signs you can use to determine if someone is spying on your phone.
Battery drains too fast: Battery draining too quickly is one of the most direct signs of spyware on a smartphone. We can predict the life of the battery, estimate how long it will last. When you notice a sudden and rapid decrease in battery life, there is a good chance that spyware is running in the background and secretly draining power. Well, it's time to find out what spyware is installed on your phone. (How to fix: iPhone battery draining fast?) )

Trouble shutting down devices and apps: If you close all background apps or turn off your device and find that some apps are still running in the background, or you can't turn off your device at all, the reason may be that spyware is operating in the background. You must take immediate steps to prevent spyware on your cell phone.
Phone heats up abnormally: Another very important thing that shows a red flag is that the phone heats up abnormally. This is understandable, since the spyware application is running constantly in the background and the processor is overloaded, the smartphone will naturally heat up constantly.
Strange noises during phone calls: If you hear any strange noises while you're talking to someone, there's a good chance your phone is being tracked. However, with the development of technology, the eavesdropping software has also been greatly improved, and such problems generally do not occur. Once you happen to encounter it, it's time to do something to prevent spyware on cell phone.
The phone restarts abnormally: After you tap on the "Restart" button, your phone does not restart. Or the smartphone reboots itself frequently. These all indicate that someone is interfering with the functionality of your phone.
In short, if the above abnormal situation occurs on your mobile phone, you must be vigilant. Read on, please.
Part 2: The Risks of Cell Phone Being Spied from Someone
If your phone is spied on, you're at a lot of risk. Let's take a look at the two main risks below.
Data theft: The most common thing hackers do is steal your information from your phone and use it for some criminal purpose. This will give you a lot of trouble. In addition, your photos and other personal information may also be used for illegal purposes.
Data Loss: Peeping software may also corrupt the data on your phone, resulting in damage or loss of phone data. To keep your phone data safe, you must take immediate steps to stop someone from mirroring your phone.
Click to See:
Part 3: How to Stop Someone from Spying on My Cell Phone
We can't ask spies to stop their wrongdoing, it's not realistic. What we need to do is to increase our vigilance and take some measures when necessary to prevent these spies from infringing on your mobile phone. Below, we'll give you five useful ways to help you stop someone from spying on your cell phone.
Way 1. Spoof location to prevent spyware on your cell phone
Spyware tracks your phone's location and learns what users do on a map. To stop this behavior, we can fake your GPS location and hide your real location from spyware through geo-spoofing. So, how do you change the GPS location on your iPhone and Android phone? You'll need Virtual Location Tool, a dedicated geo-spoofing software for Android and iPhone, can change your GPS location to anywhere in the world as you like.
Go through the step by step guide in the below to see how to protect cell phone from spying by using the Virtual Location Tool.
Step 1. Click the downloading button in the below to download and install Virtual Location Tool on your PC or Mac computer. Run it and click "Get Started".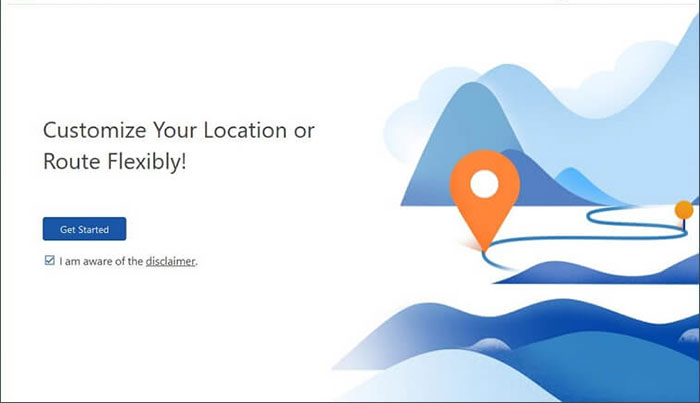 Step 2. Connect your phone to this computer using a USB cable, and click "Trust" on the phone to establish the connection between the two devices. Wait a few seconds until this tool recognizes your phone.
Step 3. After the successful connection, a map will appear on your computer screen, from which you should click "Teleport Mode" from the top right corner. Then find a specific location in the top search bar. You can also search for a location by pasting GPS coordinates in the search bar.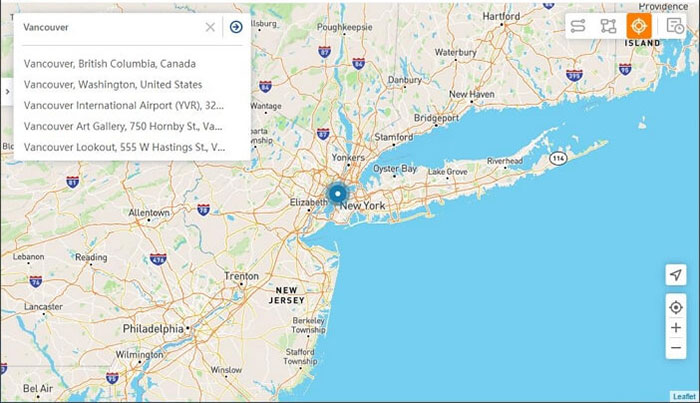 Step 4. After selecting your desired location, click the "Move" button to set it as your current GPS location. Now, no one can spy on the location on your phone.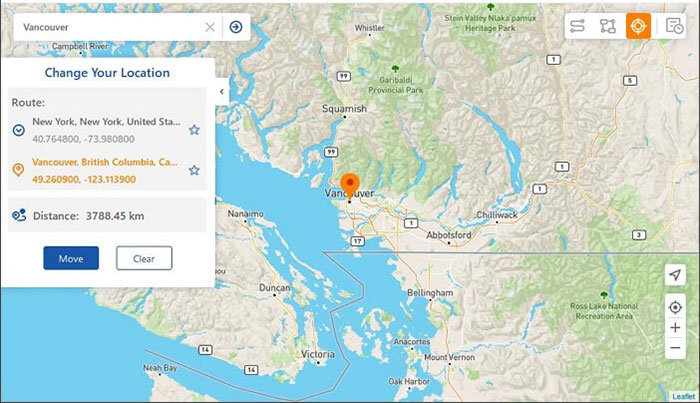 More Posts:
Way 2. Manually remove all spyware from your device
How can I protect my phone from spyware? The most straightforward way is to check your phone for spyware and remove it manually. That way, they won't be able to spy on your information. However, this method is a bit difficult. First, you must have the ability to identify malicious applications. Second, these spying tools may be composed of multiple applications working together, in which case you need to delete all of them. Follow the steps below to remove all the spy software from your device.
Take an Android device as an example, go to the Settings app first.
Tap on "Apps".
Scroll down the screen to find the spyware application.
Check the found spyware app and click "Uninstall".
Way 3. Install an anti-tracking application
If you think spyware is just tracking your location, you're thinking too easily. It's more dangerous than you might think. If you're not sure you've removed the spyware completely, you can also install an anti-spyware application to protect yourself from it. Anti-spyware can detect malicious and suspicious activity on your phone to keep your data safe. Whenever you install any new software or program on your phone, the anti-spyware application will detect and determine whether it is safe or not.
The security app's scanning feature can also find apps that have been installed without your consent. Here, we list two anti-spyware apps for Android and iOS devices.
Way 4. Update your operating system and applications
Another simple thing you can do is update your phone's operating system and apps. Although this method may not work well for block spying on your cell phone compared to other methods, it cannot be ruled out that some cell phone hacking methods rely on an older version of the manufacturer's software installed. Android and iOS regularly release new updates, as do apps. New versions may patch security holes. Keeping them all updated to the latest version can help you protect against newly developed spyware and hacking methods.
To update iOS, go to "Settings" > "General" > "Software Update".

To update Android, go to "Settings" > "About phone" > "System update".
Way 5. Factory reset your iPhone or Android phone
If there are any suspicious signs that your phone is being tracked and you can't find the spy app on your own, performing a factory reset can remove any malware apps from your device. Resetting the device will keep only the default apps on your mobile device, and other third-party apps, including spy apps, will be uninstalled. This will inevitably result in data loss, therefore, resetting the device is your last resort, only if all of the above methods have failed. Here're the step-by-step guide on how to reset your iPhone or Android device, so as to protect your iPhone/Android phone from being spied on.
How to factory reset your iPhone:
Go to iPhone's "Settings" and tap on "General"
Tap on "Reset" and choose "Erase All Content and Settings".
Enter your password to confirm it.
Tap on "Erase iPhone".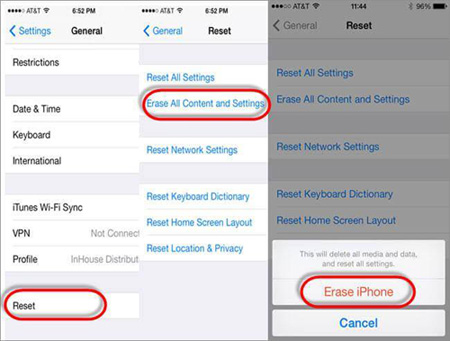 How to factory reset your Android phone:
Go to "Settings" and scroll down to choose the "Backup & Reset" option.
Tap on "Factory Data Reset".
On the new screen, tap on "Reset Phone" at the bottom.
Enter your screen lock and the system will start resetting your Android device instantly.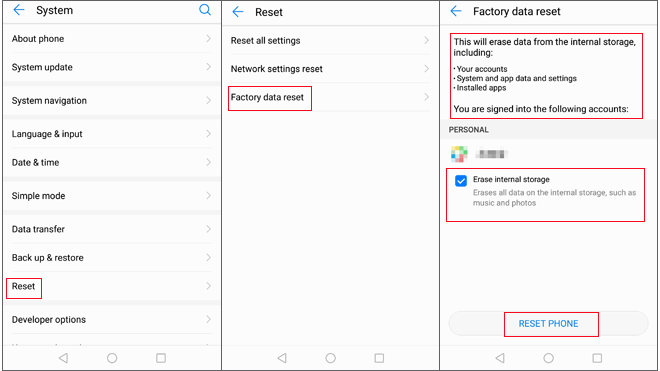 Verdict
This article tells everything you need to know about spying. By now, you should know how to stop someone from spying on your cell phone. Take good care of your device so no one can track your phone and steal sensitive data from your phone. Also, if you already suspect that your phone has been hacked, then you should tell the police because the other party may be committing a crime.
Related Articles:
How to Track and Wipe Android Phone without Tracking Apps
How to Find and Protect Lost iPhone 14/13/12/11/XR/X/8/7?
Where Are Contacts Stored on Android Phones & How to Export Them?
What You Should Know About Fake GPS on Android without Mock Location