5 Effective Tactics to Change Location on Tinder [iPhone/Android]
When you are about to move on Tinder and take action to check if you'll still be alone, you may struggle to meet a local date in your region. By the same token, there are considerably more folks scouting holiday destinations for potential matches using a virtual location on the app. So, how to change location on Tinder while dating online? Or can you set your Tinder location to somewhere else without effort? Fret not! This article will bring closure to this topic. And let's cut to the chase now.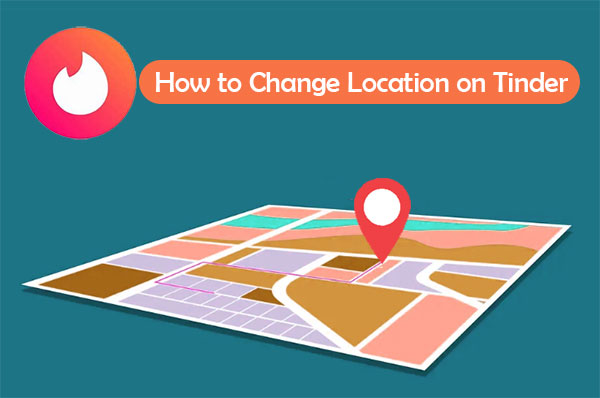 Part 1: Can you Change Location on Tinder?
As you may know, Tinder Passport can officially change your location but with limitations. For instance, you have to be a subscriber to Tinder Gold, Tinder Plus, or Tinder Platinum. Well, can you set Tinder to a different location in other ways? OK, here are some others to help you do this:
You Might Also Like:
Part 2: How to Change Location on Tinder with a GPS Location Spoofer
Starting with this section, we will introduce some ways to help you change your location on Tinder. First, the most recommended is third-party programs like Virtual Location Tool. As a non-premium member of Tinder, this is good enough to change your actual address. All you need is a USB cable and any iOS or Android phone. And you can then pinpoint your virtual location anywhere in the world on your PC/Mac.
Virtual Location Tool - Best Location Spoofer for Tinder:
Change location on Tinder by spoofing your device's location without losing data.
Customize routes, simulate routes, and create diverse routes.
Select or delete the previous address saved on this tool.
Set any virtual location in seconds, making it hard to be identified.
Play functions on various Android/iOS devices, including Samsung, Xiaomi, Huawei, Motorola, LG, Google, Sony, OPPO, HTC, iPhone 14/14 Plus/14 Pro (Max), iPhone 13/13 Pro (Max)/13 mini/12/12 Pro (Max)/12 mini, iPhone 11/11 Pro/11 Pro Max, iPhone X/XR/Xs/Xs Max, iPhone 8/8 Plus, iPhone 7/7 Plus, iPhone 6/6S/6 Plus, iPod touch, iPad, etc.
It won't divulge your privacy.
How to change location on Tinder iPhone/Android via Virtual Location Tool?
Step 1. Download and install the Virtual Location Tool on a computer. Run the program and choose "Get Started" from its interface.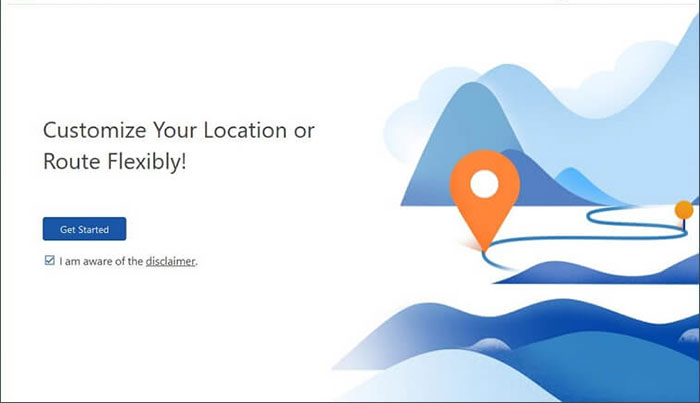 Step 2. Connect your iPhone or Android phone to the computer via USB. (How to connect Android to PC through Wi-Fi) Wait for a while to let this software recognize your device.
Step 3. Tap "Teleport Mode" from the upper-right corner of the screen. Then enter the location you need in the search bar. (It's also a good idea to enter GPS coordinates to locate a specific location.)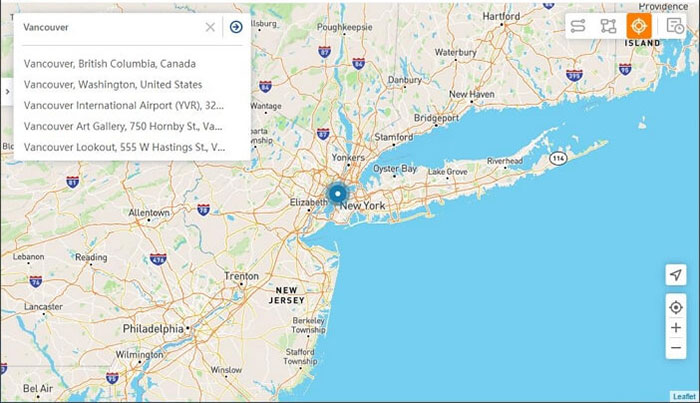 Step 4. When the pointer moves to the specified place on the map as you desire, click on "Move" to immediately change the location for Tinder.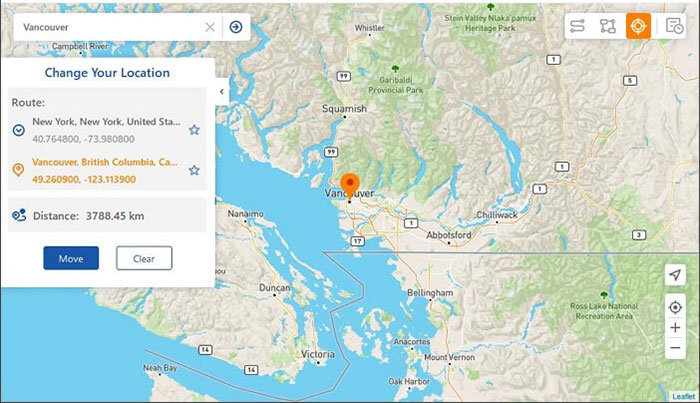 Part 3: How to Change Location on Tinder for Free via Tinder Passport
As we mentioned earlier, being a subscriber of Tinder, you'll get its Passport feature with likes and rewinds. More importantly, you have the ability to use Tinder to change the country or city as you desire. After that, you can freely start giving or receiving matches and engage in conversation with members of the chosen destination. However, the passport feature will be known by others.
How to change your location on Tinder with a Tinder passport?
Press the "profile" icon and choose "Settings".
Hit "Sliding in" on Android or "Location" on iPhone.
Choose "Add a new location" to change the location on Tinder.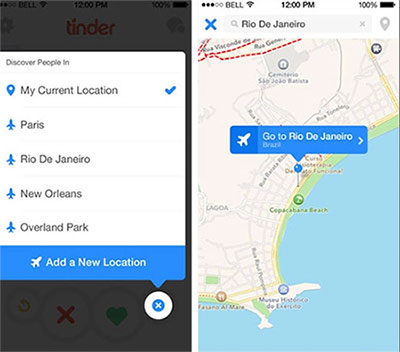 Check If You Need:
Part 4: How to Change Location on Tinder without Paying by Changing Facebook Location
When setting up a Tinder account for the first time, you may access it via Facebook. If that's the case, just use the Facebook account to change the Tinder location. To fulfill it, please log in to your FB account and follow the drill below to figure out how to change Tinder locations by configuring FB location:
Click your profile photo impression at the upper right of the FB page.
Head over to the "about me" tab to move ahead.
Add a new place to the "Edit current city" section.

Modify all the other settings as prompted.
Click on "Save" to change the Tinder location.
Facebook is easy and free to mock locations for Tinder. (Want to change location on the Facebook marketplace?) Yet it may get your account suspended when identified. And those in your friend list will be aware of the changed location.
Part 5: How to Change Current Location on Tinder Using VPN
A trustworthy VPN facilitates you to fake GPS locations on both your Android and iPhone devices. So, it's a decent option to apply a VPN on your device, though the job may differ slightly based on the tool you pick. Here, we recommend NordVPN. Next, we'll explain how to trick location on Tinder via NordVPN:
Download and install NordVPN on your phone.
Launch it and go to its "Settings".
Proceed to "Advanced" and turn on "Override GPS location".
Enable "Developer options" > "Mock locations".
Go to "Locations" and pick one you like.

Log in to your Tinder account to link the app to the new VPN location.
Swipe away to display your new location.
Part 6: How to Change Location on Tinder with Fake GPS App (Android Only)
Android users can avail of the Fake GPS app to trick Tinder into thinking the position they change is the actual one. However, it is somewhat hit-and-miss if you select an inappropriate program. Here, the Fake GPS app is advisable, according to some users. Now, let's see how to fool Tinder into setting location to where it thinks it's sensible:
Install the Fake GPS app after the download.
Go to your phone's "Settings" and enable "Developer Options".
Switch on "Allow Mock locations" if you can find it on your phone.
Touch "Select Mock Location App" and select "Fake GPS".

Go to its "Settings" > "Location".
Choose "Device Only" from the "Location Mode" section.
Run Tinder and go to its "Settings" > "Discovery".
Change "Search Distance" to something else to fake GPS with no root.
Part 7: How to Avoid Scams on Tinder? What If Tinder is Scammed?
How to keep away from scams on Tinder?
Look out for inconsistent facts and stories to specific questions.
Do not drop money to those you've never met.
Don't share any personally identifiable info on Tinder.
Avoid sharing any details about family and friends.
Keep your messaging on Tinder, other than switching to email or instant messaging.
What if Tinder is scammed?
Maintain a copy of all your communications with the scammer.
Contact your bank when suffering any economic loss.
Cut off all contact with the scammer.
Report the scam to FBI Internet Crime Complaint Center.
Report it to Tinder by navigating to the scammer's profile > "Report".
FAQs about Location on Tinder
Q1: Does your Tinder location change automatically?
Tinder uses your device location to show where you are to others. Each time you open the app, it forces GPS coordinates to update your actual location automatically.
Q2: How to change the IP address manually?
For iPhones, go to "Settings" > "Wi-Fi" > "Network" > "Configure IP" > "Manual" > enter your new IP address.
For Android phones, go to "Settings" > "Wireless & Networks" > select your Wi-Fi network > "Modify Network" > "Advanced Options" > "Change Your IP Address" > enter your new IP address.
Q3: How does Tinder track locations?
After tracking your GPS from your device's location service, Tinder looks for matches within the search radius as per your needs at 1 to 100 miles. If your desired object is beyond the range, this app will suspect you of cheating.
Q4: How to hide your location on Tinder?
This feature is only accessible to Tinder's premium users, which can be done in its location settings. If you don't want Tinder to spoof the location, just hide it. But after that, you'll no longer see any people in your region, nor will anyone be able to find your profile.
Final Part
It's time to round up this post. As can be seen from the above, it's possible and easy to change location on Tinder. Overall, most methods impose additional conditions on further practice. For instance, you have to be a power user of the app, or you associate an FB account with it, which serves as a premise.
Nevertheless, the Virtual Location Tool makes everything different. As a third-party program, it can quickly take you to travel around the world online while ensuring security and being difficult to be detected.
Related Articles:
5 Secure Ways to Change Zenly Location on Android/iPhone in 2022
Pokemon Sword & Shield: How to Evolve Dreepy/Drakloak into Dragapult [Fixed]
How to Download and Play Android Games on PC [Detailed Guide]
10 Best Fake GPS Apps to Mock Location for Android & iOS
Where Are Contacts Stored on Android Phones & How to Export Them?
Top 10 iOS/Android WhatsApp Recovery Apps Help You Restore WhatsApp Data.