FGL Pro Pokemon GO: Overview, How-tos, Troubleshooting, & Alternative
When playing Pokemon GO, the augmented reality mobile game, almost all players would like to "travel" the world while catching more Pokemons. Sometimes, you cannot physically get wherever you want, but smart apps like FGL Pro allow you to pretend you're out of town and capture more prey accordingly. Well, what is FGL Pro? How can I use FGL Pro for Pokemon GO? OK, in this informative guide, we shall tell you a lot more about this app.
Part 1: FGL Pro Pokemon GO: Overview of FGL Pro
Available for Android 4.0.3 or older, FGL Pro aims to spoof or alter your phone's GPS location to your wanted one. (There's no FGL Pro for iOS) Specifically, it helps Android users to change real-time location on apps like Pokemon GO, Snapchat, Zenly, Tinder, etc., to treat themselves. (How to change location on Tinder?) When entering "FGL Pro Pokemon GO 2021/2022", users can get it for free from Google Play Store.
Main features of FGL Pro:
Spoof location through Joystick to play Pokemon GO.
Simulate locations to wherever you desire.
Share your fake spot with others.
Deliver a favorite list.
Hassle-free to duplicate the GPS location.
Offer different options like driving, changing speed, walking, etc.
Let you set and share custom routes anytime.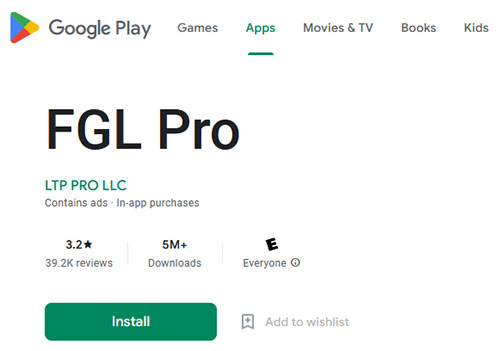 Is it safe to use FGL Pro for Pokemon GO on Android? Yes, it's secure when faking locations for Pokemon GO or other geo-based platforms. However, this app may have crashing issues if it runs on Android 9.0 and might even fail to work at times.
See More:
Part 2: How to Use FGL Pro for Pokemon GO for Spoofing
Collectively, it's a bit complicated to make Pokemon GO spoofing on Android 12/11/10 via FGL Pro. To start with, you need to downgrade Google Play services to hide locations without needing to root your Android phone. For more details, please follow the steps below to fake the location for Pokemon GO on Android with FGL Pro:
Go to your Android phone's "Settings" > "Apps".
Scroll down to find and enable "Google Play Services".
Check the application version.

Tap "Uninstall updates" and download an older version of Google Play Services.
After that, run "File Explorer" and install Google Play Services.
Download FGL Pro from Google Play.
Head to "Security" > "Device Administrations" > disable "Find My Device".

Proceed to Android "Settings" > "Apps" > "Menu icon".
Choose "Show System" and disable "Google Play Store".
Navigate to "Developer Options" >"Select mock location app".

Choose "FGL Pro" and run FGL Pro.
Select any location to spoof for Pokemon GO.
Tap the "Play" button to eliminate the location restrictions for the game.
Part 3: Pros and Cons of FGL Pro
While some Android users prefer to use FGL Pro for Pokemon GO spoofing owing to its merits, others may not be so impressed and even complain about it. Admittedly, this spoofer Pro for Pokemon GO can provide convenience for us, but it also has unsatisfactory shortcomings. Unbiasedly, they are:
Advantages
Easy to use with Joystick.
Free to download from Google Play.
Let you set frequently used locations as favorites.
Work for various location-based apps.
Customize moving routes.
No root is required.
Disadvantages
It's unable to change location on iPhone without jailbreaking.
Unstable service, which may cause errors when spoofing locations.
Lengthy to spoof location.
Downgrade Google Play Services required.
Lots of users reported FGL Pro not working.
Easy to crash, and the repair may be tedious.
Not completely free.
FGL Pro Pokemon GO APK has no routes mode.
In-app ads.
Click to Know:
Part 4: FGL Pro Not Working? Here Are the Fixes
1. Fix FGL Pro GPS Signal Not Found: Error 11
In spite of a decent tool for the Pokemon GO walking hack on Android 2022, some players find the error occurs when there is lagging. Fret not. Here we describe four options to eliminate it:
Option 1: Go to your phone's "Setting" > "Security" > "Device Administrators" > toggle off "Find My Device".
Option 2: Proceed to "Settings" > "App" > "Pokemon Go" > "Storage" > "Clear Data" or "Clear Cache".
Option 3: When getting into "Settings", select "Apps" > "Maps" > "Uninstall Updates".
Option 4: Start FGL Pro, tap "Settings"; check the box parallel to "Secure Mocking" & "Autofix Mocking Location".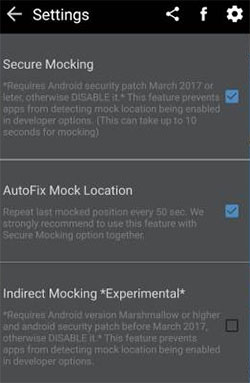 2. Fix FGL Pro Saying "Google Play Services Are Updating"
This error arises when you don't uninstall updates before running the FGL Pro app or you fake your mobile's location frequently. Here's the fix:
Navigate to your phone's "Settings" > "Application Manager".
Be sure to choose "Show system apps" in the menu.

Scroll down to find and turn off "Download Manager" to fix the prompt.
Part 5: Cannot Use FGL Pro on iOS? Use Its Best Alternative
As you know, FGL Pro, with a lot of downsides, cannot work for an iPhone/iPad. Some Apple veterans may ask, "can Fake GPS be used in Pokemon GO for iOS"? The short answer is NO, too. How do you hack Pokemon with FGL Pro beyond Android? That's easy! Use Virtual Location Tool, the best replacement for FGL. With this smart product, only little effort should be made to spoof/fake any locations for the game on various mobile phones.
Salient features of Virtual Location Tool:
Impeccable FGL Pro substitute to spoof location for Pokemon GO on iOS/Android.
Customize routes, simulate routes, and create diverse routes without losing data.
Select or delete the old addresses saved on this tool.
Quickly set any virtual GPS location without being banned.
Play functions on various iOS/Android devices, including iPhone 14/14 Plus/14 Pro (Max), iPhone 13/13 Pro (Max)/13 mini/12/12 Pro (Max)/12 mini, iPhone 11/11 Pro/11 Pro Max, iPhone X/XR/Xs/Xs Max, iPhone 8/8 Plus, iPhone 7/7 Plus, iPhone 6/6S/6 Plus, iPod touch, iPad, Samsung, Xiaomi, Huawei, Motorola, LG, Google, Sony, OPPO, HTC, etc.
It won't disclose your privacy.
How to hack Pokemon GO with Virtual Location Tool?
Step 1. Launch the program and get started
Free download and install this location spoofer for iOS/Android on a computer. Then start it and select "Get Started" from its primary interface.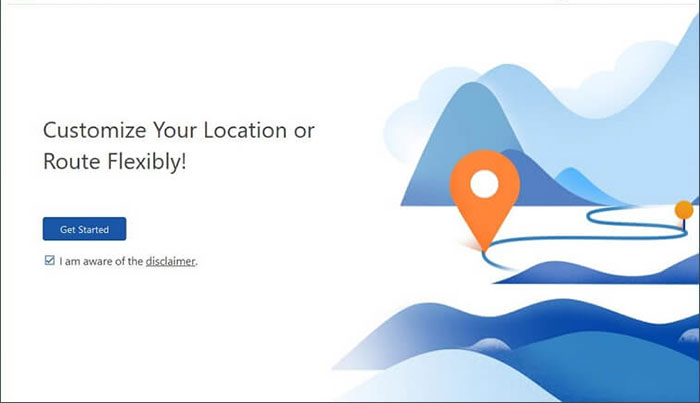 Step 2. Link your phone to your PC/Mac and pick "Teleport Mode"
Connect any mobile phone to the computer via USB. This tool will recognize your device soon. After that, tap "Teleport Mode" and enter your desired location in the search bar. Here, you are also allowed to input GPS coordinates to locate a specific place.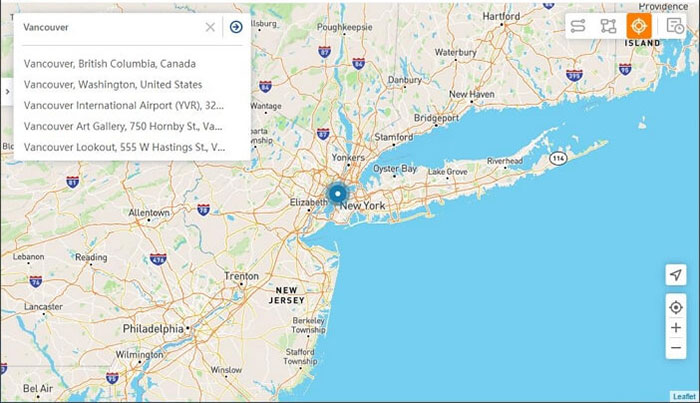 Step 3. Spoof location on iOS/Android with the best FGL Pro alternative
When the pointer moves to the exact address on the map according to the location you set, click "Move" to fake the location for Pokemon GO on your iPhone or Android phone.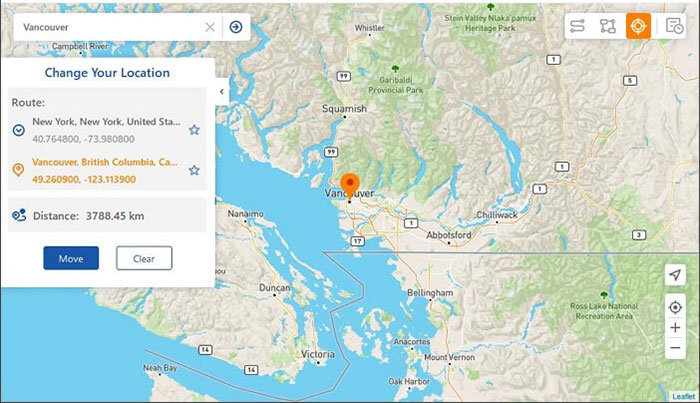 Final Words
Judging from the above, FGL Pro might be a decent choice for someone new to Pokemon GO. Nevertheless, it comes with shortcomings, such as not being easy to use, crashing occasionally, not being available for iOS, etc. As such, try Virtual Location Tool if you want a different experience. After all, this one is arguably the most rewarding program to have. Finally, please share this post on social media if you find it desirable.
Related Articles:
Top 10 Pokemon GO Coordinates & How to Spoof Them without Being Banned
Pokemon GO Cooldown Chart: Everything about Cooldown Time/Chart for Pogo
Pokemon Sword & Shield: How to Evolve Dreepy/Drakloak into Dragapult [Fixed]
9 Best GoPro Editing Software to Edit GoPro Videos Effortlessly
Fix "Android Touch Screen Not Working - Can't Unlock" Issues in 12 Methods
6 Methods to Remotely Control iPhone 14/13/12/11/X/8/7 from Computer