All You Want to Know about Find My iPhone Offline Last Known Location [2023]
The Find My app plays an important role in tracking your iOS device when it is misplaced or stolen. When you have "Find My iPhone" enabled, you can check if your phone is offline and what it was lastly located as it went offline. OK, this article is all about Find My iPhone offline last known location. If you don't want to locate it with the perplexing Google Maps feature, go over this page to know how to find your iPhone's last known location easily or change it on an iDevice directly to treat yourself.
Part 1: Is It Possible to Find Last Known Location of iPhone Offline?
Case 1: As long as another iDevice is nearby, the Find My app can still triangulate the lost iPhone's current location with the crowdsourced Find My network, through which you can find the last known location of the iPhone offline.
Case 2: When your lost iPhone is dead, you can locate the last known location but not the current one if you have enabled Find My iPhone Last Location.
Case 3: Assuming you turned on the Find My Last Known Location setting, you'll be taken to the last place your device was located before its battery is dead.
Case 4: You have the ability to find a stolen iPhone using the Find My app with the assistance of local authorities (Can I unlock a stolen iPhone without a password?).
Case 5: Provided that your iPhone is running iOS 15 or later and hasn't turned off Find My, you can still track the lost iPhone's location when you cannot pin it.
You May Also Want to Know:
Part 2: How to Activate the Find My App on iPhone
When enabling the Find My app, often it'll direct you to the last location of your iPhone before it dies. Haven't set up the Find My app yet on your device? Follow the drill below to activate it immediately:
Go to your iPhone "Settings" > [your name] > "Find My".
Tap "Find My iPhone" and turn it on. (If you have completed iOS 16/15 update, activate "Find My Network" simultaneously, which lets you find your phone when it is offline.)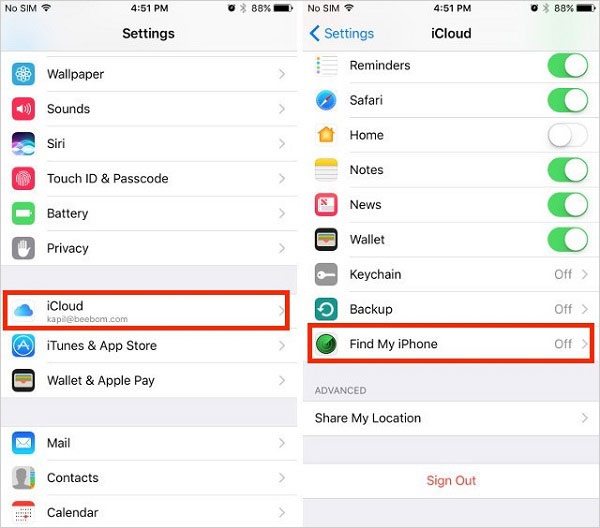 Part 3: How to Find My iPhone Offline Last Known Location Free
At the very beginning, it's advisable to update iOS to the latest version to avoid any possible system bugs. By figuring out Find My iPhone last known location after 24 hours in this way, you can fleetly track it over Bluetooth. Here's how:
Follow the steps we just said in Part 2 to enable the "Find My iPhone" feature.
Toggle on "Enable Offline Finding", as it will assist you in finding your Apple device even if it isn't connected to Wi-Fi or mobile data.
Enable "Send Last Location", for it will send the last known location of your iPhone offline.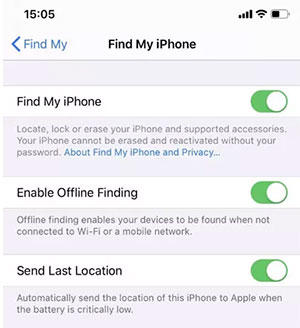 Learn More:
Part 4: How to Find Last Known Location of iPhone with iCloud on Computer
While iCloud web allows you to check the last known location on a map, you cannot get specific instructions to locate your lost iPhone. Still, you have the freedom to ping your nearby iPhone or just put it in Lost Mode to protect your iOS content from iCloud.com on a computer. Here are the directions to find the last location of your iPhone with iCloud:
Open any browser from your computer and visit icloud.com.
Go to the "Find My" application and sign in with your Apple ID and password.
Press the "Find iPhone" icon.
Select "All Devices" at the top right corner and select your lost iPhone. And this map will show where your device is located.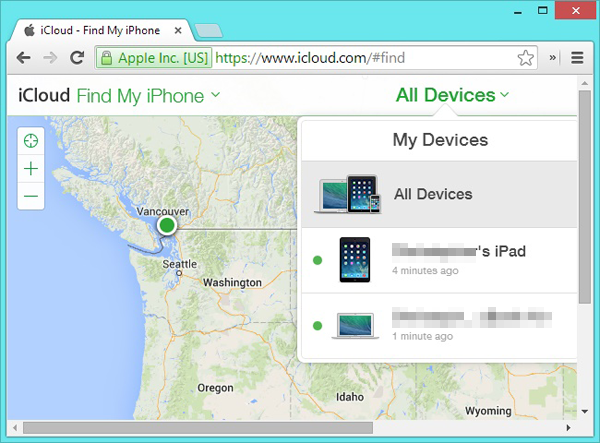 Part 5: How to Find My iPhone Last Known Location on Another iPhone/iPad
Requirements:
Learn how to find the last known location of iPhone offline with another iOS device:
Open the Find My app on another iPhone or iPad.
Go for the "Devices" tab.
The list of all the relevant devices will come out.
Touch your iPhone's name that you intend to locate.
A map will turn up, pinning its location of it.
The "Directions" will appear, through which you'll know how far you are from the missing iPhone with walking or driving.
If the iPhone is offline with a not entirely dead battery, tap "Play Sound" to locate it.

Otherwise, please choose "Notify When Found". Then the next time the iPhone is turned ON or recharged, you'll receive notifications and its location on this iDevice.
Part 6: How to Change iPhone Last Known Location
If you don't want to keep the last known location you just found for some reason, you're enabled to alter it with the assistance of the Virtual Location Tool. As you know, the location service on your iPhone will potentially put your privacy at risk or limit your access to certain resources. So, some would like to spoof the location in order to maximize their interests. If the same applies to you, please don't refuse to learn more about this software.
What makes Virtual Location Tool so good?
Change iPhone/Android last known location without restrictions.
Fake GPS location for geo-based apps/platforms like Skout, Pokemon GO, Hulu, Hinge, Netflix, and more.
Select or remove the location history as you wish.
Import or export the GPX file to keep your desired routes.
Spoof multiple iPhone locations concurrently.
Customize routes, simulate routes, and even create routes.
Work for a whole range of iOS and Android devices, such as iPhone 14/14 Plus/14 Pro (Max), iPhone 13/13 Pro (Max)/13 mini/12/12 Pro (Max)/12 mini, iPhone 11/11 Pro/11 Pro Max, iPhone X/XR/Xs/Xs Max, iPhone 8/8 Plus, iPhone 7/7 Plus, iPhone 6/6S/6 Plus, iPod touch, iPad, Samsung, HTC, Huawei, ASUS, Motorola, Sony, LG, Google, etc.
It won't divulge your privacy.
User Guide: How to change your iPhone last known location professionally with Virtual Location Tool?
Step 1: Run the program and link your iPhone to a computer
Download and install Virtual Location Tool on a computer. Run it and click "Get Started". Next, attach your iPhone to the computer via an applicable USB cord.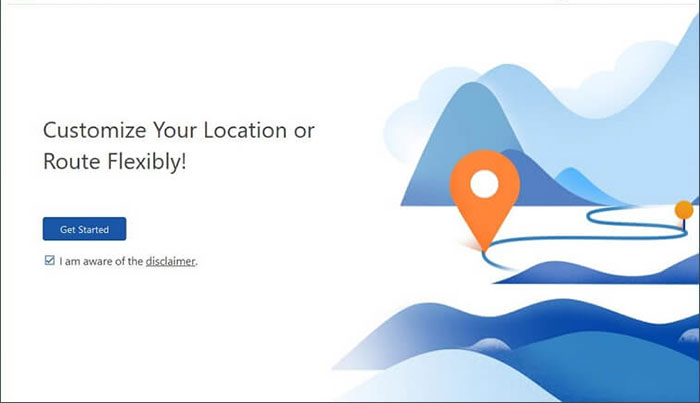 Step 2: Go to "Teleport Mode" and search for your wanted location
Choose "Teleport Mode" on the incoming screen and select your wanted location. Here, it also lets you search for an exact location by entering the address in the search box.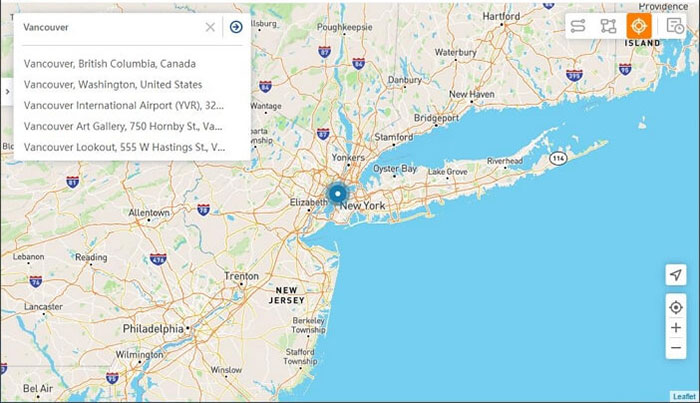 Step 3: Change iPhone's last known location in one click
Upon selecting the location you need, click on "Move" from a prompt. This will change your iPhone location on the map without delay.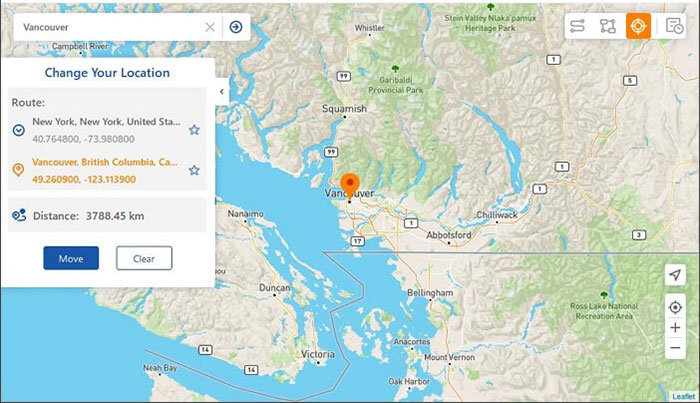 FAQs about iPhone Offline Location
Q1: Will my iPhone be tracked if its location service is off?
No! Disabling Location Services can help keep location monitoring apps from recording your current location to some extent. But Bluetooth can still interact with iBeacons for location tracking.
Q2: How to tell if someone is tracking my iPhone?
There's no way at present! Yet, if you suspect someone is spying on you, please change your Apple ID credentials for safety.
Q3: How to protect data on a lost iPhone?
Activate Find My app.
Back up your iPhone regularly.
Equip your iPhone with a screen lock, which can be a pin longer than four digits.
You'd better not get your iPhone out in public.
Keep all your belongings with your when you're outdoors.
Conclusion
Well, it's time to put an end to this article. To make it more clear, let's have a brief summary of what we just talked about:
It is possible to locate the last known location of your iPhone offline in many cases.
You can try to find your iPhone offline last location directly, from iCloud.com, or using another iDevice with the help of the Find My app.
To secure your privacy or access to more resources, you can change your iPhone's last location using Virtual Location Tool without error.
Related Articles:
[Solved] How to Turn Off Find My iPhone/iPad without Password?
[Ultimate Guide 2023] 6 Ways to Find Apple ID Password in Seconds
Can't Sign in to Apple ID? 13 Methods 99% People Don't Know.
7 Practical Tips to Change Weather Widget Location on iPad Air/Pro/mini/4/3/2
Is It Possible to Mirror iPhone to PC without Software? [SOLVED]