Can You Unlock a Stolen iPhone? Yes But Not Recommended
You may have closed a good deal on a used iPhone with a passcode, only to find that it can be a stolen phone embarrassedly. Well, there is a real possibility of this kind of upset. Now, assume you are to let it be, you'll probably be wondering how to unlock a stolen iPhone with the least delay possible.
As we know, screen lock, iCloud lock, and carrier lock are the main locks in an iPhone. Removing the first two is an essential prerequisite for you to make better use of the stolen iPhone. In today's post, we'll discuss how to unlock a stolen iPhone in different situations.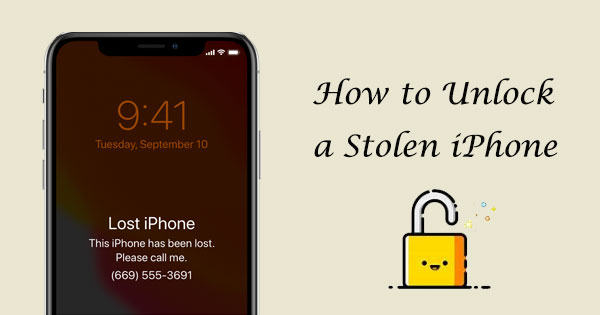 Part 1: Can a Stolen iPhone Be Unlocked?
The answer is absolutely yes. However, this is only certain to work for removing the screen lock, let's say, some excellent 3rd-party software can help do it.
While sometimes, you may find the stolen iPhone is still locked by the Apple ID associated with the iCloud lock. At this point, if the "Find My iPhone" switch in the phone is turned off, then it's easy to remove this ID.
Assume this feature is turned on, can the Apple ID still be unlocked? Well, it depends. Let's dig deeper now.
Part 2: How to Unlock a Stolen iPhone with the Best iPhone Unlocking Tool
Got a second-hand iPhone with the passcode, and it is likely to be obtained through the back door. Well, since you're the third owner of it, maybe, the top priority now is to remove the lock on the screen. Here, you can take the assistance of iOS Unlocker to quickly remove the lock from the stolen iPhone. It will erase the data from the mobile, which might be the only drawback of it. Yet this shouldn't be a big deal for a second-hand phone.
Attention: This tool is strictly prohibited for illegal purposes, because we all live in a civilized society.
Key Features of iOS Unlocker:
Remove various passwords on your iPhone/iPad/iPod, such as digital code, touch ID, face ID, etc.
Bypass the screen lock with a high success rate.
Simple UI and easy to operate.
Run smoothly on nearly all iDevices, including iPhone 12, iPhone 11/11 Pro/11 Pro Max, iPhone X/XR/XS/XS Max, iPhone 8/8 Plus, iPhone 7/7 Plus, iPhone 6/6S/6 Plus, iPod, iPad, etc.
It never gives away any of your privacy.
How to unlock a stolen iPhone without password using iOS Unlocker?
Step 1. Download, install and open iOS Unlocker on your computer and select the "Unlock" section from the toolbox.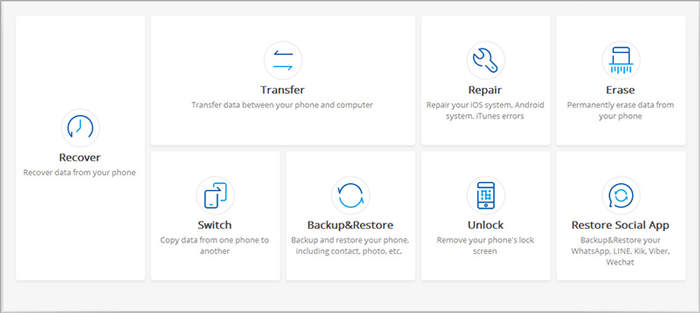 Step 2. Link the stolen iPhone to the computer with a USB cable and select the "Unlock iOS Screen" option.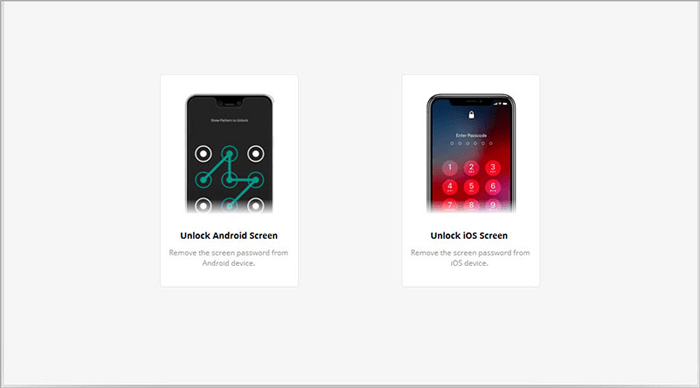 Step 3. Get the iPhone in the recovery mode by using the key combinations. To do so, just go through the easy and clear instructions on the screen below.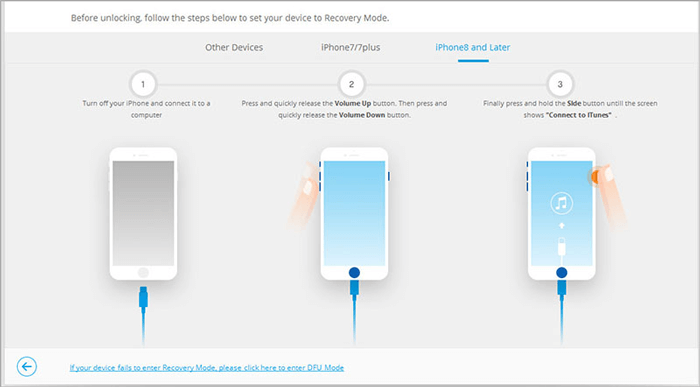 Step 4. Once the phone is in this mode, it'll be recognized by this tool. Next, you need to enter the iPhone info like the iPhone model and system version on the interface. Then tap on the "Download" button to download the fix package for the device.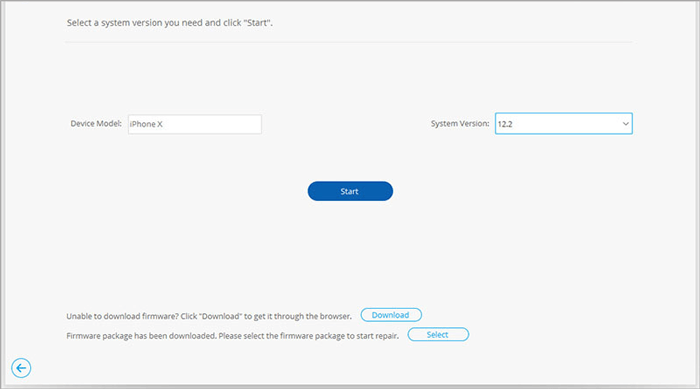 Step 5. After the download, you should click on the "Unlock Now" button on the screen to remove the lock on this iPhone.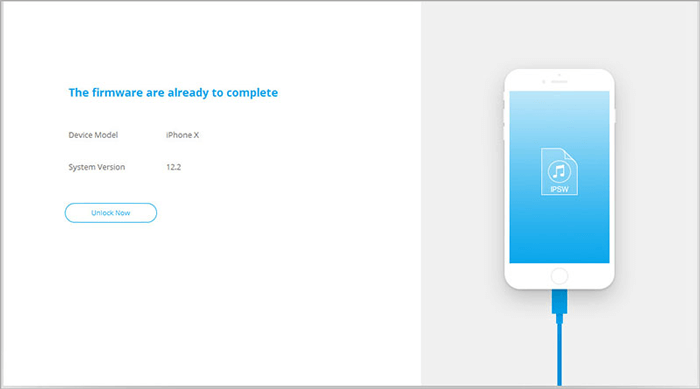 Step 6. You'll then see the screen like below. This indicates that the stolen iPhone is unlocked successfully.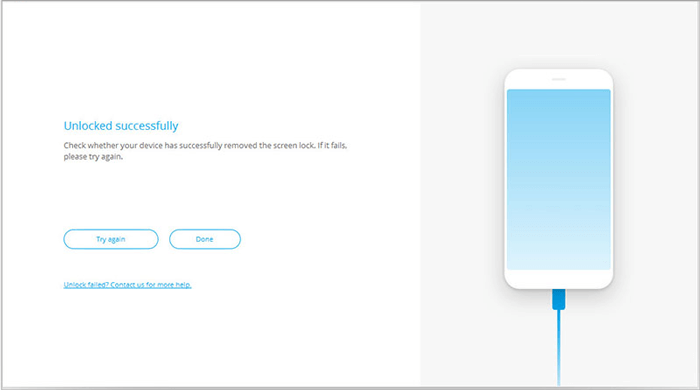 Notice: This program can also remove the Apple ID on the stolen iPhone with data loss. To do this, you should first ensure the "Find My iPhone/iPad" feature is disabled in the iPhone or the device is running with iOS 11.4 and earlier. If neither of the prerequisites is met, this tool won't work unless you know the specific screen passcode for the iPhone.
Read Also:
Part 3: How to Unlock a Stolen iPhone without Passcode Using iTunes
If the Find My iPhone feature was switched off and there's no need to input the previous Apple ID after the factory reset, then you can unlock a stolen iPhone using iTunes. Before that, you should put the device into Recovery Mode.
To unlock a stolen iPhone with iTunes:
Step 1. Plug the iPhone into your computer via a USB cable. Then launch iTunes and set your iPhone into Recovery Mode.
A quick look at the different ways to enter recovery mode for different iPhones:
For iPhone 8 and later: Press and release Volume Up > Volume Down. Press and hold Side (Power) > Recovery Mode;
For iPhone 7: Press and hold Side and Volume Down > Keep holding them > Recovery Mode;
For iPhone 6, 6S: Press and hold Home and Side > Keep holding them > Recovery Mode.
Step 2. After getting into this mode, iTunes on the computer should pop up a dialog, asking you to choose "Restore" or "Update". Here, just pick "Restore".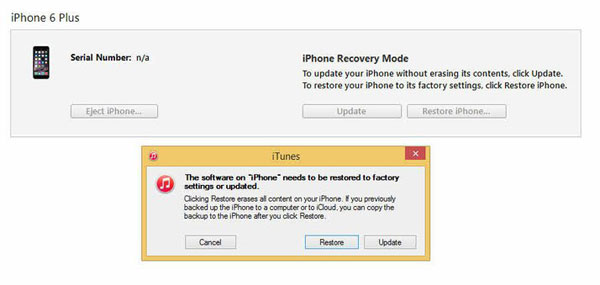 Step 3. iTunes will then download the software for this iPhone. After that, this program will restore your device to factory settings and erase it. Then the stolen iPhone will be unlocked.
Part 4: How to Get an iPhone Unlocked via Siri
Many folks may often use Siri on iPhone or iPad to recommend restaurants, ask about the weather, set alarm clock, etc. It servers as an assistant for us indeed. If you have a used iPhone running on iOS 10.3.2 to 10.3.3, you can probably unlock it via Siri.
Note: This means is only a stopgap because the next time you're locked out of the iPhone's screen, you'll need to use it again and make sure you don't upgrade the iOS for the iPhone by then.
To unlock a stolen iPhone via Siri:
On the iPhone, press and hold the Home button to activate "Siri". Then ask Siri, "What time is it?".
When it displays the time, just tap the "clock" icon to open it and touch "+" from the upper right corner.
Input anything into the search bar and long-press the typed word until you see "Options". Next, choose "Select All" > "Share" > "Message".
Type anything in the "To" field and click the return button. The text will then be highlighted in green. Here, simply tap "+" again.
Tap on "Create New Contact" and touch the photos icon to select "Choose Photo". Once done, your iPhone gallery will open for you automatically to browse through the images.
Press the Home button to get into the Home screen. Now you probably have bypassed the locked screen.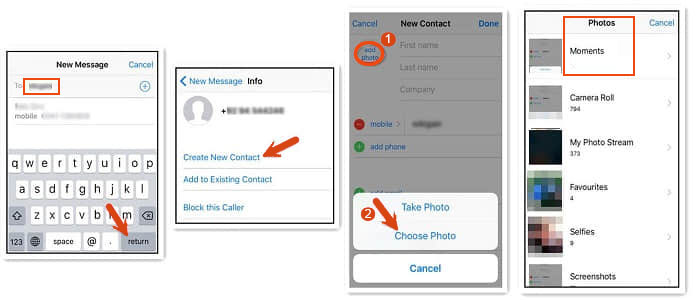 Check if You Need:
Part 5: How to Unlock a Stolen iPhone without Knowing the Password Using DNS
What if the Find My iPhone function was enabled? OK, DNS can be a way to handle this. But note that it is only used for removing iCloud activation lock. And this will give you the freedom to check the info about the previous owner of this iPhone. Yet you know, it is not recommended. Here's how:
1. Factory reset your iPhone without iTunes (or with it), and then do as what the hints say till you see the WiFi Settings on the iPhone.
2. Choose your desired WiFi network to connect to and tap on "i" nearby it. Now, as for the DNS option, you ought to enter an exact DNS address based on your location. (U.S.: 104.154.51.7. EU: 104.155.28.90. Asia: 104.155.220.58. Other places: 78.100.17.60.)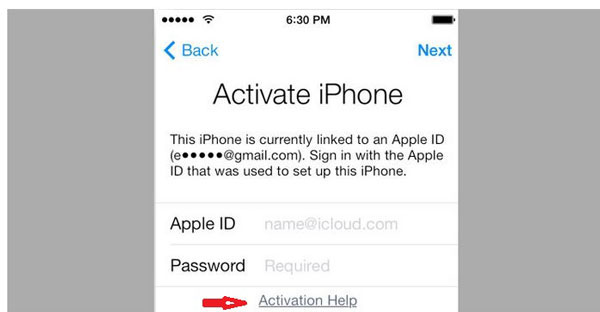 3. After doing it, click on "Back" and connect to the WiFi by entering the network password. Next, you'll get the setup page, but instead, touch "Back" again, which will take you to the page of "iCloud Activation Lock".
4. Here, follow the simple directions to accomplish the removal, and you'll bypass the iCloud activation lock then.
Part 6: How to Unlock Stolen iPhone with iCloud
This way can be used to bypass the iCloud activation lock as well. And you have to check if your iPhone accords with all of the following in advance. These are really harsh, to be honest.
Your iPhone should be connected to a stable WiFi network.
Find My iPhone was toggled on.
You know the Apple ID info for this iPhone.
How to unlock a stolen iPhone 12/11/SE/XR/XS/X/8, etc. with iCloud?
Go to visit icloud.com on your computer and log in with the right Apple ID on the iPhone.
After getting into the iCloud, you should see the "Find My iPhone" icon, just double-click it.
From the list of the device(s), simply choose the name of this iPhone and click "Erase iPhone".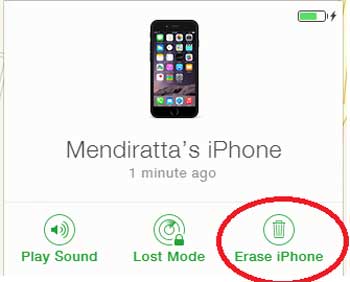 Conclusion
We've walked you through the details of how to unlock a stolen iPhone without the passcode. In general, each of the above methods has certain limitations because the Find My iPhone does make this a minor nuisance.
But concerning their overall performance, iOS Unlocker stands out deservedly. For example, it is a smart move to bypass the screen lock with iOS Unlocker and even the Apple ID. Then utilize DNS to remove the iCloud activation lock. Of course, you can also try other solutions if the iPhone meets the requirements.
Finally, a warm tip here, to guard against any threat of data leakage, don't forget to take some precautions in using this iPhone.
Related Articles:
How to Fix iPhone Not Showing Up in iTunes
[Solved!] How to Unlock iPhone without Passcode or Face ID?
The Ways to Unlock iPhone 12/11/XR/XS/X/8/7/6 without PC
Apple ID is Disabled? Here are Solutions to Fix It!
7 Useful Methods to Unlock Android Phone without Password