Different Ways to Add Contacts to Viber on Android
If you are a green hand of Viber, you need to know how to add contacts to Viber on Android at first then you can start a conversation on this application successfully. And this article could be a full and helpful guide for you- totally 5 ways to add contacts to Viber will be introduced here. Hence, you can select the method you like to complete the adding process.
In this tutorial, you will be able to learn:
Invite Your Android Contacts to Viber
The first method to add the contacts on your Android phone to Viber is to invite them from the Android contacts list directly. If you select this means, you can complete the whole process in your Contacts App easily. Now let's see how to perform the inviting process together:
Step 1. Open the Contacts App on your Android phone and then tap on All Contacts to display all the contacts in the address book.
Step 2. Then you can find out the name of your wanted contact from the list and click on Invite to Viber. After that, your invitation will be sent to the selected contact via SMS.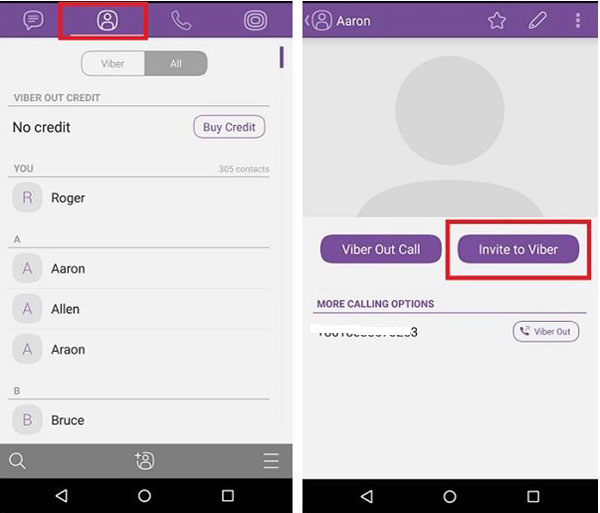 Once the contact accepts your request, he/she will be added to your Viber contacts list and you can chat with them on the application without any hassle.
Add Contacts by Searching His/Her Phone Number
If you just want to add one or several people to your Viber account and also know their phone numbers, you can search these numbers in the App and add them directly. By using this way, you can find and add the wanted contacts accurately and effectively. Thus, when you just want to add several Android contacts to Viber, you can try this means.
Step 1. At first, you need to find and write down the wanted phone numbers on a paper.
Step 2. Next, you should open the Contacts option on Viber and choose Add contact.
Step 3. After that, you will be asked to enter the contact's phone number in full international format. Here you should ensure that the phone number is correctly.
Step 4. Finally, you can tap on Done to complete the adding process.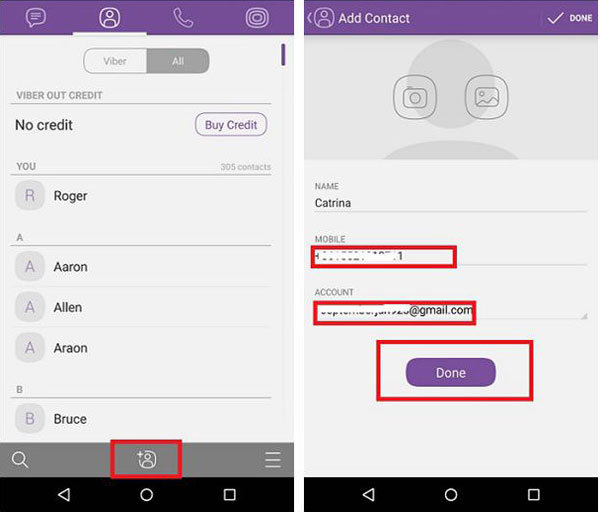 Scan the Contact's QR Code to Add Him/Her
Actually, the adding process can be much easier when you and the contact that you want to add to Viber meet face to face. Under the circumstances, one of you can generate a QR code of the Viber account to let the other one to scan the code. But here where does the QR code come from? It is very easy! Only two clicks can you get the QR code.
Step 1. Ask your friend to open his/her Viber and tap on More option. Then in this section, he/she can tap on the QR code icon to generate a code.
Step 2. Then you can open your QR code scanner to scan your friend's QR code and add him/her to your Viber contacts list.
When it is done, a new contact will be added successfully.
Add Contacts from the Conversation
Here is another situation: you have a conversation with an Android contact on Viber but you have not added him/her to the Viber contacts list yet. Then do you need to go to the address book to invite him/her to your Viber account or search his/her phone number in Viber? Definitely not! You can perform the adding process via the conversation directly.
Step 1. Now you can enter the conversation and tap on the head portrait of the contact to open his/her info screen.
Step 2. On this page, you need to click the Save button on the upper right corner and then enter the name of the contact.
Step 3. Next, you can simply click on the Save button again to add the new contact to your list.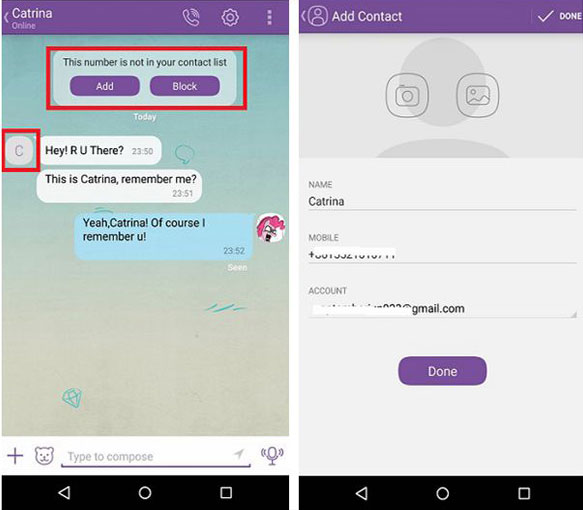 Save the Shared Contacts Directly
For some reasons, your friends or colleagues may like to introduce someone to you and send the contact's information to you. In this case, you can save the shared contact and add him/her to your contacts list directly. This would be the most convenient and effective way to add a Viber contact. When your friends or co-workers share a Viber contact to you, you can:
Step 1. Tap on the Save Contact button in the window when you receive the contact information.
Step 2. Then you will enter the contact management interface on which you can edit the contact's phone number and name. After the edit, you can click on Done to finish the adding process.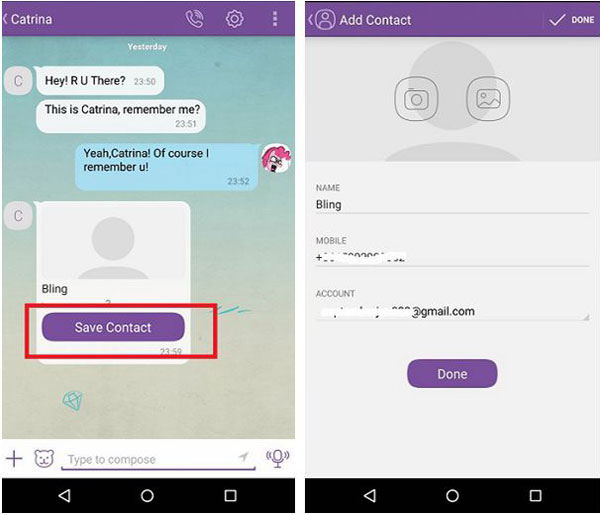 You can also see:
Guide on How to Block or Unblock People on Android Viber
Backup & Restore Viber Messages on Android
How to Create a Viber Group on Android?
Sometimes you may need to discuss one thing with several people at the same time and it must be troublesome to talk to them one by one, right? So in this case, you can establish a group in Viber and add these contacts to the group then all the group members can have a discussion without any limitation. But how to achieve this goal? Just follow the steps below:
Step 1. Open the Viber App on your phone and then tap on the "+" icon at the bottom right corner on the interface.
Step 2. Then you should select New Group option in the window and your contacts list will be opened.
Step 3. Now you can choose the contacts that you want to add to the group and click on the check icon when you complete the selection.
Done! You can have a group chat on Viber now.
Related Articles:
How to Print out Text Messages from Android Phone? (Best 4 Ways)
How to Print Text Messages from Samsung? - Incredibly Easy
How to Print from an Android Phone with Ease?
Samsung Contacts Backup - How to Backup Contacts on Samsung? (5 Ways)
How to Transfer Contacts from Samsung to iPhone - 5 Methods You'd Better Know.
How to Transfer Contacts from iPhone to Samsung (Practical in 2023)