Samsung Contacts Backup - How to Backup Contacts on Samsung? (4 Ways)
Samsung contacts backup is an easy task today - you are able to backup contacts on Samsung in many different ways. For example, you can use a Samsung data transfer software to backup your Samsung phone contacts to PC; Or you can directly save the wanted contacts to Gmail or SIM card for backup.
Maybe you also interested in: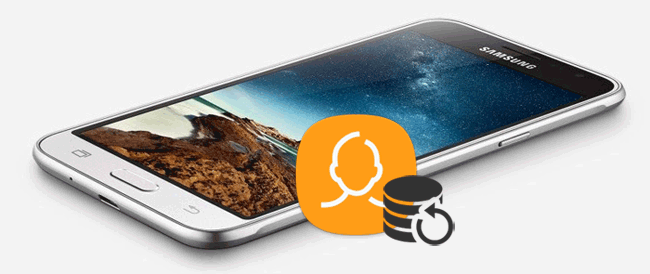 These are some common ways to complete a contacts backup on Samsung. You can choose the one you like and go with the step-by-step tutorial provided to backup your Samsung contacts. Now let's take a look!
#1 How to Backup Contacts on Samsung to PC via MobiKin Assistant for Android?
Mobikin Assistant for Android is probably the best go-to solution if you are looking for an easy-to-use Samsung contacts backup option for your latest Android device. It is a professional Samsung contacts backup App that enables you to backup all contacts saved on your Samsung to PC/Mac with one simple click.
The main features of Assistant for Android:
Export contacts from Android device to PC or Mac;
Add new contacts to Android device on computer;
Edit existing contact files on the program;
Delete unwanted contacts from Android phone;
Import contacts from computer to Android;
Manage other types of files on Android, including SMS, call logs, music, photos, videos, etc.;
Compatible with almost all Android devices.
It is really a powerful tool, right? Don't hesitate to download and install it on your computer by clicking the icon below and try to backup your Samsung contacts with one click.
Best guide on how to transfer contacts from Samsung to PC for backup:
Step 1. Run the installed program on your computer and connect your Samsung Galaxy/Note device to the PC.
Step 2. Follow the on-screen prompts to let the software recognize your Samsung phone and once you succeed, the following interface will appear: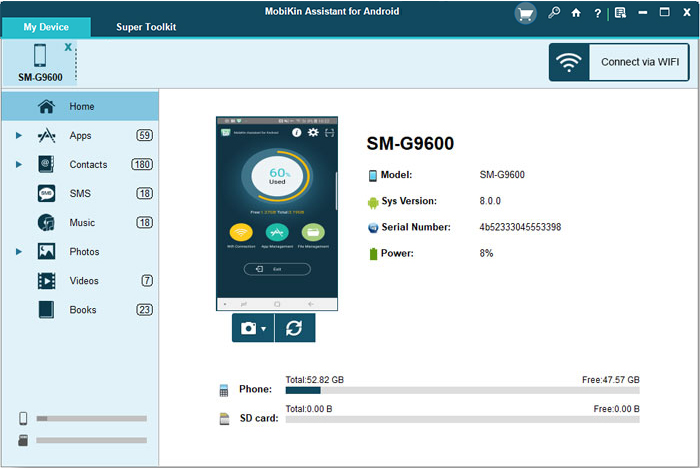 Step 3. Choose "Super Toolkit" from the top menu and continue tapping on "Backup".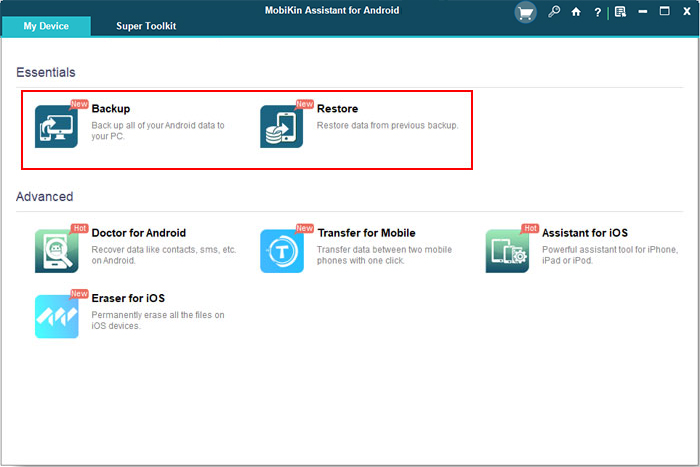 Step 4. A "Back up" window with different file types will pop up. Just tick off "Contacts" from the listed options.
Step 5. Finally hit the "Back Up" button to transfer your Samsung contacts to PC for backup.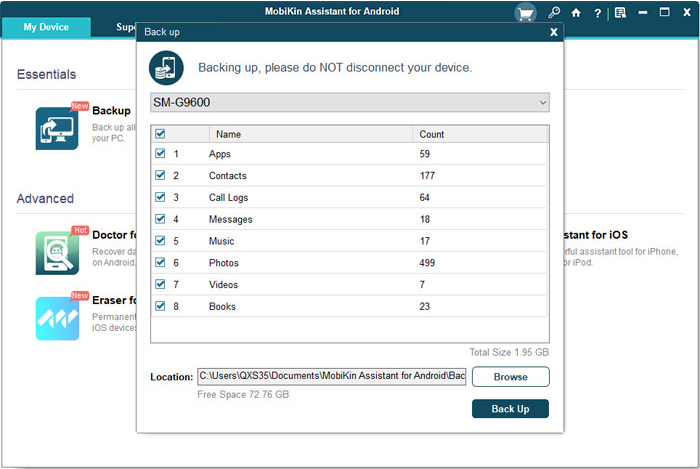 This will help you to backup all your contacts on Samsung to computer. And if you don't need to backup so many files, you can choose to transfer individual contact files from Samsung to computer by using this tool as well. To get the detailed tutorial, you can go to the page: Transfer Contacts from Samsung Galaxy to PC/Mac. By using this way, you can select to save your contacts in different formats, such as HTML, XML, CSV, etc. Then you can print the exported contacts out if needed.
#2 Use Samsung Kies to Complete the Contacts Backup
An official Samsung data manager tool - Samsung Kies is an excellent way to transfer and backup your Samsung contacts as well. It can help you manage your valuable contact information on your Samsung phone. However, just as its name suggests, this program is only compatible with Samsung devices running on Android OS 4.3 or above. So if you have other Android device to manage, you can jump to Method 1.
Here is how to backup contacts on Samsung via Kies:
Step 1. Download, install and launch Samsung Kies on your computer.
Step 2. Link you Samsung device to the computer via USB cable.
Step 3. Choose "Contacts" option listed in the left panel. Then your Samsung contacts will be located to the right column.
Step 4. Preview the contact list and tick off the files that you want to backup.
Step 5. Hit the "Save to PC" option to backup contacts on your Samsung to PC.
Alternatively, you can also use Kies to directly backup all your files and restore them while necessary.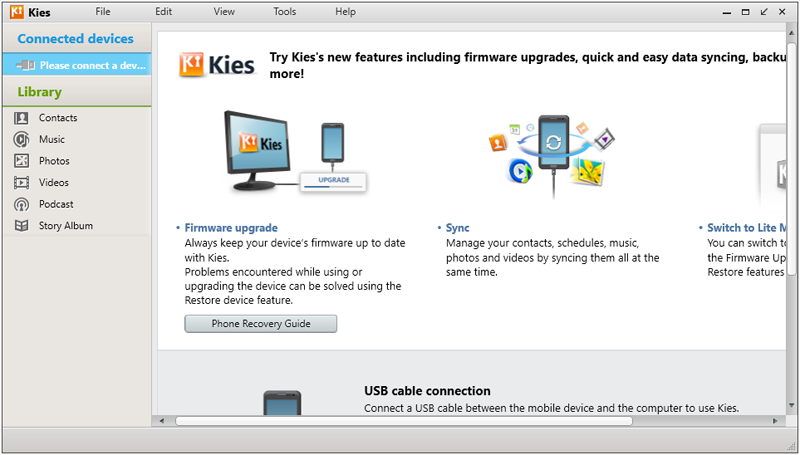 #3 How to Backup Contacts on Samsung Galaxy to Google/Gmail?
Except for computer, another ideal location to backup contacts on Samsung is Gmail or Google. This way is easy to follow as long as you have a Google account. To complete the Samsung contacts backup by using this means, you just need to add your Google account to the Android device and then enable the Google sync feature.
Steps to backup Samsung contacts to Google/Gmail:
Step 1. Unlock your Samsung device and tap on "Settings" App on the Home screen.
Step 2. Scroll down the screen to find out and click on the option "Cloud and accounts" > "Accounts".
Step 3. Choose "Google" from the listed accounts and tap on your email address.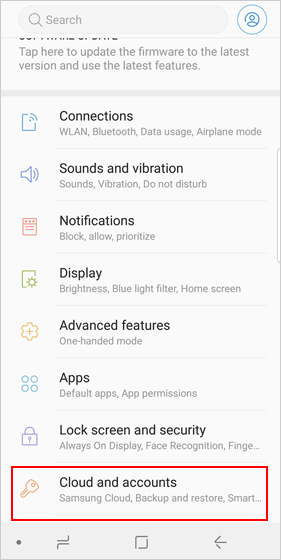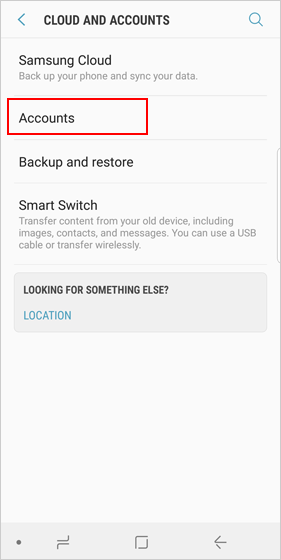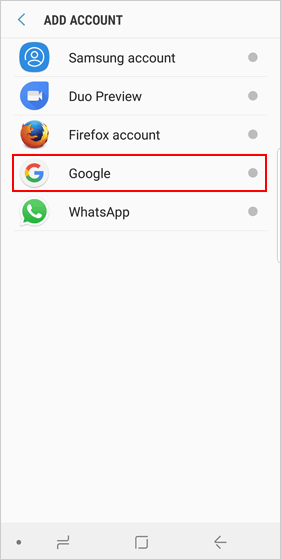 Step 4. Check the option "Sync Contacts".
Step 5. Tap on the "More" icon located at the upper-right corner of the screen and select "Sync now".
If you don't have a Google account, you can also choose to save your Samsung contacts to other cloud services, such as Samsung account. For the users who wish to make a Samsung Cloud backup, you can go with the steps provided in the page: Samsung Cloud Backup - Backup Samsung to Cloud>>
#4 How to Backup Contacts from Samsung Galaxy to SIM Card?
For the users who would not like to perform the Samsung contacts backup using any App or account, moving contacts to SIM card is a good option. To accomplish that, you just need a SIM card and the whole process is very simple. (To learn more details about backing up Android contacts to Google, please go to the page: 3 Ways to Backup Android Contacts to Google/Gmail Easily>>)
Learn how to save contacts from Samsung Galaxy/Note device to SIM card for backup:
Step 1. Enter "Contacts" App on your Samsung and tap on the "More" icon.
Step 2. A list of options will then pop up. Just choose "Manage contacts" from the list.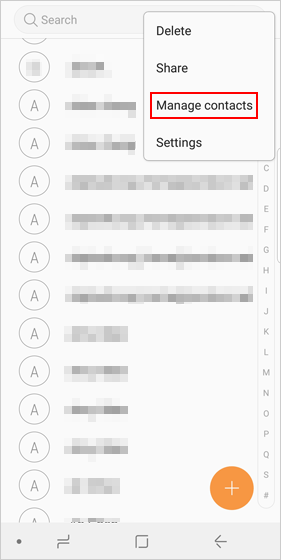 Step 3. Then you need to click on "Import/Export contacts" > "EXPORT" > "SIM" and all your Samsung contacts will be exported to SIM card.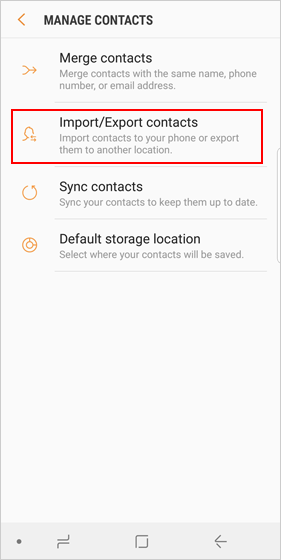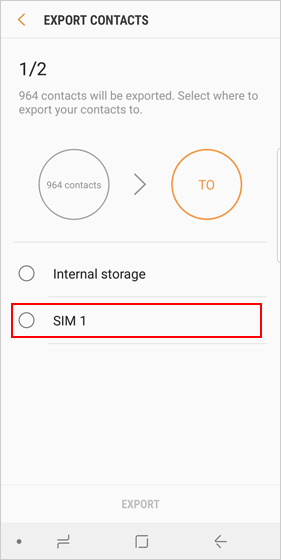 This is the general way to export contacts from Samsung to SIM card. The methods might be different on disparate models but they are roughly similar. And certainly, if you don't want to save them to your SIM card, you can move your Samsung files to other external hard drive for backup also.
The Bottom Line
Making a Samsung contacts backup is necessary for all Samsung users - although you can recover the deleted contacts from Android device by using data recovery tool, the success rate of this kind of tool is not 100%. And now with the help of this tutorial, you are able to complete the backup process without hassles - all the methods above are easy and secure. Hence, don't hesitate to choose a way you like and start backing up your Samsung contacts.
Related Articles:
Google Contacts Sync - How to Sync Contacts from Gmail to Android Cell Phone?
3 Ways to Help You Backup Samsung Galaxy S9/S8 on Computer Effortlessly
Android Cloud Backup - Tutorial to Back Up Android Phone to Different Cloud
Android Photos Backup - Simple & Effective Ways to Backup Android Photos
How to Print out Text Messages from Android Phone? (Best 4 Ways)