Guide on How to Block or Unblock People on Android Viber
Just like other chatting software, Viber is also a tool that can be used to send and receive free text messages and make free video calls. In most cases, users are able to get fun from this freeware but sometimes they may wish to block a certain contact for some reasons. Then how can you block people on Android Viber and how to unblock someone on the App if you regret? All the answers are here! This tutorial will tell you how to block or unblock people on Android Viber detailedly.
Why Do You Want to Block Someone in Viber?
There is no doubt that Viber is a good platform to communicate with friends and family relatives. However, since it is an on-limits platform, some spammer and advertiser are also able to register an account and send spam messages to other users. That is to say, you may receive lots of junk messages from different kinds of people or companies. This would be an obsession so many Viber users tend to block someone who likes to send spam messages to get rid of the junk information. But how can you achieve this goal? You can read on to get the methods and learn them step by step.
You can also read:
Full Guide on How to Use WeChat?
How to Carry Over LINE Account?
How to Block People in Viber?
When you block someone in Viber, you won't be able to receive any Viber messages from the blocked contacts so you need to think twice before performing the blocking process or you might miss some important information. After making a decision, you can then start to block the unwanted contacts. To accomplish that, you have 3 options:
1. Block a contact on Android Viber
The first means is to block the contacts on Viber. If you choose this means, you need to find out the contact that you want to block in the contacts list and then block him/her. The whole process is very easy to follow:
Step 1. Open Viber application on your Android phone. Here you need to ensure that the application is up to date.
Step 2. Tap on the contacts icon to open the contact list and select the person you wish to block.
Step 3. Then you need to click on the three dots icon at the top right corner to display the menu and choose Block from the list.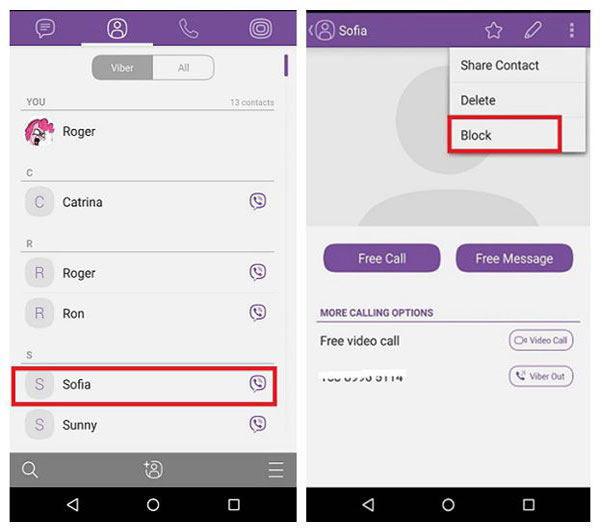 After that, the selected contact will be in the blocked list and you won't receive any message from him/her.
2. Block a number in Viber
Except for blocking contacts on Android Viber, you can choose to block a number on it as well. Differ from the first method, you should complete this means in the Viber settings rather the contact list directly. Then how to do it? Here is the step-by-step tutorial for your reference.
Step 1. Enter the Viber App on your mobile phone.
Step 2. Next, you need to click on the Settings option and then select Privacy in the Settings section.
Step 3. Then you should tap on the Block List option. After that, you can tap on the "+ Block Number" icon at the bottom and then type in the number to add it to your block list.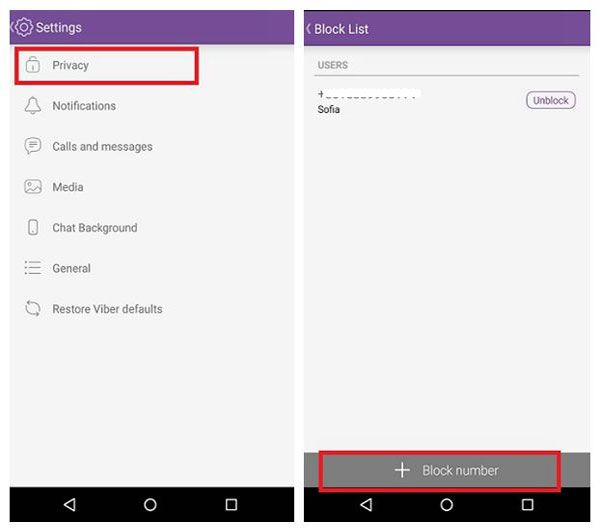 Now you can see the number that you have entered just now is on the block list of Viber.
3. Report spam
Actually, apart from blocking people on Viber, you have another way to get rid of the junk messages- report spam. When you receive spam messages from other users, you can report the spammer to Viber. You just need to tell Viber that you are getting spam from others and then provide it the detailed information of the spammer like contact's name and phone number. Then Viber will solve the problem for you.
What If I Want to Unblock Someone on Android Viber?
Sometimes you may find that you have mistakenly added a contact to block list or you need to get some significant messages from the blocked contact. Then what can you do in this case? I think you must want to remove the contact from the blacklist and receive his/her Viber messages as usual, right? Don't worry, you can do it! Just follow the steps below to easily unblock the contacts on Viber.
Step 1. Launch Viber on your device and then enter the Settings section.
Step 2. In this section, you can tap on the Privacy option and then select the option Block List.
Step 3. Then you will see the list of blocked contacts/numbers on the screen. You can find out your wanted contacts and then tap on Unblock button next to the contact's name to remove him/her from the black list.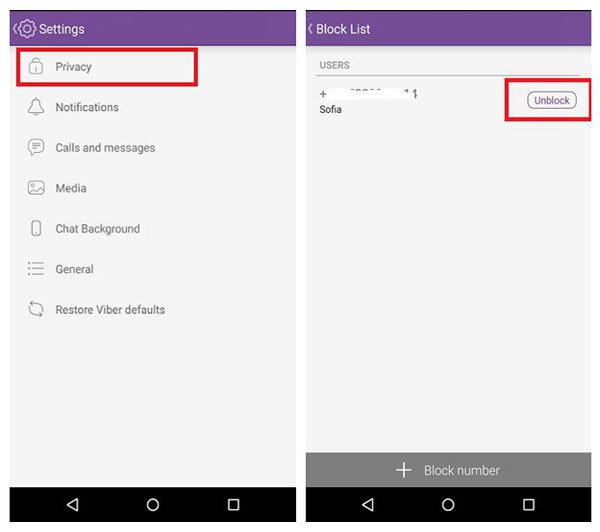 Can I Know Whether I am Blocked or Not?
It is certain that other Viber contacts can block you as well. Nonetheless, you are unable to make out if a person has blocked you or not cause Viber will keep this a secret. In Viber, you can still see the person's profile, update and even see the replies to them even after getting blocked. However, this application won't deliver your messages to the person's inbox anymore. So you can try to send messages to your contact and if he/she does not answer your messages for quite some time, you are very likely blocked by this contact.
Related Articles:
How to Print out Text Messages from Android Phone? (Best 4 Ways)
How to Print Text Messages from Samsung? - Incredibly Easy
How to Print from an Android Phone with Ease?
Samsung Contacts Backup - How to Backup Contacts on Samsung? (5 Ways)
How to Transfer Contacts from Samsung to iPhone - 5 Methods You'd Better Know.
How to Transfer Contacts from iPhone to Samsung (Practical in 2022)