Where Is WhatsApp Backup Stored on Different Platforms? [Exact Locations]
It's of utmost importance to ensure that our valuable WhatsApp conversations and media are backed up for safekeeping. But have you ever wondered where exactly WhatsApp backups are stored? In this comprehensive article, we will delve into the various storage locations for WhatsApp backups, including local backups, Google Drive, iTunes backups, iCloud backups, and even on your PC. By understanding "Where is WhatsApp backup stored", you can gain peace of mind knowing that your data is secure and easily recoverable when needed.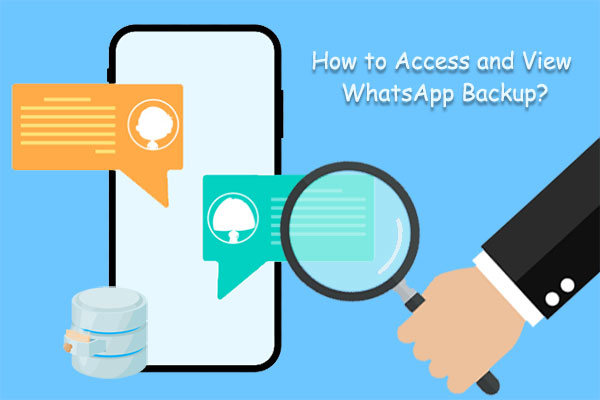 Part 1: Where Is WhatsApp Backup Stored on Android
1.1 Where Does WhatsApp Store Backup Locally
First, ensure you have a local backup of Android WhatsApp. You can make it by following these steps:
Open WhatsApp and navigate to "Settings" > "Chats" > "Back up".
Opt for the "Local backup" option.
Tap on "Backup" to securely store your WhatsApp data on the device's local storage. (What if your iPhone storage is full?)
In the event of data loss, simply reinstall WhatsApp and access the "Restore" option in the "Settings" menu to retrieve the previously backed-up data.
How to find WhatsApp backup file in Android locally?
WhatsApp stores backups locally on Android in Internal Storage/WhatsApp/Databases/
Within this folder, you will find backup files with names like "msgstore.db.crypt12" or similar, depending on the version of WhatsApp you're using. These files contain the chat backup data.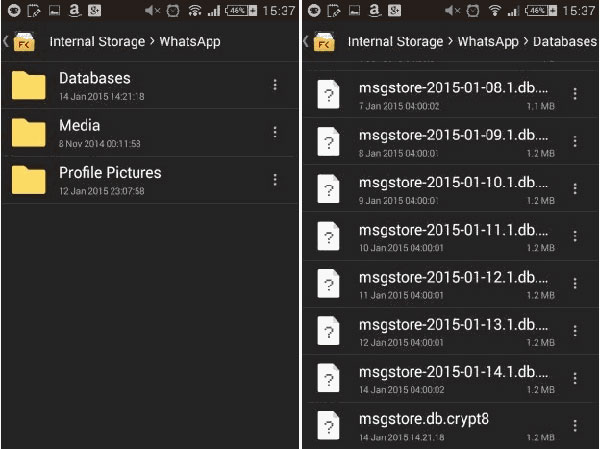 Plus, WhatsApp also saves media files, such as photos, videos, and audio, in Internal Storage/WhatsApp/Media/
In this folder, you will find subfolders for different types of media, such as "WhatsApp Images", "WhatsApp Videos", "WhatsApp Audio", etc.
Recommended Reads:
1.2 Where Does WhatsApp Backup Go on Google Drive
As noted above, you have to keep a copy of your WhatsApp data on Google Drive before you can find it on the cloud storage. And here's how:
Open WhatsApp on your phone and access "Settings".
Navigate to the "Chats" section and select "Chat Backup".
Within the same window, proceed to the "Accounts" option and designate the Google account where you wish to store the data.
In case the accounts are not visible, ensure that you are logged in. If not, sign in to your Google account and tap on the "BACK UP" option.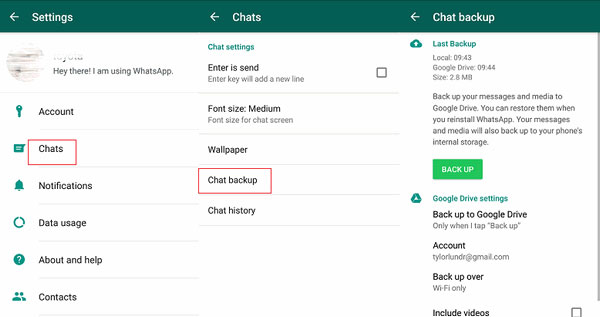 While configuring the backup, you can choose the specific types of data you want to include or exclude from the backup process. It is recommended to adjust the backup frequency from the available options or select a custom schedule to enable automatic backups for future data preservation.
WhatsApp backups on Android can be stored on Google Drive if you have enabled the backup feature and linked your WhatsApp account to your Google account. The specific backup location is Google Drive > Apps > WhatsApp > Backups.
Within the "Backups" folder, you will find the backup files with names like "msgstore.db.crypt12" or similar. These files contain the chat backup data. Here, please note that WhatsApp backups on Google Drive are encrypted and can only be accessed and restored when you use the same Google account and phone number associated with the backup. (How to read WhatsApp backup from Google Drive on PC?)
Part 2: Where WhatsApp Backup Is Stored on iPhone
2.1 Where Is My WhatsApp Chat Backup on iTunes
Run a backup of WhatsApp on iTunes. (Quick Look: Use a cable to connect your iDevice to a computer and open iTunes; in the iTunes window, click on the "Device" tab, and select "Summary"; tap the "Back up now" button.)
Next, let's see how to access WhatsApp backup on iPhone from iTunes:
Open iTunes on your computer.
Connect your iPhone to the computer via a USB cable.
Once your iPhone is connected, click on the "iPhone" icon in the iTunes interface.
From the left-hand sidebar, click on "File Sharing" under "Settings".

Scroll down and select "WhatsApp" from the list of apps.
On the right-hand side, you will see the "WhatsApp Documents" section.
Your WhatsApp chat backup files will be displayed in the iTunes backup location, typically with names like "ChatStorage.sqlite" or similar. (The file names and locations may vary slightly depending on the version of WhatsApp and iTunes you are using.)
2.2 Where Is WhatsApp Backup Stored on iCloud
If you don't have a backup of WhatsApp on iCloud, follow the drill below to accomplish the task easily:
Open WhatsApp on your iPhone and log in using your WhatsApp account credentials.
Once you're inside, go to "Settings" > "Chats" > "Chat Backup" to access the backup options.
Finally, select "Back Up Now" to initiate the backup of your WhatsApp messages and media to iCloud.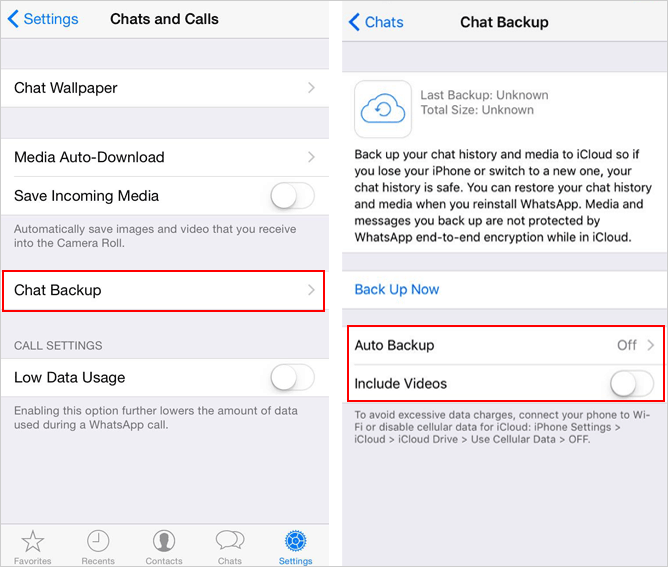 Typically, you're allowed to access WhatsApp backup on iCloud within your unique account. However, the exact location is not accessible to users. Still, you can manage your iCloud backups by going to your iPhone "Settings" > [your name] > "iCloud" > "Manage Storage". From there, you can see the list of apps using iCloud storage, including WhatsApp.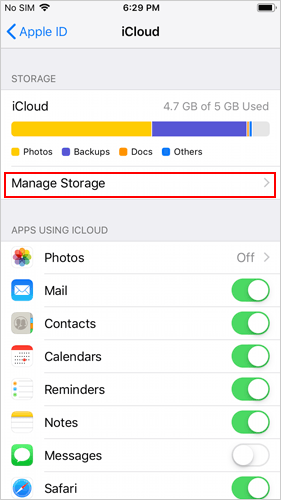 Other Articles You Might Enjoy:
Part 3: Where Does WhatsApp Store Backup on PC
By adhering to the following steps, you can back up your WhatsApp data from your iPhone or Android device to your PC using the WhatsApp desktop application.
Connect your iPhone or Android device to your PC via USB.
On your PC, open a web browser and visit the WhatsApp website.
Download and install WhatsApp for Windows before launching it.
On your mobile phone, open WhatsApp and go to "Settings" > "Chats" > "Chat Backup".
Tap the "Back Up Now" option to initiate the backup.
Where do I find WhatsApp backup on PC?
After that, the backup files are stored in a specific location, depending on the type of PC you are using and the operating system. Often, they are in the following location (See the image below):

Extra: A Better Way to Back Up WhatsApp Data for Easy Access
Previously, you might have resorted to manually copying the installation files of WhatsApp and storing them on a computer or cloud for backup purposes. However, with the advancements in technology, a dependable WhatsApp backup helper like MobiKin Recovery for WhatsApp has emerged. This exceptional program allows you to effortlessly back up all your WhatsApp content in seconds. Moreover, it provides the convenience of previewing on your PC/Mac before recovery.
A brief overview of MobiKin Recovery for WhatsApp:
Safely back up Android WhatsApp messages, along with photos, videos, audio, documents, stickers, and other content, to a computer.
Restore or extract WhatsApp data from your backups to your computer whenever necessary.
Effortlessly recover your WhatsApp data without any loss, and the backup is readily accessible.
Apply to overall Android devices, including Samsung, Xiaomi, Huawei, HTC, Motorola, Google, LG, OPPO, Asus, DELL, etc.
It won't disclose your privacy.
Next, let's illustrate how to back up WhatsApp from Android to computer via Recovery for WhatsApp:
Install and run WhatsApp Recovery on your computer.
Select "Recover from Android Device" from the left side of the interface.
Connect your device to this computer via USB.
Follow the instructions on the interface to turn on end-to-end encryption for your WhatsApp backup.
After that, the WhatsApp message backup starts automatically.
When done, you can view the backups of "WhatsApp" and "Attachments".
Choose whatever you want for backup and click "Recover to Computer".
Finally, you'll have the ability to access and check the backup on the computer with ease.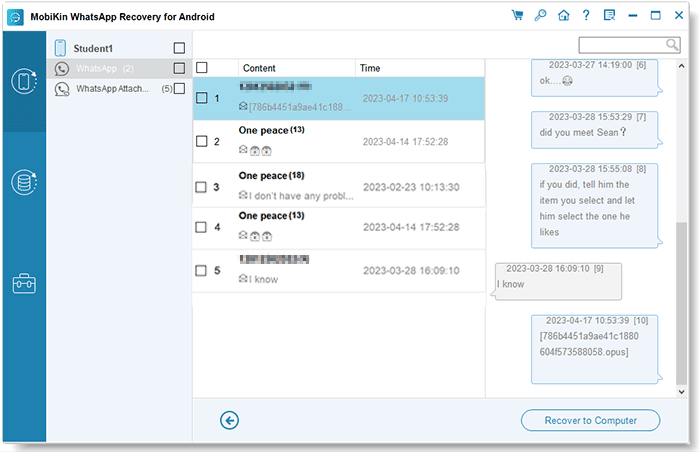 As we just mentioned, Android users can apply this product to save WhatsApp conversations to computers and easily locate the backup location for viewing. But if you are using an Apple device, you can accomplish this by referring to the page - How to back up WhatsApp from iPhone to PC.
Last Impressions
Knowing where WhatsApp backups are stored empowers you to safeguard your precious chats and media files. In this passage, we have explored various WhatsApp backup locations. And each method offers its unique accessibility.
For a seamless and efficient WhatsApp backup experience, we would recommend picking MobiKin Recovery for WhatsApp. This exceptional tool provides a hassle-free way to back up and restore WhatsApp data with its intuitive interface and robust features. With this utility, you can ensure the safety of your valuable WhatsApp chats, always keeping you calm in the face of unexpected data loss.
Related Articles:
[Fixed] Where Are WhatsApp Messages Stored on Android/iPhone/PC?
Where Is My iPhone Backup Stored? A Detailed Guide You Should Never Miss
Where is Recycle Bin on Android? How to Find Deleted Android Files?
4 Straightforward Ways to Move WhatsApp to SD Card [Most People Don't Know]
[100% Working] How to Restore WhatsApp Backup from Google Drive in iPhone
Top 10 iOS/Android WhatsApp Recovery Apps Help You Restore WhatsApp Data