How to Backup & Restore WeChat Messages on Android?
Many users complain that they often lose their WeChat chat histories while clearing the devices. This is because these messages are cached data and your mobile phone will detect and erase them while doing the cleaning. So here, if you want to avoid this kind of data loss, you should backup the wanted WeChat messages on your phone then you can restore them from the backups when you accidentally lose them. This won't be difficult and if you do not know how to perform that, you can follow the steps in this article to backup and restore the WeChat messages on Android.
The Necessity of Backing Up and Restoring Android WeChat Messages
Why do we strongly suggest you to learn how to backup and restore WeChat messages on Android? There are two reasons actually.
1. You may wrongly delete or accidentally lose these conversations. Now the smart phones are more and more intelligent and many operations can be completed within several simple clicks. This is an advantage but also a disadvantage. On one hand, we can do more things on the device easily and conveniently. On the other hand, you are very likely to delete your wanted files when you are absent-minded.
2. Moving the WeChat messages to other device will help to free up your phone. If you select to backup these files to a computer or other device, then you can delete them on your mobile phone to make room for the new files. This would be helpful for those users whose phones are overloaded but still want to save the files.
So to better protect your WeChat conversations and make your phone run smoothly, it is a good choice to backup your WeChat messages.
Backup WeChat Messages on Android
As we all know, we are unable to perform the moving process on WeChat application directly so you need to log in your WeChat account on computer and backup the messages to PC. Here, you have two methods to complete the backup process.
Method 1. Transfer the messages in Back Up setting
- Connect your Android phone to computer. Here you should make sure that your phone and computer are connected to the same Wi-fi.
- Next, you need to login to your WeChat account on the computer and select the option Settings.
- In this section, you need to tap on Chat Backup and then several options will appear in the right panel.
- Now you can click the Back Up option next to Back up on PC and then confirm it on your mobile phone.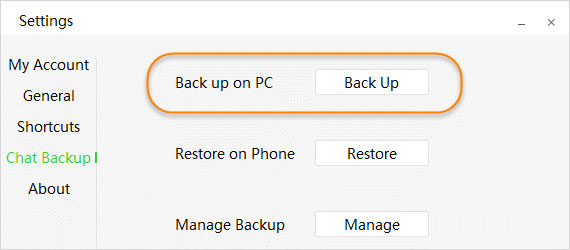 After that, all your WeChat chat histories will be synced to your computer and you just need to wait till the moving process completes.
Method 2. Sync the chat histories from Backup and Restore
- Run the WeChat App on your Android phone and then launch it on your computer.
- Then you should tap on the gear icon at the bottom left corner of WeChat to enter the Settings section.
- At last, you can select the option Backup and Restore and then you will see two options are displayed on the screen- Back up on PC and Restore on Phone. Just tap on Back up on PC to backup the messages to computer.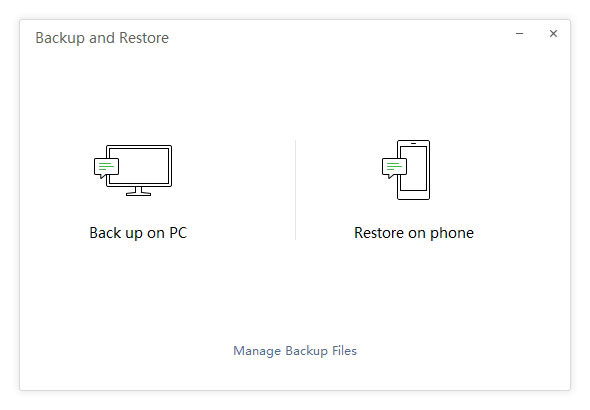 You may also want to know:
How to Backup WeChat Media Files on Web WeChat?
Full Guide on How to Use WeChat
Restore WeChat Chat History from Android
Once you backup the chat histories to computer, you can restore the wanted WeChat images, videos and messages from the backups when you unexpectedly lose them. Differ from the messages backup, you can perform the recovering process on your Android phone directly. What's more, the whole process is very easy to follow and can be accomplished in a short time. Here are the details:
- Launch WeChat App on your phone and then tap on Me to open the menu.
- Next, you can select Settings and tap on Chat from the listed options.
- After that, you need to choose Chat History and then click on Backup/Restore Chat History. Here you can elect the backup file that you want to restore.
- In the end, you can hit the Restore button to begin the restoring process.
Look! As long as you backup the desired WeChat messages on Android phone in advance, you are able to get them back with simple clicks after deleting or losing them. So why don't you take several minutes to make a backup to avoid the unexpected data loss?
Related Articles:
Cannot Log in WeChat, How to Fix It? [Solved]
How to Fix Unfortunately WeChat Has Stopped on Android?
How to Print Call Logs from Android Device? 4 Ways You'd Better Know
Android Device Manager - How to Manage Android Devices on PC/Mac
3 Ways to Recover Deleted Contacts from Android (#1 is Awesome)