How to Download Apps on Samsung Phones
We all know that Samsung Galaxy phones and tablets have occupied a large amount of market share in the Android mobile device market. And as a Samsung users, you must know that your Samsung phone or tablet can directly get access to Google Player app store, but you may not know that you can also download and install apps to your phone from Samsung's own portal or other resources. Thus, in this article, we'll show you different ways to download Samsung apps for your reference. And you can compare these different methods, and decide which one is better according to your own needs.
Part 1. Differnt Ways to Download Apps on Samsung Phones or Tablets
Method 1. Download Apps to Samsung Phones from Google Player
You know that Google Player is an online store which is designed to provide Android users with various safe, clean yet reliable 3rd-party applications. And it is developed by Google Corporation, so it is inevitable that lots of Android users will choose the Google Player to get all they wanted apps. Since most of the apps have been obtained in the Google Player store, so if you wish to download app on a Samsung phone from Google Player, then you only need to tap the Google Player icon on your phone to open it, then log in it with your Google account. Now, you can access to all kinds of apps in the store as you like. If you find something is interested in, you can click the link to get more info about the app, and then download it to your device directly.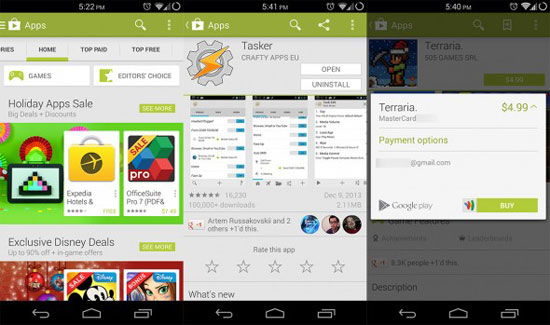 Please be noted that apps on the Google Player can be divided into two categories. One is the free apps, and the other is the paid app. That means if you wish to download a paid app on your Samsung phone, you need to pay for it before downloading.
Method 2. Download Apps from Other Sources
Sometimes, you may need to download apps from other sources than Google Play due to different reasons. For example, just like we have mentioned that most of Android apps can be obtained in the Google Player, but how about the rest apps? Or you found that the same app have different prices in different app downloading stores, what will you do here? Obviously, you'll choose the lowest one for downloading, right? So it is inevitable that you also need to get apps from other sources. Here, we could like to introduce some of these app store one by one.
Samsung apps - The own app store by Samsung. Generally speaking, it is works as well as Google Player, but you can ofen find special deals here that are exclusive to Samsung owners. After entering the home screen, you'll be provided with staff picks, premium choice and featured apps, and tops games, top paid, top free or top new apps list on the Samsung store can also be offered here. To download app in this built-in store, you need to sign in a free Samsung account, and then follow the instructions to finish the downloading and installing as you like.
Amazon store - Since the Amazon app store is not the bulit-in sources on Samsung phones, so you need to open the permission here. Just open Settings menu and choose the More tab. Then select Security, and enter to Device administration section, then tick the box next to "Unknown sources".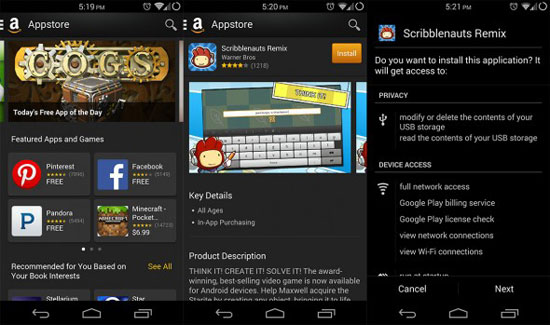 Part 2. How to Install Downloaded Apps from PC to Samsung?
Sometimes you may get APK files from your own sources, then you're wondering how to install these APK files on your Samsung Galaxy. Actually, here you need to find a tool as your assistant. That's why MobiKin Assistant for Android is strongly recommended here. With it, you can directly import any kinds of Apk files from your personal PC to Samsung phones with one simple click. And it can also help you manage your Samsung apps like backup Samsung apps, delete unnecessary applications, etc. on the PC directly. You can click here to learn how to install Android APK files in details.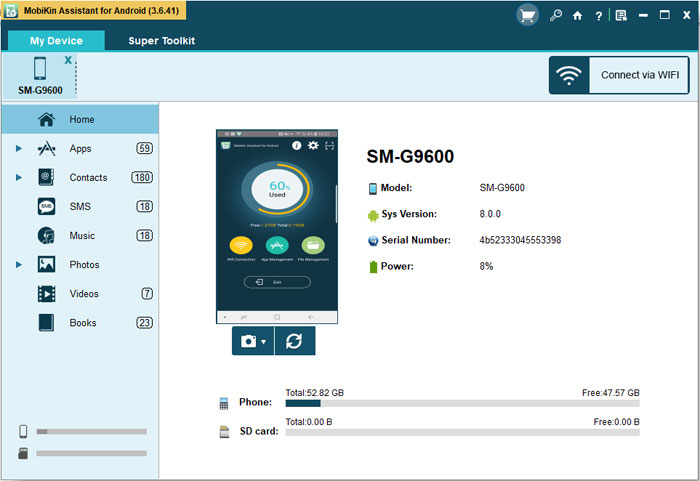 Related:
Must-have App Manager Program for Android Users