Top 6 Undetectable Mock Location App for Android in 2023
Have you ever wondered how it feels to teleport yourself to breathtaking destinations worldwide without leaving your cozy couch? Look no further than the Android Mock Location App, a fascinating tool that opens possibilities for adventurous souls and curious minds. Whether you want to prank your friends or experience the thrill of virtual travel, Android Mock Location Apps have got you covered. What is the best fake GPS app for Android? Prepare to embark on thrilling virtual journeys and unlock a new dimension of discovery while using mock location Android app.
Part 1. Purpose of Using Mock Location App
If it is your first time coming across an Android Mock Location App, you may wonder what it is used for. Well, I will cover some of its purposes. How the app is used depends on the user, but here are some uses:
1. Software Testing
Developers can accurately test their GPS-enabled apps using the best app to change location on Android. This allows them to simulate different locations and scenarios to ensure the app works optimally in all conditions. Geofencing applications can also be tested to ensure they are working properly.
2. Privacy Protection
People can protect their privacy by setting a false location using a Mock Location App. You will only have to reveal their actual location if they want to. It helps to protect yourself from the apps that track you and the advertiser's activities. No data is collected.
3. Unlock App Features
Are you a gamer enthusiast? With a spoof Android location app, you can unlock only features available to certain locations. For example, you can access exclusive in-game items or discounts. The app allows you to play regionally restricted games unavailable in your country. The apps related to tours, travel, and adventure can offer you exclusive access to certain features by setting your desired location.
4. Movie and TV Show Streaming
If you want regional-locked content unavailable in your country, you can unlock them by setting a false location with a Mock Location App. This app allows you to enjoy movies and TV shows worldwide. Experience seamless access to global content without any limitations.
Netflix and Hulu are leading streaming services that impose content restrictions in specific countries. You can easily bypass these restrictions using a Mock Location App and access the content anywhere.
5. Traveling Abroad
A Mock Location App can help you save on roaming charges while traveling abroad. You can set an address in the country you are visiting and use data services without being charged international roaming fees. You can maintain internet connectivity at a significantly reduced expense, allowing for greater affordability while staying connected.
Don't Miss:
Part 2. Best Mock Location App for Android - Virtual Location Tool
Virtual Location Tool allows you to spoof your GPS location easily. You can choose your desired location for your app or device, thus enhancing your social privacy. It provides a simple and user-friendly interface to fake your location, making it an ideal choice for privacy, gaming, or testing location-based apps. It has earned popularity due to its ability to save locations, change speed, and simulate movement.
Key Features of Virtual Location Tool:
Top-notch fake GPS applications facilitate seamless spoofing of GPS locations on iOS and Android devices.
Your privacy is highly protected, as you can change your location with just a simple click.
The user-friendly interface makes it convenient for users to quickly access and modify their location settings.
This app ensures that your personal information, including GPS coordinates, is safe from third parties.
Effortlessly configure your preferred virtual location, rendering the manipulation undetectable.
Compatibility with all the devices running on Android and iOS operating systems makes it an ideal choice for various purposes. They include Xiaomi, LG, Samsung Galaxy, Huawei, Motorola, Google, Sony, OnePlus, Dell, OPPO, iPad/iPhone/iPod touch, etc.
How to use virtual location tool to fake location on Android?
Step 1: Download the Virtual Locations Tool app for free on your PC. Launch it and click "Get Started."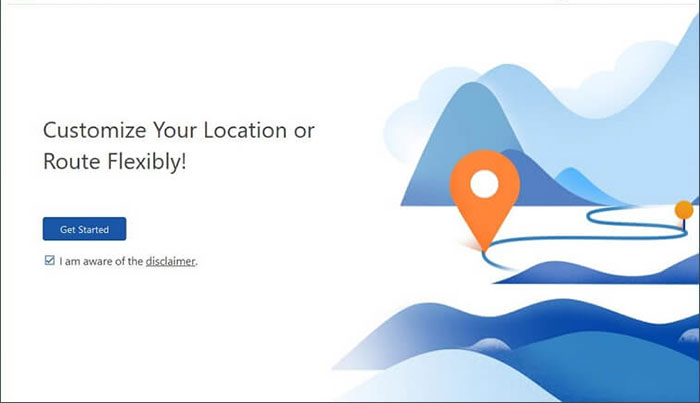 Step 2: Connect your Android device to the computer. Wait for a few minutes until the connection is established and your device gets detected. Select "Teleport Mode" from the upper right-upper menu. Locate the search bar and enter the GPS coordinates of the destination.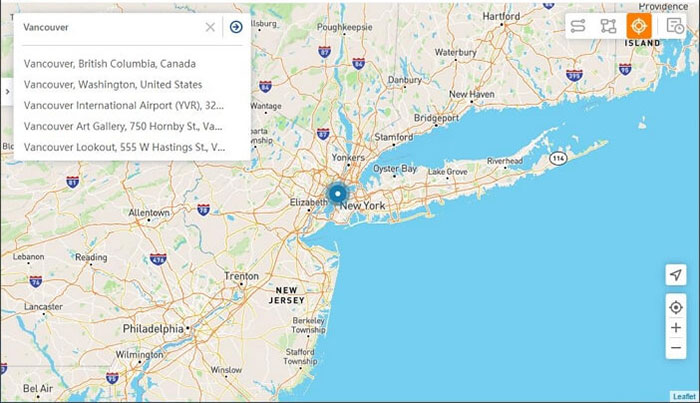 Step 3: The map pointer will move to the required destination when you click enter. Click "Move" to set the simulation of GPS location.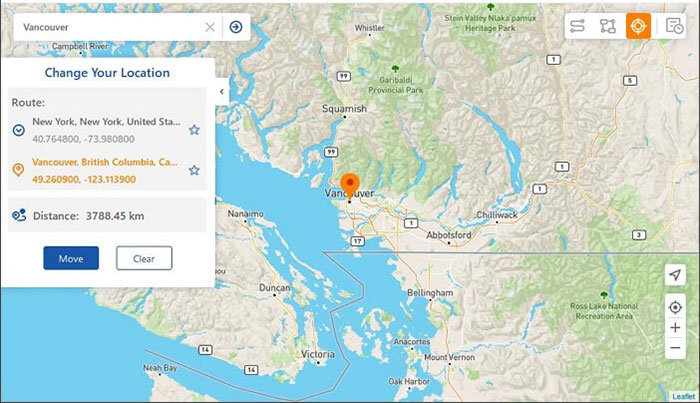 Step 4: The virtual location will be displayed as the current position on your device's map application, such as Google Maps, regardless of the actual physical location.
Don't Miss:
Part 3. Other 5 Popular Android Mock Location Apps
1. Fake GPS
Fake GPS is the best GPS spoofer and widely used app to spoof the location. It uses Google Maps to help you easily set your location. The viewfinder lets you zoom in and out for accuracy. You can save your favorite and regular spots that you visit or hide. Fake GPS is free to download and use but comes with limited functions. You can pay $75 for the full version with more features and capabilities.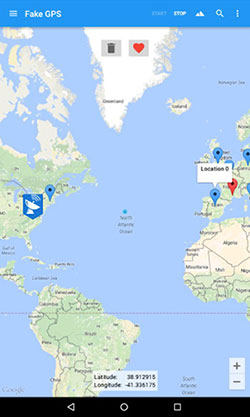 2. Fake GPS Location - GPS JoyStick
This app makes Spoofing locations easy. You can choose the location using the map or joystick feature and customize the coordinates to meet your needs. It also has a satellite view to get an even more accurate location. It allows you to create a route with multiple spots to play games or for other purposes. It has a free version, but you can pay $85 per item for the app's full functionality.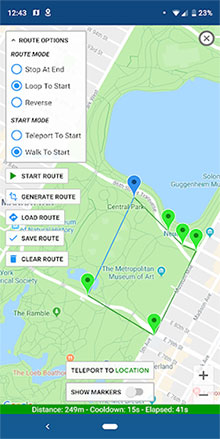 3. Fake GPS Location Spoofer
This location spoofer Android has a free and paid version. The free version has some basic features, while the paid version has more advanced options. It allows you to spoof your location and save multiple locations for later use. If your phone has Android 6 and above, you can save your current location with one click. It also has an integrated map to help you select your desired location quickly and accurately. It includes a joystick feature that lets you move around without manually entering coordinates.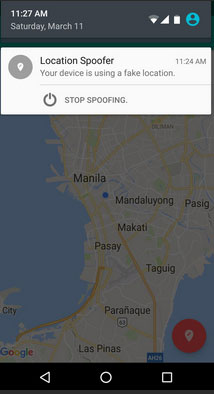 4. GPS Emulator
It is a free location changer app for Android devices. The interface is elegantly designed, ensuring a seamless user experience. Switching easily between real and fake locations requires just a few taps. It is the best for gamers who want to use fake GPS Android spoofing for game cheating. It comes with satellite imagery and street view, which helps you easily select a location. The terrain feature lets you find the perfect spot and set up your desired location.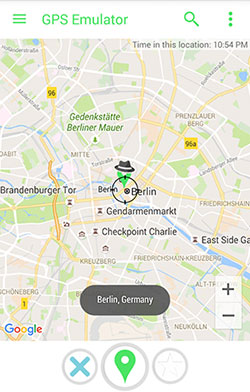 5. ByteRev
It is a versatile best mock location app for Android. It facilitates the testing and development of scenarios for various applications, such as games, by providing simulated GPS information. This app does not need to rely on actual GPS signals, making it a valuable tool for developers and testers. The app has a simple and intuitive-to-use interface. It allows users to search for locations on a map, set their current location, and select from pre-defined GPS coordinates.
Part 4. FAQs of Android Location Spoofer
Q1: What Does Mock Location Do on Android?
When you use the Fake GPS app to set a mock location, it tells your Android device that you are in an entirely different place than where you are. This feature can prove immensely valuable for testing the location-based functionalities of an application.
Q2: How to Disable Location Services on iPhone?
The process of turning off location services on an iPhone is easy. Steps you need to take using GPS spoofing app:
Go to your device's "Settings" tab.
Scroll down and select "Privacy" from the list of options.
Select "Location Services".
Toggle off the button next to Location Services.
You will be asked to confirm and select "Turn Off".
You have successfully disabled Location Services on your iPhone using the Android GPS spoofer. When you want to use your location again, simply toggle the button back on in the same menu.
Q3: Can You Tell If Someone Is Using A Mock Location App?
It is hard to tell if someone uses a mock location app. However, there're a few things you can look for to determine if someone is using an Android location spoofer. If you notice that their reported location doesn't match up or changes rapidly from one place to another, that can be a clue that GPS spoofer Android is being used.
Conclusion
In summary, an undetectable mock location app (also known as a "spoofing" app) is an application that allows you to spoof your GPS location so your device believes it is somewhere other than where it is. You can hide your actual location or make it look like you are elsewhere. The fake GPS location Android app is a great way to access location-restricted content or have fun with friends. You are assured that a mock location application is secure and can't be detected by others.
Related Articles
5 Effective Tactics to Change Location on Tinder [iPhone/Android]
[2023] How to Change or Fake Your Location on Snapchat within Seconds?
Foneazy MockGo Review 2023: All You Want to Know about MockGo
4 Optional Ways to Change Location on Facebook Marketplace
All You Want to Know about Find My iPhone Offline Last Known Location
5 Methods to Stop Parents from Tracking Your Phone [Updated]