Samsung Kies Free Download for Windows 10: Install/Uninstall/Alternative
Samsung Kies come with different features that help share data between two devices. If you're using Samsung Kies Windows 10, you can download files from your phone to the computer without using third-party apps. Luckily, it's now easy to download Samsung Kies for Windows 10. The current version of Kies Windows 10 that was launched sometime back can be easily installed on your system. Read further to understand how to download and install Kies for Windows 10, how to uninstall it, and much more.
Part 1. Major Requirements for Samsung Kies Download on Windows 10
The primary requirements for Samsung Kies download on Windows 10 include the following:
At least 500 MB of free hard disk space
At least 32-bit screen resolution (1024 x 768)
32 or 64-bit Windows operating system
At least 2.0GHz Intel Core 2 Duo processor
1 GB RAM (minimum size)
DirectX 9.0C or more
Net Framework 3.5 SP1 or more
Windows Media Player 10 or more
Read Also:
Part 2. How to Download & Install Samsung Kies for Windows 10
Here go the quick steps to download and install Samsung Kies for Windows 10 on your system:
Downloading Samsung Kies for Windows 10
Check into Google and type in "Samsung Kies for windows 10." Different results will pop up.
Choose the link to Samsung and click to open it. Immediately you open it, you'll see the "download for windows" plus its current version. Click the "download" button to start downloading.
Depending on your internet's speed, downloading might take a few or more minutes.
Once done, the ".exe" file gets saved on the download files on your PC.
You can click to open the file anytime you're ready to install the software.
Installation and Setup of Samsung Kies for Windows 10
Get to your PC and locate the newly downloaded "Kies3Setup.exe" file. Right-click the file and let it run as the "Administrator." But, if you have only a single account, you can double-click the file and let it run as usual.
The installer wizard will be initiated, and a small window will pop up. Here, the destination appears in your system where Kies will be installed. (You can edit to change the installation destination by clicking the "change" button).
If everything is okay, click the "agree to terms" box.
Click the "Next" button.
Wait a bit as the installer starts performing the essential steps of installing the files on your computer.
Agree to the messages that pop up and don't stop any of the processes in between. You might or might not experience an error in between. If there's no error, the installer will run successfully. The message, "You can now open Kies on your system," will display at the end.
Now, you can open Kies and use the USB to connect your phone to it. You can then use Kies to perform various functions without facing issues.
Once the installation is complete, it will ask to "create a shortcut on your desktop" and run Samsung Kies 3. These suggestions are optional; hence you can tick any box you want or not tick.
Click "Finish" to complete your installation process.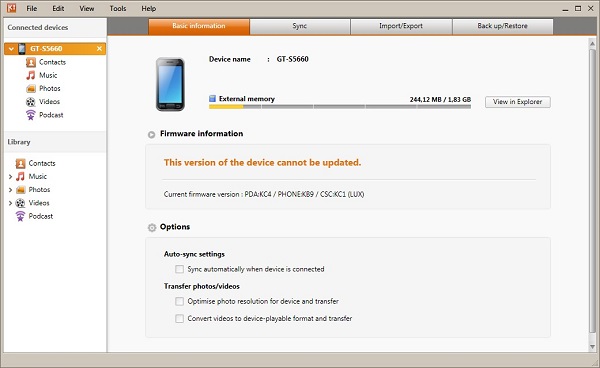 Extended Reading:
Part 3. How to Uninstall Samsung Kies from Windows 10
Follow the procedure below to uninstall Samsung Kies from Windows 10:
Open the app, click on "file," then press "exit."
Get to the Windows setting and then click on "apps."
Go down to the search bar and type "Samsung Kies."
The app pops up with the options of "Modify" and "uninstall."
Now, click "uninstall" and choose the option "yes." The files are removed from your PC within a minute.
Once done, click "finish" to uninstall Samsung Kies successfully from your computer.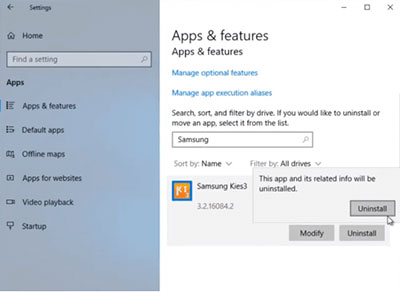 Note: There are different methods of uninstalling Samsung Kies from your PC. This is just one method that uses a default uninstaller.
Part 4. How to Fix Samsung Kies Is Blocked on Windows 10
There are instances when your Samsung Kies might not work correctly. You may experience such issues when installing the software. In this case, you might receive an error message: "The Publisher is blocked from running the software on your machine."
So, how do you fix the blocked Samsung Kies on Windows 10? Let's look at several solutions below:
Solution 1: Turn off Antivirus Protection
You can turn off your antivirus protection to avoid blockages when installing Samsung Kies. However, you must remember to turn it on once you install Kies successfully.
Begin by clicking on "Start" and then go to the settings.
Get to "Update and Security" followed by "Windows Security."
Get to "Virus & threat protection."
Go down to "manage settings."
Switch off the "real-time protection" feature.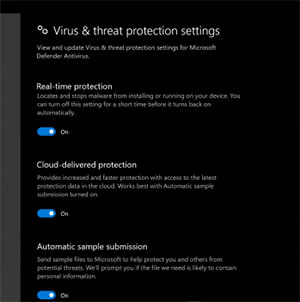 Solution 2: Check the Untrusted Publishers
Once your windows block the publisher, you can't install Samsung Kies. Samsung Electronics on your PC should not be the untrusted publisher.
Start by holding the "Windows" and "S" keys simultaneously.
Go to the search bar, enter "Internet options," and click to open it.
Under the internet properties, choose "content" then "publishers" options, followed by "Untrusted Publishers."
Eliminate Samsung Electronics from the list.
Solution 3: Disable the Firewall Temporarily
There are instances when Samsung Kies' failure is due to the Firewall on Windows 10. As you install the Kies for Windows 10 and you realize that the Samsung Kies is blocked, don't worry. Many users face such situations. You must turn off the Firewall when installing Kies to stop this problem.
Click to open the "Control Panel" program.
Tap on "System and Security."
Choose "Windows Defender Firewall." You'll then see the option "Turn Windows Defender Firewall" "on" or "off."
You can disable or "turn off" the Firewall temporarily.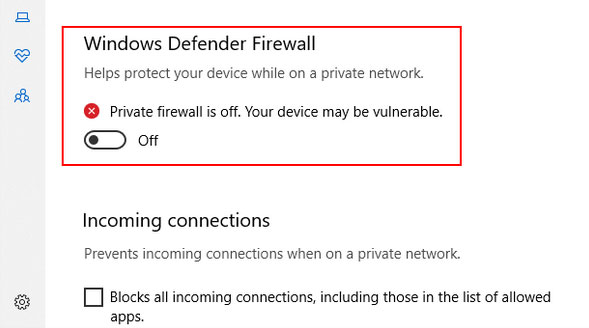 Part 5. What Is the Best Alternative to Samsung Kies
MobiKin Assistant for Android is the best alternative to Samsung Kies to manage your Samsung device. Both Win and Mac have enhanced features to offer an all-rounded solution that helps manage your Samsung device or any Android device on a laptop or desktop. With the MobiKin Assistant for Android, you can do Android data backup and restore with ease.
Key highlights of MobiKin Assistant for Android:
Offers a one-touch data backup solution.
Easy to restore Android devices with the touch of a dial.
You can swiftly transfer data such as contacts, audio, videos, photos, and other documents between the computer and Android devices.
Easy to manage your Samsung and Android devices directly on the computer.
Offers a friendly user interface (easy to use, with quick data processing).
Compatible with various Android devices, containing Samsung Galaxy S23/S22/S21/S20/S10/S10+/S10e/S9/S8/S7/S6/S5, Galaxy A51/A71/M20, Galaxy Note 20/Note 10/Note 9/Note 8/Note 7/Note 6/Note 5, Galaxy Tab series, etc.
Step-by-Step guide on how to use Assistant for Android to manage and backup & restore Samsung data:
How to Manage Samsung Data:
Start the program on your PC and connect your Samsung device and computer with a USB cable.

The tool should identify your device. On your Samsung device, open the USB debugging.

Once you connect your device to the computer, go to the left-side menu and choose the files you want to access. This can include apps, documents, videos, audio, photos, or any other file.

Select the file by clicking on it, and the contents in the file will display in the right column, where you can manage them. For example, if you click "videos," you can access all video downloads on your Samsung device. To manage them, click the options available on the top screen. The options include; "delete," "add," "export," and "import."
How to Backup and Restore Samsung Data:
On the screen of your Samsung device, tap "Super Toolkit" and choose "backup."

You should see some categories showing in a window.
Mark to choose the folder you wish to backup and select a path for saving the files.
Click on "Backup" for the files to copy on the computer.

Use the USB to link your Samsung device to the PC and have it recognized.
Select "Super Toolkit" on the main screen and tap "Restore."
Select the files you wish to reinstate.
Click on "restore" to have the data retrieved.
Calling It a Wrap
Samsung Kies is a tool used for file transfer between your Samsung device and the PC. Many users will always want to download Samsung Kies for Windows and use it. Luckily, Samsung Kies' free download makes it easier. If you're using Samsung Kies Windows 10, you can as well download files from your phone to the computer almost effortlessly. With the friendly user interface, it's now easy to download Samsung Kies for Windows 10. Follow the suggestions discussed above to run Kies on your Windows 10 easily.
Related Articles:
[Solved] Samsung Kies Cannot Detect My Phone, How to Fix It?
Firmware Upgrade Encountered an Issue on Samsung, How to Fix It? [Fixed]
Tips to Add New Contacts to Samsung with or without Kies
Simple Methods to Transfer Samsung Files to External Hard Drive
How to Print Contacts from Samsung Phone in 5 Easy Ways?