Android Music Backup: Different Ways to Back Up Android Songs
Why you need to make an Android music backup? That's because the music files on your Android phone are not very secure and they would be deleted or lost accidentally. Hence, users are always suggested to back up their desired songs regularly to avoid unexpected loss. But how to complete the backup easily? You have several choices:
One Click to Back Up Music on Android Phone
Firstly, we would like to show you a comprehensive way for Android backup- making use of MobiKin Assistant for Android (Win & Mac). It is a professional as well as powerful backup software for Android. With it, you are not only capable of backing up music from Android to computer but also able to transfer other files like contacts, messages, call logs, videos, photos, etc. from Android device to computer. Apart from the Export feature, it also equips other functions:
- Import files from Android to computer;
- Delete unwanted music or other phone data;
- Back up & restore the whole phone data with one click.
Just download the program by clicking the icon below and go with the tutorial to have a try. You won't be disappointed.
Here is how:
Step 1. Launch the installed software on your computer and then use a USB cable to build a connection between your phone and the desktop. After the connection, you should go with the prompts on the screen to enable USB debugging on your phone so that the tool can detect your phone.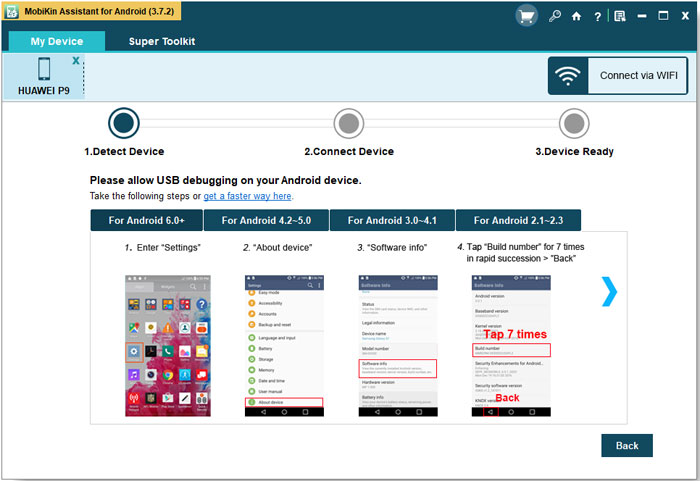 You can also select to connect your Android phone to computer via Wi-Fi. But to accomplish that, you need to download the APK file.
Step 2. Once the Android phone is recognized, you will get the main interface of the software where displays the parameter and files of your device. Now you can start to back up your Android music selectively or in a batch.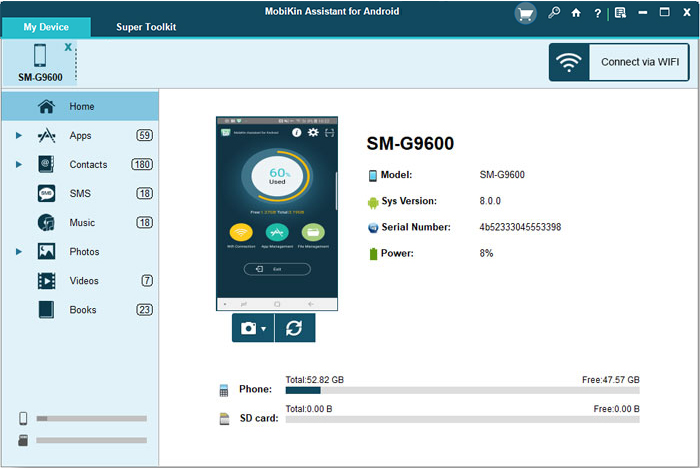 - Back up Android songs selectively: Tap on Music in the left panel to locate the detailed information in the right column. Then you can preview the songs and mark the wanted files. After selecting the data, you can simply hit the Export button to transfer the songs from Android to computer.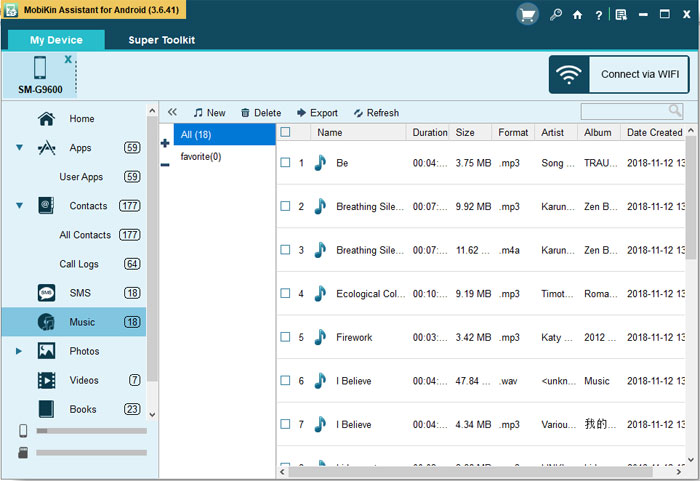 - Back up Android songs in a batch: Navigate to Super Toolkit> Backup and then tick the Music category listed in the window. Next, you should browse a folder to save the selected songs and hit Back Up to start the transferring process.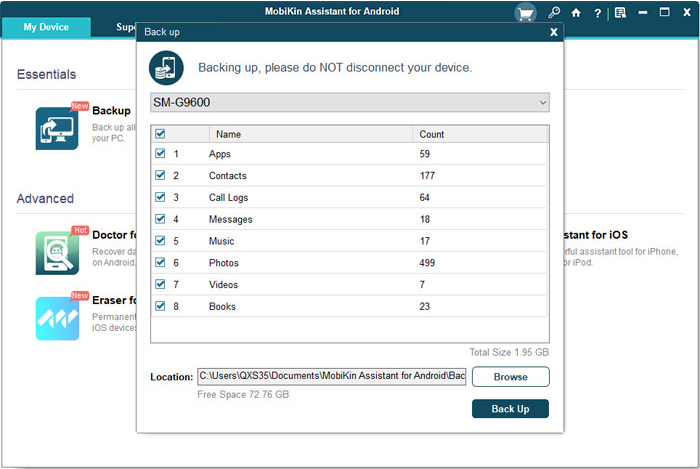 Step 3. After the transmission, you can go to check the backed up music on your computer. Just open the output folder you just choose and all the saved songs will be listed in the folder.
Transfer the Songs to Google Drive for Backup
Android cloud backup is a popular way in recent years and it is also one of your options here. There are a lot of cloud storage service on the market, such as Google Drive, Dropbox, OneDrive and other tools. You can make a comparison among them and select the wanted one to back up your favorite songs. Let's take Google Drive as an example in this part!
Step 1. Connect your Android phone to Wi-Fi and then launch the Google Drive application on your device.
Step 2. Next, you should sign in with your Google account and then tap the red "+" icon at the bottom right corner to open the menu. From the menu, you can select the Upload option to upload the wanted audios.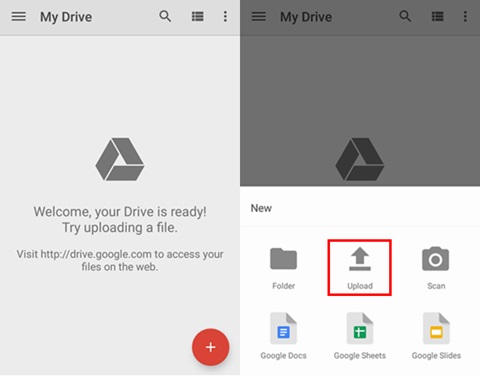 Step 3. When the uploading process ends, you can visit the official site of Google Drive on your computer to access and view the audio files that you have uploaded.
This means not only allows you to back up Android music, but also enables you to transfer other files types, including photos, videos, documents and so on. You can click here to get more details.
With a Google account, you can select to sync your music with Gmail as well. Just go to Settings> Account> Google to sign in your Google account and then tick the file types that you want to back up to Google account. Finally, you can simply tap on the Sync button to copy the files.
Simply Copy the Songs via USB Cable
Maybe you can try an old method to transfer the music files - copy and paste the songs via USB cable. This is an easy but time-consuming means. If you are familiar with your folder in your device and do not need to sync too many songs, you can try it. The specific steps are as below:
Step 1. Link your Android phone to computer with a USB cable and then the device will be recognized as a removable USB driver.
Step 2. Then you need to drag down the Notifications panel from the top of the phone screen and tap on Media device (MTP). Next, you should click OK when the notification saying Allow USB debugging pops up.
Step 3. After that, you can turn to your PC and open the Portable Devices under This Computer folder. Now just find out the Music folder and copy the songs you want to back up.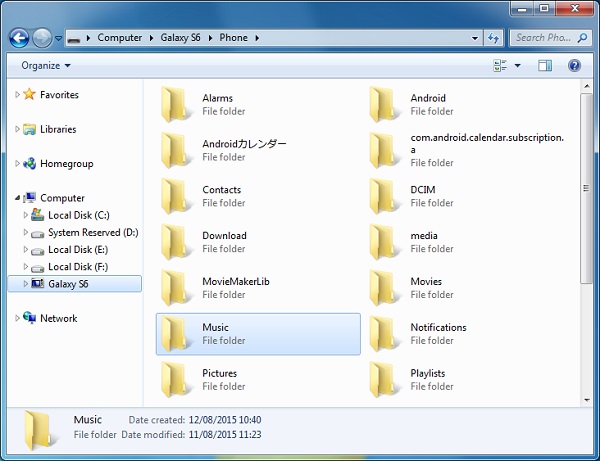 Step 4. At last, you can paste the copied files to a new folder on your computer as a backup.
Use G Cloud Backup to Complete the Android Music Backup
The last method you can try to back up your Android music is to make use of some powerful applications like G Cloud Backup. G Cloud Backup is a free Android backup App that is simple and safe to save contacts, messages, photos, videos, music, documents, call logs, files and more to a secure cloud location. Hence, you can use it to back up the music on your Android with ease.
The following is the tutorial about how to complete the Android music backup with G Cloud Backup.
Step 1. Download the application from Google Play Store and then follow the instructions to properly install it.
Step 2. Next, you need to create a G Cloud account. After getting the account, you can select the file types you want to sync to G Cloud, including music, videos, photos, contacts, messages, etc..
Step 3. After selecting the backup files, the application will upload your files to the cloud account automatically.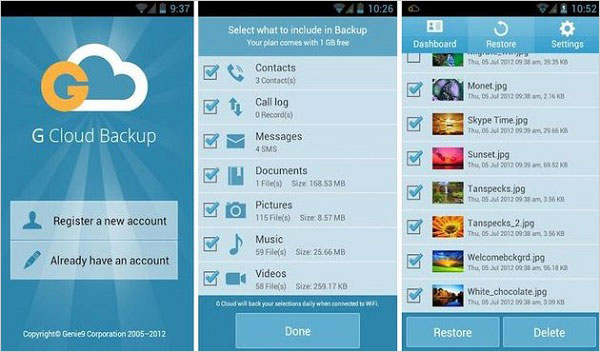 Here, you should notice that you can only use this App on one device. If the application detects another account when you activate it on another device, it will deactivate the previous account and activate the G Cloud on the new device.
Write in the End
These are the effective ways to back up Android music. No matter you select which one, you can complete the Android music backup without any hassle. And supposed that you have any new idea to effectively back up the music on Android, please leave your comments below to share it with us.
Related Articles:
[3 Ways] Effective Ways to Transfer Music from Computer to Samsung S9
User Guide: How to Delete Music from Android Phone/Tablet Effectively?
Music Recovery for Android Phone/Tablet
Transfer Photos/Music/Videos from Android to Android