[Latest Guide] How to Change iPhone Location without VPN in 3 Ways?
Are you looking to change your iPhone's location without using a VPN? People use (VPNs) to mask their device's location, but what if you prefer an alternative method? This article will explore various techniques to change your iPhone's location without relying on a VPN. Whether you want to access location-specific content or protect your privacy, understanding these alternative methods can offer greater control over your device's virtual whereabouts. So, let me show you how to change iPhone locations without VPN.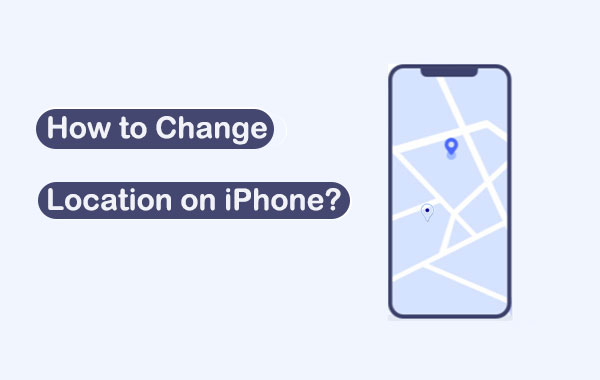 Part 1. Reasons Not to Use a VPN to Change Your iPhone Location
VPNs are best for accessing content from different locations and protecting your identity. This can be great if you want to watch a show unavailable in your current region. It gives you access to cheaper services and goods, as some products or services are more expensive in certain areas. However, they're not the best option for changing iPhone location. The following are the reasons:
Security Risks - Using a VPN can put your device at risk, making your connection insecure or vulnerable to malicious attacks.
Poor Streaming Performance - VPNs can slow your internet speed, making streaming content difficult or even impossible.
Costly - Some VPN services are free, but most come with a fee that may not be worth it if you only use it to change your iPhone location.
Websites Not Working - Some websites may need to be fixed when connected to a VPN, which can be frustrating.
Illegal Use - Using a VPN is unlawful in some countries. Some of them have strict laws against the use of VPNs.
Privacy and Trustworthiness Issues - No guarantee that your data will be safe. Some of the VPNs breach your data to third-party apps.
Read Also:
Part 2. How to Change iPhone Location without VPN
Can I change my location on my phone without VPN? Below are various methods to change your iPhone location without a VPN, including professional location changer tools, spoofing apps, and enabling developer mode options. Below are the methods on how to change iPhone IP address without VPN:
Way 1: Using Virtual Location Tool
Virtual Location Tool is a versatile mobile application designed to easily change your iPhone's GPS location. It provides a convenient way to modify your location for various purposes. This service includes testing location-based apps, protecting your privacy, or accessing geo-restricted content.
Main features of Virtual Location Tool:
Allows you to simulate movement on a map by setting a custom path or selecting a specific location.
You can instantly teleport your iPhone to any location worldwide. This function helps bypass location-based restrictions on certain apps.
Save your favorite locations for quick access. You can easily switch between locations without repeatedly entering the coordinates or address.
It works with all your favorite apps and games, including AR games, social media platforms, mapping services, and more.
You can import your files as GPX for later use or convert the coordinates to whatever format you prefer.
It is compatible with iPhone 14/14 Plus/14 Pro (Max), iPhone 13/13 Pro (Max)/13 mini/12/12 Pro (Max)/12 mini, iPhone 6/6S/6 Plus, iPhone XR/X/Xs Max/Xs, iPhone 11/11 Pro Max/11 Pro, iPhone 7/7 Plus, iPhone 8/8 Plus, iPod touch, iPad and more.
How to change iPhone location using Virtual Location Tool?
Step 1. Launch this program after the download and installation. Click on "Get Started" and you will see a welcome screen. At this point, connect your iPhone to your computer via a USB cable. (Want to fake iPhone location without computer?)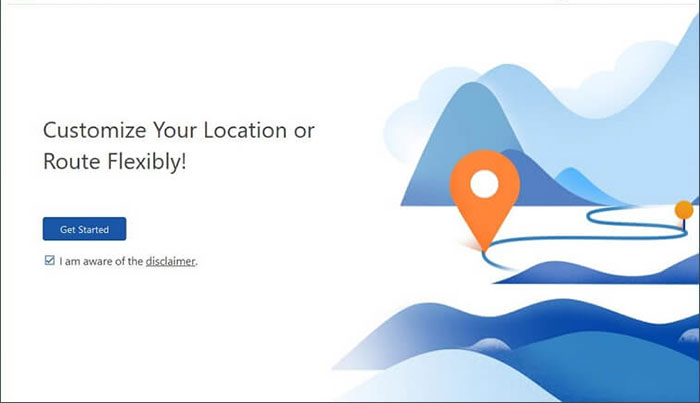 Step 2. Once the map loads, navigate to the upper-right corner to click on the "Teleport" icon.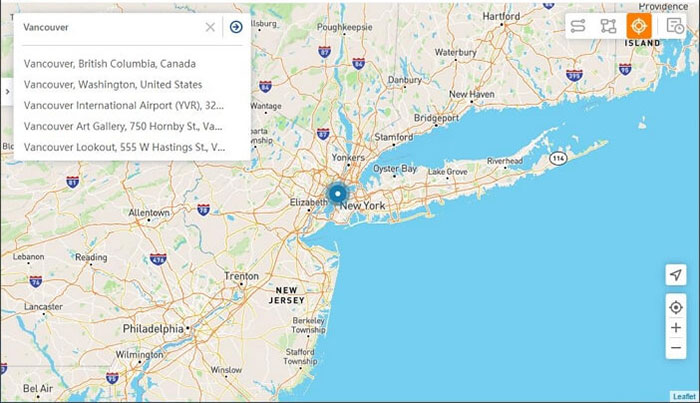 Step 3. Choose the location you wish your iPhone to be at the top left corner. Or you can select a destination by zooming in/out of the map.
Step 4. After choosing the location, you can click on the "Move" button to confirm it. Then, your iPhone's GPS location will be where you set it just now.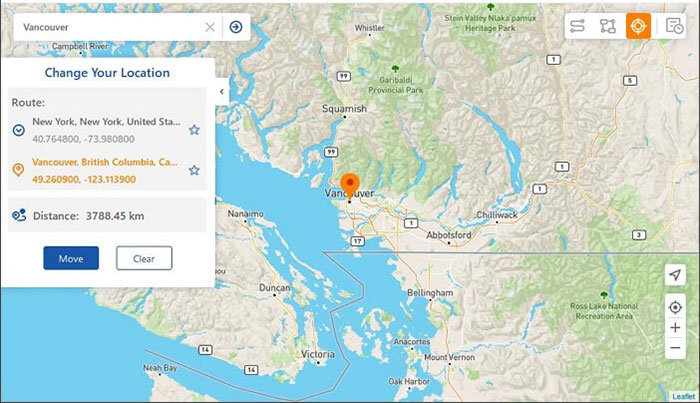 Way 2: Using a Cydia App
Cydia is a third-party app store that provides applications for jailbroken iPhones (how to change iPhone location without jailbreak?). It is a popular alternative to the Apple App Store and offers a wide variety of software for download. Cydia allows users to customize their iPhones and install applications that may not be available on the Apple App Store. One such app, LocationFaker, allows you to change your iPhone's GPS location to anywhere in the world.
Steps on how to change my iPhone IP address without VPN using Cydia App.
Download the Jailbreak tool and install it. Now Jailbreak your iPhone and download the Location Faker.
Once your jailbreak has been completed, open Cydia and search for the Location Faker. Install it. Launch the app and set the fake location coordinates.
Run the "Location Faker." Now start to change the location by entering the coordinates. You pick the necessary coordinates, and the app will spoof them for your applications.
Open a mapping application like Google Maps or Apple Maps on your device to verify that the location has been changed successfully. The map should reflect the new location that you have entered in the Location Faker app.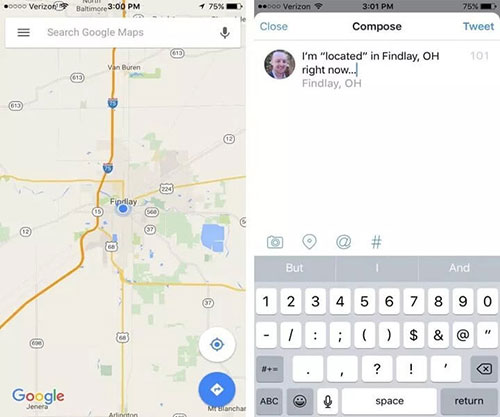 Way 3: Using Proxy Server
A proxy server is a third-party application that can change your iPhone's location without VPN. It acts as the intermediary between your iPhone and the internet. It masks your real location by providing a different one. Proxy servers are usually used to bypass geo-restrictions or improve privacy and security.
Here are the steps on how to change iPhone IP address without VPN using a proxy server:
Choose the reliable Proxy Server. Copy it.
On your iPhone, choose the current network you are connected to and go to its Advanced Settings.
Go to your network settings and find the IPV4 or IPV6 section. Choose the "Manual" option.

Paste the proxy server you have chosen in Step 1. Save the changes and restart your iPhone.
Re-connect to your network, and you should now be connected under a different location.
Read Also:
Part 3. Still Want to Use VPNs to Change Your Location? How?
Can you change your location on iPhone using a VPN? People still want to ask. If you still want to use VPNs to change your location, here's how:
Choose The Most Reliable VPN to Change Location
The first and most crucial step is selecting a reliable VPN service. Not all VPNs are created equal - some offer superior privacy, more server locations, and the quality of connections can vary greatly. You need to consider security features, speed, ease of use, and customer support.
Here are well-known VPNs:
1. NordVPN:
Known for its robust security features and many servers worldwide. It is the best choice for those looking to spoof their location. It secures your information with a no-logs policy. It is good for gaming, work and file sharing. It is simple to access files while traveling or while at home. Steps to using this tool:
Install it on your PC.
Sign in or sign up with the VPN.
Click "Quick Connect", and the apps will automatically select the best location for you. It will also choose the server for you.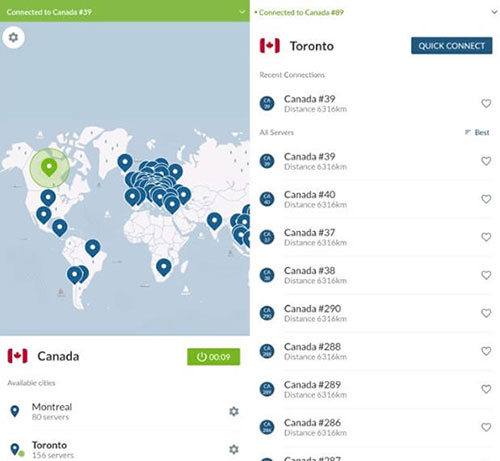 2. CyberGhost VPN
CyberGhost stands out with its high-speed connections and the ability to access geo-restricted content. It has an extensive network of servers across the globe and offers strong privacy protection. It encrypts data and replicates IP addresses to keep your online activities safe and secure. How to use it:
Install CyberGhost on your phone.
Turn off the app by taping on the power button on it.
The app will now select the best server for you based on your current location.
To change servers, go to the list of available locations and pick one that fits your needs.
3. PrivateVPN
While it may have fewer servers than some competitors, PrivateVPN shines in its strong encryption and privacy features. It's ideal for those who prioritize security and anonymity. It is affordable, effective and fast, making it a great choice if you are looking to stay anonymous online. PrivateVPN replicates IP addresses on each server, giving users better security and privacy against anyone tracking their activities. How to use:
Install the software on your device. Sign up with an email address and choose a username.
Connect or switch to the desired server.
Enjoy the secure, anonymous internet connection provided by PrivateVPN!
Why Is It Not Recommended to Use Free VPNs?
VPNs are critical tools for securing online privacy. However, while opting for free VPN services to save costs is tempting, these often come with significant drawbacks. It's important to understand free VPNs' potential risks and limitations. Using free VPNs is not recommended for several reasons:
Slower Speed: Due to overcrowded servers, free VPNs often have slower speeds. This can result in a sluggish internet connection, making it frustrating to browse or stream content.
Security Risks: Free VPNs may lack robust security features, leaving users vulnerable to cyber threats. Some free VPNs have poor encryption technology; others might sell your data or bandwidth.
Hidden Costs: While they may seem free, hidden costs exist. You might get annoyed ads, or your data might be tracked and sold to third parties.
Countries' Illegalities: In some countries, using a VPN is illegal or heavily regulated. Using a free VPN in these regions could lead to legal issues.
Part 4. Hot FAQs About Change iPhone Location Without VPN
Q1: How do I turn off my location without them knowing?
The simplest way to turn off your location without others knowing involves adjusting your iPhone's location services settings. Go to Settings > Privacy > Location Services. You only need to turn off location services to prevent all the applications from accessing your location.
Q2: Can someone track my phone if my location is off?
Hackers can track a cell phone even if location services and GPS are turned off. Installing malware protection and anti-theft software on your device is essential to remain secure.
Q3:Can I permanently change my location on my iPhone?
No, it is not possible to permanently change your location on an iPhone. The Location Change is temporary and will reset after a certain period of time. The VPN only alter the information seen by the apps or device that request location data from your iPhone.
Final Words
In summary, changing your iPhone's location without using a VPN is indeed possible, as we have explored in this guide on how to change iPhone location without VPN. You can achieve the desired location alteration using GPS spoofing apps, location-based app settings, or third-party tools. However, it's essential to be cautious and use these methods responsibly. Respect privacy regulations and consider the potential consequences of modifying your location. Considering these considerations, you can confidently navigate the virtual world with a modified iPhone location without relying on a VPN.
Related Articles:
[2023] No Location Found on iPhone? Here's What to Do
How to Fake Location on Find My iPhone? 6 Methods Most People Don't Know
How to Find and Protect Lost iPhone 14/13/12/11/XR/Xs/X/8?
What You Should Know About Fake GPS on Android without Mock Location
How to Fake Google Map Location on Android/iPhone in 3 Ways?
Where Does iTunes Store Backups & How to Change iTunes Backup Location?