Must-Have App Manager for Android User
There are literally thousands of Android apps on Google's official Play Store market today with even more apps currently under development. This increasing trend makes it a little confusing to try to select the most appropriate application, especially when you are a new android smartphone user. However, this does not always have to be the case as you are about to discover in this informative article on the top 8 must have android apps for every smartphone user.
Best Android App Manager You Can't Miss
App Manager for Android is a beneficial lightweight Android app that has been specifically designed to help you install, backup and uninstall mobile apps as easy as possible from your smartphone. Apart from allowing you to easily backup your favorite APK files to computer, the program also fully supports the direct installation of android apps from SD cards. What's more, you can also use this tool to manage other data on your Android devices, such as contacts, text messages, music, photos, videos, books, and so on.
Below is the main interface of the Android App Manager program.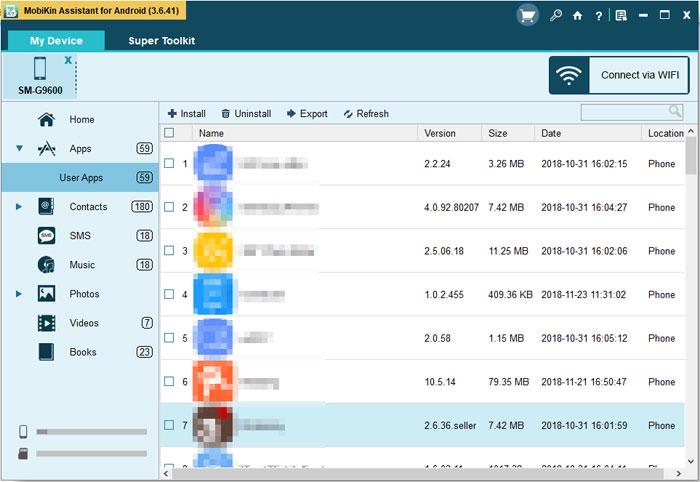 List of the Best Android Apps Manager for Your Reference
1. Evernote
This amazing app can be easily described as an efficient digital multi-tool that allows Android users to take notes, save information from the web, take voice recordings, and create to-do lists, among other beneficial tasks that make it a highly versatile smartphone tool. Evernote which is a relatively sophisticated android app has powerful features that also happen to have reliable cross-platform support.
One particular feature that clearly stands out is the Optical Character Recognition (OCR) feature which makes it easier to search for texts found on photos. It is recommended to first take some time to familiarize yourself with some main Evernote features before deciding to use the digital multi-tool.
2. Truecaller
Long gone are the days when you first had to ask who your caller was before continuing with the conversation. Truecaller is an interesting Android app that can be used to identify who a particular caller is. Apart from caller identification, the must have android app also provides you with the ability to block any unwanted or spam simply by blacklisting specific phone numbers.
The Android app which requires Internet connectivity has a large database of global mobile phone numbers hence can be used flawlessly. Apart from showing the caller's name, this app can display the caller's profile photo making it a lot easier to identify him or her.
3. Android Device Manager
Android Device Manager which is maintained and developed by Google is a beneficial Android app that can be used to secure your smartphone especially when lost. If your smartphone phone falls into the wrong hands, then you are likely to become a victim of identity theft, which cannot be the case when you have this app installed and configured on your smartphone. Android Device Manager which is a reliable phone safety app apart from easily locating your stolen or lost device also has the ability to remotely reset your pin, lock your phone's screen and erase any sensitive data found on your device.
You can also force the lost or stolen phone to ring loudly simply by inputting some codes from your laptop or PC. This particular feature can come in handy, especially when you suspect the thief to be near you. Android Device Manager can still be used even if the thief decides to uninstall the app from your phone.
Tips: Here we also have another Android Device Manager for you to manage your phone's data easily.
4. Greenify
Greenify is popularly associated with rooted devices is an Android power saving app that actively puts installed apps in hibernation mode to extend the smartphone's overall battery life. Nowadays it is almost impossible to come across an Android device that can last a whole working day on a single charge, hence squeezing some extra juice from your smartphone will definitely be worth it. Although most of the application's features can only be accessed on a rooted device Greenify can still work perfectly and efficiently on a non-rooted phone.
To learn more tips about how to optimize Android battery, you can go to here>>
5. Skype
Skype is an effective communication app that you can use to call any of your friends, colleagues or loved ones from anywhere in the world at absolutely no cost. The beneficial app that uses the internet to reach this was first released in the year 2003 and has undergone various interesting changes and modifications ever since. Skype, which has an easy-to-use and user-friendly interface, allows you to communicate via the Internet through its messaging, voice calls and video call features.