5 Must-Have Android App Managers: Better Apps Management for Android
You have a bunch of apps installed on your beloved Android phone or tablet, gaming, social, business, life, and more. This brings great convenience and entertainment to your life. However, if your Android device starts to slow down due to the accumulation of bloatware and some unnecessary applications, you will find that the functions of the built-in application manager of the Android device are not very convenient to use, far from satisfying your demand. Then, it's time to choose a good Android app manager to help you manage your Android apps.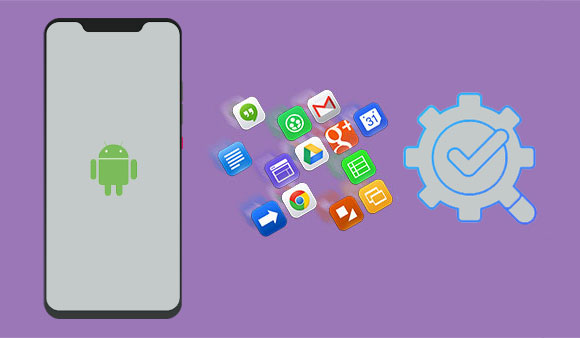 Part 1. What Is an Android App Manager?
What is an app manager for Android? As the name suggests, is a management tool for managing all applications on Android phones and tablets. A competent Android app management tool should show you detailed information about apps, allow you to quickly search for any app you want, provide shortcuts for you to install and uninstall apps, and tell you which apps you use frequently and which you don't use for a long time. That way, you'll be able to tell which apps you can delete to free up Android phone/tablet memory.
Part 2. How to Manage Apps on Android Phone/Tablet Directly?
Actually, you can manage applications on Android phones and tablets without any third-party Android application manager. For this, you need:
Tap the "Settings" option on your Android phone or tablet.
On the Settings screen, find "Application Manager".
Here, you can view the information of all applications.
Select an application and click "Force Stop" to stop running the application; click "Uninstall" to delete the application; click "Clear Data" to free up storage space.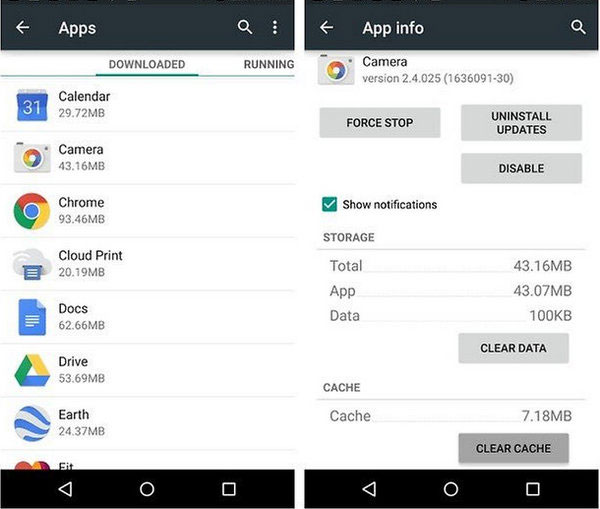 Can't Miss:
Part 3. Top 5 App Managers for Android
Assistant for Android is a useful and lightweight Android application management software specially designed to help you install, backup and uninstall applications from your Android devices as easily as possible. It allows you to back up your favorite APK files to your computer and also fully supports direct installation of Android apps from SD card. What's more, you can also use this tool to manage other data on your Android device. Now, lets' have a look at how wonderful the software is!
Core Features of Assistant for Android
Manage all apps from your computer directly.
Install, uninstall and back up Android apps on computer.
Manage, export/import your contacts, SMS, call logs, photos, videos, music, apps, etc.
Transfer files between Android and computer.
Fully compatible with overall Android devices, including Samsung, HTC, LG, Sony, Huawei, Xiaomi, Vivo, Motorola, etc.
How-tos: Install, Uninstall and Export Android Apps with Assistant for Android
After running the apps manager for Android and connecting your Android phone, go to the left side column and click "Apps". Then, all apps on your Android device are displayed there. You can check them via app name, size, version, installation time, store location.
Install apps: Click the "Install" button to install your desired apps from computer in batches.
Uninstall apps: Select the needless apps and click the "Uninstall" button to delete them with one click.
Export apps: Tick the apps you want to back up and click the "Export" button to save apps to computer.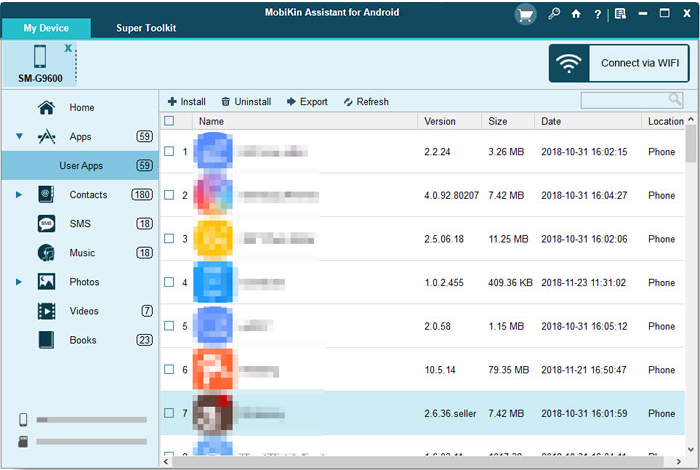 Titanium Backup is one of the most popular apps and is perfect for those with rooted Android devices. As the name suggests, this program allows you to backup apps, including everything else that comes with them. Apart from that, it also allows you to backup frequently used apps like messenger, contacts or call logs. Its interface is clean and uncluttered, and the app freezer feature is great. Also, it allows you to compress backups.
Titanium Backup has a free version and a paid version. The paid version brings more advanced and useful features, such as the ability to transfer system data across different ROMs, a "destroy all market links" feature, and backup deletion protection.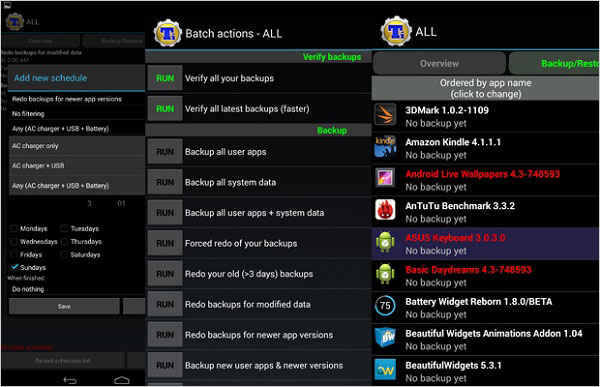 Can't Miss:
AppMgr III, one of the best apps manager for Android, formerly known as Apps 2 SD, is an excellent Android manager app. Its main feature is to move applications from internal storage to external storage. That is, it helps you keep your internal storage clean by moving apps that are resident in memory to the memory card. The app also has a batch uninstall feature that can save you a lot of time. In addition, it can easily hide system apps and keep the interface clean. The paid version of AppMgr III can remove ads and also install apps from the exported apps list.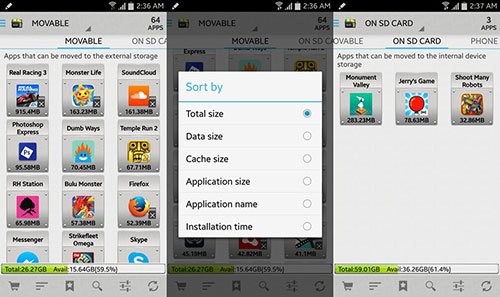 Apk Manager is another best Android app manager that is easy to use and has great functionality. It works on Android phones and tablets running Android 1.1 and higher, and works on installing and uninstalling applications. It runs fast and has no annoying ads. However, its functionality is limited. For example, it can't force stop apps, clear cache, or sort apps, etc.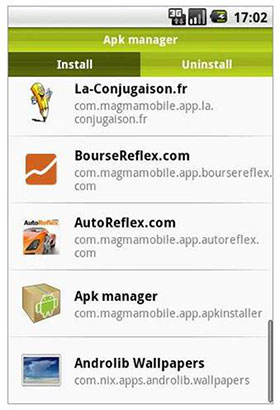 5. Moborobo
MoboRobo is another PC-based app manager for Android phone that can manage Android apps, contacts, music, images, and text messages on your computer. You just need to connect your Android phone to PC via USB data cable or WiFi, run this Android app manager for PC - Moborobo, click the "Apps" option, you can display installed apps according to "User", "System" and "App Updater" sort. Preview and select the application you want to manage, then you can click the corresponding button "Install", "Uninstall", "App Transfer or Export" to simplify application management. Additionally, you can install new applications from the software's web resources.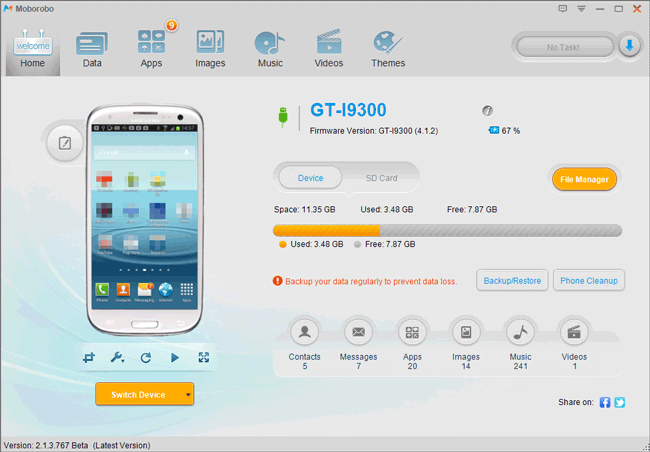 Conclusion
This concludes our list of 5 tools for apps management for Android. The five tools have different focuses, but all provide key application management capabilities. If your phone is full of cluttered apps, now is the time to use the best application manager for Android. A good Android application manager is the foundation of ensuring that you have a healthy device.
Comparing these five programs and software, it can be seen that MobiKin Assistant for Android is slightly better because of its simple and easy-to-understand interface and operation, as well as richer functions.
Related Articles
Top 6 Android Transfer Apps to Transfer Data between Android and PC Easily
How to Transfer or Copy Contacts from HTC to Computer
How to Transfer Contacts from Android to Computer
How to Import Contacts from Outlook to Android Phone? [Make Tech Easier]
Samsung Contacts Backup - How to Backup Contacts on Samsung? (4 Ways)