[Definitive Guide] How to Save WhatsApp Chat in PDF Efficiently?
As the world's most popular instant messaging tool, WhatsApp can be used to send instant messages, videos, images, and audio clips to any contacts conveniently for free. And sometimes, it is essential for us to save WhatsApp chat as a PDF for an official record. So, here is a question:
Why do we need to export WhatsApp chat to PDF?
Business: export your WhatsApp chats with a supplier, wholesaler, retailer, or manufacturer for business documentation purposes.
Research: investigate the conversations when receiving responses from several interlocutors on lots of specific questions.
Legal Purpose: present WhatsApp conversation as evidence or proof of claim in any legal scenarios.
Presentable File Formats: A PDF contains the timestamp of the messages, and it is more decent than a clutter of screenshots.
Next up are the methods. We will explore how to convert WhatsApp messages to PDF in five ways. Now, follow us to learn how.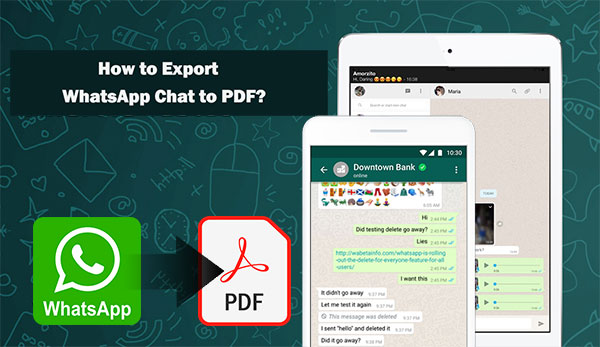 Method 1: How to Export WhatsApp Chat to PDF via WhatsApp Transfer (iOS)
Want to save WhatsApp chat in PDF from iPhone/iPad quickly and selectively? iPhone WhatsApp Transfer is the just software you can't miss. This tool lets you save any WhatsApp chats on your computer. Initially an HTML format, the file can then be easily converted into PDF online.
And as its name suggests, it helps transfer WhatsApp data between two mobile phones, irrespective of the OSes they are running. Want to know more about it?
A brief intro to iPhone WhatsApp Transfer:
Transfer iPhone/iPad WhatsApp chats to a computer for easy conversion.
Retrieve WhatsApp conversations to iOS devices/PCs/Macs.
Copy WhatsApp chats from iPhone to iPhone, Android to iPhone, iPhone to Android, Android to Android.
Apply to processing WhatsApp, LINE, Viber, WeChat, Kik chat history.
Work well on nearly all iDevices, covering iPhone 12/12 Pro (Max)/12 mini, iPhone 11/11 Pro/11 Pro Max, iPhone X/XR/Xs/Xs Max, iPhone 8/8 Plus, iPhone 7/7 Plus, iPhone 6/6S/6 Plus, iPod, iPad, etc.
Offer a free trial.
It never interferes with any privacy of its users.
How to convert WhatsApp chat to PDF with WhatsApp Transfer?
Step 1. Launch WhatsApp Transfer on a computer
Install and launch the utility on your computer. Hit "WhatsApp" from the left menu and select "Backup WhatsApp messages". Next, link your iPhone to the computer via a USB cable. The tool will then detect your device.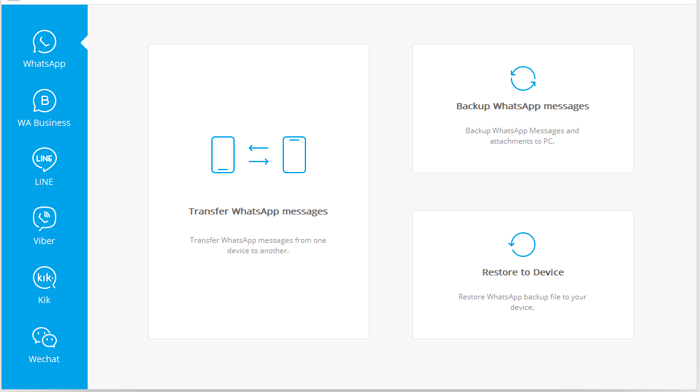 Step 2. Detect and back up WhatsApp conversations
This program will then recognize your iPhone and begin to scan for it. After that, it will back up all your WhatsApp data automatically.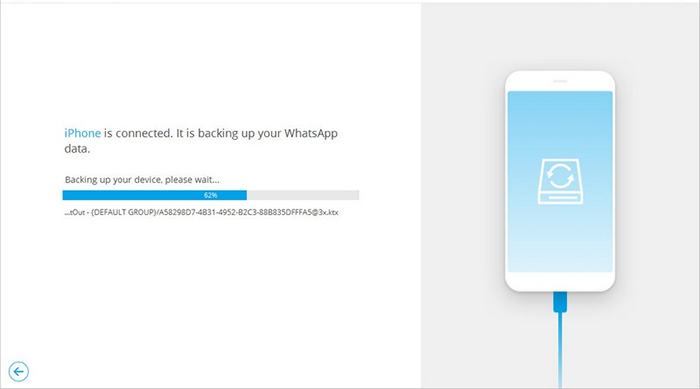 Step 3. View and select WhatsApp messages
Subsequently, tap the "View" icon on the screen and view the WhatsApp chats you just backed up. All the WhatsApp data in your iPhone will then be listed. Click "View" again and then the "Next" option.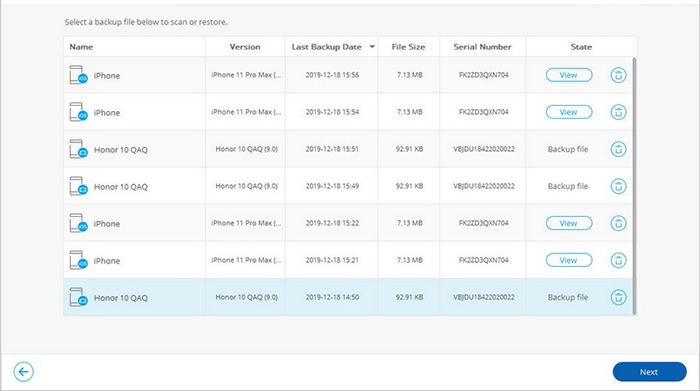 Step 4. Copy WhatsApp data to PC and convert it to PDF
Preview, select the chats, and press "Recover to computer" to save them in HTML format. Go to https://www.onlineconverter.com/, select and upload the file you want to convert from the computer. Click "Convert". Once done, you will be directed to a webpage displaying the result of the conversion.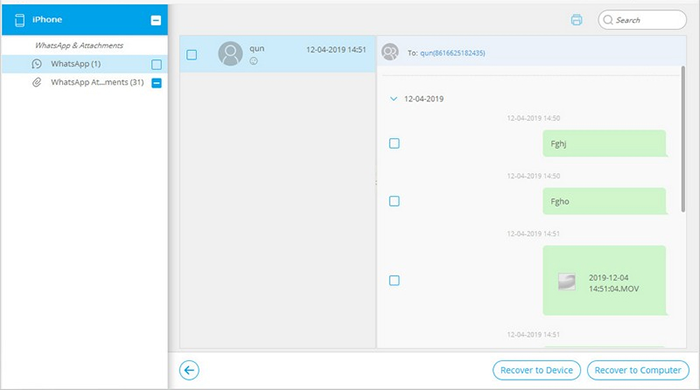 You May Also Need:
Method 2: How to Save WhatsApp Chat in PDF via WhatsApp Backup (Android)
For Android users, it's also pretty simple to convert WhatsApp chat backup into PDF since you have Android WhatsApp Backup, an all-rounder for Android WhatsApp extraction and backup. This dedicated product can recover various data types from Android to your computer, covering WhatsApp/WhatsApp attachments, contacts, call logs, messages/message attachments, photos, videos, documents, audio, etc. (see how to recover deleted WhatsApp chats without backup.)
How to save WhatsApp chat as PDF with Android WhatsApp Backup?
Step 1. Install and run the program on a computer. Connect your Android phone to the computer with a USB cord. Then, enable USB debugging on Android. After the virtual connection, choose "Android Data Recovery" on the primary screen.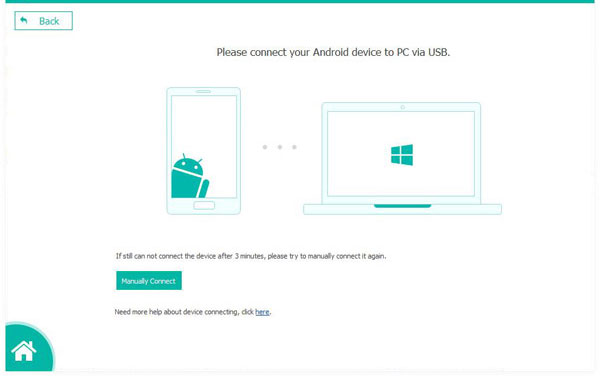 Step 2. Choose the "WhatsApp" checkbox, followed by "Next". Afterward, this tool will start to scan for all WhatsApp chats on your Android phone.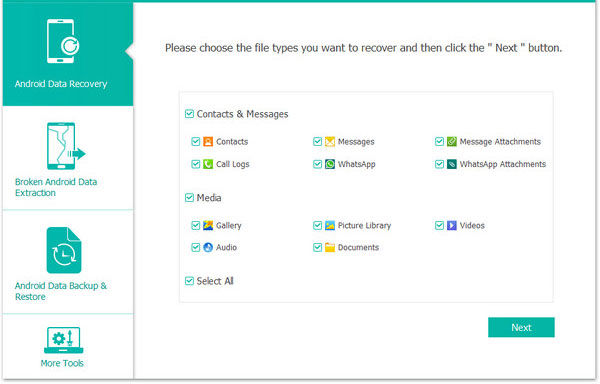 Step 3. Mark "WhatsApp" from the left sidebar. Preview and check the chats you desire from the list on the right. Press "Recover" to save them onto your computer. Finally, follow the last step of Method 1 to convert WhatsApp chat to PDF.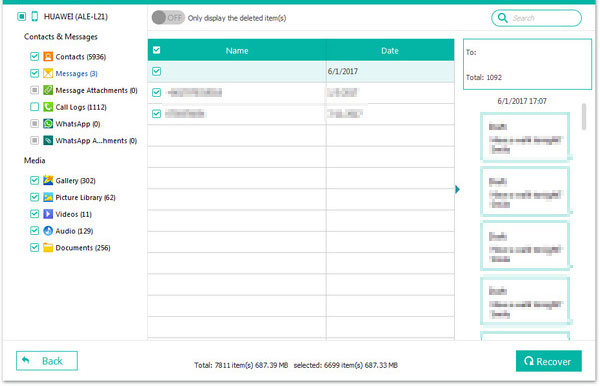 Method 3: How to Export WhatsApp Chat to PDF with Email (Android/iOS)
Email is an easy tool to export WhatsApp chats to .txt files, which can be converted to PDF through MS Word. This way works for both Android and iPhone devices. Yet you have to do the job repeatedly if you have a lot of conversations to export and convert.
How to make a PDF file in WhatsApp by Email?
Open WhatsApp and locate the chat you want to export.
Click three dots at the top > tap "More".
Select "Export Chat".
Choose how you wish to share the file that will be generated.
Here, it is recommended to select to email the TXT file with the chosen conversation to your own mailbox.

Open the email on your PC and download the attached document.
Right-click on the TXT file and select Open With > MS Word.
After that, click File > Save As > select "PDF (*.pdf)" under "Save as Type".
Click the "Save" option, and the TXT file will be converted to PDF.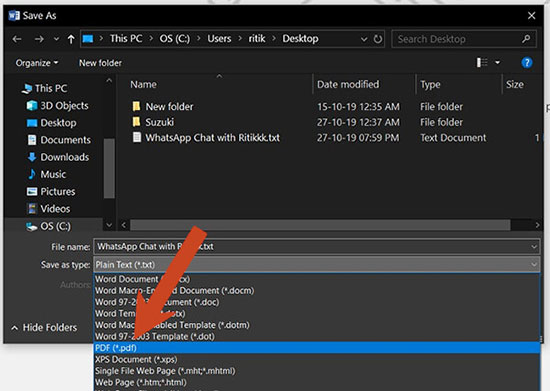 Extended Reading:
Method 4: How to Convert WhatsApp Messages to PDF via PDF Share (Android/iOS)
You have to get PDF Share from the Play Store and then install it on your iPhone or Android device. Next, send and download the WhatsApp messages through Gmail before exporting them to PDF via PDF Share.
How to create PDF in WhatsApp through PDF Share?
Install the PDF Share app on your device.
Open the WhatsApp chat you want to export as a PDF.
Tap the three dots on the top right of the screen.
Click "Export Chat".
Choose "Without Media".

Go for Gmail from the "share menu".
Send the file to a recipient.
Here, enter your own mail address and send the mail.
Download the WhatsApp chat on your computer.
Open the chat on the PDF Share app.
Then click the file you want to export.
Tap "Export to PDF".
Method 5: How to Save WhatsApp Chat in PDF Using File Manager (Android)
Before going any further, check the following key points and restrictions to know more about this approach:
You have to install File Manager on your system if it doesn't come with the built-in feature. (learn the best file managers for Android.)
It's also important to install WhatsApp Viewer on your phone to check the chats you extract.
This solution only works for Android phones.
The images in the WhatsApp chats cannot be exported, for they are stored in the "msgstore.db" file.
How to export WhatsApp chat into PDF with File Manager?
Open the File Manager app on your Android phone.
Locate the WhatsApp folder in the internal storage.
You will see a folder called Databases within this folder.
Open it and find a file named "msgstore.db.crypt12 (or crypt8)".
This is the file that you need to copy to another location.

Transfer the copied file to your PC using a USB data transfer cable.
To decrypt the file, you may need the key file from the phone. It is located at: /data/data/com.whatsapp/files/key.
Download WhatsApp Viewer and extract the file to any location on it.
Open the .exe file in the extracted folder and click open to choose the file.
Find the "msgstore.db" file and select it.
Leave the "account name" empty and go on.

Find your chat and export it as a text file.
Use the aforementioned conversion tool online to convert the exported text file to a PDF.
Closing Remarks
Do you want to selectively convert WhatsApp chats to PDF in one go? Do you need to export WhatsApp chat to PDF directly and efficiently? WhatsApp Transfer and WhatsApp Backup are tailored for iPhone and Android users, respectively, catering to their personalization. Finally, if you have any questions during use, please let us know in the comments.
Related Articles:
3 Ways to Save Photos from WhatsApp to Android Gallery
5 Ways to Backup WhatsApp on iPhone Effectively
How to Move WhatsApp Data to SD Card?
[Full Guide] How to Transfer WhatsApp Data from iPhone to Android
4 Ways to Transfer and Backup Android Text Messages to Computer
3 Simple Ways to Print Text Messages from iPhone 12/11/Xs/Xs Max/8