Samsung S20/S10/S9/S8/S7 Fails to Send & Receive Messages, How to Fix It?
Q: This started happening yesterday. I would send a text and it would just show the thinking circle forever and say "sending". I also wouldn't receive messages either... Until I finally restart my Samsung S8 and then everything would flow through. Since the first time, I've had to do this 3 more times in just the last day. What happened and how can I fix it? - From Android Forum
It is not a rare problem that users cannot send and receive messages on Samsung S9/S8/S7 so it would not be a difficult task to overcome. For your reference, here are several methods to fix Samsung S9/S8/S7 fails to send and receive messages issue. With the help of this article, you can solve the messages sending or receiving failure effortlessly.
What to Do When Fail to Send Messages on Samsung S20/S10/S9/S8/S7?
Generally speaking, there are two cases of Samsung S9/S8/S7 messages sending failure- unable to send SMS to a specific contact or to any contact. In these two cases, the latter is more serious but the former is strange since you can send text messages to anyone except one. However, no matter you are facing which kind of situation, you can go with the solutions provided below to fix the error.
Method 1. Restart Samsung S9/S8/S7
Rebooting device is the easiest and common way to solve mobile phone problems. Although the operation is simple, the method is really practical. That's because this means can stop all the background software on your device which would forcibly cease the potential faulted applications. Just try it and it won't take you too much time. To restart your Samsung, you only need to long press the Power button and click on Restart button to complete the process.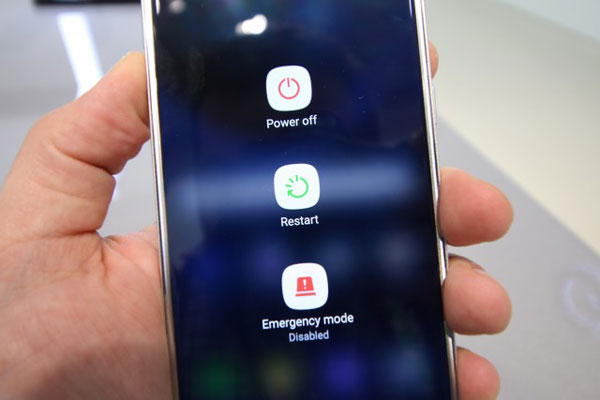 Method 2. Clear cached data
The cached data would interrupt the smooth running of Messages application. Therefore, to ensure the normal operation of the App, you need to clear the caches and useless data of the software. This would also be a easy thing:
- Open up Settings and go to Applications in this section.
- Switch to All apps and tap on Messages to enter its App Info page.
- Click on Storage and tap on Clear Cache and Clear Data in sequence.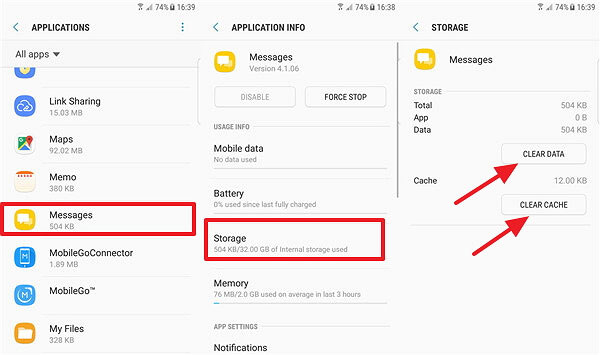 Method 3. Factory reset your phone
Factory reset your device would always be the final means suggested to fix the phone errors. It is a mighty solution to solve different kinds of Android problems like messages sending and receiving failure, network connection failure, phone won't charge issue and so on. However, this way will wipe all the contents and settings on the device at the same time. So, don't forget to backup your Samsung device in advance.
Then, you can reset your phone to its original status as below:
- Navigate to Settings> General management> Reset> Factory data reset.
- At last, click on Reset Device to confirm your option.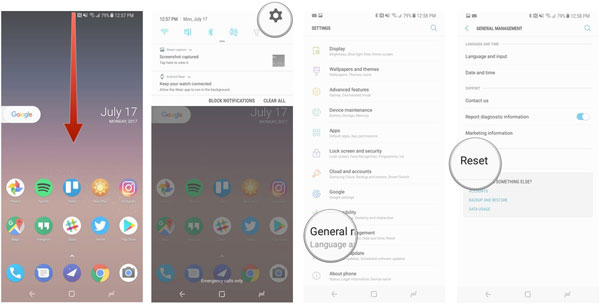 How to Fix Samsung S9 or S8 Messages Receiving Failure?
Sometimes, you may meet some problems with receiving SMS as well. For example:
- You are able to text others but fail to receive any messages;
- Can receive messages from all the contacts expect one;
- Fail to receive any message from group chats;
- ...
When you meet this kind of issues, you can try to settle the problem by following the means below at first.
Method 1. Check the SIM card
Using an available SIM card is the primary condition to send and receive messages. Hence, once you fail to receive messages, the first thing you need to check is the status of SIM card. It is possible that the card gets loose in the slot. To solve this problem, you can remove the SIM card from the card slot first then insert it to the slot once again. This time you should make sure that the card is placed properly and the device is able to detect the inserted card.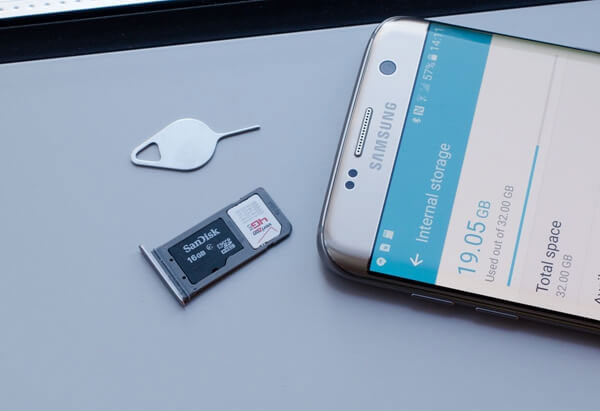 Method 2. Ensure the status of the contact
If you are capable of getting messages from other contacts except one certain person, you have to consider whether you have blocked him/her or been being blocked by others. If you have, it is rightful that you are unable to get his/her text messages.
To confirm that, you can go to Messages App and open its menu. Then click on Settings from the menu list and tap on Block messages. Next, just tap on Block number to see if any contact is in the list.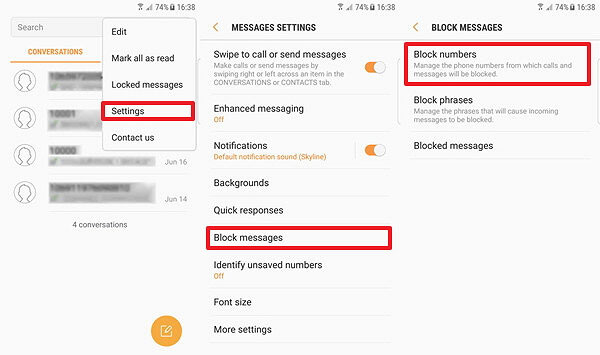 Method 3. Use a stable network
Network connection plays an important role in sending and receiving messages as well, so remember check the status of the network you are using. That is to say, you need to make sure that the Wi-fi is working well when you use the wireless network. The same is true for using cellular data- if you are using the mobile data, you should ensure that you're covered by the good signal.
Notice: Deleting messages caches and factory reset device can solve this problem as well. So you can go with the details that we have listed above to fix the issue simply.
Related Articles:
How to Solve Common Problems with Samsung S8 and S8 Plus?
How to Fix Camera Failed on Samsung Galaxy Devices?
How to Transfer Text Messages from Samsung Phone to Computer Effectively?
How to Recover Samsung Data from Normal & Crack Samsung Galaxy [4 Methods]
[Solved] How to Backup Call Logs on Android Phone?
Xiaomi File Transfer Tutorial - 5 Easy Ways to Transfer Xiaomi Files