Android Tips: How to Remove Malware from Android Phone?
What will you do while getting a malware on your Android phone? You will choose to get rid of it or just ignore it and continue to be disturbed by it? I think most users would select the first way and try their best to protect their devices. So, to help you remove malware from Android phone more effortlessly, we have collected several simple but useful tips in this article. You can take them as references.
Signs of Malware Infection
Unlike computer, Android phone would not pop up a message to tell users that a malware is affecting the device. Then how can we know whether there is a malware on our phones? Normally, you can confirm that according to some signs of malware infection:
- Reduced battery life. A malware would drain the battery of your phone even when it is idle. That's because the malware sits in the background and runs all day long.
- Device becomes overheated. The malware would keep running on your phone so it would get hot even if you stop using the device.
- Decreasing storage space. If there is a malware on your phone, you will find that your limited space are taken up by unknown files. This would make your phone become more crowded.
- Poor phone performance. It is very likely that your phone are affecting by a malware if your new phone becomes slow or even unresponsive.
- Personal information reveal or financial loss. Malware can obtain your personal information and send email/messages or make calls on your behalf. What's worse, it can make purchases without your agreement and cause a financial loss.
- A window pops up on the screen suddenly. It can raise pop-ups on the screen and redirect your while browsing.
Except for these phenomena above, there are many other signs of malware. But in a word, if you find any unusual on your phone, you should pay attention to it.
Can't miss:
The Best 5 Free Antivirus Apps for Android
Tips to Cool Down Overheating Android Phone/Tablet
Remove Malware from Android Phone
As we all know, malware would damage the device and mess up our lives so it is essential to remove them from our Android phone. To help you get rid of the malware, we would like to show you several useful tips.
1. Stop all background programs
From the above, you can know that malware always sits in background so closing all the background applications on your phone can effectively help you get rid of the malware. This operation can be completed in Settings section:
- Enter Settings section and select App/App manager/Application Manager option from the list.
- After that, you will get all the running and installed applications on your phone. Just click on Running to open the list of all the software that are running in the background. Then click on them and elect Stop to forcefully stop them one by one.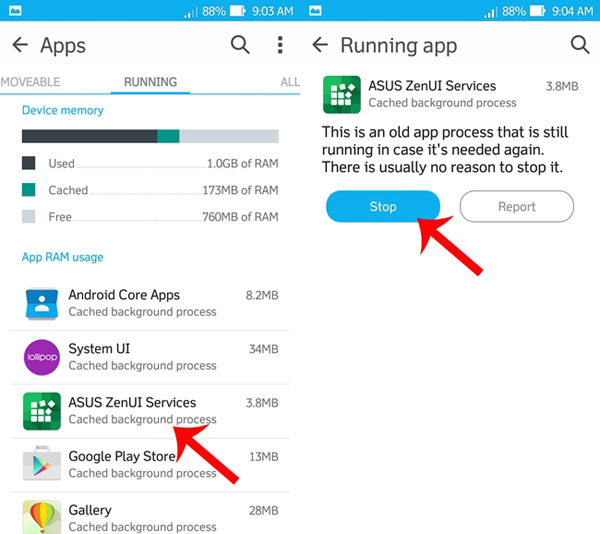 2. Uninstall the application downloaded recently
It is very possible that the App is a malware if your phone starts to malfunction right after installing it. In this case, you can select to uninstall the application without hesitation. It is also easy to accomplish:
- Go to Settings> App/App manager/Application Manager to open the application list.
- Find out and tap on the application to enter its App Info page.
- Finally, tap on Uninstall to remove it from your device.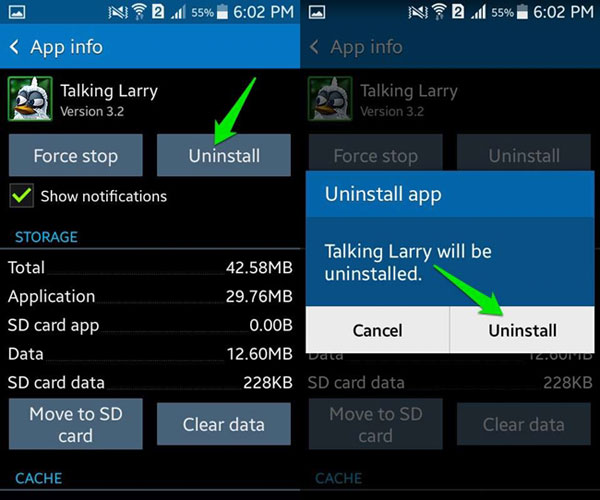 Read also:
How to Uninstall Google Play Store?
3. Clear caches and junk files on your phone
Another effective way to get rid of malware is to clear caches and junk files on your Android phone. At the same time, it can free up your device as well. So it is beneficial for you to try this means.
To clear caches, you can go to Settings> Storage> Cached Data and then confirm your option to delete the cached data on your phone.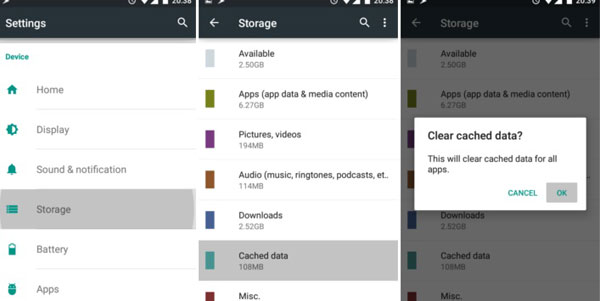 To delete the junk App data, you can navigate to Settings> Apps and then choose an application from the list. Next, tap on Clear data to delete its data.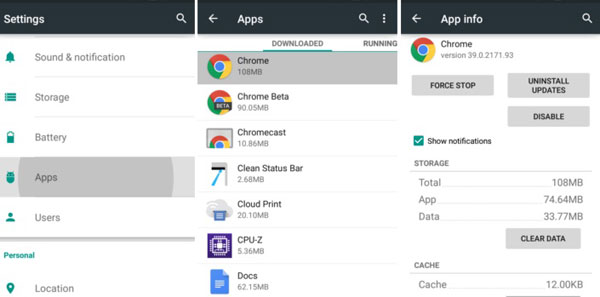 See also:
Top 6 Must-Have Android Cleaner Apps
Protect Android Device from Malware
Now you must be aware of the damages of the malware and realize the importance of protecting the device from malware. And the followings are our suggestions for you to keep the device from malware.
- Only download applications from Google Play Store and don't get them from any other source.
- Download applications with more positive reviews if possible.
- Install a professional protection App on your phone.
- Do not use a public Wi-fi network or confirm the security of the network you are going to use.
- Do not access to unknown links or websites.
- Pay attention to the pop-ups on your phone while browsing.
Related Articles:
Android Phone SD Card Unexpectedly Removed, How to Fix It?
Different Methods to Fix Android Black Screen of Death
6 Proven Methods to Retrieve Text Messages from Old Phone Numbers [Android & iPhone]
How to Print out Text Messages from Android Phone? (Best 4 Ways)
[Solved!] How to Transfer Text Messages from iPhone to Android?
9 Quick & Safe Ways to Fix Android File Transfer Not Working on Mac