Ultimate Guide to Back Up WhatsApp Photos/Videos on Android & iPhone
The messages and photos you send and the video calls you make are secured by WhatsApp end-to-end encryption. This might be an important reason why WhatsApp is a great replacement for built-in voice and messaging apps on your phone. Today, more people choose to use this easy & free tool and back up vital chat content like photos, videos, and messages to ensure that they remain safe from the various data loss risks.
Well, do you know how to backup WhatsApp photos or videos flexibly and get them restored at your will? OK, this page is about to show you dependable methods to well carry out WhatsApp photo backup. Let's get straight to the point now.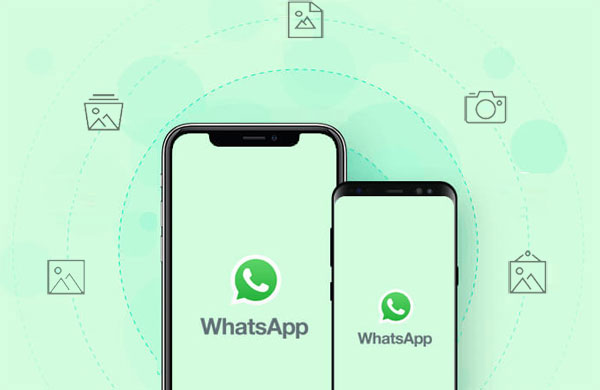 Method 1: How to Back Up WhatsApp Photos with WhatsApp Transfer
In the past, you may manually copy the app's installation files or folders and put them onto PC or cloud for backup. But as technology booms, the reliable data transfer tool - WhatsApp Transfer came into being. This top-tier program can not only perform WhatsApp media/message backup with one click, but also help preview and selectively restore WhatsApp images, videos, messages, and documents on your device.
Main features of WhatsApp Transfer:
Back up iPhone/Android WhatsApp chat history, including photos and other media files, etc., to a computer.
Transfer WhatsApp chat between two different devices.
Transfer/restore WhatsApp data to your iPhone or Android devices.
Let you view the backup file and export stuff to computer or other phones selectively.
Back up LINE/Viber/WeChat/Kik chat history.
Run smoothly on nearly all iOS and Android devices, such as iPhone 12/12 Pro (Max)/12 mini, iPhone 11/11 Pro/11 Pro Max, iPhone X/XR/Xs/Xs Max, iPhone 8/8 Plus, iPhone 7/7 Plus, iPhone 6/6S/6 Plus, iPod, iPad, Samsung, Huawei, LG, Sony, HTC, Motorola, etc.
It is completely secure (won't spy on your privacy).
> Back up WhatsApp photos from iPhone to PC via WhatsApp Transfer (iOS):
1. Run WhatsApp Transfer on your computer
Install and launch WhatsApp Transfer on your computer. Click "WhatsApp" from the left menu and choose "Backup WhatsApp messages". Then, attach your iPhone to the computer via a USB cable, and the tool will recognize your device soon.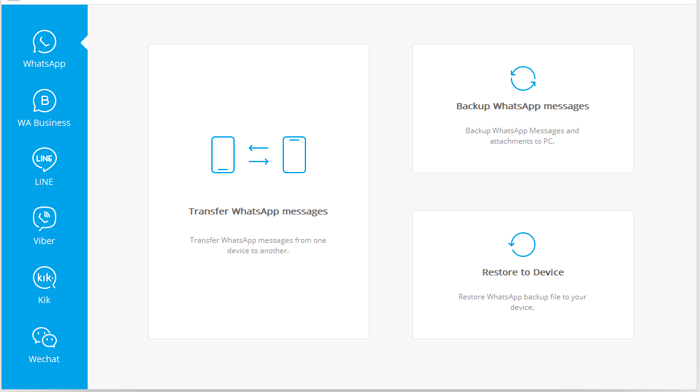 2. Scan and back up your WhatsApp data
The program will detect your iPhone and begin to scan the device. Once done, it will back up your WhatsApp automatically.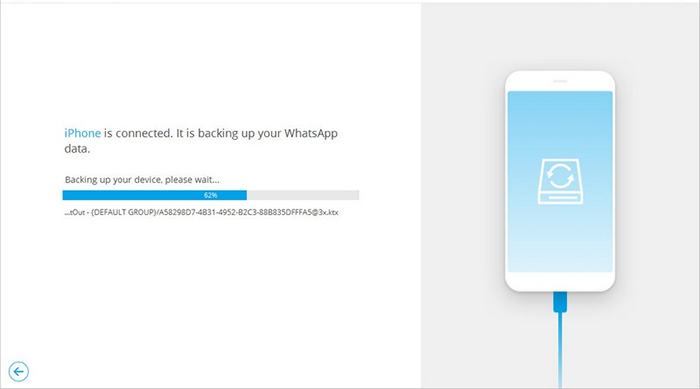 3. Select WhatsApp content to view
After that, you can check the backed-up WhatsApp data by tapping the "View" button from the list and tap the "Next" button.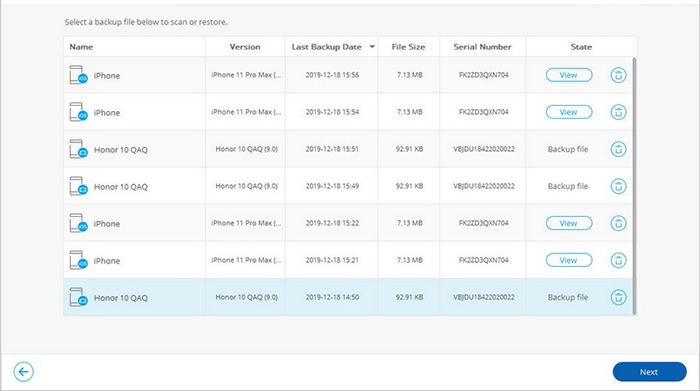 4. Back up WhatsApp photos to computer
You'll see the chat list and WhatsApp attachments, including photos, video calls, and other stuff. Choose the photos/videos you want and click "Recover to Computer" to keep the WhatsApp media backup on your computer. Here, you can also click "Recover to Device" to have the WhatsApp photos restored.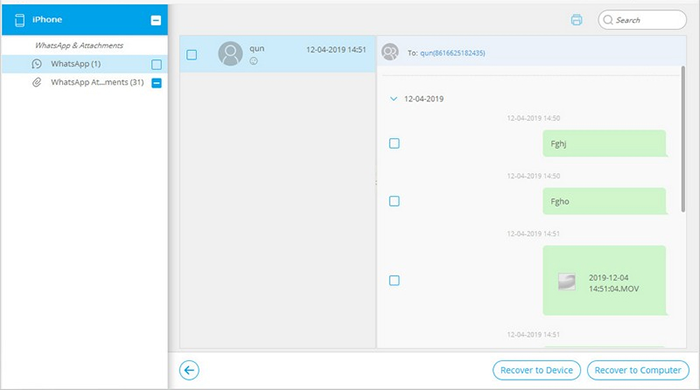 > Back up WhatsApp images from Android to PC/Mac via WhatsApp Transfer (Android)
Launch WhatsApp Transfer on your computer.
Link your Android device to this computer through a USB cable.
Select "WhatsApp Transfer" on the program interface.
Choose "WhatsApp" and click "Backup WhatsApp messages".
WhatsApp data backup will start automatically.
You can view the progress in a window as below.

All your WhatsApp photos and videos will be backed up to this PC shortly.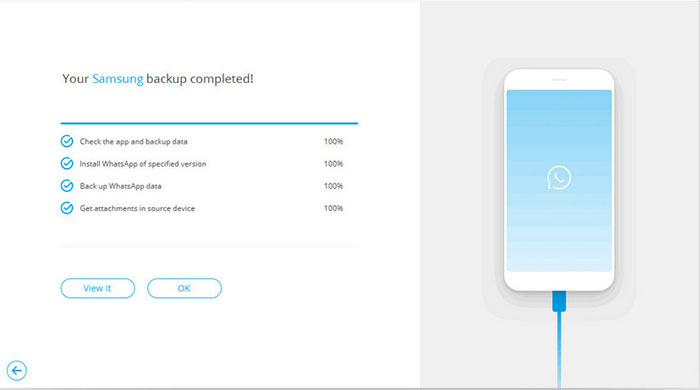 If you want to restore photos to your Android phone from the WhatsApp backups, you can launch the tool > choose WhatsApp Transfer > WhatsApp > Restore WhatsApp messages to Android device. Locate the previous backup > tap Next. Then all your WhatsApp backup, including the photos, will be restored to the linked Android device.
Read Also:
Method 2: How to Back Up WhatsApp Images in Google
> Back Up WhatsApp Photos in Google Drive
From the Google Drive Settings, you can keep Android WhatsApp media backup on the Drive automatically (every day at 2 am). You can also manually make a backup of WhatsApp photos and videos anytime and restore the data to any device. (P.S. For Android users, it's also an option to move WhatsApp data to an SD card.)
Quick navigation:
Run WhatsApp on your device.
Tap the 3-dot icon on the top right corner to select "Settings".
Go to the "Chats" section and click "Chat Backup".
Select the Google Drive account you want to use.
Choose whether to back up over WiFi or both WiFi and cellular data.
Select the backup frequency, including daily, weekly, monthly, or manual backup options.
You can further add videos with the "Include videos" toggle.
Tap on BACK UP.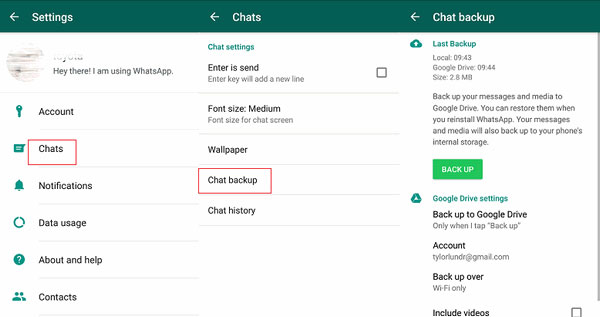 You're allowed to see the backup results on the Drive, but not in detail. If you need to get the backup restored, you can re-install the app on your device and restore the backup as prompted.
> Back Up WhatsApp Pictures in Google Photos
It is also a feasible way to store the WhatsApp images on Google Photos. You cannot do this directly, but follow the tutorial, as given below:
Start the Google Photos app.
Tap the menu button at the top left of the screen.
Get into the device folders and locate the "WhatsApp Images" folder.
Tap the folder and switch on "Back up & sync".

After a while, you should see all your WhatsApp photos on Google Photos (photo roll).
You May Be Interested in:
Method 3: How to Back Up WhatsApp Photos to iCloud
If you want to run WhatsApp video call backup or back up photos and messages to iCloud from iPhone/iPad, you should first ensure that:
Your iDevice is with iOS 9 or later.
iCloud Drive must be enabled.
There must be enough free storage on both your iPhone and iCloud.
It is noted that photos, videos, and messages you back up are not protected by WhatsApp end-to-end encryption while in iCloud.
> Manual backup
On your iPhone/iPad, go to the "Settings" app.
Touch the "iCloud" tab.
Tap the "iCloud Drive" section.
Swipe the iCloud Drive slider right to enable the backup option.
After the backup, you can delete WhatsApp data on your iPhone to make more space for your iOS device.
> Auto backup
Alternatively, you can enable "Auto Backup" and schedule the backups by choosing your backup frequency.
In doing so, you'll back up your messages, photos, and other media to your iCloud account. Here, you can choose to include/exclude videos from the backup. The iCloud backup process should take a while to finish, depending on your WiFi connection and the backup size.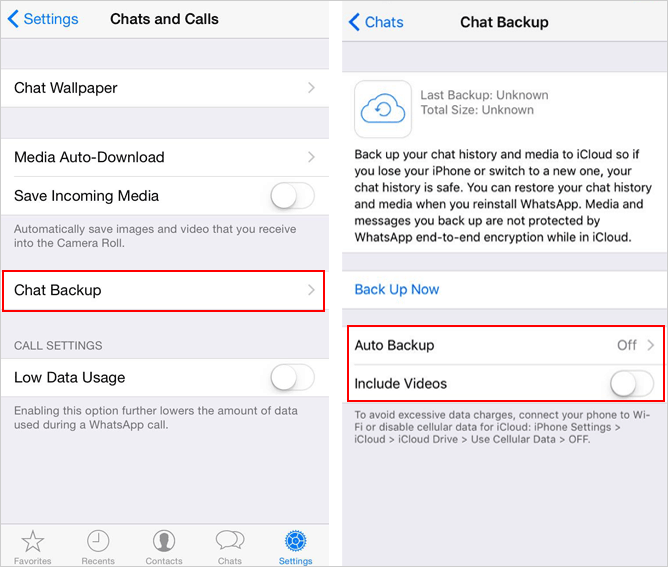 Summing Up
In terms of how to back up WhatsApp photos and videos, you can choose cloud services like Google and iCloud to take backups for your data wirelessly. Note that you'd better disable your cellular data if you have a stable WiFi network when using iCloud or Google services.
While if you want a faster, more secure backup, a more convenient preview, and flexible restore, WhatsApp Transfer could be your preferred method.
Hopefully, you find this page valuable and share it with your friends or family.
Related Articles:
How to Back Up WhatsApp on iPhone without iCloud? 3 Solutions are Here!
How to Back Up WhatsApp from iPhone to PC? It's as Easy as Pie
[Full Guide] How to Transfer WhatsApp Data from iPhone to Android
Methods to Back up WhatsApp Messages for Android and iPhone
[Solved!] How to Save WhatsApp Messages from Android to PC?
2 Ways to Recover Deleted Whatsapp Messages on Android/iPhone without Backup