How to Move WhatsApp Data to SD Card?
When WhatsApp grows in popularity, the number of people using it increases greatly. Hence, it is inevitable that users have many important files in this application. This means that WhatsApp would take up a lot of space of the device. And on the other hand, users also need to backup these significant files or they may be damaged or deleted.
Then, in order to solve these two problems, users can try to move WhatsApp data to SD card to make a backup as well as make room for other files. Nonetheless, this program cannot be moved to SD card by simply using the Settings feature on the device so you need to turn to some useful tools. And here are two common methods for your reference.
You may also want to know:
How to Move WhatsApp Media to SD Card?
How to Fix WhatsApp Issues on Android Phone?
Method 1. Use ES File Explorer to Transfer WhatsApp Data
Since you cannot move WhatsApp to SD card in the Settings directly, you need to ask an assistant tool for help. And here, ES File Explorer should be a good choice. With it, you not only can transfer the WhatsApp data from internal memory to SD card, but also able to manage your WhatsApp data in the program easily. And certainly, other file types like photos, music, etc. are also supported by this tool.
Then, how to move WhatsApp to SD card with this software? Let's take a look together.
- Download ES File Explorer from Google Play and go with the instructions to install it.
- Launch the installed application and swipe the Home screen to the left to get a local folder which is your internal storage. Then you can scroll down the screen to find out the WhatsApp folder.
- Next, you need to long press on the WhatsApp folder to mark it. And then tap on More option at the bottom right which would bring out a window with several options.
- Now you can select Move to in the window and click SD Card or you can use the inbuilt Cut and Paste option to transfer the files to SD card.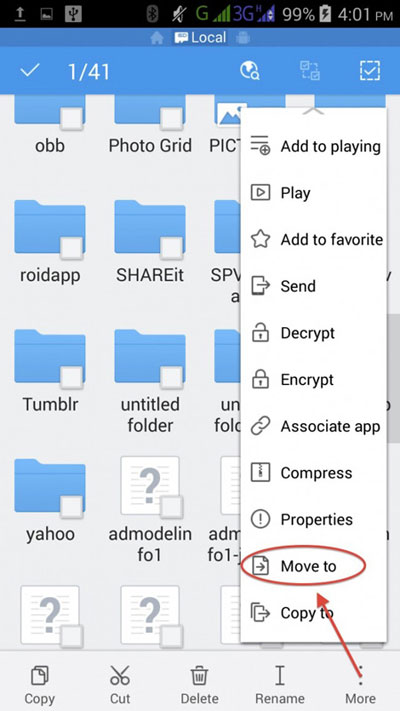 - Then you can tap on the addition button on SD card to create a folder for the transferred WhatsApp data.
- Finally, just simply click OK to move the WhatsApp data to the new folder on SD card.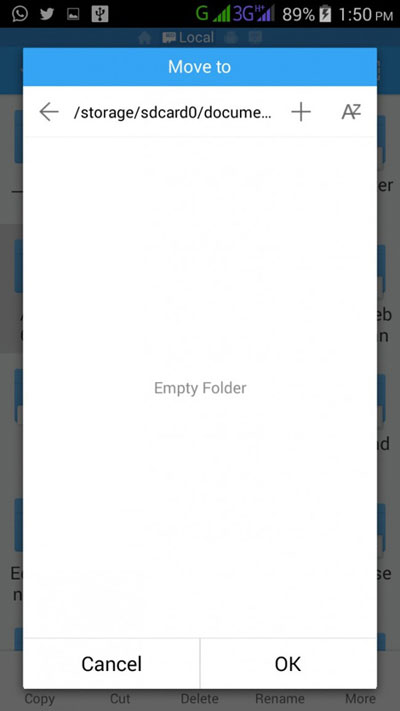 Method 2. Move WhatsApp Data to SD Card without Rooting
Here is another way to complete the WhatsApp transmission- to make use of Android SDK. This is also a tool to help users transfer WhatsApp to SD card. However, this program should be used with computer and what's more important, it does not require users to root their devices.
The steps to move WhatsApp to SD card with Android SDK would be a little bit complicated but you still can have a try first.
- Download and install the latest Android SDK on your phone and then extract it.
- Install Google USB drivers for your phone.
- Next, connect your mobile phone to computer. Here you need to enable USB debugging on it but do not need to open the USB Storage mode.
- Now you can go to the location where you have extracted the Android SDK and find the folder which contains "adb.exe" file. Then execute it by typing in "cmd" in Windows search and hitting Enter key.
- After connecting your phone to computer, you can run command "adb shell". If you are using a Mac or Linux and receiving a messages saying "cannot find file", you can run command "./adb shell".
- Then you can run command "pm set-install-location 2". If this command does not work, you can try another command: "pm setInstallLocation 2". And then enter exit to finish the process.

- Now just go to the Settings menu on your phone and click on Apps to get all the installed applications on the phone. Next, find out WhatsApp option from the list and tap on it. Then select the option Move to SD Card which is enabled now.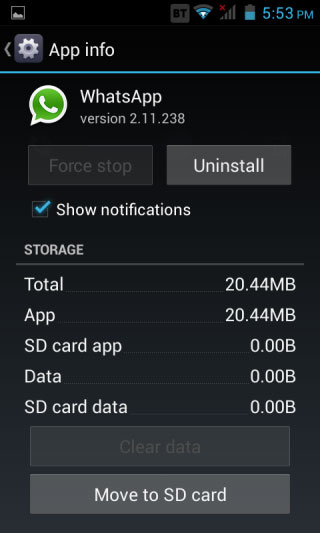 Done! What you need to do now is to wait till the whole transferring process finishes and then you are able to view and use WhatsApp in your SD card.
Related Articles:
Recover Deleted WhatsApp Messages from Android