Let's Learn How to Manage WhatsApp Account on Android!
WhatsApp is no doubt a great and useful chatting tool so many people choose it as their main chatting tools. Then, to make full use of this application, users must apply for an account at first. But when users manage WhatsApp account on Android, they often have some questions about the account and ask for help to solve the problems. These questions are:
How to Create WhatsApp Account with/without SIM Card?
No matter you want to use WhatsApp or manage WhatsApp account, you must have a account at first. And if you have a phone number, creating a WhatsApp account is very simple. But if you do not have a SIM card, you are able to get an account as well though the process is not as easy as the previous situation. Now let's see how to perform them respectively.
1. Create WhatsApp account with SIM card
Step 1. Download and install WhatsApp from Google Play Store.
Step 2. Run the installed application and tap on Agree and Continue after reading the statement.
Step 3. Choose your country and then enter your phone number to verify. After that, WhatsApp will send you verification code. Just enter the received code to get your WhatsApp account.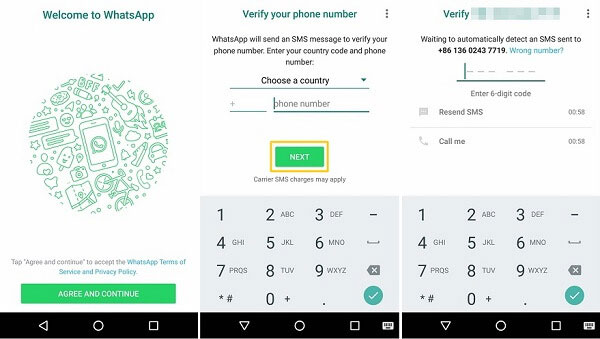 2. Create WhatsApp account without SIM card
If you want to apply for a WhatsApp account on an Android phone without inserting SIM card, you have two options:
- Use applications to receive messages or calls over Wi-fi so that you can verify your WhatsApp account.
- Verify your WhatsApp account with landline number. You can select Call me to get a call from WhatsApp instead of sending messages. Here, you need to know that this method does not work on some countries and area. But you also can have a try.
Can't miss:
How to Restore WhatsApp Chat History from A Broken Samsung?
Methods to Backup WhatsApp Messages for Android and iPhone
Can I Use Old WhatsApp Account with New SIM Card?
It is common that people change their phone numbers and mobile phones. Then, when you use a new card, a question comes- how to use old WhatsApp account with new SIM card? If you do not know the answer, just see here. Here are two methods for two different situations:
1. Use the same phone but with a new number
Step 1. Launch WhatsApp on your phone and then tap on the Menu button.
Step 2. Select Settings option in the menu and go to Account> Change number.
Step 3. Enter your verified number first and then type in your new phone number.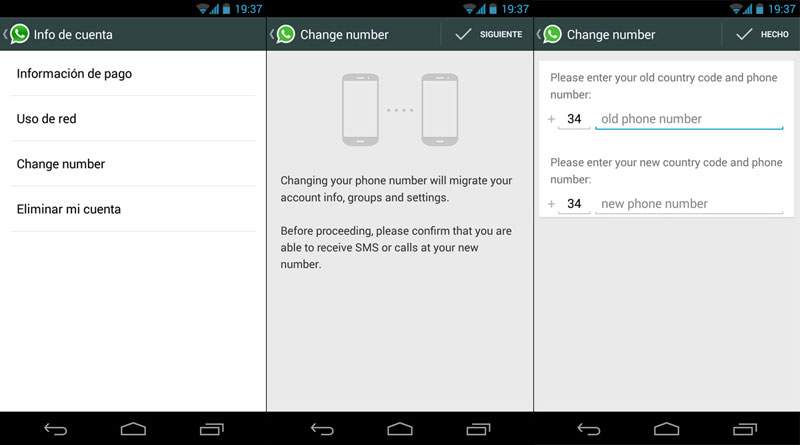 Step 4. Follow the instructions to verify your phone number again.
After the verification, your account information, groups and settings associated with your old phone number will be migrated to the new one and the contacts won't see your old phone number in their WhatsApp contact lists anymore.
2. Use a new phone with new number
Step 1. Change the phone number on your old phone by following the steps above at first.
Step 2. Backup the WhatsApp data on your old phone to Google Drive- click on Settings> Chats> Chat backup> Backup. This will enable you to view your chat history on the new device.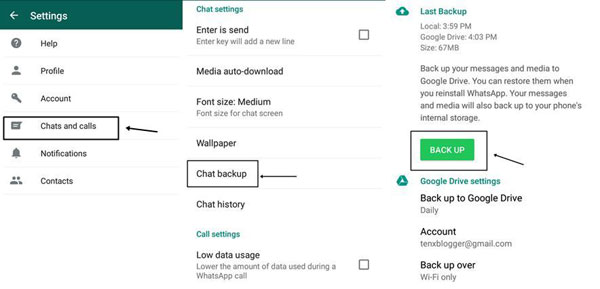 Step 3. Next, you need to delete WhatsApp account on your old phone.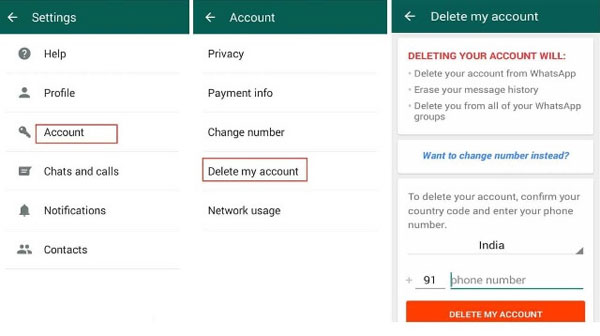 Step 4. Download and install WhatsApp on your new device then launch it and sign in with your new phone number.
Step 5. Then, you need to verify the number once again. And after that, you will be asked whether to restore a backup. Just tap on Restore to move the data to your new phone.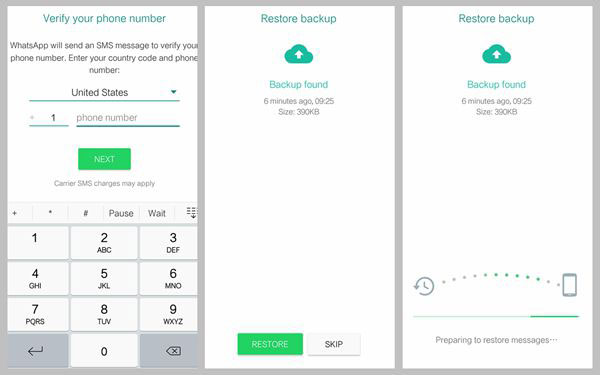 And now, you are free to use the WhatsApp account on your new phone with new phone number.
Is It Possible to Manage Two WhatsApp Accounts on the Same Phone?
In order to better deal with the work, some users may have two WhatsApp accounts so they might wonder if it is possible to manage two WhatsApp accounts on one phone. Actually, WhatsApp only allow users to use one account with one number verified on one device. Thus, if you switch your account between different devices and numbers frequently, WhatsApp may block your account and you need to re-verify it.
However, that does not mean you are not able to achieve the goal at all. To meet the requirements of users, manufacturers have release many third-party WhatsApp applications to fill up the gap. You can find this kind of software in Google Play Store.
Related Articles:
Cannot Connect to WhatsApp on Android? Solutions are Here!
Full Guide to Fix WhatsApp Issues on Android Phone
[3 Ways] How to Transfer All WhatsApp Chats from Android to Android?
How to Transfer WhatsApp Data from iPhone to iPhone? [Updated in 2023]
2 Ways to Recover Deleted Whatsapp Messages on Android/iPhone without Backup
Step-by-step Guide to Back Up Viber Messages on PC from iPhone/Android