How to Back Up Samsung Phone to PC/Computer? 7 Proven Ways Here
How often have we faced the impending dread of losing essential files or encountered the need to transfer data to a platform with more extensive storage capacity? Whether it's the anticipation of acquiring a new Galaxy phone or simply a precautionary measure to prevent data loss, the imperative to back up Samsung phone to PC arises at crucial junctures in our digital lives.
In this passage, we delve into the intricacies of backing up your Samsung phone to your computer, presenting a comprehensive guide to ensure the preservation of your important content.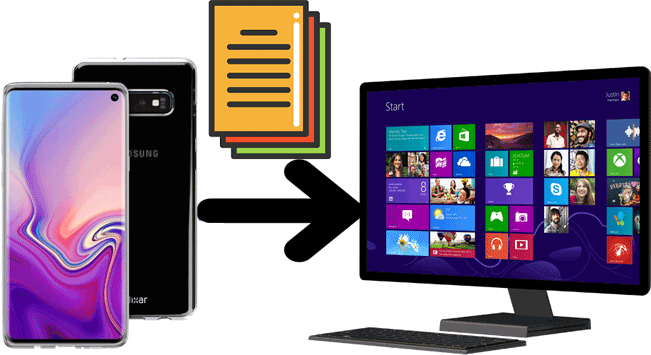 Way 1: Back Up Samsung Phone to Computer by Copy & Paste
Galaxy phones offer a traditional connection method to your computer, allowing straightforward Samsung backup to PC. However, only certain data types like photos, videos, audio files, and documents can be transferred or backed up to your PC via this method. Here's the user guide:
Connect your Samsung phone to your PC using a USB cable.
Grant permission on your phone by selecting "Allow".
Once your computer recognizes your phone, various options will appear on your phone screen.
Choose the "File Transfer" option.
Tap on "Charging this device via USB" and then select "File Transfer".
On your computer, open Windows Explorer and navigate to your Samsung phone in the left panel.
Click on "Internal storage" and paste the copied files onto your PC's hard drive for backup.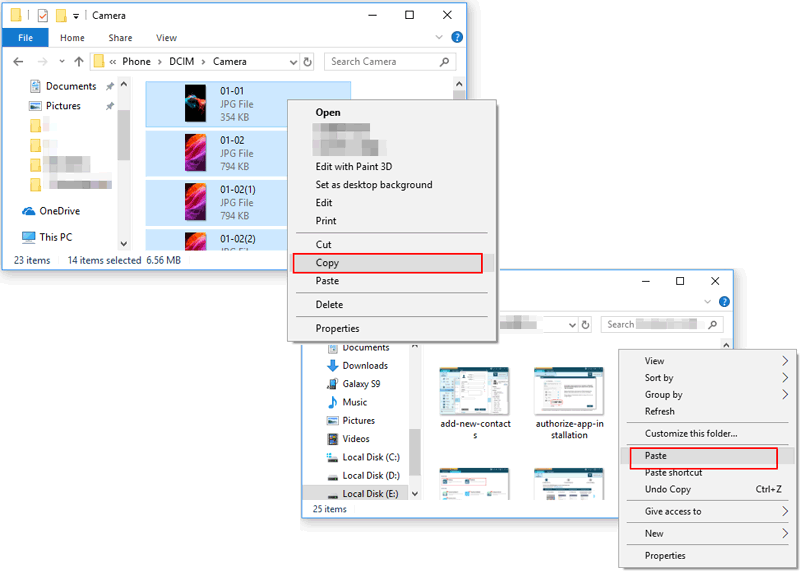 Pros & Cons:
Simple connection; cannot let you back up contacts, text messages, or other specific items.
Click to Access:
Way 2: Back Up Samsung Phone to PC in One Click
Designed for PC/Mac that enables easy backup and restore of Samsung/Android devices, MobiKin Backup Manager for Android (Win and Mac) (Referred to as Android Backup & Restore) is an efficient and powerful software. With just one click, you can initiating backing up Samsung phone to PC securely, ensuring no data loss. Furthermore, this program also facilitates the seamless restoration of data from the backup to your phone without any complications.
How can MobiKin Android Backup & Restore assist you with?
Back up Samsung phone to PC in one click.
Restore Android files without quality loss.
Let you connect your phone via USB or Wi-Fi.
Supported data types: Contacts, SMS, call logs, images, videos, music, apps, etc.
Compatible with 8000+ Android devices, including Samsung Galaxy S23/S22/S21/S20/S10/S10e/S10+/S9, Galaxy Note 10/9/8/7/6, Galaxy Tab, etc.
It won't disclose your privacy.
How do I back up my entire Samsung phone to my computer via Android Backup & Restore?
Step 1. Run the Android backup program
Download and install the software on your computer, then launch it. Connect your Samsung phone to the machine via USB or WiFi, ensuring you have enabled USB debugging on Samsung. The program will successfully detect your device.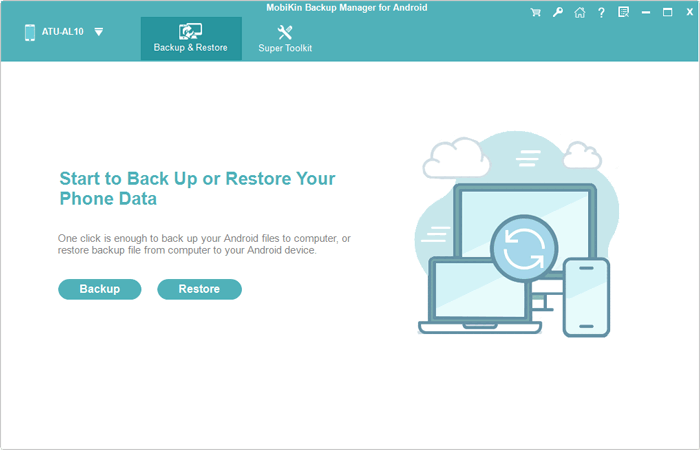 Step 2. Go for the "Backup" option
Select the "Backup" section from the main interface. The utility will display the file types available for backup. Next, choose the ones you want to include in the backup and set a custom output folder to save the backup data.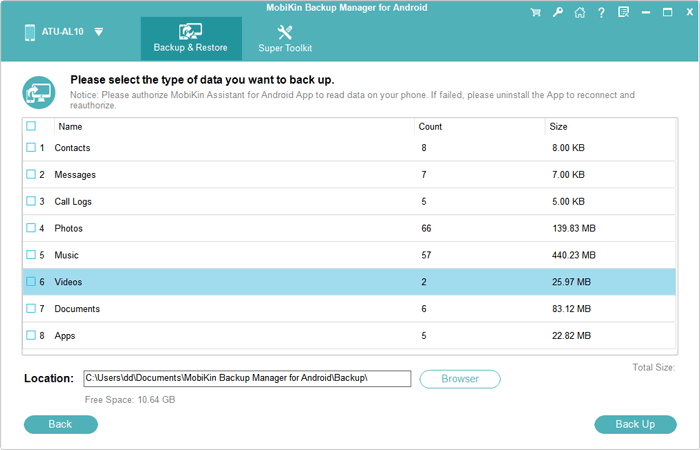 Step 3. Back up Samsung phone to PC
Initiate the transfer process by clicking the "Back Up" button. While the backup is in progress, avoid disconnecting your device. Lastly, you'll receive a notification once the backup has been successfully created.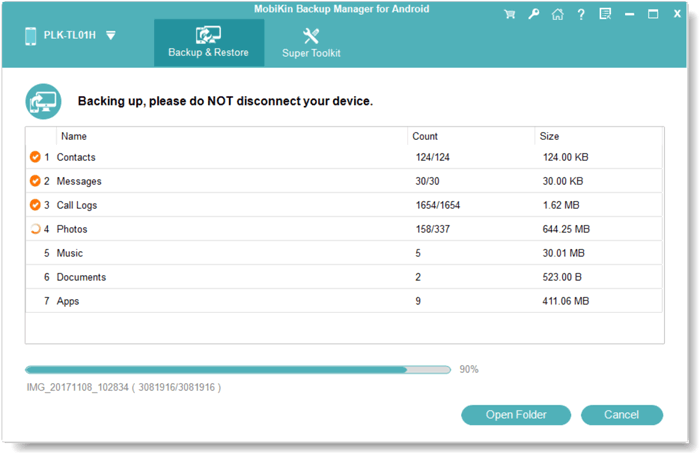 Pros & Cons:
Efficient, safe, and offline backup; the full-featured version comes with a cost.
Way 3: Back Up Samsung Phone on PC with Samsung Cloud
If you accidentally deleted data, you can restore it through Samsung Cloud, a dedicated storage server by Samsung, by downloading the previously backed-up data. (What if Samsung Cloud backup failed?) Please note that the settings and screens may vary based on your software version. Here's how to make a Samsung phone backup to PC via Samsung Cloud:
Navigate to Galaxy's "Settings" > "Cloud & Accounts" > "Accounts" and add a new account.
Choose Samsung from the options and log in or create a new Samsung account.
Once linked, go to "Settings" > "Cloud & Accounts".
Select the Samsung Cloud account and toggle the data you want to sync.

For a manual backup, tap the three-dot icon at the top and choose "Sync Now".
Pros & Cons:
It allows for automatic syncing of data; it offers limited free storage, and the compatibility of Samsung Cloud services can vary by region.
Further Reading:
Way 4: Back Up Galaxy to PC Using Samsung Kies
Samsung users can utilize the free Samsung Kies app for Samsung backup for PCs, transferring data, and upgrading firmware and OS. How do I back up my entire Samsung phone with Samsung Kies?
Begin by connecting your Galaxy phone to your computer using a USB cable.
Then, access the "Backup/Restore" option on the main interface of Samsung Kies.

Subsequently, select the "Backup" option and choose the data categories you wish to back up.
Finally, click the "Backup" option to initiate the Samsung backup process.
Upon completion, a prompt will appear, and you can exit by clicking the "Complete" button.
Pros & Cons:
Accessible for users with varying levels of technical expertise; limited to certain Samsung devices and lacks seamless cloud integration.
Way 5: Back Up Samsung Galaxy to Laptop with Smart Switch
To Smart Switch back up to PC, please check your PC's compatibility with this app by visiting the program's page. Go to the "Overview" section and click "Requirements". If your system meets the criteria, choose your preferred download method before gathering your files. Then check out the steps for Samsung backup with this Samsung Kies alternative:
Connect your phone to your computer using a USB cable and tap "Allow" on your phone.
Open Smart Switch on your computer, then click "Backup".

Choose data categories to back up (Calls and contacts, messages, apps, etc.).
The "Select all" option is the default, but you can deselect items.
Clicking a category allows specific item selection.
Click "Backup" when ready. Your computer will start backing up, taking several minutes.
When complete, a screen will confirm. Select "OK".
If your device isn't recognized, choose "MORE" > "Reinstall device driver". Disconnect Samsung while Smart Switch installs drivers. After installation, reconnect your device to your computer.
Pros & Cons:
This method lets you choose specific categories or items to back up; occasional technical glitches like Samsung Smart Switch stuck, leading to failed backups or restores.
Way 6: Back Up Entire Samsung Phone to Computer via Google Account
Google automatically backs up and stores contacts, files, photos, and videos, allowing you to access them from anywhere. Here's how to back up Samsung phone to PC without Smart Switch using a Google account:
Navigate to "Settings" > "Accounts and backup" > "Back up data" on Samsung.

Select the "Google Account data" option and enable the toggle for "Contacts".
Access "Google Contacts" on your PC and log in with the same Google account for Google Contacts sync.
Finally, you'll find all your backed-up contacts there.
Pros & Cons:
Provides a certain amount of free cloud storage for each Google Account; data synchronization relies on a stable internet connection.
Way 7: Back Up Samsung Phone to PC by Bluetooth
If you experience Wi-Fi connectivity issues, consider connecting your Android device to your PC using Bluetooth. Please note that it's slower, and both devices must be in close proximity.
How to back up Samsung S23/S22 Ultra/S21/S20/S10 to PC over Bluetooth?
On your Samsung phone, go to "Quick Settings" > enable "Bluetooth" and ensure it's discoverable.
On the PC, navigate to "Settings" > "Devices" > "Bluetooth" > enable "Bluetooth".

If your phone appears on the device list, select it and click "Pair".
After successful pairing, open the "File Manager" app on the phone.
Choose files to back up, and select "Send" > "Bluetooth".
Pros & Cons:
Eliminating the need for cables or Wi-Fi; interruptions may occur during the transfer process.
Summary
This article has covered the process of backing up Samsung devices to a PC. Along with providing detailed instructions for all approaches, we have also analyzed the pros and cons of them. Well, which one do you like best? Frankly, if you prioritize transmission efficiency, ease of use, and security, we accord MobiKin Backup Manager for Android the utmost acknowledgment. If you have any further inquiries regarding mobile phones, please feel free to leave a comment below.
Related Articles:
6 Methods to Retrieve Deleted Text Messages on Samsung S23 Ultra, S22 Ultra, S21, etc.
How to Export Samsung Calendar? 4 Methods for Samsung Calendar Export & Import
Top 5 Methods to Remove Google Account from Samsung without Password
How to Transfer Photos from Samsung to iPhone 15/14/13/12/11/X/8 [7 Options]
Screen Mirroring Samsung: 5 Tricks to Mirror Samsung Screen to TV/PC/Mac