[2023] How to Connect Samsung Phone to PC in 5 Excellent Ways?
Instead of switching back and forth between devices or options within, most of us would like to connect phones to PCs for seamless multitasking. Well, if you have a Samsung Galaxy phone, you probably want to organize its data, transfer/back up files, or respond to messages and calls on a computer. OK, firstly, you may be faced with - how to connect Samsung phone to PC flexibly?
Today, we will guide you on how to connect Samsung phones to computers in 5 easy ways. And you can decide which one to pick after reading.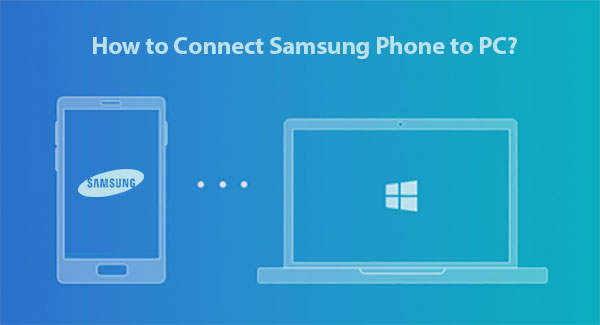 Way 1: How to Connect Samsung Phone to PC via USB/WiFi
Some may use Samsung programs to connect phones to computers. Yet, they aren't often good at managing Samsung phones. They could be inefficient or fail to work at times. So, what's the most effective and secure way to connect Samsung to PC? Just try MobiKin Assistant for Android (Win and Mac). It's easy to connect, and after that, you can transfer or organize the data on the device without any trouble.
Principal features of Assistant for Android:
Offer simple instructions to connect Samsung phone to PC via USB or WiFi.
Transfer data between Android and computer within clicks.
Manage Android files on a PC/Mac directly.
Apple to various Android files, including contacts, call logs, SMS, music, photos, videos, books, apps, etc.
Work for a whole range of Android devices, including Samsung Galaxy S21/S20/S10/S9/S8/S7/S6/S5, Galaxy A51/A71/M20, Galaxy Note 20/Note 10/Note 9/Note 8/Note 7/Note 6, Galaxy Tab series, etc.
It won't uncover your privacy.
How to connect my Samsung phone to my computer with Assistant for Android?
* Option 1: Connect via USB:
Step 1. Connect Samsung to a computer with a USB cable. The incoming window will pop up if you have not turned on USB debugging on your device. Follow the prompts to enable USB debugging on Samsung.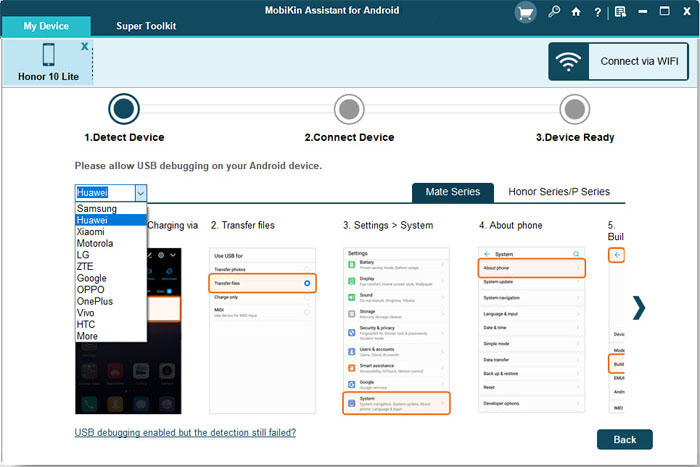 Step 2. Then the tool will detect whether the driver has been installed on your computer. If not, it'll start downloading the driver.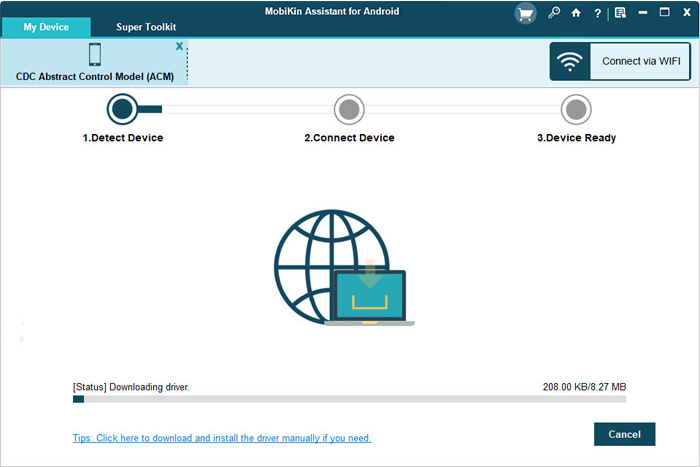 Step 3. When the download completes, please follow the prompts to properly install the driver. (What to do if the driver installation failed?)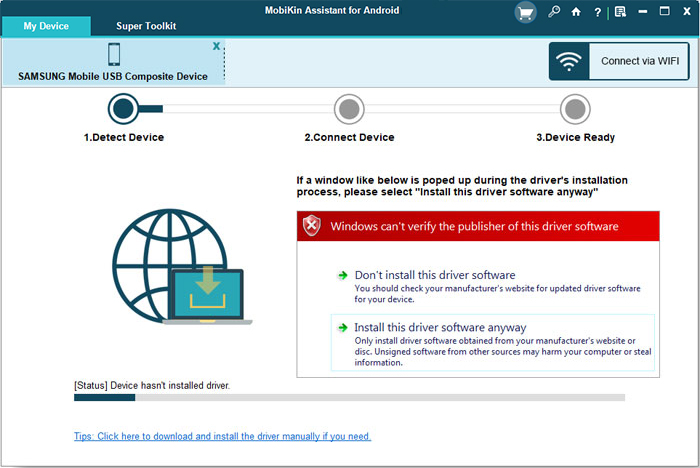 Step 4. After that, you will get the following screen if your device is running Android 4.2 or above. Just click "OK" or "Allow" on your Samsung phone as prompted.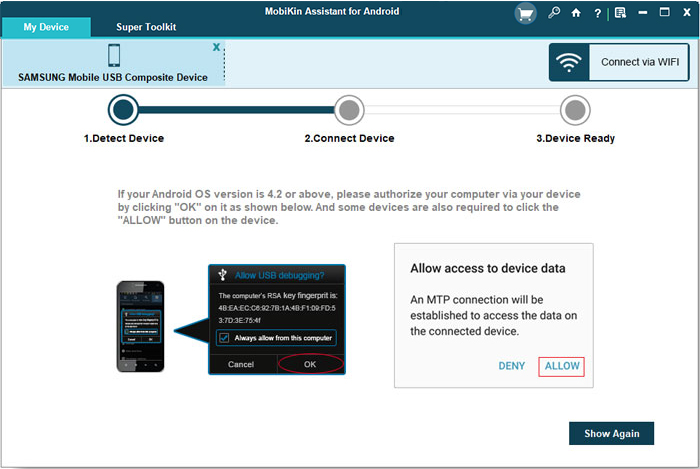 Step 5. The program will automatically install the Assistant for Android (Android Version) on your phone. Now, please complete the authorization on Samsung if a window pops up to ask you to authorize the installation. If it doesn't appear, you can click "OK" on the computer. After that, the app will be installed automatically, and you just need to wait till the installation is over.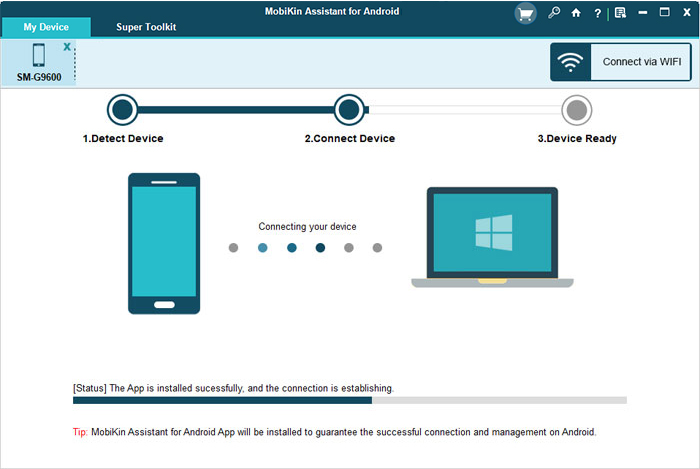 * Option 2: Connect via WiFi:
Step 1. Turn on the "WiFi" feature on your Samsung phone. Connect your device to a strong WiFi network. Next, launch the program on your computer and choose "Connect via WIFI" from the upper right.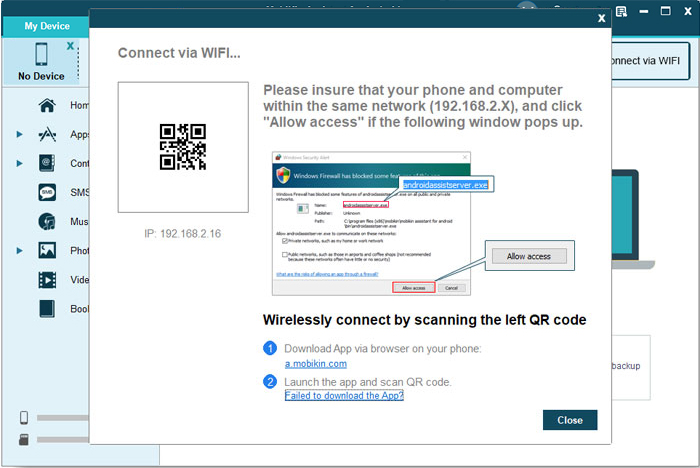 Step 2. Download MobiKin Assistant for Android (Android Version) and install it on Samsung. Run the Apk file and click "Scan QR Code" on your device to scan the QR code on this PC.
Step 3. Then, your Samsung device will be connected to the PC. Here, please ensure your Samsung phone and computer are within the same network.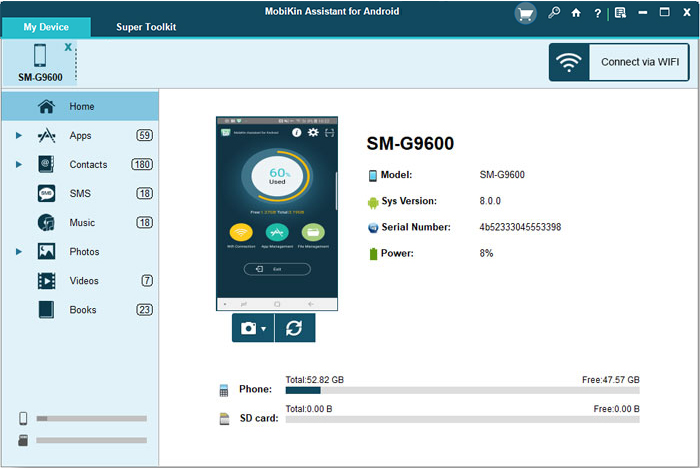 You can now use this program to back up and restore the Samsung data to PC with one click. Or you can transfer photos, music, videos, contacts, SMS, call logs, and apps between Samsung to PC without data loss. Moreover, this tool also lets you manage your Samsung phone on your computer easily.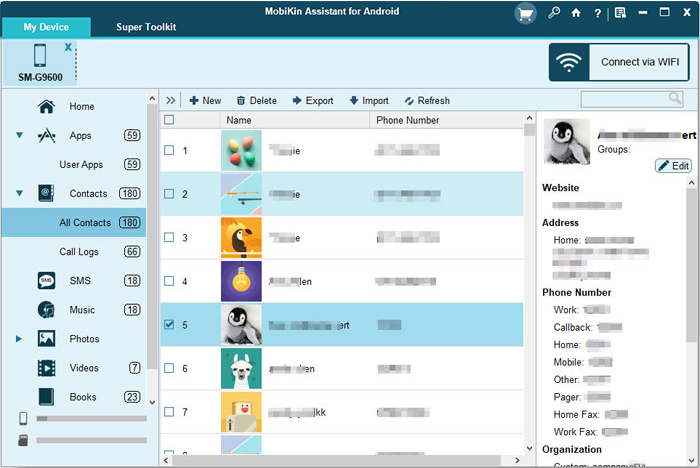 You May Also Like:
Way 2: How to Connect Samsung Phone to Computer with MTP/PTP Mode
This could be the most common way to get Samsung connected to PC. You will just need to plug your phone into any open USB port on your computer and then follow the steps below:
How to connect Samsung mobile to PC using data cable with MTP/PTP mode?
Connect Samsung to your PC via a USB cable. Once connected, your device would be detected by the computer.
A notification will appear on Samsung. Just choose "Media device (MTP)"/"Camera (PTP)" from the list on the notification.

Once selected, the Samsung device will appear as a portable hard drive on your PC, and you can access it directly from the computer.
Please click the message and choose "Open device" to view files from the provided options.
Next, open the Windows Explorer on your PC, select "This PC", and you'll see your device available.
Finally, select the device to manage or transfer files. (Want to transfer data from Samsung to iPhone?)
Way 3: How to Connect Samsung Galaxy to PC via Microsoft Account
First and foremost, make sure your PC is up-to-date and has a Microsoft account added. This will make it easy to link your Samsung phone and PC in this approach. Obviously, it's a virtual Samsung connector to make a connection between PC and Samsung.
How do you connect a Samsung phone to a computer via Microsoft account?
If you have a newer Galaxy phone, it'll have the "Link to Windows" feature built right in, which lets you connect your phone to your computer.
And you can also download it from the Play Store if it wasn't integrated into your phone. Remember to ensure you have a Microsoft account added to your PC.
Next, make sure your Windows PC has the "Your Phone" app installed. It should come preinstalled on most Samsung models. If it wasn't installed, just download the app from the Microsoft Store.
When you're ready, open the "Your Phone" companion app on your PC.
Select "Open Your Phone" on your PC.
Select the checkbox, and a QR code will be displayed.
Open the Quick settings panel on Samsung by swiping down from the top of the screen.
Then tap "Link to Windows".
Tap "Link your phone and PC" on your phone's screen, followed by "CONTINUE".
Scan the QR code to log in to the same Microsoft account that's on your computer.
If your account is already logged in to your phone for a service like OneDrive, you have to scan the QR code.
Tap "CONTINUE" again and allow the different permissions.

Follow the on-screen directions on both devices to finish connecting your Samsung phone and PC.
You are now ready to use the "Your Phone" app on your PC to sync your photos, answer calls and messages, and mirror your phone.
You May Be Interested in:
Way 4: How to Connect Samsung Phone to Laptop/Desktop over Bluetooth
Want to connect Samsung S9/S10/S20/S21 to PC wirelessly but not WiFi? Just try Bluetooth. After the connection, you can transfer files between your Samsung device and PC via this feature.
How to connect Samsung mobile to PC via Bluetooth?
On Samsung, go to "Settings" > "Bluetooth" and turn Bluetooth on.
Ensure your phone is set to be discoverable via Bluetooth.
On PC , go to "Start" > "Settings" > enable "Bluetooth".

Your Samsung phone will display the list of devices. Select the "Pair".
Your PC and your phone may pop up a passcode. Ensure the codes match on both devices.
Tap "OK" on Samsung and "Yes" on PC. Otherwise, select "No" or "Cancel".
The devices should then be paired.
Lastly, just select "Send or receive files via Bluetooth" from your computer.
Way 5: How to Connect Samsung Mobile to Laptop with Samsung Kies
Samsung Kies, similar to Apple's iTunes software, can be used to connect Samsung Galaxy S8/S9/S10/S21/Note to computer before managing and transferring Android data with ease. Generally, you need to make the connection via a USB cable. And wireless LAN Kies connectivity is only possible for some devices.
How to connect Samsung mobile to PC via USB with Samsung Kies?
Install Kies on your desktop or laptop.
Select "Menu" and choose Settings > Wireless and Network > USB Settings.
Click "Samsung Kies" to enable it.
Connect your PC to your Samsung device with the USB cable.
Finally, Kies should automatically recognize your device. (Samsung Kies cannot detect my phone?)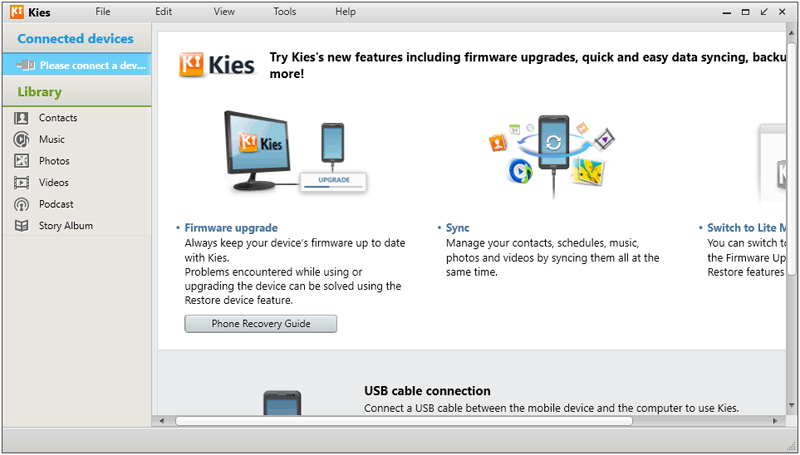 Conclusion
Above are the five wonderful methods for how to connect Samsung phone to PC. You can now pick one to get your device linked with or without a USB cable. And more importantly, you probably need to carry out the tasks for different purposes, such as transferring data between Samsung and PC or managing Samsung data on your computer at your disposal. In this regard, MobiKin Assistant for Android is surely your best bet.
Related Articles:
How Can I Connect My Android Phone via Wi-Fi?
[Solved] Samsung Galaxy S21/S20/S10/S9 Cannot Connect to Wi-Fi, How to Fix It?
Cannot Connect to WhatsApp on Android? Solutions are Here!
USB Debugging Enabled, but the Detection Still Failed?
Samsung Galaxy Recovery - How to Recover Samsung Data from Normal & Crack Samsung Galaxy
What to Do When iPhone Won't Connect to Mac? [11 Workarounds]