How to Backup Android Text Messages As An HTML File
By saving the Android SMS information in as an HTML file, the user can manage their text messages in a format that makes it easy for them to manipulate it in a laptop or desktop environment. The user can also print their SMS information out on their printers so that they will have access to paper file records of the people that they want to keep up with. It is also important for users to know that they can save it to an HTML file so that they can store it away as a backup. Specifically, in the even that data is loss. Then, how to backup your Android phone SMS as HTML file on your computer?
With the help of MobiKin Assistant for Android or Assistant for Android (Mac Version), the user will have the capability to transfer all of the files, such as SMS, contacts, photos, videos, music, apps and etc. on their old Android device to computer or to a new Android phone, or they may simply select to transfer all of their text messages instead. Either way, Assistant for Android gives their users the capabilities of making the updates and transfers that they need to do in a 1, 2, 3 step process. Also, user should know that the SMS is transferred to computer and saved as HTML file, without experiencing unnecessary hassles of data loss or files being inaccessible for access on the new device. What's more, it allows you to import text messages from computer to Android, delete Android SMS on computer, and even send & receive text messages on computer directly.
Assistant for Android makes it easy for any Android user, no matter Samsung, HTC, LG, Sony, Motorola, Nexus, Huawei or ZTE users, to save their Android text messages as an easy to read, review and print HTML file. When the user accesses the official site, they will find the instructions that they need to complete this process.
Guide to Save Android Text Messages in HTML on Computer
Step 1. Set up your Android phone
Run the program on the laptop or desktop computer after downloading and installation. Connect your Android phone to the laptop or desktop computer and wait until the program recognize your Android phone.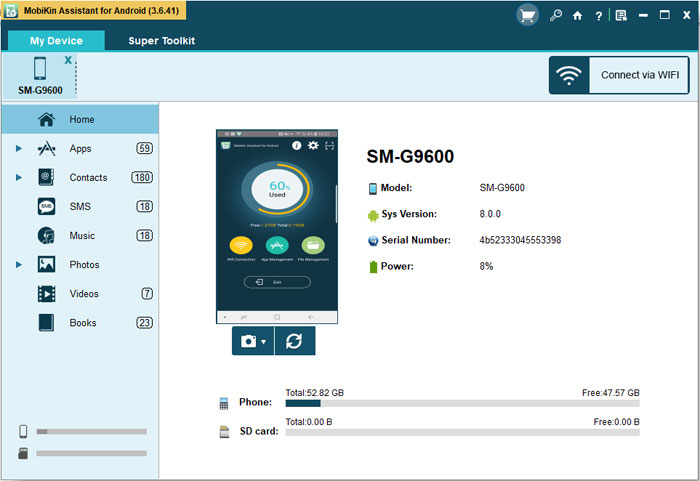 Tips: if you haven't enabled the USB debugging on your phone, the Android data managing tool will be failed to detect your phone. Therefore, you have to follow the instructions below to open USB debugging on your phone.
For Android 2.3 or older, Go: "Settings" < Click "Applications" < Click "Development" < Check "USB debugging".
For Android 3.0 to 4.1: Enter "Settings" < Click "Developer options" < Check "USB debugging".
For Android 4.2 or newer: Enter "Settings" < Click "About Phone" < Tap "Build number" for several times until getting a note "You are under developer mode" < Back to "Settings" < Click "Developer options" < Check "USB debugging"
Step 2. Go to the SMS managing window
Go to the Contact managing window by clicking the "SMS" option from the left panel. At the SMS window the user will see the list of their text messages on the right. Here you can pick and choose the messages that they want to export.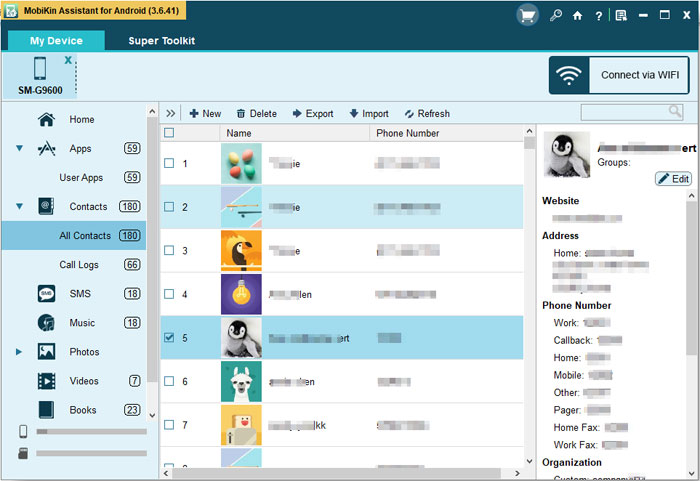 Step 3. Backup Android SMS as HTML
After selecting the text messages you want to backup, you can directly give a click on Export button, and then save the messages as HTML file in your specific file folder on your computer.
In the End
Save Android text messages as an HTML file can help you back up your phone text messages very well. If you want to delete, back up and restore on your computer, or send and receive text messages directly on your computer, MobiKin Assistant for Android can do it all.
Related Articles:
Useful Tips to Delete Call History/Logs on Android in Different Cases
4 Useful Ways to Transfer Contacts to SIM Cards (Android & iPhone)
Any Tips to Fix the No SIM Card Error on Android? 16 Fabulous Ways for You
Ultimate Guide on How to Transfer Contacts from Android to Android in 2023
Best Android Contact Editor: How to Edit Android Contacts on PC
[SOLVED] How to Recover Contacts from Android Phone After Factory Reset?