Useful Tips on Using Dropbox on Android
There are millions of people owning a Dropbox App on their Android phones but a few people can make full use of this great application. Therefore, in order to help you make full use of Dropbox, this tutorial is written to tell you how to use Dropbox on Android. With the these useful tips, you will be able to share, backup, access and protect the files in Dropbox without any hassle.
How to Share Files and Folders in Dropbox?
One of the main features of Dropbox is to share files or folders with others so it is essential for you to know how to share files and folders in Dropbox. To complete the sharing process, you have two methods:
See also:
How to Share Photos in Dropbox on Android?
Method 1. Invite other Dropbox users to the folder or file
When your receiver is also a Dropbox user, you can simply share the files or folders by inviting him/her. By using this means, you can co-edit the folder or file with the receiver. In addition, all the members of the shared file or folder can comment the documents and sync the comments across all members. But here you need to know one thing in advance: only the contacts on your phone can be invited. So just add the receiver to your contacts list beforehand.
Now let's see how to invite Dropbox users to a file/folder.
Step 1. Launch the Dropbox on your Android and then go to the folder or file you want to share.
Step 2. Next, just tap on the arrow down icon beside the folder to display the menu and then select Share from the listed option.
Step 3. Enter the name of the receiver and a drop-down list will show with contacts suggestion when you are typing. Just select the one you want to invite and click Can edit or Can view to set editing permission or view-only permission to the receiver.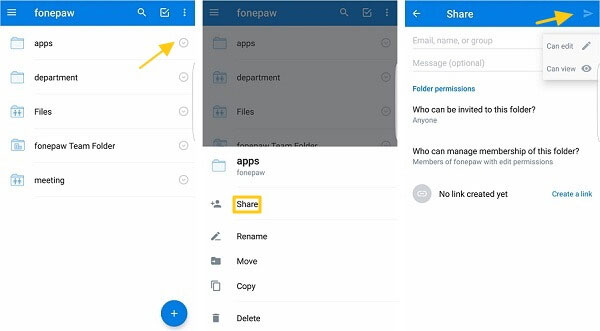 Step 4. At last, you can tap on the send icon at the top right corner to send the invitation.
Here, if you just want to share a single file in certain folder by sending invitation, you can only give view-only permission to the receiver.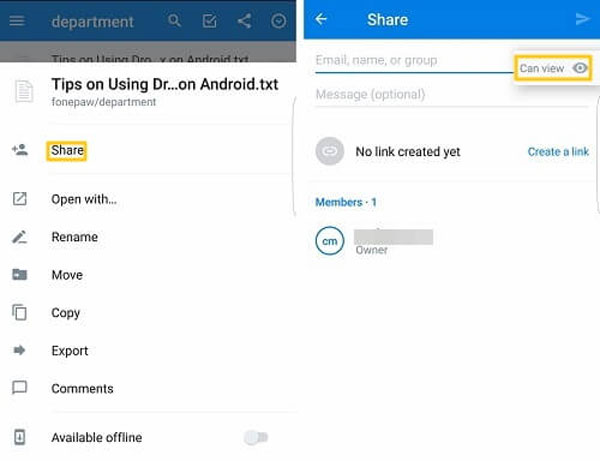 Method 2. Send a link via social software
Another option is to send a link to your contacts on social software like WhatsApp, Facebook, Skype, Line, Twitter, Viber, etc. as long as you have installed the application on your phone. The followings are the details about how to send a link via social software:
Step 1. Open Dropbox on your phone and find out the file or folder you want to share.
Step 2. Tap on the arrow down icon and select Share from the pop-up window.
Step 3. Next, you need to elect the option Create a link and decide which application you want to use to share the link, including message, WhatsApp, Skype, Facebook and so on.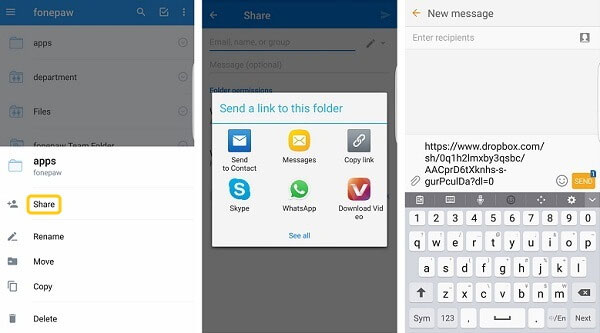 After sending the link, the recipient will be able to access the file or folder by clicking the link.
Backup Android Files (Apps, Photos, Docs, etc.)
The second main function of Dropbox is to backup the Android files. This is a good way to prevent your files from losing. You can upload the files on your phone like images, videos, applications or other documents to Dropbox and then you are able to view and use them even when your phone is stolen. To achieve this goal, you only need to sign in your Dropbox account and download the files from it.
Then how to upload the Android files to Dropbox? Here is a tutorial about that:
Step 1. Click on the Files option on your Dropbox and then tap on "+" icon which will bring the option Upload photos or videos or Upload files.
Step 2. Select the APK file, audio, video, photo, docs to upload and then they will be saved on Dropbox.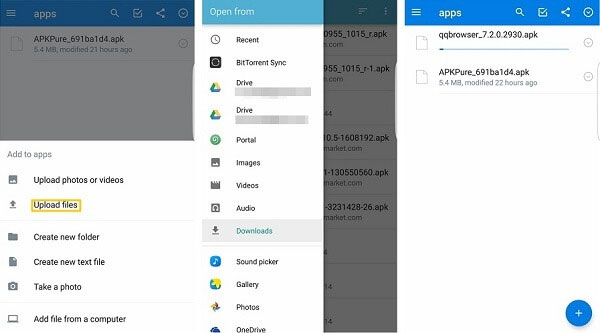 Step 3. After that, you can delete the original file on your Android phone to free up the device.
You can also read:
Restore Missing Files with Dropbox
How to Get More Free Dropbox Space?
Access Text & Photos Offline
After uploading the files, it is certain that you can access the files on Dropbox freely when the phone is connected to a good network. But what if there is no any network connection available? How can you access the text messages, photos or other files offline? In this case, you need to add the important files to Offline folder:
Step 1. Open the file that you want to see offline.
Step 2. Click the arrow down icon and turn on the feature Available offline.
Step 3. Go to the Offline folder and then you can see the selected files offline.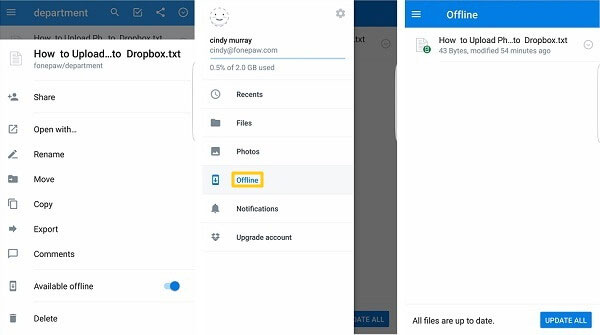 You can also save the files to your Android phone so that you can view them on your device directly. Just tap on Export> Save to device.
Set Password to Protect Dropbox Files
File security is another factor that most users care about. And if you want to protect the files that you have saved in Dropbox, you can set a passcode for the files. This would greatly prevent your data from revealing.
Step 1. Enter the Settings section of your Dropbox and go to the Advanced feature.
Step 2. Next, you need to enable the feature Turn passcode on and type in a four-digit passcode for two times.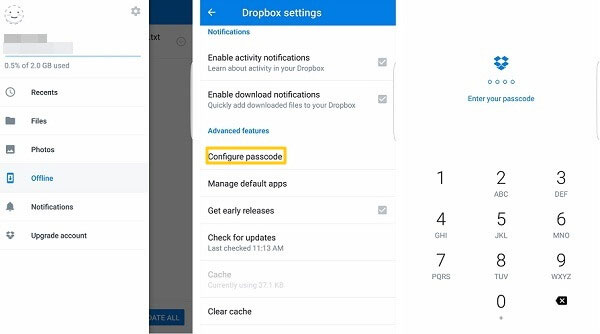 Step 3. You can also select to turn on the Erase data feature to enhance the protection. After enabling this feature, Dropbox will erase the data after ten times of wrong passcode attempts.
Related Articles:
Common Tips to Fix Dropbox Issues on Android