4 Methods to Delete Photos/Videos from Android Phone Singly, Multiply or Entirely
Capturing a snap with an Android phone is a common scene in our lives. We often use the "life recorder" to keep memorable moments. You may find your device is running out of memory with alarmingly increasing photos/videos. Therefore, it's wise to transfer photos from Android to PC or any independent storage before removing some or all of them from your device. Well, here comes a question - how to delete photos from Android?
Now, follow this passage to learn four handy methods to remove photos off of your Android device.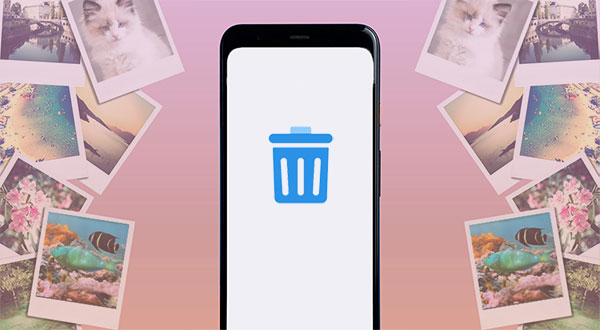 Way 1: How to Delete Photos from Android Gallery/Photos App
It's quite simple to delete images from Android Gallery or Photos app directly. To fulfill this, you can go to the app's menu and select your unwanted items before moving them to the "Trash".
* How to remove/delete single photos/pictures from Gallery on Android?
Open the Photos or Gallery app.
Get into the album that stores the photo you wish to remove.
Press and hold the image until a trash icon appears.
Tap "Trash"/"DELETE" at the upper-right portion of the screen.

Touch "OK" or "Move to Trash".
Read Also:
* How do I delete multiple pictures/photos at once from my gallery on Android?
Open the "Gallery"/"Photos" app.
Go to the album that saves the pictures you wish to remove.
Tap "Menu" at the upper-right corner of the screen.
Choose "Select item" or "Select…".
Tap the photos you want to remove.
Hit "Trash" at the top right.
Tap "OK" or "Move to Trash".
Way 2: How to Delete Photos from Android Phone with File Manager App
You can remove the whole folder from your device if it is running Android OS 5.1 Lollipop. However, you may be unable to omit photos from some galleries created by syncing with an account, for they have no folder within File Manager.
How do I delete all pictures on my Android phone with the File Manager App?
Open the "File Manager" app on Android.
Go to the location in which the photo album is located. (they are in the "DCIM"/"Pictures"/"Images" folder)

Tap and hold the folder you intend to remove.
Select Recycle Bin/Delete to remove the entire album.
Way 3: How to Delete Photos on Android Using Google Photos
Google Photos empowers you to save storage on your Android phone by deleting photos from your device that are backed up. You can use it to remove specific pictures/folders for deletion.
How to delete images from Android phones with Google Photos?
Open Google Photos on your Android phone.
Select photos or videos.
Tap the three-dot icon at the top to open the menu.
Touch Delete from Device to remove them.

Note that the pictures will remain in Google Photos. (learn more ways to delete photos on Google Photos?)
Important:
If you delete a photo or video that's backed up in Google Photos, it will stay in the trash for 60 days.
Provided you find a photo or video in Google Photos you thought you had deleted, it might be on a removable memory card. You can delete it from your Gallery app.
You May Be Interested in:
Way 4: How to Delete Photos from Android with Assistant for Android
Do you want to delete photos from various folders in your Android phone's album directly on a computer? Just try MobiKin Assistant for Android (Win and Mac).
This program allows you to select any number of photos or videos and delete them within one click. It is a comprehensive device management tool with multiple options, such as "Delete", "Export", "Import", "Back up", "Restore", "Add New", etc. Since its launch, it has served millions of Android users and won a good reputation.
Core features of MobiKin Assistant for Android:
Delete photos and other data from Android devices flexibly.
Transfer files between Android and PC/Mac.
Play functions on content like contacts, messages, call logs, photos, videos, music, books, apps, etc.
Back up Android phones and restore them in one click.
Manage Android data on computers in a well-organized manner.
Work well with 8000+ Android phones/tablets, including Samsung, Xiaomi, Motorola, LG, Sony, Huawei, Vivo, OPPO, Google, HTC, and a lot more.
It never lets out your privacy.
How to delete all/specific photos on Android via Assistant for Android?
Step 1. Connect Android device to a computer
Open the program on your computer after the download and installation. Its initial interface now reminds you to connect your Android phone to the computer via a USB cable.
Step 2. Let the tool recognize your phone
After making the physical connection, enable USB debugging on Android to let the software identify your phone. Then, the main interface of the program will turn up.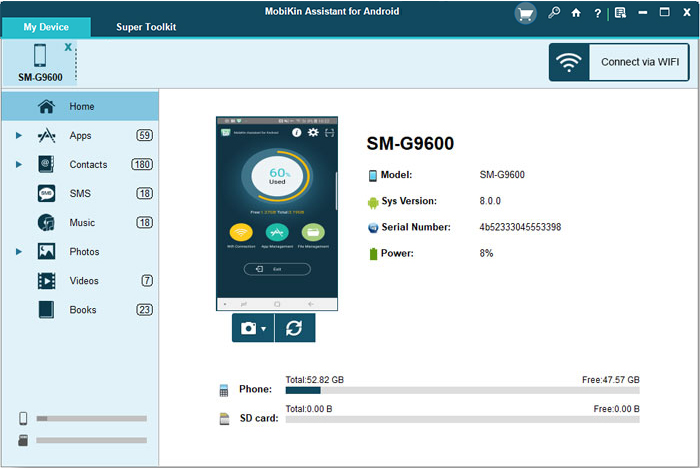 Step 3. Preview and select pictures for deletion
From the left menu, click "Photos" > "Camera"/"Library". You'll then access all the images on this phone from your computer. Now, preview and choose whatever you want before clicking "Delete" on the top screen.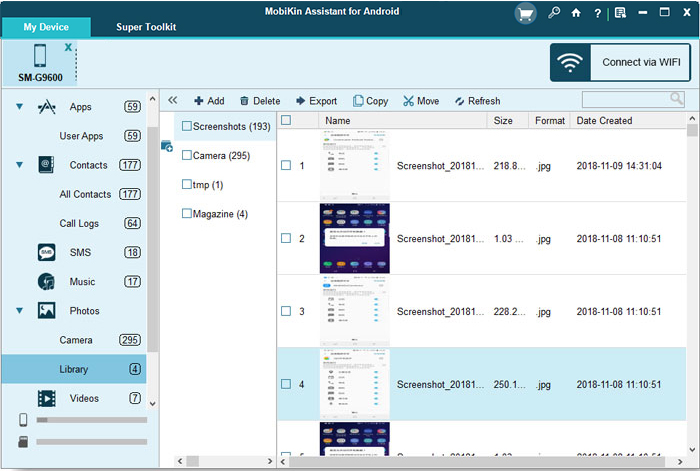 Bonus: How to Delete Photos from Android Phone Permanently
Well, you might as well erase your device or delete photos from your Android phone permanently if you're to pass it on to its next owner or just want to clear some privacy thoroughly. Given this, MobiKin Eraser for Android is worth a shot.

This tool is designed specifically for Android users to securely delete the device data without leaving a pinch of their personal details. Before going any further, do remember to back up your Android phone to your computer for preservation, as it'll wipe away all your Android content after the task.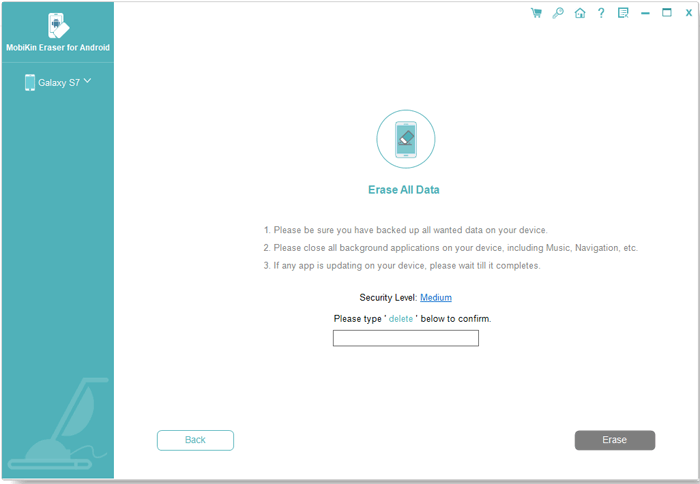 Final Verdict
Do you want to delete single, multiple, or entire Android photos/videos in simple clicks? Do you need to take full control over your Android on a PC/Mac without effort? MobiKin Assistant for Android can do exactly those. It is the most professional software to organize Android photos and other items on your computer. So, come and get it for a free trial now.
Related Articles:
3 Ways to Delete Photos from Samsung Galaxy Permanently in 2021
All My Photos Disappeared from My Android? 5 Fixes Here!
How to Permanently Delete Text Messages from My Android Phone?
How to Transfer Photos from iPhone to Android? - Top 5 Ways
7 Ways to Transfer Photos/Pictures from Computer to Phone
How to Transfer Pictures from Android to Mac Wirelessly [4 Tested Ways]