Complete Guide on How to Transfer Files from PC to Android
In fact, there are many methods available for you to transfer files from PC to Android. But in spite of this, most users are still disturbed by this problem since they need to search for the transfer ways from different websites or articles and then select the better one among them. But now you can get rid of the trouble cause this article will show you a complete guide about that.
From this tutorial, you can learn 7 easy but effective ways to perform the PC to Android transfer:
Transfer Files from PC to Android with Simple Clicks (Recommended)
The best way to transfer files from computer to Android is to turn to MobiKin Assistant for Android. Why do we say so? That's because this is a professional software that can help you accomplish the transferring process with simple clicks. Not only that, you can also use it to transfer files from Android to PC when you need to make a backup as well as manage the phone data on computer without any limitation. With the help of this program, the transmission can be completed in no time. Just click the icon below to download the free trial and have a try at first.
Step 1. Connect your Android phone to computer via USB cable (open USB debugging on your phone and install USB driver on your PC) or Wi-Fi network (click the option Connect via WiFi and then download APK file on your device to build a connection).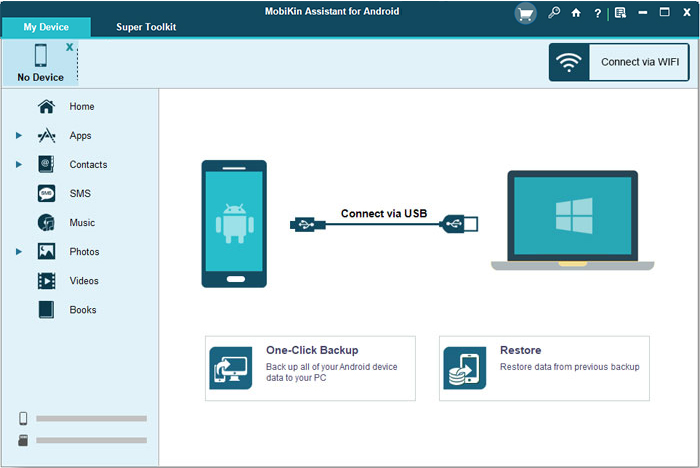 Step 2. When the tool successfully detects your phone, you will see an interface like below: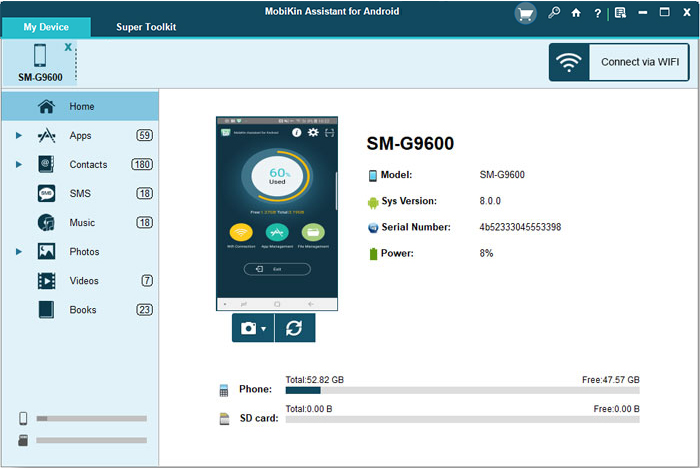 Now you can click on the folder that you want to sync the files, such as SMS. Then you can hit the Import button at the top menu. This will bring a window that enables you to browse the files on the computer. Just click on your wanted folder and confirm your option. After that, the syncing process will start and you just need to wait till the process ends.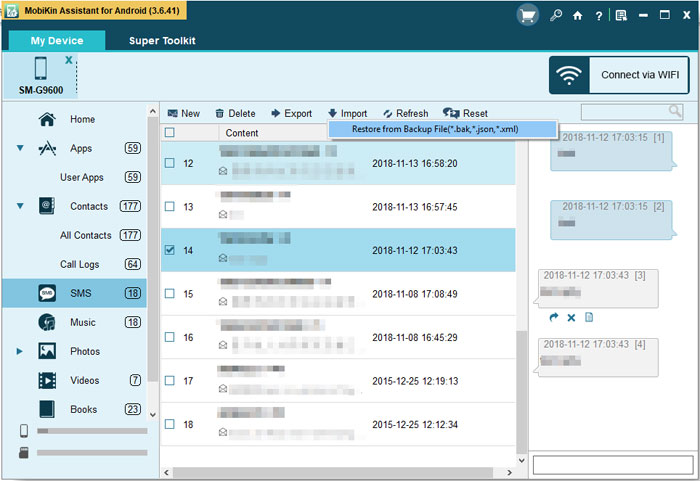 Upload the Files to Cloud Storage Service
It is also an ideal way to move the files with cloud storage service. You can select a cloud storage service like Google Drive, Dropbox, OneDrive, etc. and upload the files from computer to the service. And then you can download them from your Android phone easily. Let's take Dropbox as an example:
Step 1. Go to dropbox.com on your computer and login to your account.
Step 2. After entering the service, you can simply click on the option Upload and then choose Files or Folder to begin the uploading process.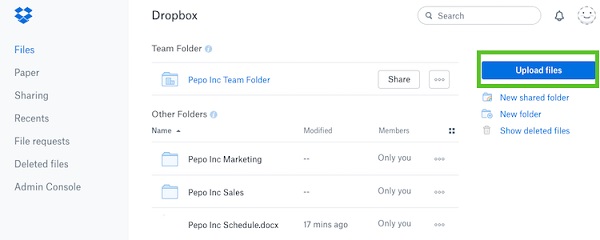 Step 3. When the uploading process finishes, you can turn on the Dropbox on your Android phone and then download the transferred files to your device.
Notice: By using this way, you should ensure that each uploaded file or folder must be 20 GB or smaller. If the file or folder is larger than 20 GB, the uploading process will fail.
You might also be interested in:
How to Back Up Android Data to Google Drive? [Solved]
Guide to Back Up Files with Dropbox
Useful Tips on Using Dropbox on Android
A Complete Guide on How to Back Up Files to OneDrive
How to Save Files from OneDrive to Android Phone
Dropbox vs Google Drive vs OneDrive - Which is Better?
Email the Files from Computer to Android Phone
Another suggested means is to attach your wanted files and send them via email. For example, you can compress the files you wish to transfer and then send them via Gmail. After that, you are able to download and view the files on your Android phone without any hassle. The followings are the detailed steps for your reference:
Step 1. Go to the Gmail.com and sign in with your account on computer.
Step 2. Next, you can click on Compose to write an email. In the email, you need to type in your recipient's email address in the "To" field. Here you can enter your own address. Then you should put a title for your email in the "Subject" box.
Step 3. Now you can simply tap on the Attach a file option under the "Subject" box to browse through your Windows folders and search for the folder that you want to send. After finding the folder, you can click on it and tap Open to add it as an attachment to your email.
Step 4. In the end, you can hit Send to send the files.

Step 5. Once Gmail tells you that the email is sent successfully, you can sign in to the email that you select to receive the attached file and download it to your Android phone.
Perform the PC to Android Transfer with ES File Explorer
ES File Explorer is a good assistant in PC to Android transfer as well. Users can use this application to manage their Android files expediently, including transferring files from PC to Android. Then how to perform the syncing process with this App? Just browse the following steps:
Step 1. Create a shared folder on your PC and make sure the permissions are set for read/write access.
Step 2. Then you can go to the ES File Explorer on your Android phone and tap on the globe icon at the upper-left hand corner. Next, you can tap on the options Network> LAN.
Step 3. Now you will see a menu at the bottom. Just tap Search in the menu to look for usable network shares on your LAN. When you successfully search the network, you will see your Windows computer listed with its IP address. If it fails, please ensure that your Android phone and computer are connected to the same local network and try again.
Step 4. Next, you can tap on the icon for your PC and enter the username and password of your Windows.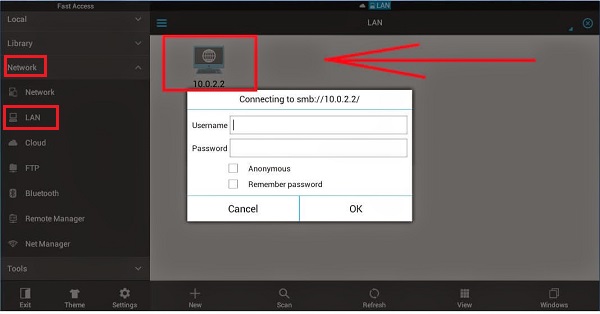 Step 5. Once the shared folder appears, you can start sharing files via ES File Explorer easily.
Sync the Files by Using Wi-Fi Network
Except for ES File Explorer, we have another useful application for your reference - Filedrop App. This application enables you to easily copy the files from PC to Android via Wi-Fi network. But to achieve this goal, you must have a shared network. After getting the App and connecting your Android and PC with the same network, you can start your work now:
Step 1. Install the recommended application on your Android phone and the companion software on your PC. Then launch them on your Android phone and PC simultaneously and tap on the Scan buttons.
Step 2. Choose the right type of device when the computer asks you the kind of device that you are trying to connect. Then you will be required to enter a device code which can be located by tapping the options icon in the device application. Just enter the code to pair the PC with the Android device.
Step 3. Now you can go to your Windows PC and drag and drop the files that you wish to transfer into the program.
Step 4. Agree to the transfer on your Android phone and then the transmission will begin.
Move the Files via Bluetooth
You can also make use of the built-in features of your Android device to sync the data. For instance, you can move the files via Bluetooth. This operation is just similar to the phone to phone transfer with Bluetooth - you only need to pair your Android phone and PC and then you can begin the transfer easily. The following is the tutorial:
Step 1. Turn on Bluetooth in both your Android phone and PC.
Step 2. Then you should go to the Devices and printers section in PC and elect Add a device option. After that, the computer will pick up your Android phone and you can select the right one and click next to continue.
Step 3. Next, the computer will give you a code to ensure whether you are connecting to the right device. This code will appear on your Android device as well. You should verify the codes to pair two devices.
Step 4. Once two devices are paired, you can start to transfer files from PC to android without any hassle.
Directly Copy the Files with USB Cable
Now let's come to the most original way of PC to Android transfer - directly copying and pasting the data via USB cable. By using this way, what you need to do is just to connect your Android to PC via USB cable> copy files on computer> paste the copied data to Android phone. The detailed steps are as below:
Step 1. Connect your Android phone to the computer with a USB cable. Next, you need to enter the Notifications panel on your phone to tap on Media device (MTP) and hit OK when the device asks you whether to allow USB debugging.
Step 2. Now the computer will recognize your Android phone as an MTP device and you can open it under My Computer section.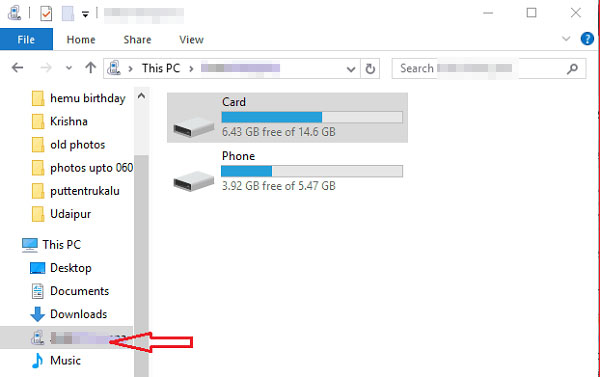 Step 3. At last, you are able to copy the files on your PC and then paste them to the folder of your device.
Wrapping Up
Done! These are all the possible methods to transfer files from PC to Android. Which means do you like? Just try the one you like and share your ideas with us after the transfer.
Related Articles:
[User Guide] Back Up/Transfer Text Messages from Android Phones to Computer/PC
Android File Transfer - How to Transfer Contacts from Android to PC/Computer?
Android Music Backup: Different Ways to Back Up Android Songs
[Solved] How to Back Up Call Logs on Android Phone?
3 Ways to Help You Back Up Samsung Phone on Computer Effortlessly