How to Update WhatsApp on Android?
Chatting on WhatsApp would be a convenient and interesting communication mode for Android users but you should remember to update the application regularly or you may:
* Miss some new and useful features of the new version.
* Meet some errors and fail to use the WhatsApp on your Android phone successfully.
* Cannot run the mobile phone smoothly due to the outdated WhatsApp version.
Hence, for the users who are using WhatsApp on their Android mobile phone, it is essential to learn how to update WhatsApp on Android and the solutions to fix the problem that would occur during the updating process.
Guide to Update WhatsApp on Android
There are two ways that users can used to update WhatsApp on Android- in WhatsApp settings or Google Play Store. Both of them are easy to learn and you can complete the upgrade in a short time. The followings are the specific steps of these two methods.
1. Update WhatsApp in the App settings
You can check the update information in the WhatsApp settings directly. The details are:
- Turn on WhatsApp application on your phone and then select Options.
- In Options section, you can tap on Settings and choose Updates.
- Tap on Check for updates to see whether there is any newer version available. If there is, you can go with the instructions on the screen to download and install the update on your phone.
2. Upgrade WhatsApp in Google Play Store
If you downloaded WhatsApp from Google Play Store before, you can choose to upgrade the application in the store as well. This means is also easy to operate- you just need to:
- Close WhatsApp on your Android phone first.
- Go to Google Play Store and look for the option My apps & games.
- Now you will see a list of applications that are installed on your phone. Just check if WhatsApp has new update.
- If there is update available, you need to tap on WhatsApp> Update and then you can upgrade the App easily.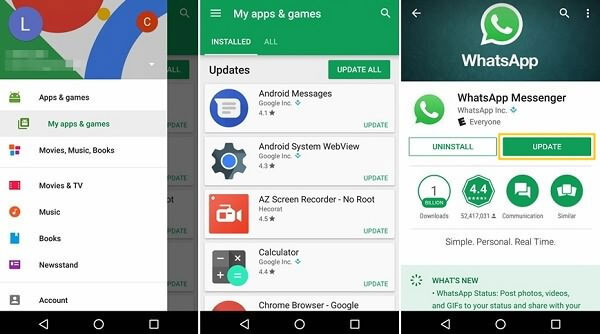 Problems You Might Meet While Updating WhatsApp
While downloading or updating WhatsApp on your Android phone, you might meet some problems. Here are some common issues that would happen during the WhatsApp update and their solutions. You can take them as a reference.
Issue 1. Get a Google Play error code
When you update WhatsApp in Google Play, you might get an error code from the store, such as Google Play error 491, 495, 927, etc. Once a Google Play Store error code appears, you can try the methods below to try to solve them.
1. Restart the device: You can reboot the phone to fix the error simply.
2. Reconfigure Google account: Just go to Settings> Accounts> Google and tap on your account. Then open the menu and select Remove Account to delete the saved account first. Then just restart your phone and navigate to Settings> Accounts> Add account to add your Google account back.
3. Clear caches of Google Play: Visit Settings> Applications> Google Play Store> Storage> Clear cache and Clear data to delete the useless Google Play caches from your phone.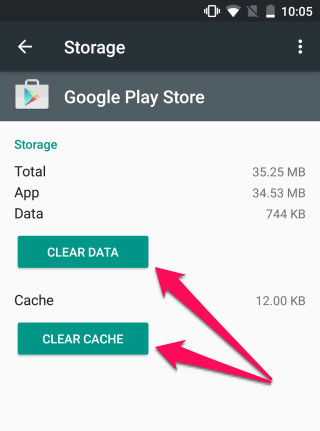 4. Reinstall WhatsApp: Go to Settings> Applications> WhatsApp> Uninstall to remove the App from the device and then go to Google Play Store to reinstall it.
5. Download WhatsApp APK file: Find the WhatsApp APK file from whatsapp.com and then download it to your phone.
Issue 2. Unable to install WhatsApp due to insufficient space
If you receive a message saying "There is insufficient space on the device" while updating the application, that means you need to make room for the updates. To complete the deletion, you can select to delete some useless files on your phone, such as duplicate songs, unwanted photos, junk messages and other files you don't need. Or you can choose to clear the caches and data of Google Play as well.
Issue 3. WhatsApp not available in your country
Another situation that you may face is that the application cannot be used in your country. This might because the country you live does not support WhatsApp but it also may be caused by other reasons. So you can make an attempt in this case:
1. Download WhatsApp APK file from whatsapp.com.
2. Turn on VPN apps on your phone and then download WhatsApp from Google Play Store.
Extra tips: During the updating or fixing process, you may lose or wrongly delete some WhatsApp data so you need to know to how to restore WhatsApp chat history or images as well. You can click on them to get the details.
Related Articles:
Full Guide to Fix WhatsApp Issues on Android Phone
Cannot Connect to WhatsApp on Android? Solutions are Here!
Tutorial to Sync iCloud (Contacts, Calendar) with Android Smart Phones
Complete Guide on How to Transfer Files from PC to Android
iPhone Calendar Manager: How to Manage iPhone Calendars on PC