What Are the Differences Among Internal, Phone and External Storage?
Mobile phones become popular due to its multifunction- users can use it to download, install, store applications or files, take photos, play music, watch movies, etc. But actually, all these functions are based on the storage space of the device. Without storage space, you can do nothing with your device. So it is essential for you to know the differences among internal, phone and external storage then you can better use your phone.
Differences Among Internal, Phone and External Storage
Generally, we divide the storage space of mobile phone into 3 parts: internal memory, phone storage and external storage. And among them, both internal memory and phone storage belong to the internal storage. And external storage often refers to the card or driver that is inserted into the phone like SD card, USB driver, SIM card, etc. Then, what are the differences among them? Let's take a look together.
1. Internal memory
Internal memory is often called system memory. It is used to save the system or application data, including operation system, system apps and other applications data like messages, contacts, email, settings, etc. The special part of this storage is that it is unaccessible to users. For example, you plug a 32GB Android phone to the computer but it only shows 23.9GB storage space. That means there are 8.1GB space are inaccessible. That is the internal memory of the mobile phone.

2. Phone storage
Phone storage is another part of internal storage but it is accessible. To check the used or unused phone storage, you can easily go to Settings> Storage> Used space to see how much space is taken up. With phone storage, users are able to add, delete, backup or restore different files on the device without any hassle, including applications, games, photos, music, videos and so on. In this regard, phone storage is the storage space that is used most frequently.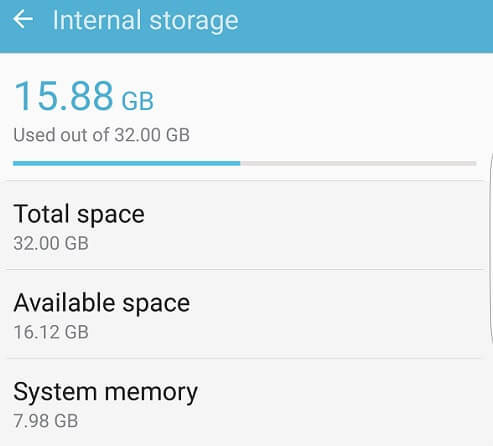 3. External storage
External storage refers to some removable storage cards that are inserted on the device. It normally means the microSD card. After plugging the card into the card slot, the usable storage space of the device will increase so users are capable of downloading and saving more applications or files on their phones without slowing the devices down.
However, no all the Android phones support the external storage like Nexus. That's because the storage space is increasing and the internal storage can meet the requirements of users already. Another vital reason is that some SD card would affect the device's performance and make it sluggish. Thus, if you want to insert a SD card to your phone, remember to choose a suitable and reliable one.
Common Questions about Internal, Phone and External Storage
Most users are not clear about the internal, phone and external storage so they may have many problems about them, especially about external storage. Hence, we would like to discuss two common problems in this part:
1. Is it better to move applications to SD card?
Generally, applications would occupy a lot of space of the device which will slow down the phone as well as cause some problems. So it will be helpful to move the Apps to SD card. Nonetheless, you should know that:
- Not all device allows you to move Apps to SD card. Most Android devices equip the feature Move to SD card enables users to transfer their Apps to external space. But some devices like Moto X pure, Samsung models running on Android 4.0-4.2, etc. are unable to move Apps to SD card.
- Not all Apps can be moved to SD card. The applications that are pre-installed on the phone, such as YouTube, Messages, Camera, Google Chrome, are unable to be moved to SD card. In addition, some third-party software like WhatsApp cannot be transferred to SD card as well.
See also:
How to Move WhatsApp Data to SD Card?
How to Sync Android Apss to SD Card?
- Not all the App data can be synced to SD card. During the moving process, some App data will be lost or erased or parts of the App data will still remain in internal storage. This is not a rare problem so you need to backup the files in advance.
2. How can I move Apps to SD card?
It is very easy to move applications to SD card:
- Plug the SD card to your phone and then launch the device.
- Now just go to Settings> Application Manager/App and select the wanted application from the listed menu.
- In the App Info page, you can simply tap on Move to SD card to begin the moving process. Here if the option gray out, that means the application is unremovable.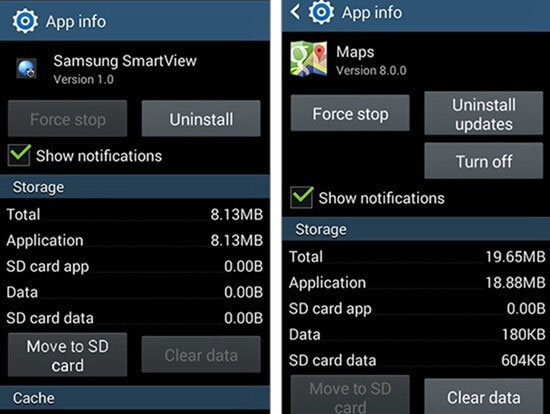 Related Articles:
Want to Make A Backup of the Files from Your SD Card to Computer? Just Click on It!
Restore Files from Android SD Card for Windows/Mac
Guide on How to Fix A Soft Bricked Android Phone
Android Phone Keeps Turning/Shutting off? You Can Now Fix It Like a Pro
How to Fix Android/RCA/Samsung Tablet White Screen of Death in Minutes?
[Up to Date] How to Wipe Android Phone Completely before Selling?