How to Fix Android/RCA/Samsung Tablet White Screen of Death in Minutes?
Android phone/tablet white screen of death is a common Android issue that troubles many users. You can do nothing on the device when it occurs, for the tab is frozen at the stark white screen and rendered unresponsively. Often, everyone knows how dizzy it could be and how important it is to fix the issue as soon as possible.
Well, in today's post, we will provide you with a couple of methods to fix the Samsung/RCA/Android tablet white screen of death. And we will discuss the main reasons for this phenomenon as well. Go check them out now.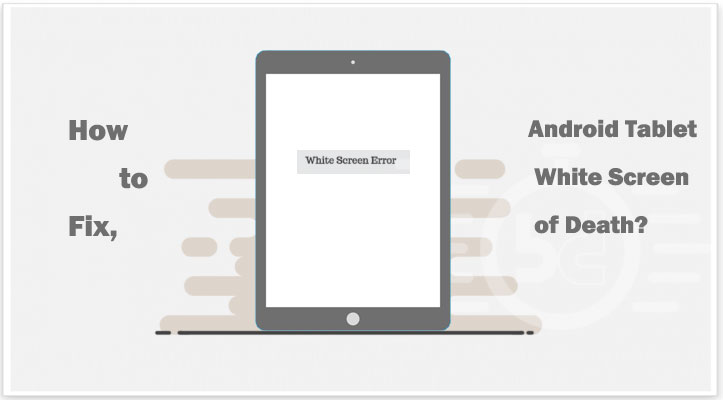 Part 1: Causes for Android Tablet White Screen of Death
Before getting an Android tablet white screen of death fixes, let's first know some main causes of it. Generally, it is not a virus attack or malware/bloatware causing this problem. So, what exactly happened to your tablet when the white screen was annoying you? They are:
Fossilized hardware and software: the wear and tear of hardware and hardware are more likely to get a white screen of death.
Accidental damage: drop the tablet to the ground, water, or other objects with a hard surface would damage the tablet.
Incomplete update or improper installation: when the Android or app update is interrupted or installed improperly, the tablet will behave abnormally.
Corrupt files and blocked memory: something may tamper with the tablet's working by burdening its processor.
Rough usage and improper maintenance: if the tablet is used roughly or improperly, it will be damaged; and if you do not charge your tab in time, it won't work to the best of its capabilities.
Related Passages:
Part 2: How to Fix Android Tablet White Screen with One Click
Is there a one-stop solution to fix the Android tablet white screen of death efficiently? You bet! An almighty program like Android Repair should be at the top of your choice list. It can resolve almost all Android issues to get your device back to normal. And of course, it can get the tablet white screen fixed in no time.
Main characteristics of Android Repair:
Fix various Android issues, including tablet white/black screen, tablet stuck in boot screen, Android unable to turn on or off, Android update failure, bricked Android phone/tablet, apps crashing, etc.
Boast the highest success rate in the industry.
Support AT&T, Verizon, Sprint, T-Mobile, Vodafone, Orange, and so on.
Foolproof operation and quick repairing.
Compatible with 1000+ Android models, including Samsung Galaxy Tab E/Tab A/Tab S7/Tab S6/Tab S5/Tab S4, Galaxy S21/S20/S10/S9/S8/S7/S6, Galaxy Note 10/Note 9/Note 8/Note 7/Note 6, etc.
It can well protect your privacy.

Note: Despite being the best Android repair software, it may erase all the files on your device during the repair and maintenance.
How to fix the white screen on an Android tablet with Android Repair?
Step 1. Run the installed program on your computer and choose the "Repair" section from the interface.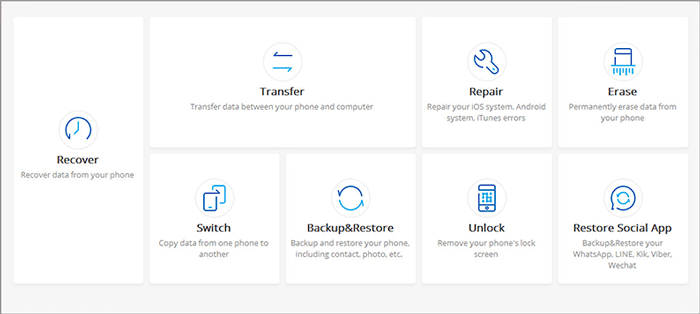 Step 2. Connect your Android tablet to the computer and choose "Android Repair" from the left. The tool will list the Android problems it can fix. Browse it and click "Start".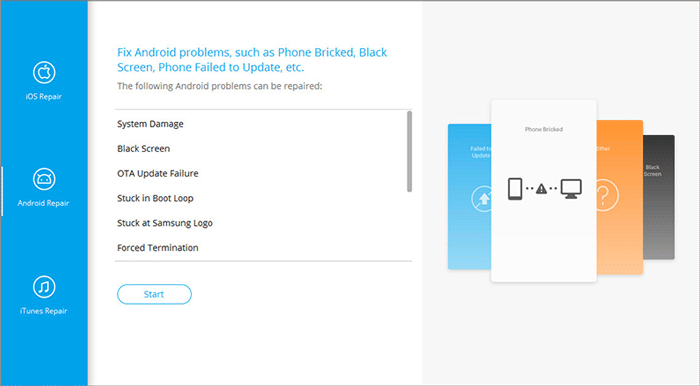 Step 3. Fill in your device info in the new window and tap on "Next".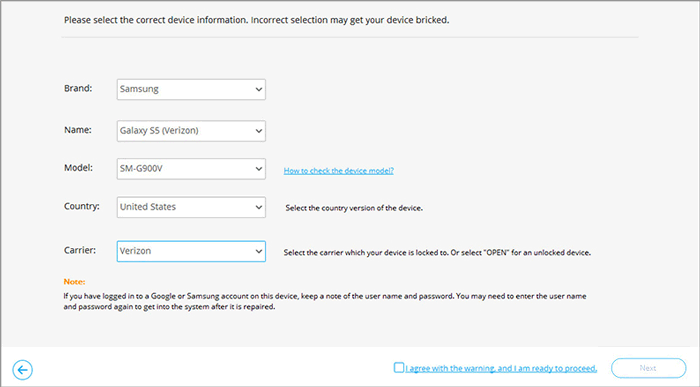 Step 4. Enter "000000" to the blank field and click "Confirm". Since the system repair may erase all your device files soon, you'd better check if you have kept a copy of your tablet content on your computer.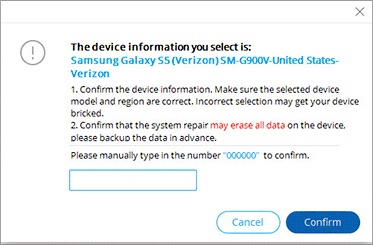 Step 5. Boot the tablet to download mode by following the directions below:
On a device with the "Home" button: power off your tablet, press the Home, Power, and Volume Down keys for 10 seconds. Release all buttons, and hold the Volume Up to enter the download mode.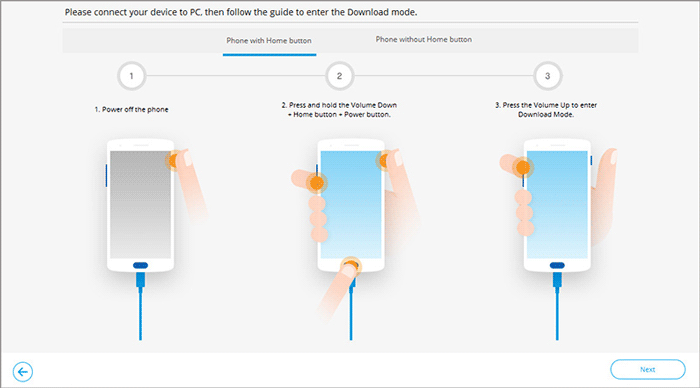 On a device without the "Home" button, power off the tablet, press the Bixby, Power, and Volume Down keys for 10s, and release. Then, press the Volume Up to get into the download mode.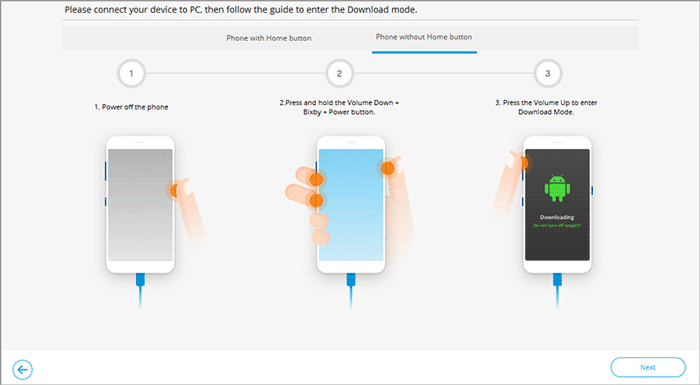 Step 6. When the tablet is in download mode, you should click "Next" to download the firmware for this device.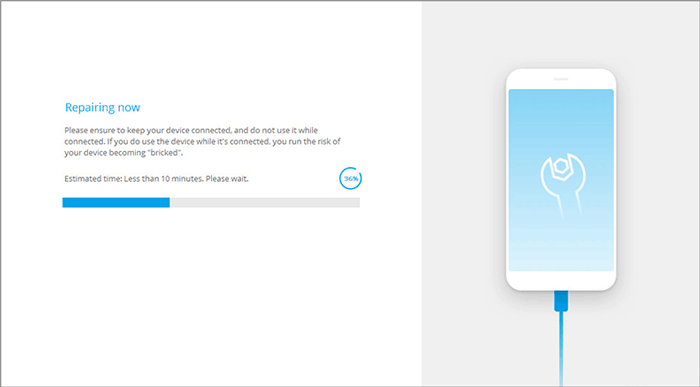 Step 7. Once completed, the software will start repairing your Android system automatically.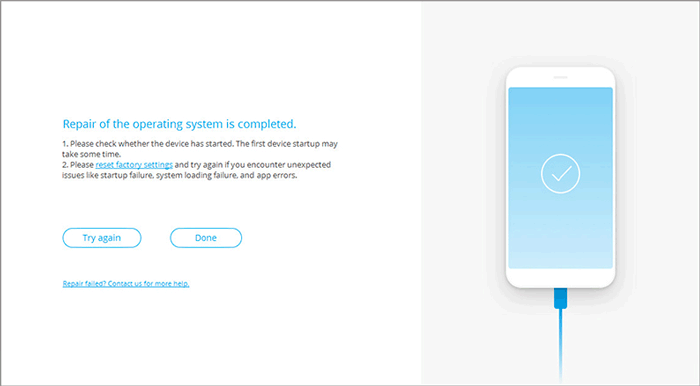 Part 3: How to Fix Android White Screen During Application Usage
Fix 1. Clear Data and App Cache
This way is useful to resist RCA/Samsung/Android tablet white screen issue when it is caused while using a particular app. Here are the steps:
Go to your tab's Settings > Applications > Application Manager.
A list of Apps will be displayed.
Select the app that you have used just now to enter its App Info page.
Finally, tap Clear data and Clear cache.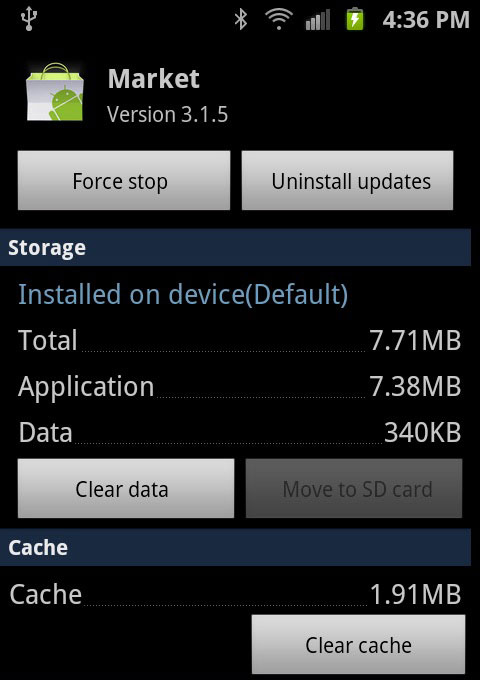 Fix 2. Uninstall Useless Apps
Uninstalling unnecessary apps is advisable to make free space on your Android device and thus fix the Android tablet white screen. To do this, navigate to Settings > Applications > Application Manager to find the target App. Next, click on the Uninstall option on the App Info page.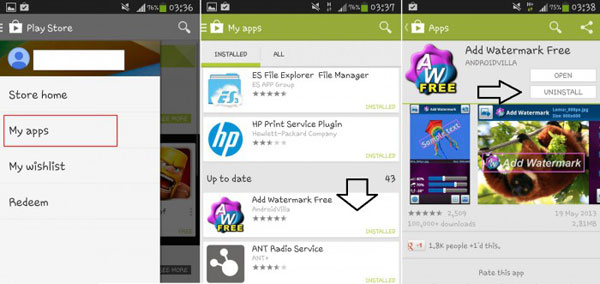 Fix 3. Move Apps to Internal Storage
Another way to resolve the white screen on the tablet is by transferring apps to the device's internal storage or SD card. To do it, you can visit Settings > Apps to choose the application you want to move. Subsequently, you'll enter the App Info page of the selected app. Simply elect Storage and tap Move to internal storage.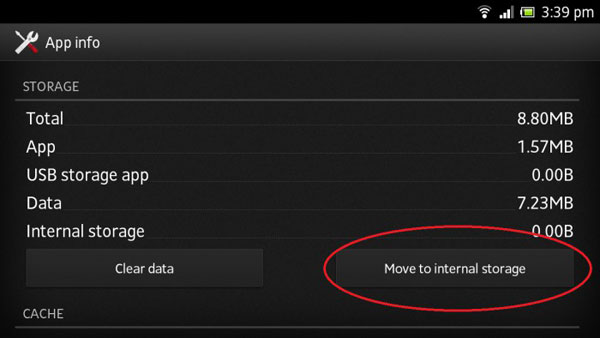 Fix 4. Restart Your Tablet
Rebooting an Android device can sometimes solve many problems. Try to restart your tablet by long-pressing the Power button at first. If it does not work, you can remove the battery from the tab and then put it back. Finally, restart it, and it might react.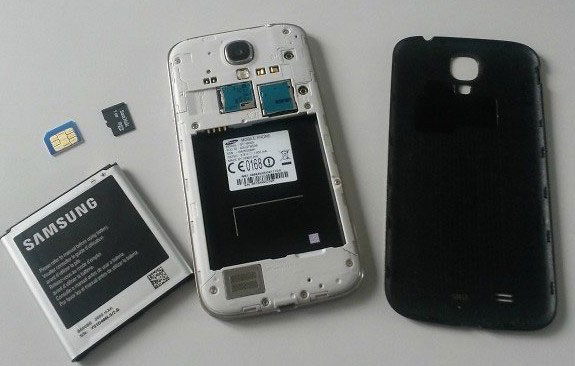 Know More:
Part 4: How to Fix White Screen on Tablet after Dropping or Damage
When you drop the tablet to water or ground, you might see no difference in its appearance, but the LCD connector is possibly disturbed. This would lead to the Android tablet white screen of death problem. You're hoping it's not permanently damaged or broken, and in most cases, you may be right.
Fix 1. Check the Battery
A dropped tablet may result in a white screen. Given this, you should first check the battery. You can turn off the device and then remove the back cover > carefully disconnect and remove the battery (if it is removable) > wait a few seconds and plug back in > attempt to power on the tablet.
Fix 2. Clean/Repair/Change the LCD Connector
Use a delicate and thin tool to slide out the LCD Ribbon.
Clean the dust on the connector and put it back meticulously at its original position.
Lock the ribbon again.

Reinsert the battery into the tablet.
Turn on the device to see if you have fixed the Android/Samsung tablet white screen problem.
Fix 3. Send the Tablet for Repair
If you worry that the DIY repair may pose a more serious problem to the tablet, you are advised to turn to a specialist or go to the customer service center for help. Please remember to bring your previous purchase vouchers and warranties with you.
Part 5: How to Fix Other Tablet White Screen Issues
Here is an approach that can fix the Android tablet white screen of death issue caused by most reasons. This mighty way is to factory reset your tablet. Since it will wipe out the data on your device, so it would be better to back up the data on Android before the task.
Hold the Power, Home, and Volume Down buttons simultaneously until you see a screen with several options.
You will then enter the Recovery Mode.
Select wipe data/factory reset using the Volume Down key.

Press the Power key to confirm the option.
When the reset is completed, your tablet will restart automatically.
You may be able to use it as usual afterward.
Words in the End
On the whole, you can try all the methods described in this article one by one. Specifically, Android Repair is far more suitable for scenarios than factory reset and other workarounds. That is to say, the former is your go-to solution, irrespective of the reasons for the white screen on tablets/phones. Don't you want to download it and give it a go now?

Related Articles:
How to Fix Android Stuck on Boot Screen? [Fixed]
[2021 Updated] How to Transfer Data from One Tablet to Another?
Samsung Tablet Recovery - How to Recover Deleted Files from Samsung Tablet?
[Fixed] Samsung Phone Stuck on Odin Mode, How to Fix It?
Complete Guide to Fix Samsung Tablet Problems
iPad White Screen Troubleshooting: How to Fix iPad White Screen of Death?