Huawei Contacts Recovery: Recover Deleted Contacts on Huawei
Phones have become very important aspects of our lives. However, a phone would not be of great help if we have lost most of our contacts. Having the contacts allows you to save on both time and space since you do not have to travel yards to meet those whom you need to talk to. Without the contacts, you will have to spend a lot of time searching for them or be more like the traditionalist who hard to use messages. It is, therefore, important that you backup Huawei phone on computer frequently, and understand ways of recovering Huawei contacts as well as the cases when you may need to recover the contacts. But few people know how to recover deleted or lost contacts from Huawei mobile phones and that's why we provide this article to show you an easy way to realize the Huawei contacts recovery.
MobiKin Doctor for Android or its Mac version - Doctor for Android Mac is the best-known data recovery software for the Androids as it will help you recover all your lost contacts or the deleted files from both the internal and the external memory. The software allows you to recover the contacts in the easiest and the fastest way as it is done within a click. You are also to recover multiple types of files at a go. This may include the contacts and save them in HTML format where you will have all the details saved, the SMS, the call history, photos, videos, audio files, documents, among other lost files. It not just recover the contact phone numbers, but also restore job title, company name, fax numbers, email address and other more contact information.
Doctor for Android also allows you to completely scan your phone for all the lost and the existing files. With the scan, you are able to selectively recover only the contacts that you need. By the way, to recover contacts from Huawei Mate/P/G/Y/HORNOR/Ascend, you need to root Huawei devices firstly so that the program can access the internal memory of your Huawei phone.
How to Recover Deleted Contacts from Huawei Mate/Ascend?
Step1: Run the Doctor for Android program
Download, install and launch MobiKin Doctor for Android in your computer. Connect your Huawei mobile phone to the computer using a USB cable and the software will detect your Huawei phone.
Note: Ensure you have opened USB debugging mode on your Huawei phone beforehand.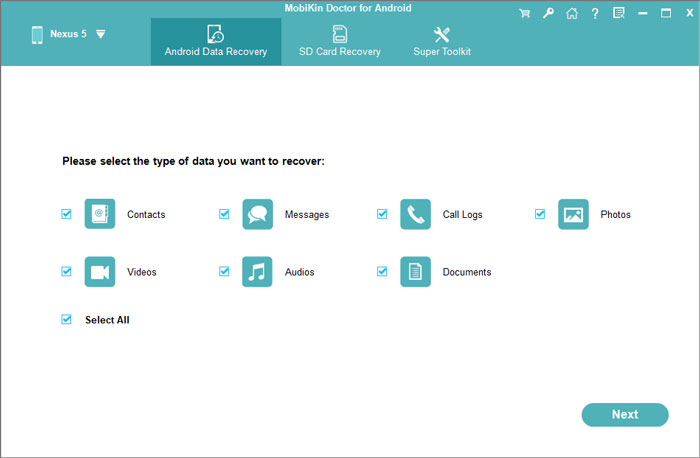 Step 2: Scan Huawei phone for lost contacts
Click Ok on the display asking you whether to allow from the computer and your phone will be scanned. The software analyzes all the scanned files displayed in categories. You can click on the Contacts category to preview all the scanned contacts.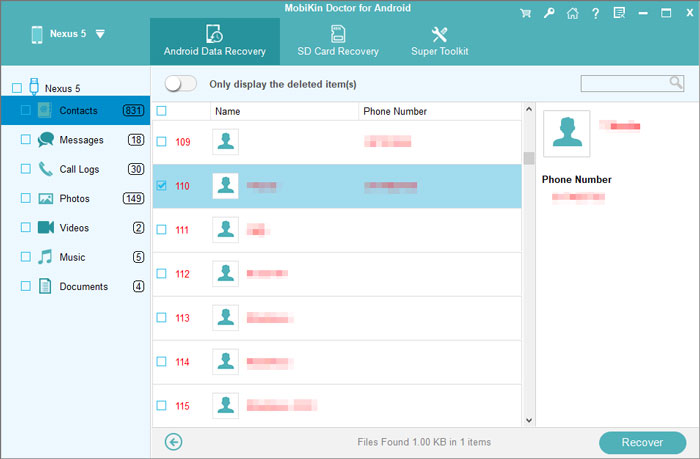 Step 3: Recover deleted contacts from Huawei phone
Mark on all the contacts you want to recover and tap on the Recover button to save the recovered contacts on your computer. All the recovered contacts will be saved as HTML or VCF file format that you can view and even print them out on your computer.
Related Articles
How to Recover Lost Videos from HTC Phones?
How to Recover Photos/Videos from Lenovo Phones?