Top 8 Methods to Unlock Huawei Phone without Resetting/Password
Nowadays, phone privacy security has attracted more and more attention. If you don't want to avoid data leakage as much as possible, it is necessary to set a password or pattern lock, etc., for your mobile. The same applies to Huawei users. However, it can also add annoyance over time, especially when you cannot recall the password.
* When Do We Need to Unlock Huawei without Resetting?
You just got a used Huawei device with the password from its previous owner.
You forgot your Huawei phone password, PIN, or pattern lock.
Your phone has just been changed password by your naughty child.
After going through this page, gaining back control of your Huawei phone cannot be a headache. This is because we will talk about how to unlock Huawei phone without resetting in the 8 best methods here.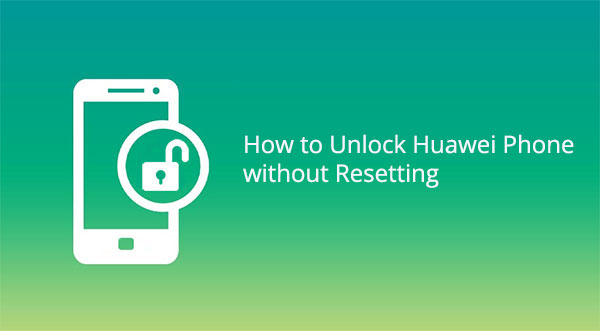 Way 1: How to Unlock Huawei Phone without Resetting via Android Unlock
Many Huawei users may choose an unlocking solution without considering their situations. What puzzles them is that the methods they pick sometimes can't help them out of trouble. However, when you try Android Unlock, you can completely circumvent any possible inconveniences. This clever software can help you successfully unlock a Huawei phone in almost any situation.
Core highlights of Android Repair:
Unlock Huawei phone without resetting/password in minutes.
Remove Android phone's password, pattern lock, PIN, and fingerprints.
Unlock some Samsung Galaxy or LG phones without data loss.
Ad-free, risk-free, and easy to use, etc.
Get on well with all mainstream Android devices, covering Huawei P50/P40/P30/P20/Mate 40/Mate 30/Mate 20/Mate 10, LG, Samsung, Xiaomi, Lenovo, Motorola, OnePlus, etc.
It won't let out your privacy.

How to unlock Huawei phone without resetting using Android Unlock?
Step 1. After you install and open the program on your computer, select "Screen Unlock" from the primary interface.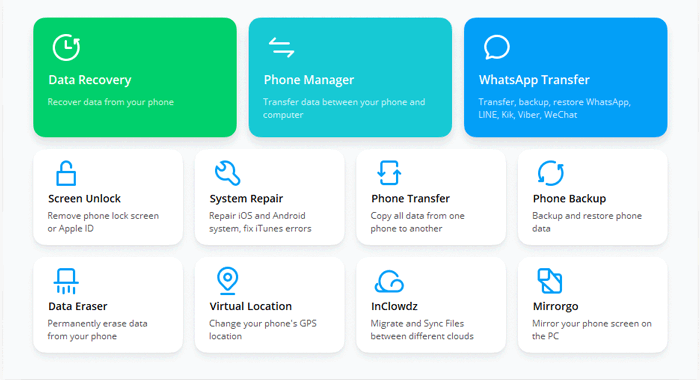 Step 2. Connect your Huawei phone to this computer via a USB cable and click on "Unlock Android Screen".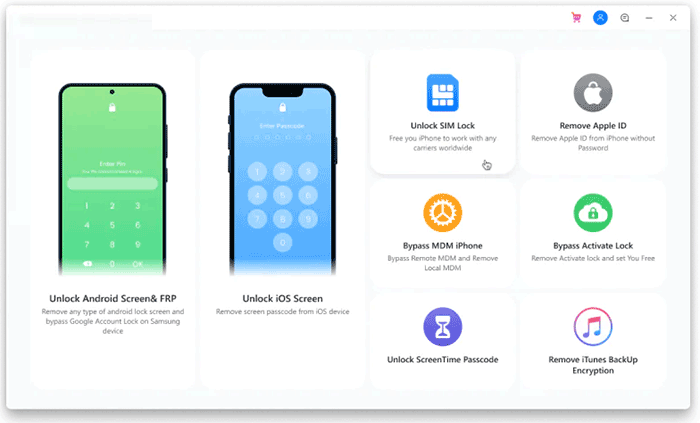 Step 3. Select the correct phone model from the list. For Huawei phones, you'll have to choose the option "I can't find my device model from the list above". Then tap "Next" to continue.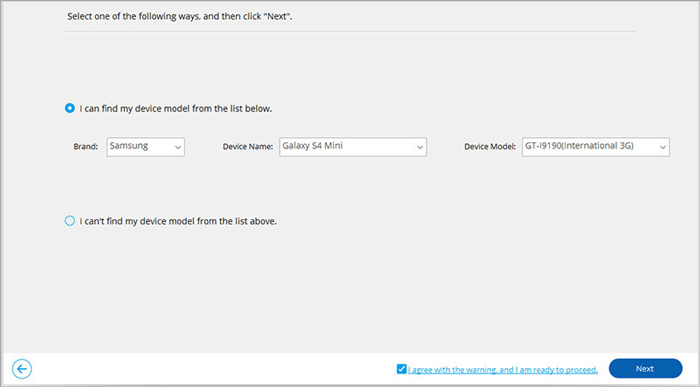 Step 4. Now, this utility will start to detect your device and enable the "lock screen removing" function. After the app configuration is complete, you can click on "Unlock Now".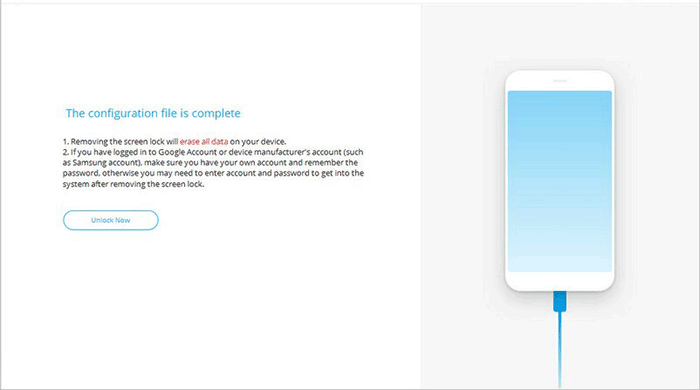 Step 5. Follow the on-screen steps to put your Huawei phone into recovery mode before clicking on "Next".
Note: You can select "phone with Home button" or "phone without Home button" on the program interface to find the steps available for your device to enter the recovery mode.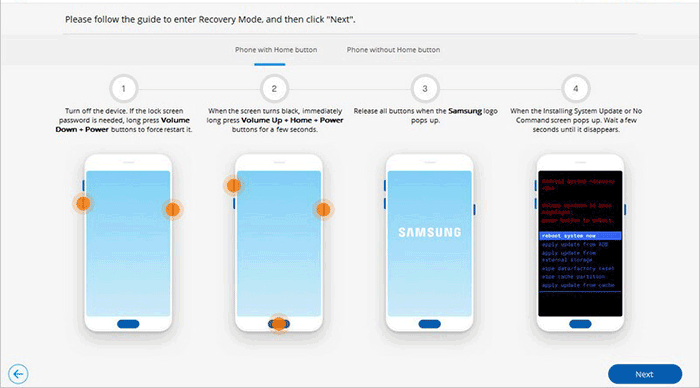 Step 6. Wipe all of your phone's settings by following the instructions on the interface of Android Unlock.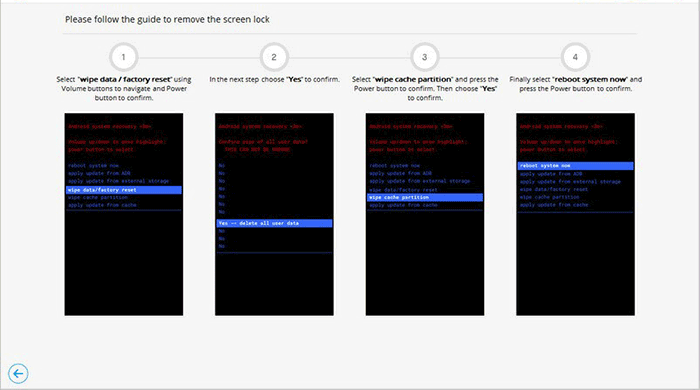 Step 7. After that, you can see that the screen lock has been successfully removed from your Huawei phone. Just click "Done" to complete the job.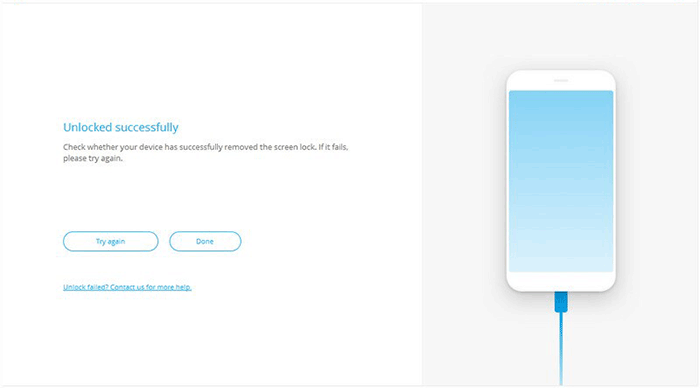 You May Also Like:
Way 2: How to Unlock Huawei Phone without Password via Emergency Call
For Huawei phones running Android 5.0 to 5.1.1, Emergency Call can help disable the password on the device without trouble. Let's see how to perform Huawei password bypass via emergency call.
On your device lock screen, tap "Emergency Call".
Enter ten asterisks and copy & paste them on the dialer.
Keep pasting the asterisk until the space is filled.

Go back to the lock screen to open the camera and swipe from the top of the screen.
Tap "Settings" from the notification bar.
Paste the copied asterisk into the password place.
Continue unless the lock screen is crashed and the home screen gets opened.
Way 3: How to Unlock a Huawei Phone Password with Huawei Watch
To use this method, you should ensure your locked Huawei phone and Huawei Watch are connected. And your Huawei phone has been paired and added the Watch as a trusted device. Here's how to unlock a Huawei phone PIN code via Huawei Watch:
Pair your Huawei phone with your Huawei Watch.
In your Huawei phone, go to "Settings" > "Security & privacy" > "Lock screen password" > "Smart lock".

Set up your screen lock password, and add the Huawei Watch as your trusted device.
Then you will be able to access your Huawei phone by swiping the phone screen.
Way 4: How to Unlock Huawei Screen Lock without Losing Data via Face/Fingerprint ID
If you have previously set up a Face ID or fingerprint lock for your Huawei phone, you can follow the instructions below to unlock your device easily. (How to unlock an iPhone without a Face ID?)
Case 1: Unlock Huawei phone with Face ID:
Launch the "Settings" app on Huawei.
Head to "Security and confidentiality" > "Face Unlock".
Look at the camera, and the system will create your face recognition profile.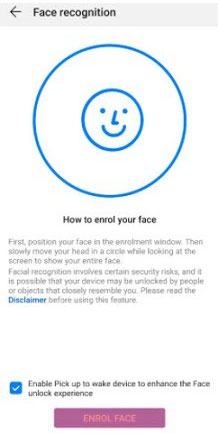 Case 2: Unlock Huawei phone via fingerprint ID:
Launch Huawei's "Settings" app.
Go to "Screen Lock & Passwords" > "Password" > "PIN".
Set up a PIN for the screen lock and enroll it.
Place your finger on the fingerprint sensor and follow the on-screen directions to finish the process.
Tap "Rename" and enter a name for your fingerprint ID.
Know More:
Way 5: How to Bypass Huawei Lock Screen via Safe Mode
Safe Mode on Huawei, similar to the mode Windows, helps block 3rd-party apps from operating. Thus, assuming you set a screen lock with some app, you can restart your Huawei phone into this mode to unlock it.
How to unlock the device via safe mode if you forgot your Huawei phone password?
Press the "Volume Up" and "Power" buttons of your Huawei phone.
Hold them till the "Safe mode" option is displayed on the screen.
Use the "Volume" buttons to move to this mode and choose the "Power" button.
After entering this mode, uninstall the 3rd-party lock applications.
Now restart your phone to get it to normal mode. The screen lock should be removed successfully.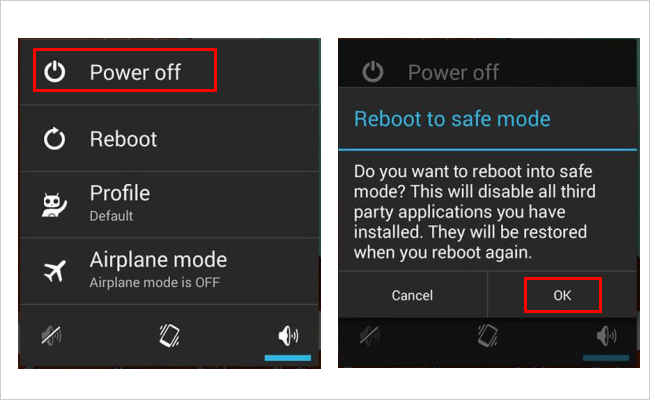 Way 6: How to Unlock Huawei Pattern Lock Using ADB Command
You can also unlock your Huawei phone without losing data via ADB (Android Debug Bridge). Yet this avenue only works for the phone with USB debugging enabled.
How to unlock Huawei phone without password via ADB command?
From your PC's browser, download and install Minimal ADB and Fastboot.
Connect your locked Huawei phone to the computer via a USB cable.
Open CMD from the ADB's installation directory.
Type the following command:
adb shell rm /data/system/gesture.key
Press the "Enter" key.

Reboot your phone, and you'll then have full access to your Huawei phone. (See how to fix Huawei/Android phone keeps turning off after unlocking.)
Way 7: How to Unlock Huawei Android Phone with Find My Device
Previously known as Android Device Manager, Find My Device is a great service to locate your Android device when the phone is lost or stolen. Moreover, it's also a decent option to unlock your Huawei phone with a Google account linked.
How to unlock Huawei phone without resetting via Find My Device?
Go to the Find My Device website on any Android device or a computer.
Sign in to your Google account.
Select the device you wish to unlock.
Click on the "ERASE" function.

Key in your Google account info again.
When the device is wiped out, you can create a new password.
Way 8: How to Unlock Huawei Phone if Forgotten Password with Custom Recovery
If there's a removable SD card on your Huawei phone, you can unlock the device by installing the "Custom Recovery" from https://twrp.me/ and flashing TWRP recovery on it.
How to unlock FRP lock Huawei P20/P30/P40/P50 via Custom Recovery
Download the Pattern Password Disabled zip file onto your computer and save it into your SD card.
Insert the card with the zip file into the locked phone.
Restart the Huawei device into recovery mode. (How to enter and use recovery mode on Android/Huawei?)
Flash the zip file into the SD card, and restart your phone.
Then your device will be boot up without a lock screen. (Some users may need to set up a random gesture or password before the phone is unlocked.)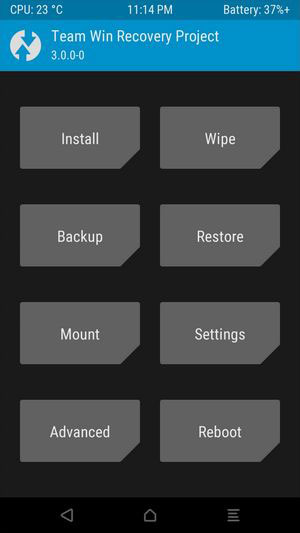 Call It a Day
That's all for how to unlock a Huawei phone without resetting it. To recap briefly, Android Unlock is obviously the only one that is universally applied. Of course, you can use any of the methods above to unlock your Huawei phone. But before you do it, check to see if your Huawei phone meets the prerequisites for the exact unlock method. Anyway, we hope you'll finally regain access to your technically robust Huawei device in minutes.

Related Articles:
How to Back Up Android Phone Before Factory Reset in 2021?
How to Reset A Huawei Phone or Tablet to Its Factory Settings?
Top 3 Methods to Recover Android/Huawei Data without USB Debugging
5 Feasible Ways to Bypass iPad Passcode without Restoring
5 Easy and Safe Ways to Transfer Data from Huawei to Huawei
How to Transfer Data from Huawei to iPhone (#1 Is Excellent)