Complete Guide about How to Recover Data from Bricked Android
The introduction of the touch screen phones comes with a lot of satisfaction as well as some new challenges for mobile phone users. For example, one of the common challenges is that the Android phone becomes unresponsive to any command, which is called a bricked Android phone. This will hinder you from accessing your phone and all your files will be dormant. Hence, most people concern how to recover data from bricked Android phone.
Why Your Android Phone Gets Bricked?
While getting a bricked Android phone, you need to find out the causes at first. And normally, the possible reasons for a bricked Android phone can be classified into 3 categories:
- Interrupted update. When you update your Android device, you should make sure that the updating won't be interrupted by power failure, user interference, partially overwritten or unusable firmware, etc.. Or the device is very likely to be bricked.
- Flawed or wrong firmware/hardware. If you install firmware or hardware from different manufacturers, the Android device would become bricked as well.
- Malicious software. Downloading and installing software from unofficial or unknown source would also cause bricking.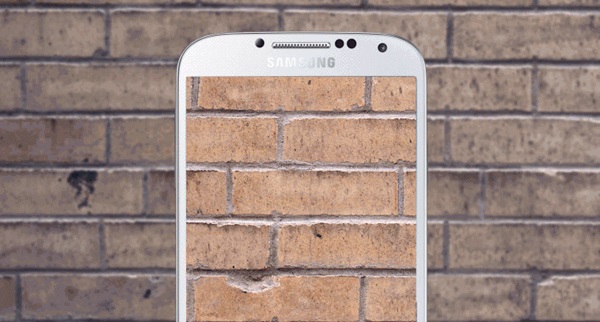 When the mobile phone gets bricked, it will keep rebooting or it does not power up. And the worst situation is that the phone becomes useless. Hence, while meeting such an issue, you need to fix the bricked device to return it back to the normal status and then extract the wanted data from the device.
How to Recover Data from Bricked Android Phone?
Despite all the challenges that come with your unresponsive Android phone, you can still recover your data and start afresh. Then how to perform the recovery? All what you need is the Broken Android Data Recovery. You can use it to make your bricked phone to normal status and then restore contacts, text messages, call logs, photos, videos, music, etc. on the phone directly, even though you haven't backed up your Android phone to computer. The program enables users to scan for the files and preview them before starting the recovery process on your bricked Android phone. It allows you to recover only that which you need so if you only need to recover contacts, you can select contacts only.
Step1. Run Broken Android Data Recovery on computer
First of all, download, install and open the Broken Android Data Extraction software on your computer. Then, you can plug your bricked Android phone to the computer with a USB cable and choose the "Broken Android Phone Data Extraction" mode.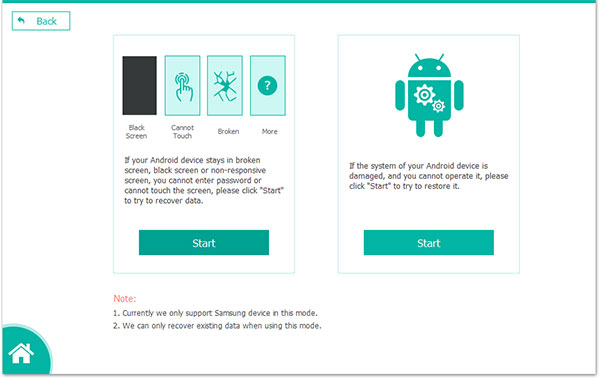 Step 2. Choose the way to recover according to your needs
Since your phone gets bricked and you cannot operate it, then you can click "Fix Device" to choose the issue that you need to fix. Then click "Next" to follow the instructions to make your device enter the Download mode.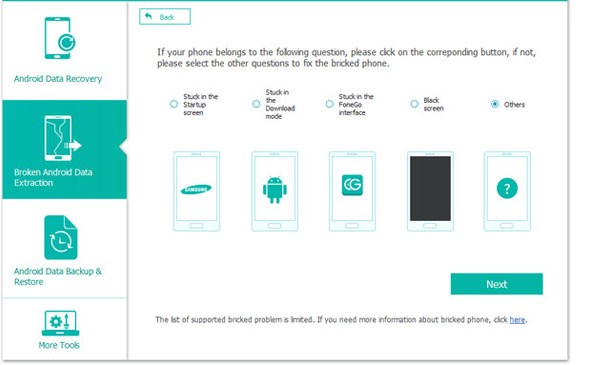 Step 3. Recover data from bricked Android
When your phone is successfully entered the Download mode, you can click "Start" button to scan for files or fix the device. Next, you should wait for the end of the progress and you'll get an interface like below or an interface remind you that your Android phone is returned to normal status. Then, you can choose files and click "Recover" button to extract your needed data from bricked Android.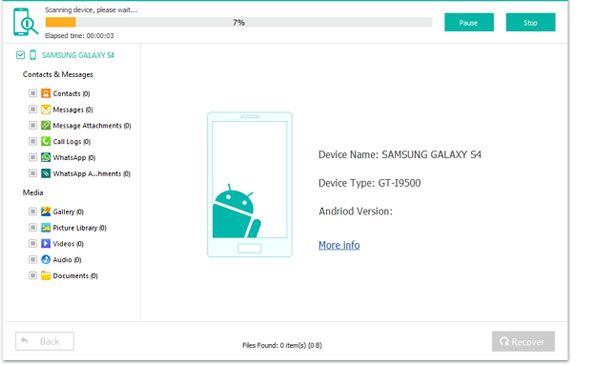 How to Recover Data from Broken or Damaged Android Phone?
How to Recover Data after Factory Reset Android Phone?
Easily & Safely Recover Android Data without Rooting
5 High-rated Android Recovery Software
The Supported Devices of the Suggested Software
Supported Devices
Samsung Galaxy S

S4: GT-I9500, GT-I9505, SCH-R970, SCH-R970C, SGH-I337M, SGH-M919, SPH-L720

S5: SM-G900F, SM-G900FQ, SM-G900I, SM-G900K, SM-G900L, SM-G900M, SM-G900P, SM-G900R4, SM-G900R6, SM-G900S, SM-G900T, SM-G900T1, SM-G900W8

S6: SM-G9200, SM-G920F, SM-G920P, SM-G920T, SM-G925F, SM-G925P, SM-G925T, SM-G928P, SM-G928T

Samsung Galaxy Note

Note 3: SM-N900, SM-N9002, SM-N9005, SM-N9006, SM-N9007, SM-N9008 SM-N9008V, SM-N900S

Note 4: SM-N9100, SM-N9106W, SM-N9108V, SM-N9109W, SM-N910C, SM-N910F, SM-N910G, SM-N910H, SM-N910K, SM-N910L, SM-N910P, SM-N910R4, SM-N910S, SM-N910T, SM-N910U, SM-N910V, SM-N910W8

Note 5: SM-N920C, SM-N920G, SM-N920I, SM-N920K, SM-N920L, SM-N920P, SM-N920R4, SM-N920S, SM-N920T, SM-N920W8

Samsung Galaxy Tab
Tab Pro 10.1: SM-T525
How to Avoid Bricking Android Phone?
It is not easy to recover data from a bricked Android phone and sometimes you may fail to complete the data recovery and permanently lose the wanted files. So it is essential for you to take actions to avoid bricking Android phone. To avoid this kind of issue, you can carefully read the tips below and keep them in mind.
- Make sure the custom ROM can be actually used on your device before installing.
- Do not download and install applications from unknown source.
- Check the battery of your device before updating your Android OS to ensure that the update won't be interrupted.
- Forming a good habit of backup so that you won't lose any data after encountering a bricked phone issue or other issues.
Write in the End
This is the complete tutorial about how to recover data from bricked Android phone. Just follow the steps above to fix your bricked Android and restore the wanted files from it. But you should remember that prevention is better than the cure and a backup will always be beneficial for you, so you need to pay attention to the phone data backup as well.
Related Articles
Recover Call History from Samsung Galaxy Device
Recover Deleted Music from Samsung Phone/Tablet
How to Recover Deleted SMS from Android Phone?
Android Contacts Recovery - 2 Ways to Restore Deleted Contacts from Android
Android SMS Recovery - How to Recover Deleted Text Messages from Android Easily?