How to Recover Data from Bricked Android?
The introduction of the touch screen phones came with a lot of satisfaction for most users. However, there are a number of challenges that come with this kind of phones. One of the common challenges is that of the phone is not responding to any commands, which is called a bricked Android phone. This hinders you from accessing your phone and there may be very little that you can accomplish with such a phone. With a bricked Android phone, all your files are dormant and you will have a limited usage. Most people concern how to recover data from a bricked Android phone.
Despite all the challenges that come with your unresponsive Android phone, you can still recover your data and start afresh. We write this article to tell you how to recover data from a brick Android phone in simple steps. All what you need is the Broken Android Data Recovery. You can use it to make your briked phone to normal status and then restore contacts, text messages, call logs, photos, videos, music, etc. on the phone directly, even though you haven't backed up your Android phone to computer. The program enables users to scan for the files and preview them before starting the recovery process on your bricked Android phone. It allows you to recover only that which you need so if you only need to recover contacts, you can select contacts only.
Doctor for Android is risk-free and supported by many devices like Samsung, HTC, Google Nexus, etc., as long as they are running Android OS. It also does not need a complementary program for it to run on your device. The following guide will show you how to use the Doctor for Android to recover data from a bricked Android. If you are an iPhone user, you can click this article to learn how to recover lost data from water damaged iPhone.
Guide on Retrieving Data from Bricked Android Smartphone
Step1: Run Android Data Recovery on computer
First of all, download, install and open the Broken Android Data Extraction software on your computer. Then, you can plug your bricked Android phone to the computer with a USB cable and choose the "Broken Android Phone Data Extraction" mode. Make sure you have opened the USB debugging on your Android device.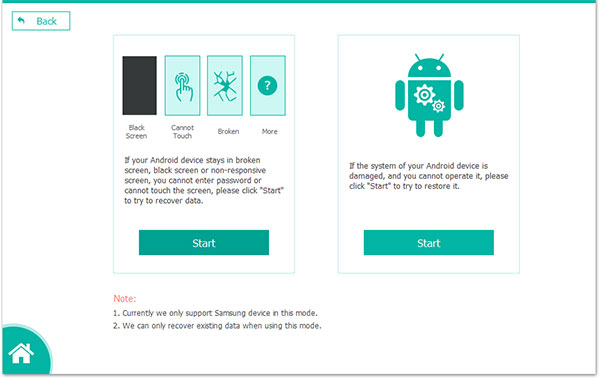 Step 2: Choose the way to recover according to your needs

- If your phone stays in broken screen, dead screen, or non-responsive screen, you connot enter password or touch the screen, you can hit "Start" button to directly get access to the phone and extract the exsiting data from it. After that, you need to choose your phone model and name, then click "confirm" button and follow onscreen guide to enter the Download mode.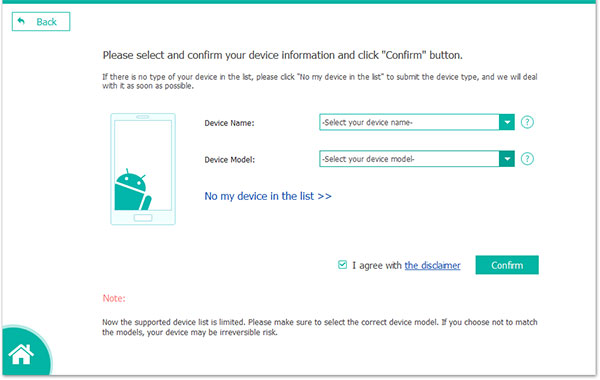 - If there is something wrong on your Android's system and you cannot operate it, then you can click "Fix Device" to choose the issue that you need to fix. Then click "Next" to follow the instructions to make your device enter the Download mode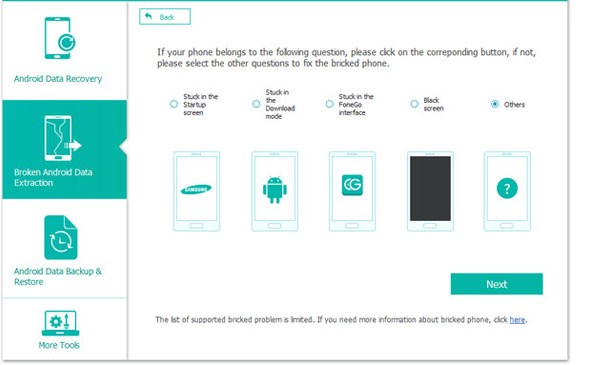 Step 3: Recover data from bricked Android
When your phone is successfully entered the Download mode, you can click "Start" button to scan for files or fix the device. Wait for the end of the progress, you'll get an interface like below or an interface remind you that your Android phone is returned to normal status. Then, you can choose files and click "Recover" button to extract your needed data from bricked Android.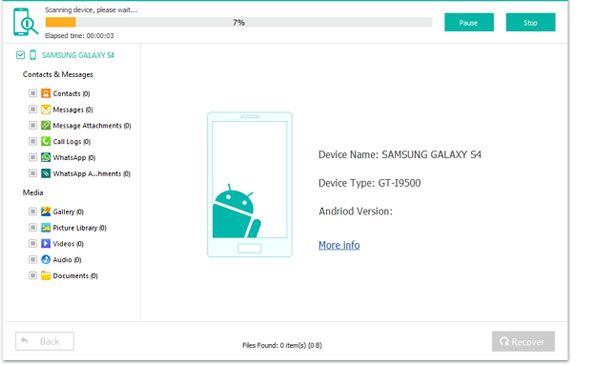 Related Articles
Recover Call History from Samsung Galaxy S7/Note 7
Recover Deleted Music from Samsung Phone/Tablet
How to Recover Deleted SMS from Android Phone