How to Recover Deleted WhatsApp Videos from Android & iPhone?
WhatsApp makes it easy for us to send free messages, images, videos, and audio to one another. Yet any misoperations on your phone may end up losing some important videos from WhatsApp. After the loss of the clips, you probably want to recover deleted WhatsApp videos but just don't know how.
Well, what you are about to discover in this article are the seven reliable methods for WhatsApp video recovery. Now, take a few minutes to go through it, and you will surely be amply repaid whether you're an Android or iPhone user.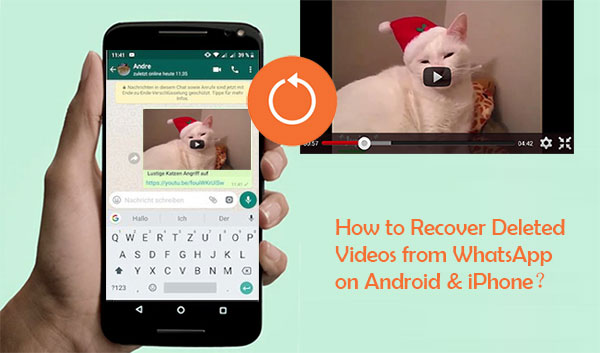 Part 1: How Were WhatsApp Videos Lost?
WhatsApp videos disappeared from Android/iPhone? What is to blame? Well, here are some possible causes that may lead to this phenomenon:
Your phone screen is physically damaged. (how to restore WhatsApp data from broken Samsung/Android phone?)
You may accidentally delete videos or pictures on WhatsApp.
WhatsApp videos may be lost if not on cloud storage.
Uninstalling WhatsApp without keeping a backup of its videos.
Factory/hard reset the Android/iPhone.
People Also Like:
Part 2: How to Recover Deleted Videos from WhatsApp on Android
2.1. How to Recover Deleted Videos from WhatsApp on Android via Local Backup
WhatsApp automatically creates a backup of files every morning at 2 AM, and it remains the backup intact for the next seven days. So, if that's the case, just try to restore the videos in this way.
How to get/download deleted videos from WhatsApp via local backup?
On your Android phone, head to Settings > Apps.
Now look for WhatsApp and tap it.
You can see the Uninstall button; click on it to uninstall WhatsApp.
Then go to Play Store and reinstall the app from there.
When you log in to your account, it'll prompt you with the RESTORE option; just click it.

Once the process completes, you can find the recovered videos by going to your phone File Manager > WhatsApp folder > Media.
2.2. How to Recover Deleted WhatsApp Videos from Android Phone via Google Drive
Google Drive enables us to back up your Android data, including WhatsApp videos on Google servers. After that, you can restore the lost videos accordingly. To do this, please keep in mind that you should log in with the Google account you used for backup.
How to get/recover deleted WhatsApp video chat with Google Drive?
Uninstall WhatsApp from your device.
Reinstall the app and launch it.
Sign in to the same WhatsApp account.
Then the front page should show you two options - Restore & Skip.
Select RESTORE to retrieve the deleted WhatsApp chats, including the videos. (Google Drive doesn't working on Android?)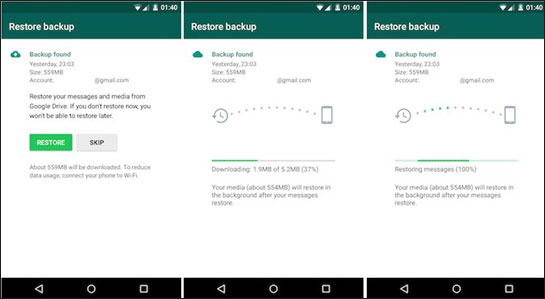 2.3. How to Recover Deleted WhatsApp Videos on Android without Backup
In most cases, perhaps, you may find the videos are lost, but there's no backup available. OK, it's time for Android Data Recovery to work for you. This top-rated program makes it easy to recover or extract a whole range of deleted/existing files on your Android device with or without backup.
Why choose Android Data Recovery?
Recover deleted WhatsApp videos from Android breezily.
Retrieve data from Android internal memory, SD, card, and SIM card, covering WhatsApp, WhatsApp attachments, media files, contacts, messages, messages attachments, call logs, etc.
Let you preview and check specific files before recovery.
Work well with almost all mainstream Android devices on the market, including Samsung, Xiaomi, Huawei, Sony, Motorola, LG, Google, OPPO, Vivo, etc.
It won't track your privacy.
Now, download this program, and let's see how to recover/restore WhatsApp deleted videos on Android without backup.
Step 1. Run Android Data Recovery on a computer
Install and launch the software on your computer and link Android to it via a USB cable. This tool will automatically detect the connected device. Here, you can directly get into the mode of "Android Data Recovery".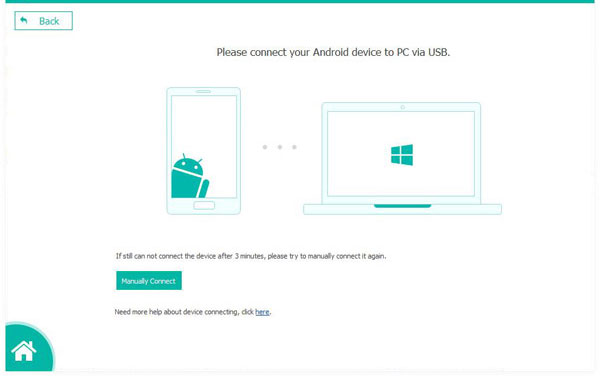 Step 2. Check WhatsApp Attachments for scanning
Enable USB Debugging on Android when you receive a popup on your phone. Then, you'll get a window that lets you pick the file types you want to restore. Now, mark "WhatsApp Attachments" and tap "Next".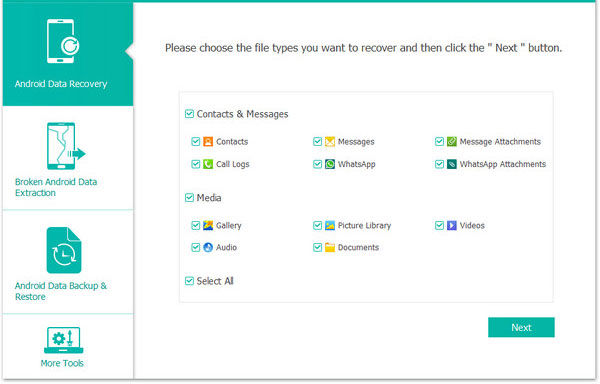 Step 3. Recover deleted WhatsApp videos from Android
After scanning, all your WhatsApp videos will be scanned out. Now, you can preview and select the detailed stuff for recovery. Finally, click "Recover" to save them onto your computer.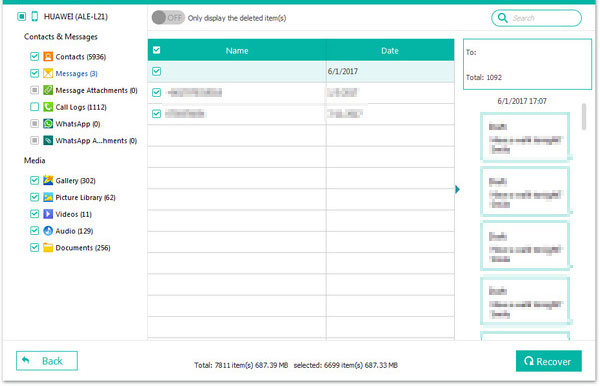 Know More:
Part 3: How to Recover Deleted Videos from WhatsApp on iPhone
3.1. How to Recover Deleted Videos from WhatsApp on iPhone with Recently Deleted Folder
When you delete a video from WhatsApp, it gets into the "Recently Deleted" folder on your iPhone. It stays there for 30 days. Now, follow the steps below to check if you can get them back in this means.
How to retrieve deleted videos from WhatsApp on iPhone with the Recently Deleted folder?
Tap on the Photos App on your iPhone to start it.
Touch Albums and then Recently Deleted.
From the Recent Deleted folder, select the deleted WhatsApp videos you want to recover.
Press "Recover".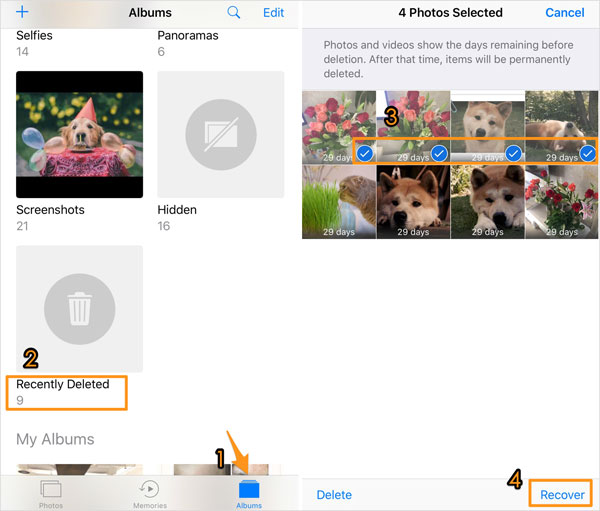 3.2. How to Recover Deleted Videos from iPhone WhatsApp with iCloud Photos
iCloud can be easily accessed across all your authenticated iDevices. If you kept the WhatsApp data on iCloud Photos by activating the backup option, it is possible for you to regain what you want from iCloud.
How to recover deleted videos in WhatsApp with iCloud Photos?
Verify that if there is a backup file on iCloud. You can check it by going to WhatsApp Settings > Chats > Chat Backup.

If there exists a backup available, then delete and reinstall WhatsApp.
After that, verify your phone number and iCloud ID as prompted. (the number should be the same as that used to create the backup on iCloud)
Click on "Restore Chat History" to restore your deleted videos from WhatsApp.
3.3. How to Recover Deleted WhatsApp Videos on iPhone without Backup
Well, is there any advanced tool that can help iPhone users to restore deleted videos/photos from WhatsApp directly? iPhone Data Recovery is worth a try. With this smart utility, you are free to recover various files from iOS devices directly or iCloud/iTunes backups. (how to recover iPhone data from iCloud flexibly?)
It is able to recover overall iOS content, containing WhatsApp, WhatsApp attachments, photos, messages, messages attachments, contacts, call history, voicemail, notes, calendar, reminder, Safari history, app documents, etc.
Here's how to recover deleted videos on WhatsApp on iPhone without backup?
Step 1. Link your iPhone to a computer via a lightning cable. Then launch the utility after the download and installation. Next, select "Recover from iOS Device" and press the "Start Scan" button.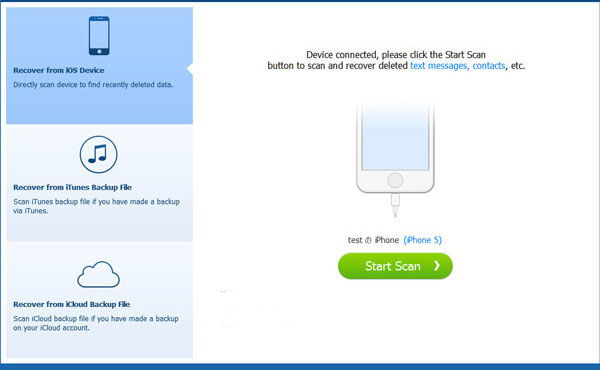 Step 2. The progress bar will then display the scanning as below. It might take some time to analyze and detect your phone if there is a great deal of content on the device.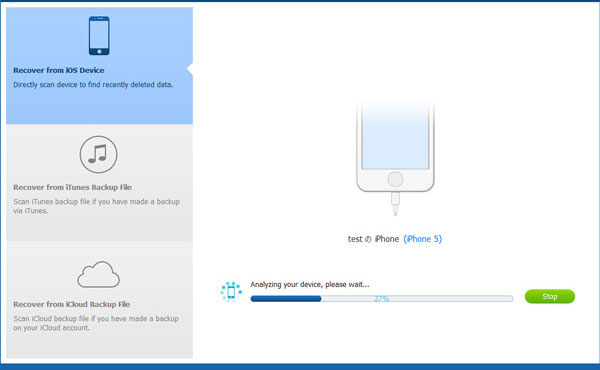 Step 3. After the scan, check "Whatsapp Attachments" from the left menu. Then preview the detailed items on the right before selecting what you wish to restore. Finally, click on "Recover" to save the deleted videos on your computer.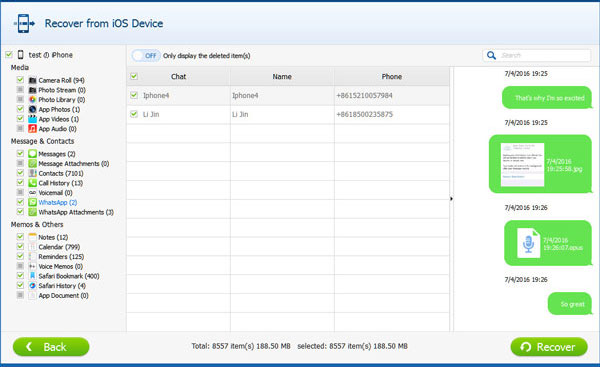 Part 4: How to Recover WhatsApp Media on Android & iPhone from Someone Else
When you selected the WhatsApp videos and clicked the "Delete For Me" option, you can then ask the interlocutor to check their WhatsApp chat history for your wanted items. If luckily, they can find and forward you the clips or even save them to their Android/iPhone and pass them on by email.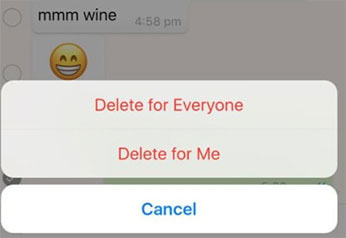 What if you tapped the "Delete For Everyone" button instead? Ah, you may be unable to make WhatsApp video recovery with this simple technique. Just turn to the rest for help.
Tips: Back Up WhatsApp Videos to Prevent Accidental Deletion
Backups are the smartest way to prevent data loss. Therefore, you need a powerful tool to help you backup important WhatsApp videos. MobiKin Recovery for WhatsApp is such a software that can back up your WhatsApp messages and WhatsApp attachments such as videos, audios, pictures, stickers, files and links from Android to computer with one click.

To back up WhatsApp videos using Recovery for WhatsApp, please follow the steps below:
Step 1. Install Mobikin Recovery for WhatsApp on your computer and launch the program. Connect your Android device to your computer using a USB cable. Enable USB debugging on your Android device.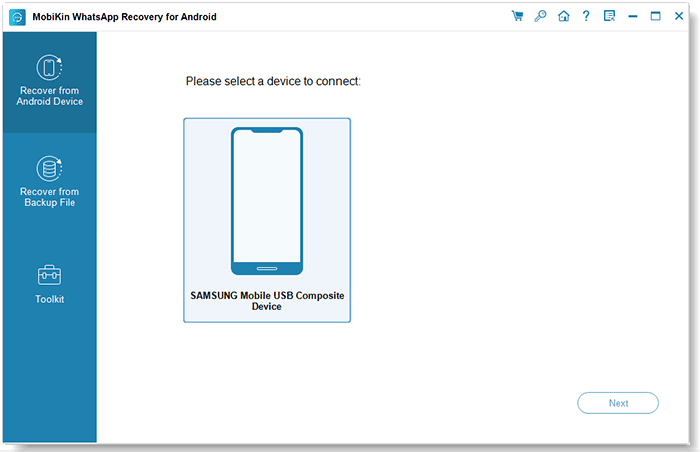 Step 2. Once your device is detected, the backup process will start automatically. During the backup process, you need to follow the instructions on the screen to turn on end-to-end-encryption for your WhatsApp backup.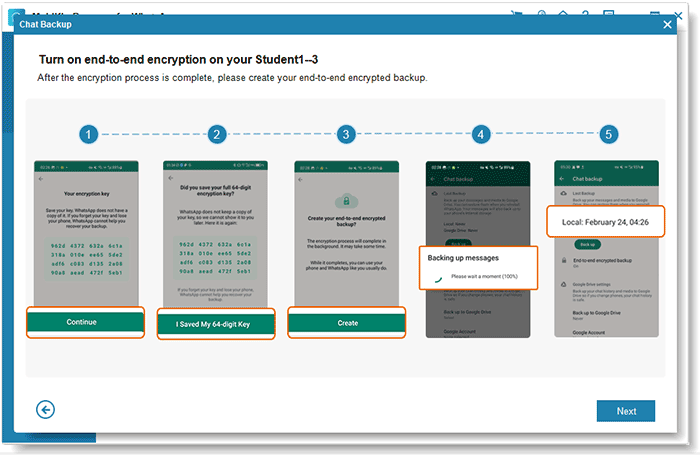 Step 3. Once the end-to-end-encryption is turned on, a encrypted backup for your WhatsApp data will be created on the computer.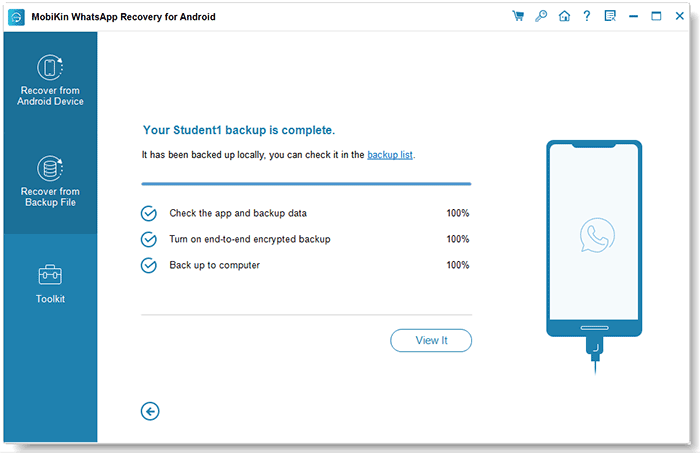 Step 4. Click on "WhatsApp Attachments" from the left panel and then select videos from the main window. You can now preview and select the WhatsApp videos you want to back up.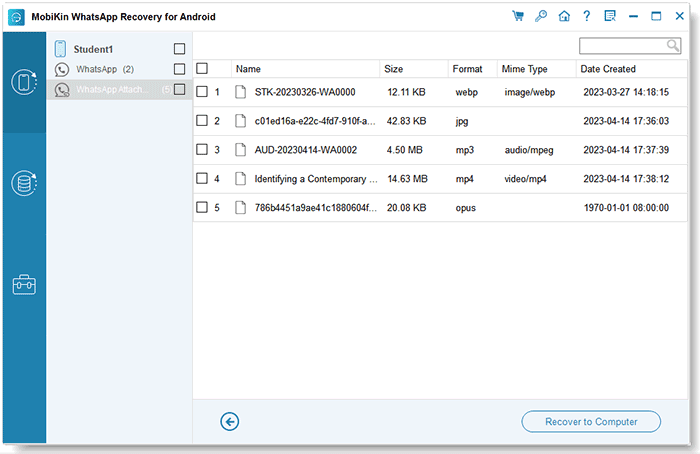 Step 5. After selecting the videos, click on the "Recover to Computer" button and choose the location where you want to save the backup files. Wait for the backup process to complete. Once it is done, you can safely disconnect your device from your computer.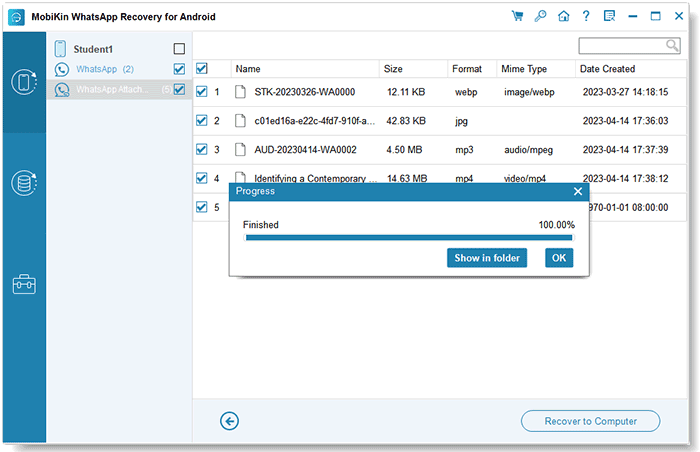 The Bottom Line
That's all there is to how to recover/view deleted WhatsApp videos. We hope you can use any of the avenues above to recover your deleted WhatsApp videos on Android/iPhone from your backup. More often, though, you may be lost your video clips until it is too late to make a copy of your phone. At this point, you can pick either Android Data Recovery or iPhone Data Recovery as per your requirements to solve the burning issue.
Hopefully, you are now satisfied with what you've learned, and please share this post with those in need.
Related Articles:
Ultimate Guide to Back Up WhatsApp Photos/Videos on Android & iPhone
How to Recover Deleted Videos from iPhone? 100% Work!
How to Recover 1 Year Old WhatsApp Messages without Backup? (iOS & Android)
How Can I Transfer WhatsApp Chats from iPhone/Android to Email?
3 Practical Ways to Recover Data from Water Damaged Android Phone
[3 Ways] How to Transfer All WhatsApp Chats from Android to Android?