WhatsApp Downloaded Failed? Here Are 20 Solutions to Fix It!
WhatsApp makes great contributions to supporting information exchange among the general public. In addition to messages, chat content also includes videos, photos, audio, documents, and more. When you are saving or downloading WhatsApp attachments, the job has not always been as smooth as you expected. And the "download was unable to complete; please try again later" alert might occur at times.
Well, why download is failed in WhatsApp? How to fix "WhatsApp download failed" efficiently? OK, this guide is targeted at revealing the possible causes of this problem and talking about many feasible solutions to help you out.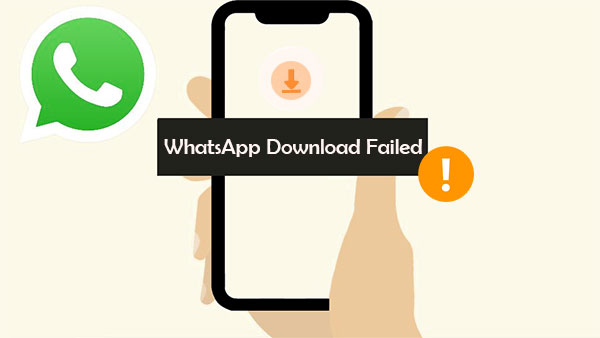 Part 1: Why Does WhatsApp Fail to Download Media?
You couldn't restore media on WhatsApp on iPhone or Android. There must be some contributing factors behind the emergence of this situation. Below we list the possible reasons for their existence:
Unsmooth or failed Internet connection.
Incorrect data and time on your phone.
Outdated version of WhatsApp.
WhatsApp server fails to download media.
Incompatible WhatsApp Beta.
Media permission is disabled.
You turned off "Save to Camera Roll".
Too many junk files on your device.
Not much storage on your phone or microSD card.
There's something wrong with your Android SD card.
Part 2: WhatsApp Download Failed? Check the 19 Hot Tips
Tip 1: Check the Internet connection
Since we know what is responsible for this phenomenon, we shall collect some reliable solutions to fix WhatsApp problems. First, strong network support is an important guarantee to be away from download failure issues. Therefore, check the Internet connection and make settings change as well as the router, or try to connect to another network.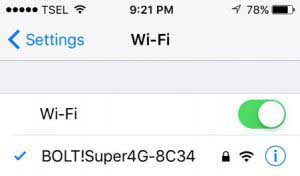 Tip 2: Manually download WhatsApp media using WhatsApp web
WhatsApp Web enjoys its own host of issues and fixes. For instance, the download was unable to complete WhatsApp media; you could get it manually by tapping relevant video, audio, or photo and hitting "Download".
Related Passages:
Tip 3: Verify the date and time
Navigate to your iPhone's "Settings" > "System" > "Date & Time.
Be sure to enable the "Set Automatically" option is on.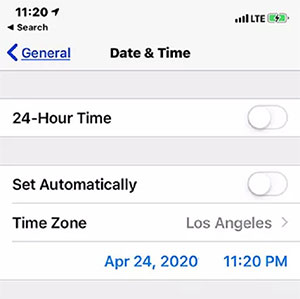 Tip 4: Enable mobile data
If you find WhatsApp fails to download media onto your iPhone, you might notice iOS restricts its mobile data for applications from the setting menu. To get it around, go to your iPhone "Settings" > "WhatsApp" > enable "Mobile Data" for it.
Tip 5: Force quit WhatsApp
It would be best if you force close WhatsApp on your Android phone as below:
Go to Android "Settings" > "Apps" > "Manage apps".
Choose "WhatsApp" from the list of installed apps.
Tap "Force stop" > "OK".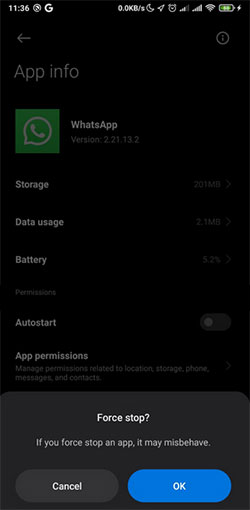 How can I force close WhatsApp on my iPhone? (Quick Navigation: Double-click the "Home" button or swipe up from the bottom of your phone's screen. Then release the button when the app preview cards turn up on the screen. Next, swipe up the WhatsApp preview to force stop it.)
Tip 6: Lock WhatsApp from the multitasking menu (Android)
Samsung/Android WhatsApp download failed? Possibly, some third-party skins like FunTouch OS and MIUI on Android can limit the app usage in the background in order to save battery life. To fix it, tap the three-dot at the upper right corner of the multitasking menu. Choose the "lock" sign to lock WhatsApp there.
Tip 7: Update WhatsApp
Visit Google Play and search for "WhatsApp".
Click "UPDATE" to download the updates available.

Install the updates and open the app again to check if the WhatsApp download failed on Android persists.
Click to See:
Tip 8: Check the WhatsApp server
Use services like DownDetector to fix the download failure. Go to its website to check if WhatsApp servers are working properly. It can potentially tackle some WhatsApp issues beyond that.
Tip 9: Disable data saver mode
On an Android phone, go to "Settings" > "Network & Internet" > disable "Data Saver".
On an iPhone, go to "Settings" > "Mobile Data" > "Mobile Data Options" > turn off "Low Data Mode".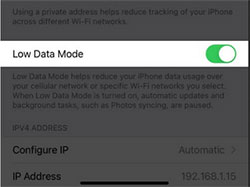 Tip 10: Remove WhatsApp Beta
For Android, go to Google Play > search for WhatsApp > remove the beta version of WhatsApp.
For iPhone, open the TestFlight app > go to WhatsApp > choose "Leave beta program" from the menu.
Tip 11: Inspect media permission on your phone
Swipe down the Home screen to get the notification tray. (WhatsApp notification not working?)
Tap "Settings" > "Apps".
Head to "Permission" > "Storage".
Press "Allow" when you want to resolve how to fix the download failed in WhatsApp.
Tip 12: Turn on "Save to Camera Roll" (iPhone)
iPhone users can troubleshoot the problem by going to their phones' "Settings" > "Chats" > turn on "Save to Camera Roll". In doing so, the app will automatically download WhatsApp media to the camera roll.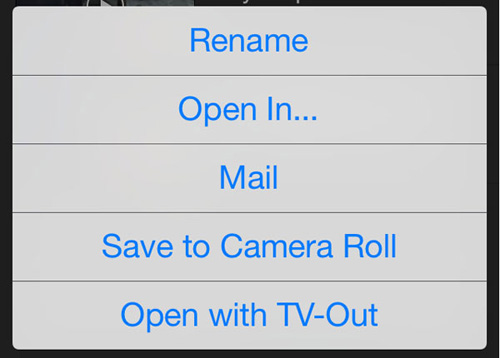 Tip 13: Allow the app to access media
How to solve the WhatsApp download problem is still a challenge if the app doesn't have your phone's permission. Try to allow the app to access photos, videos, audio, documents, etc., as follows:
Navigate to your phone's "Settings" > "Apps" > "WhatsApp" > "Permissions".
Tap "Storage (Files and media)" and choose "Allow management of all files".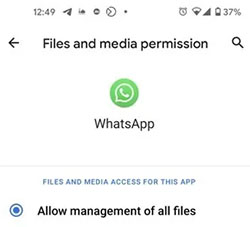 Tip 14: Log out and log back in again
Tap the three-dotted icon above the WhatsApp chat list.
Click "Log out". Then log back in again.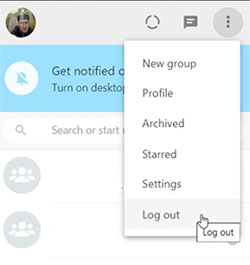 Tip 15: Clear cache and data
There might be some junk files on your phone, inviting download failed on WhatsApp. So, follow the drill to remove the cache and data on the device:
On your phone, head to its "Settings" > "Apps".
Choose "Storage" > "CLEAR CACHE" and "CLEAR DATA". Finally, restart the phone.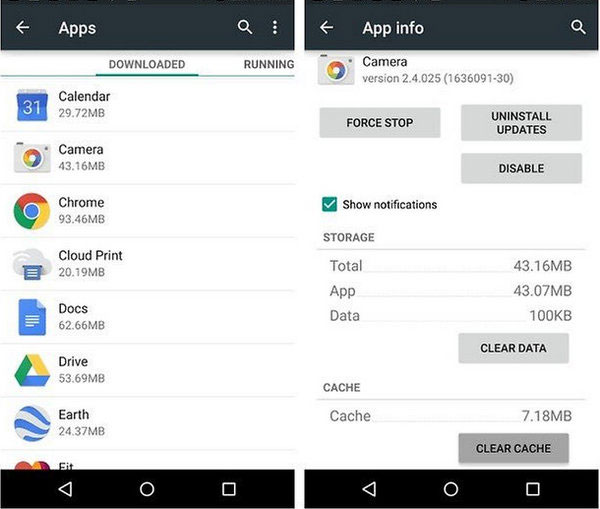 Tip 16: Enable background app refresh
For Android, long-tap the WhatsApp icon > open the "App info" option; go to Wi-Fi > Mobile data and switch on the background data option.
For iOS, go to "Settings" > "WhatsApp" > enable the "Background App Refresh" option.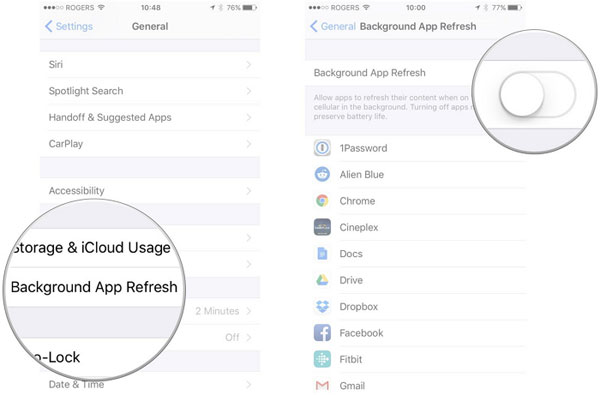 Tip 17: Check storage on the SD card and your device
WhatsApp download failed on Android 11? Try to free up space on your Android/Samsung by deleting unused files:
Swipe down for the notification tray
Proceed to "Settings" > "Storage" > "Internal Storage" or "SD card".
You'll see all the data stored in the two locations.
Remove unnecessary files.
Tip 18: Check if your SD card set to read-only
Insert the micro SD card in Windows.
Click "Start" > "Run" > enter "cmd".
Enter "diskpart" > "list volume".
Recognize your SD card from the various connected devices.
Type the selected "volume #" (# means the letter of the card).
Input "attributes disk clear read-only" > remove the write protection.
Tip 19: Unmount your SD card
With the "Settings" option appearing on your phone, go to its "Storage".
Look for your memory card; tap the option that says "Unmount SD card". (Unmounting the card won't delete data in it.)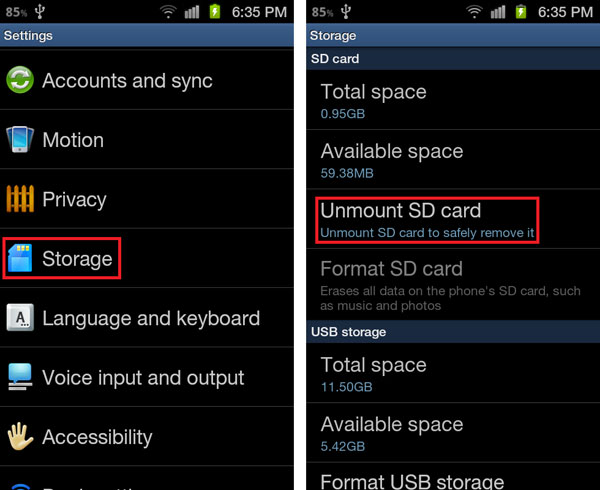 Part 3: How to Download WhatsApp Media to Computer Smoothly
Don't want to be disappointed WhatsApp download problem posed by the app itself? Pick the most practical tool - WhatsApp Transfer (iOS & Android) to smoothly get them onto a computer. This software wasn't a makeshift when WhatsApp download was unable to complete. As a powerful program on the market, it can easily handle data copy for WhatsApp and even other social platforms.
Some features of WhatsApp Transfer:
Error-free to download iPhone/Android WhatsApp media/messages to a computer.
Copy WhatsApp chats to an iPhone or Android device without trouble.
Enables you to preview and select backup files for further processing.
Safely back up LINE/Viber/WeChat/Kik conversations.
Work well with almost all iOS and Android devices, including iPhone 14/14 Plus/14 Pro (Max), iPhone 13/13 Pro (Max)/13 mini/12/12 Pro (Max)/12 mini, iPhone 11/11 Pro/11 Pro Max, iPhone X/XR/Xs/Xs Max, iPhone 8/8 Plus, iPhone 7/7 Plus, iPhone 6/6S/6 Plus, iPod touch, iPad, Samsung, Xiaomi, Huawei, HTC, Google, LG, Motorola, Sony, etc.
It won't disclose your privacy.
* How to download WhatsApp media from iPhone to computer via WhatsApp Transfer (iOS)?
Step 1. Install and run WhatsApp Transfer on a computer. Click "WhatsApp" > "Backup WhatsApp messages". Then, connect your iPhone to the computer via USB, and the tool will identify the device shortly after.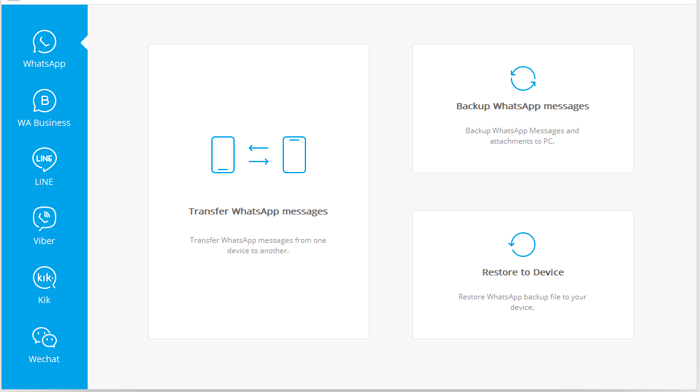 Step 2. The utility will detect your iPhone and start to scan the device. Once completed, it will make a copy of your WhatsApp automatically.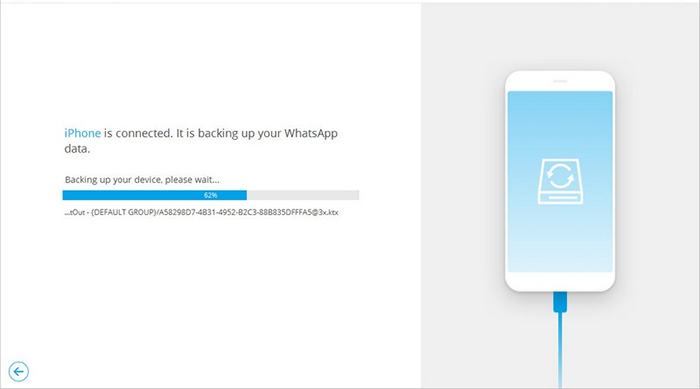 Step 3. After that, check the copy of the data by tapping the "View" option from the list and clicking on "Next".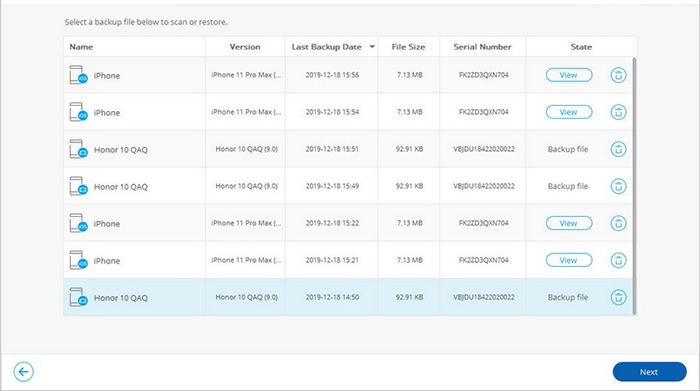 Step 4. You will see the chat list and WhatsApp media. Choose the media files you want and tap "Recover to Computer". Here, you can also tap "Recover to Device" as you want.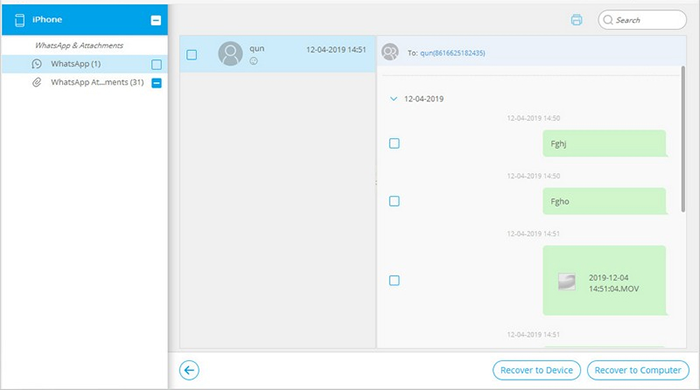 * How to download WhatsApp media from Android to computer via WhatsApp Transfer (Android)?
Step 1. Launch WhatsApp Transfer on a computer. Attach your Android device to the computer through a USB cable.
Step 2. Select "WhatsApp Transfer" > "WhatsApp" > "Backup WhatsApp messages". Then WhatsApp data backup will begin automatically.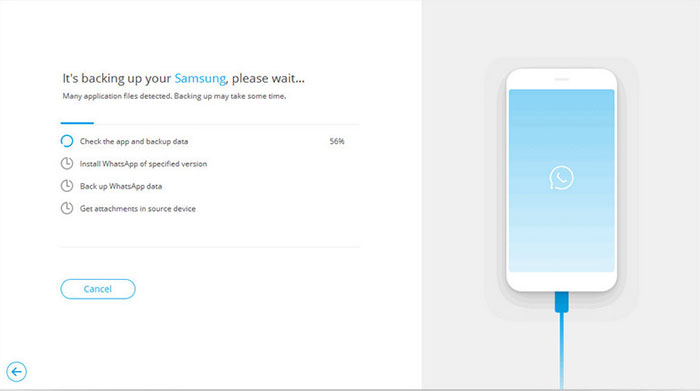 Step 3. All your WhatsApp media files will be backed up to this computer soon. After that, tap "View It" to check the backup content on your computer.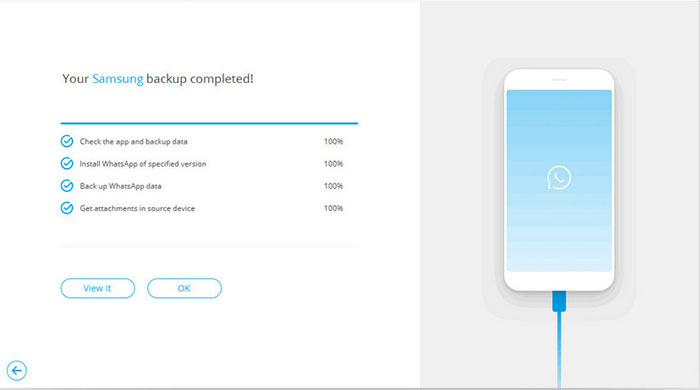 Conclusion
Overall, when WhatsApp media download hits a speed bump or the download failed on WhatsApp, you can try the given methods one by one for an outcome that might or might not work out. Rather than wasting time with an uncertain result, it's better to pick a professional tool - WhatsApp Transfer to ease yourself in no time with certainty. Lastly, please add a comment below if you have any queries.
Related Articles:
How to Retrieve WhatsApp Messages from Lost Phone without Backup? [iPhone/Android]
[100% Working] How to Restore WhatsApp Backup from Google Drive on iPhone
6 Tips to Back Up WhatsApp Media/Messages on Android [Detailed Guide]
How to Transfer Photos from SD/Memory Card to iPhone? [Fixed in 2022]
5 Proven Ways to Recover Deleted Screen Recording Video on Android
How to Convert iPhone Video to MP4? 7 Best Ways You Must Know