[6 Ways] How to Restore Deleted WhatsApp Messages/Chat of One Contact
For the most part, WhatsApp users rely on the app to stay connected with friends, family, and colleagues, sharing important messages, photos, videos, and more. (What if you can't send or receive WhatsApp messages?) However, there are moments when we accidentally delete WhatsApp chats from a specific contact, leaving us feeling regretful and anxious. But fear not! In this passage, we shall figure out how to restore deleted WhatsApp messages of one contact on iPhone/Android, ensuring that no valuable conversation is lost forever.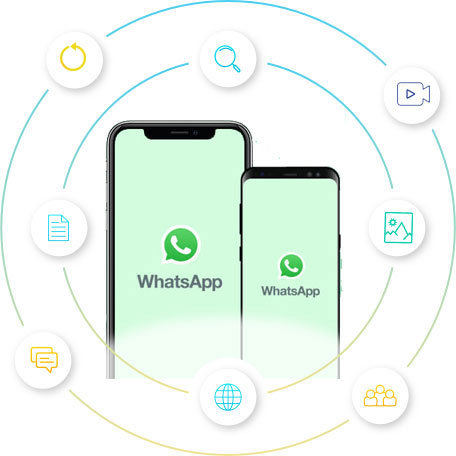 Part 1: Can I Retrieve Deleted WhatsApp Messages of One Contact?
Before proceeding, let's see if it's possible to recover deleted WhatsApp chats from one contact. As of now, WhatsApp does not provide an official feature to retrieve deleted messages from individual contacts. When you delete a message from within, it is removed from your device and cannot be directly recovered through the app. However, there are some scenarios in which you may be able to recover deleted WhatsApp messages - Let's say you have a chat backup, local device backup, or a professional 3rd-party tool. Next, we will cover these in detail.
You May Take an Interest in:
Part 2: Recover Deleted Whatsapp Messages from One Contact on iPhone via iCloud Backup
Primarily, it's important to have a recent iCloud backup that contains the desired WhatsApp messages, alleviating concerns about potential loss. Learn how to restore deleted WhatsApp messages of one contact from iCloud backup:
To determine if you have a backup of your WhatsApp messages, launch the app and navigate to "Settings" > "Chats" > "Chat Backup".
Uninstall WhatsApp from your iPhone and reinstall it.
Sign in using the same phone number you previously used.
Verify the phone number when prompted and choose the option to restore your data.
Select the most recent backup file from the available options and tap on "Restore Chat History".

Allow some time for the restoration process to complete.
Afterward, your deleted messages from that specific contact should reappear without delay.
Part 3: Restore Deleted WhatsApp Chat of One Contact on iPhone from iTunes Backup
Have you ever taken WhatsApp backup from your iPhone using iTunes? If so, it's straightforward to restore the WhatsApp chats of one specific contact. But this approach facilitates the restoration of the complete backup file, encompassing not only WhatsApp but other accompanying data and settings. How can I recover deleted WhatsApp messages from one contact via iTunes backup?
Launch iTunes on the computer that you previously used to create a backup of your iPhone.
Connect your iPhone to the computer using a USB cable.
Locate and click on the "device" icon in the upper-left corner of the iTunes window.
Go to "Summary" and select the option "This computer" within the "Backups" section.
Now, click on the "Restore Backup" button in iTunes.

Choose the backup file that contains the data you wish to retrieve, including the desired WhatsApp messages.
Finally, initiate the restoration process by clicking the "Restore" button. (How to free up space on iPhone if there's not enough storage to accommodate the iTunes backup?)
Part 4: Restore Deleted WhatsApp Messages of One Contact on iPhone without Backup
In the event that you lack an appropriate backup for restoring deleted WhatsApp messages from an exact contact, an alternative option is to directly recover the lost WhatsApp data from your iPhone. In this case, you can opt for a reliable product like iPhone Data Recovery, which possesses the ability to directly recover your missing WhatsApp data from both your iDevice and iTunes/iCloud backup.
Notable features of iPhone Data Recovery:
Restore deleted WhatsApp messages of one contact directly in a prompt manner.
Retrieve various other types of data, including text messages, contacts, call history, notes, calendars, reminders, voice memos, Safari history, and more.
Preview WhatsApp messages before performing the recovery.
Recover WhatsApp and other files from iTunes/iCloud backup, all without overwriting the existing data on the iPhone.
Ensure a high success rate in data recovery, providing you with reliable and effective results.
Apply to overall iOS devices, covering iPhone 14/14 Plus/14 Pro (Max), iPhone 13/13 Pro (Max)/13 mini/12/12 Pro (Max)/12 mini, iPhone 11/11 Pro/11 Pro Max, iPhone X/XR/Xs/Xs Max, iPhone 8/8 Plus, iPhone 7/7 Plus, iPhone 6/6S/6 Plus, iPod touch, iPad Pro, iPad Air, iPad mini, iPad 4, iPad 3, iPad 2, etc.
It doesn't disclose your privacy.
How to recover deleted WhatsApp chat of one contact on iPhone without any backup?
Step 1. Download and install iPhone Data Recovery on your computer. Launch the software and connect your iPhone to the computer using a USB cable. The default recovery mode, "Recover from iOS Device", should be selected.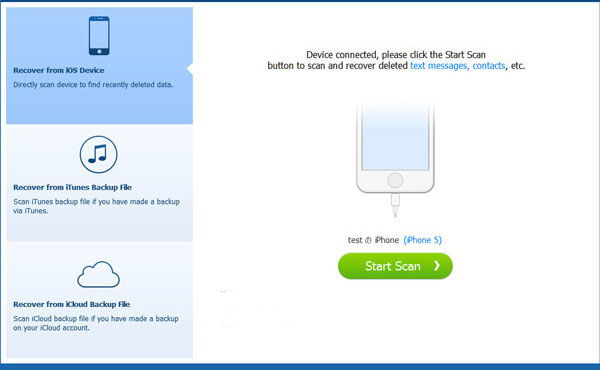 Step 2. Click on the "Start Scan" button to initiate a thorough scan of your iPhone. Simply wait until the scanning process completes, and all recoverable files will be presented.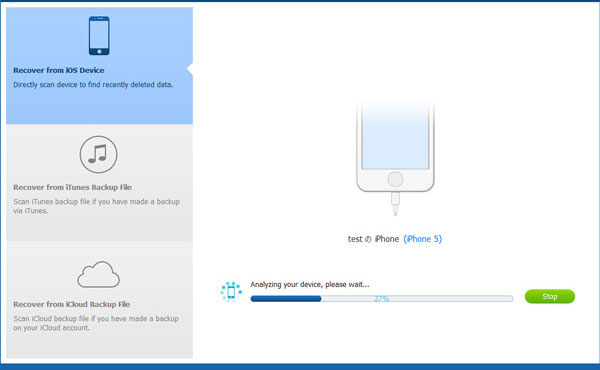 Step 3. Take a look at the scanning results displayed within the program. In the left panel, select "WhatsApp", and you can preview the items within that folder. Choose the specific files from one contact. Once selected, click the "Recover" button to save them onto your computer.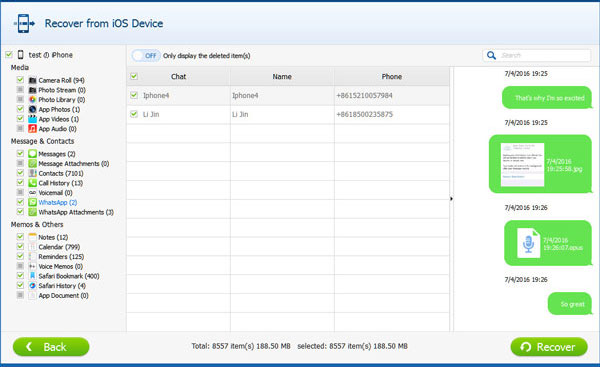 You May Take an Interest in:
Part 5: Restore Deleted WhatsApp Messages of One Contact on Android from Local Backup
There exists a solution to prevent WhatsApp loss on Android: local backup. By creating a backup of your WhatsApp messages locally, you can restore them in case of deletion, and the process is remarkably simple. Learn how to restore deleted WhatsApp messages of one contact from local backup:
Open the File Manager app on your device and navigate to either the local storage or the SD Card where the WhatsApp data is stored.
Locate and tap the "WhatsApp" folder and navigate to the "Databases" subfolder.
Choose the specific backup file you want to use based on its date.
Rename the backup file from "msgstore-YYYY-MM-DD.1.db.crypt12" to "msgstore.db.crypt12".
If the name shows an earlier protocol, such as crypt10 or crypt9, do not change the crypt extension name.
Uninstall WhatsApp and reinstall it from the respective app store. (Can you uninstall Android apps from a computer?)
Follow the setup process and verify your phone number when prompted.
When asked if you want to restore chats from local storage, tap the "RESTORE" option.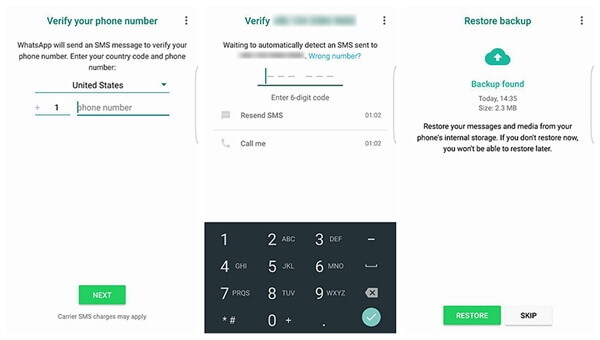 Part 6: How to Get Back Deleted WhatsApp Messages on Android from Google Backup
Do you know how to recover deleted WhatsApp contacts on Android from cloud storage like Google Drive? Enabling Chat Backup in the app's settings allows for the convenience of WhatsApp Automatic Backup. By utilizing the same phone number and Google account associated with your WhatsApp account, you can swiftly restore WhatsApp chats from the backup. Next, let's go over how to restore deleted WhatsApp messages of one contact on Android from Google Backup:
Remove the WhatsApp app from your Android device by uninstalling it.
Reinstall WhatsApp from the respective app store and proceed with the installation process.
During the setup, log in to WhatsApp using the same phone number you previously used and complete the necessary setup steps.
When prompted to restore your message history from a backup file, bear in mind that WhatsApp retains only the two most recent backup files on Android.
Tap on the "RESTORE" option to initiate the restoration process, and everything from the latest backup file will be restored, including your chat history and related data.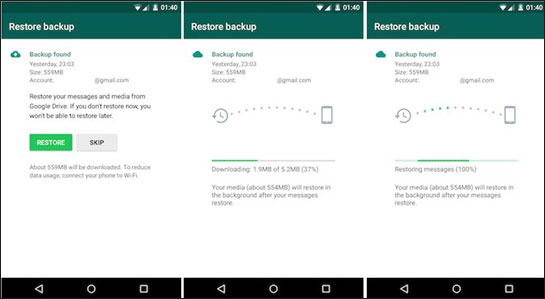 Part 7: How to Restore Deleted WhatsApp Messages of One Contact on Android without Backup
In many instances, you might encounter a situation where WhatsApp messages are lost without any backup available. In such cases, Android Data Recovery steps in to assist you. This highly acclaimed program simplifies the procedure of recovering or extracting a wide array of deleted or existing files from your Android phones/tablets, regardless of whether you have a backup or not.
Distinguished features of Android Data Recovery:
Easily restore deleted WhatsApp messages of one contact even without a backup.
Effortlessly recover deleted data from Android internal memory, SD card, and SIM card, encompassing WhatsApp data, WhatsApp attachments, contacts, photos, videos, messages, message attachments, call logs, and more.
Simplify the process by allowing you to conveniently preview and select specific items before recovery.
Apply to almost all Android devices, covering Samsung, Xiaomi, Huawei, Sony, Motorola, HTC, LG, Google, OPPO, vivo, etc.
It doesn't let out your privacy.

How to retrieve deleted WhatsApp chat on Android via Android Data Recovery?
Step 1. After installing the program, launch it on your computer. Connect your Android phone to the PC using a USB cable, and the intelligent software will automatically detect your phone. Proceed to the "Android Data Recovery" section.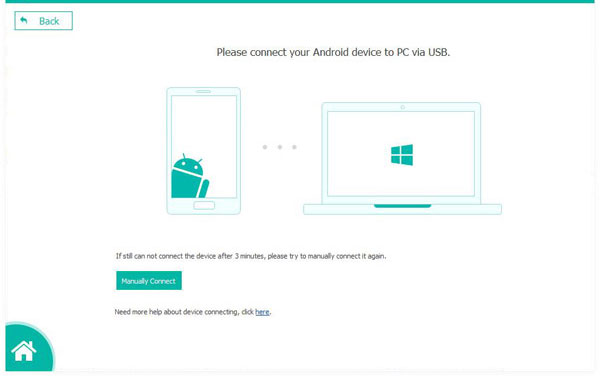 Step 2. Follow the prompted instructions to enable USB Debugging on your Android device if necessary. Then, select the "WhatsApp" option and click "Next" to initiate the scanning process.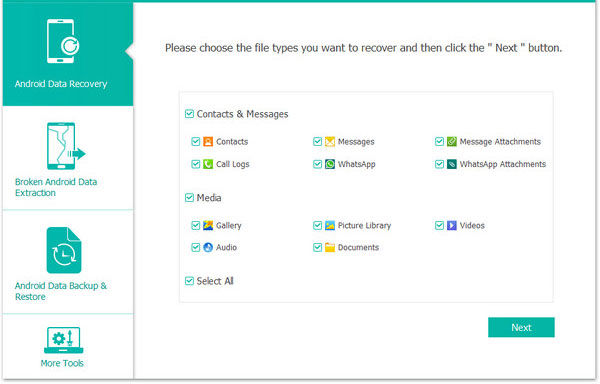 Step 3. All your previous WhatsApp chats will be displayed on the screen. Take the time to preview and selectively choose the specific ones you desire from a particular contact. Finally, click on "Recover" to restore the deleted WhatsApp chats on your Android device.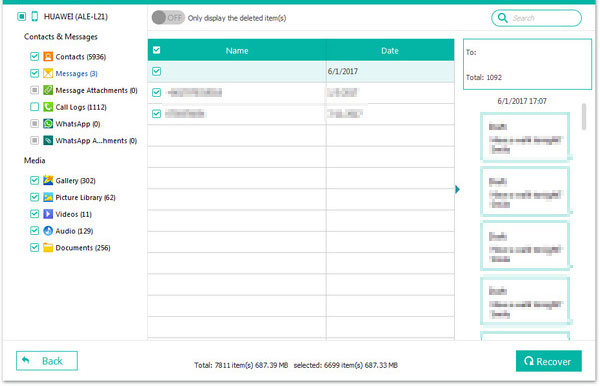 Extra: How to Back Up WhatsApp Chats of One Contact
Launch WhatsApp on your device and choose the specific contact whose chat you want to back up.
For iPhone users, tap the contact's name to access the "Contact Details" screen. From there, select the "Export Chat" option.
For Android users, tap the hamburger sign at the top right corner of the contact's chat screen, then choose "More" and select "Export chat".
Customize your backup settings by specifying whether you want to include media (such as photos and videos) in the backup.
Additionally, select the service you prefer to use for backing up the chats, such as Mail, iCloud Drive, Gmail, or Google Drive.
Concluding Statements
While it's vital to explore the various methods mentioned above, it is worth noting having a backup is the most reliable way to restore deleted WhatsApp messages. Still, such approaches may have limitations, and there is no guarantee that you will be able to retrieve deleted WhatsApp chats. On the contrary, if you don't have a backup in place, it's wise to pick iPhone Data Recovery or Android Data Recovery for WhatsApp message recovery in line with your needs.
Related Articles:
Full Guide to Retrieve Deleted Text Messages on iPhone 14/13/12/11/X/8/7
3 Well-tried Ways to Restore Text Messages from iCloud - iCloud Messages Recovery
8 Best Contact Recovery Software/Apps for Android [Few People Know]
Android Message Recovery - How to Retrieve Deleted Text Messages on Android
[Fixed] Where Are WhatsApp Messages Stored on Android/iPhone/PC?
How to Transfer WhatsApp Stickers to New Phone (Android/iOS)?